Welcome, or welcome back! This week's post is a Ramona Falls hiking guide. Ramona Falls is a 120 ft waterfall located in Mt. Hood National Forest. Don't let pictures fool you, it's much bigger in person than it looks online. This hike is located just under an hour and a half outside of Portland, Oregon. There aren't too many steep sections and although it's longer, I think it would be a great hike for beginner hikers. There are also lots of places to sit at the falls along the rocks facing the falls so that you can take a break and eat your lunch (or share a bottle of wine- I'm not judging), before heading back to the trailhead.
Disclaimer: This post contains affiliate links. This means that I get compensated a small amount if purchased through one of these links at no extra cost to you. I always only link products I truly love and any profit made goes to running this blog. Thank you for your support! For more on my disclaimers, you can click here.
Ramona Falls Hiking Guide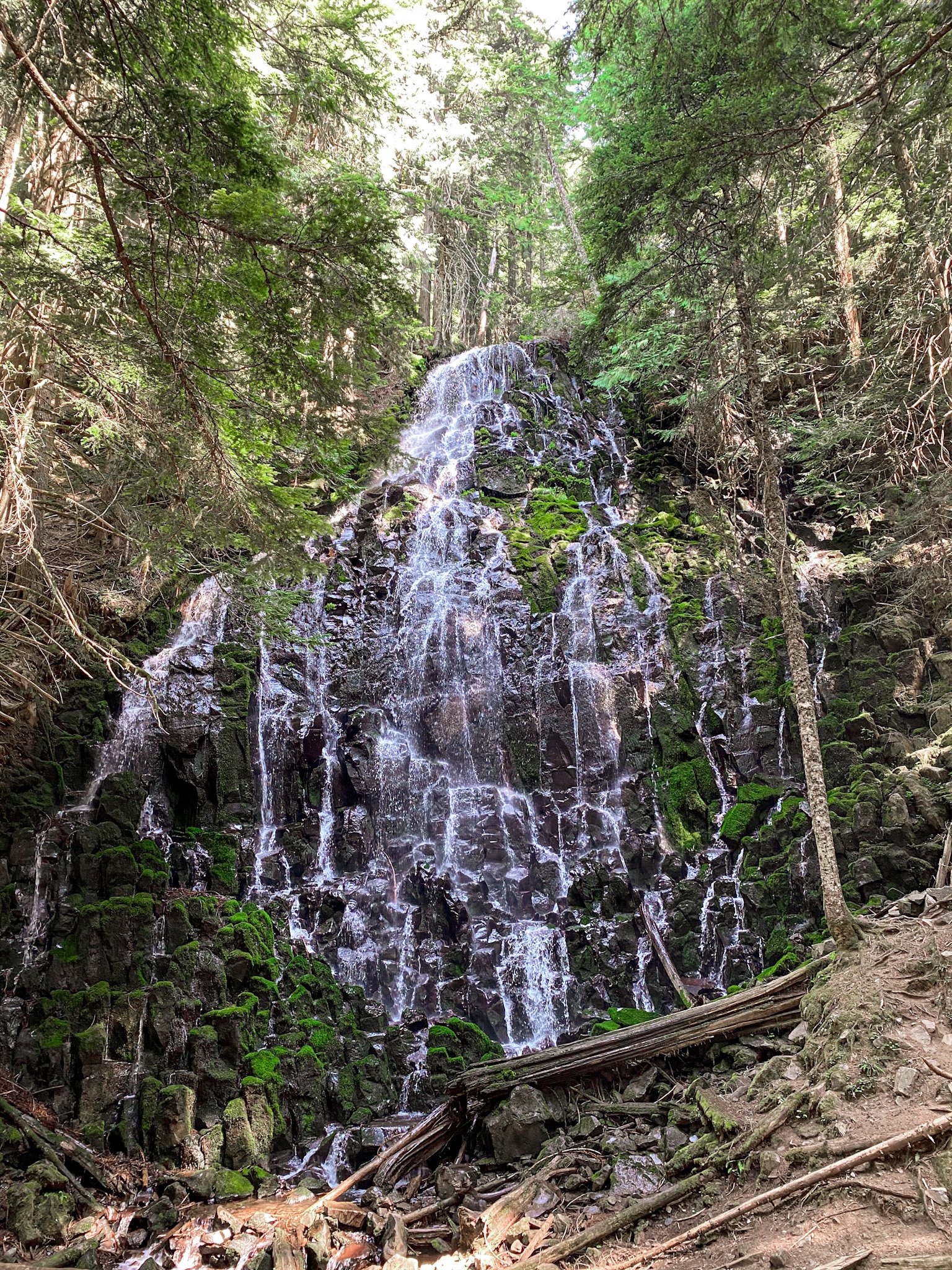 Getting There
Address: Sandy River Trail #770, Rhododendron, OR 97049
It's pretty straight forward to get to this hike! I recommend putting the address above into your maps. if you just search Ramona Falls Trailhead in your maps (depending on which map app you're using), it will map you a significantly longer route. To sum up the directions, you're going to take US-26E (Mt. Hood Highway) from Portland for the majority of the trip. You'll take a left after the ZigZag Inn onto E Lolo Pass Road. From here you will continue for 4 miles until you reach Muddy Fork Road where you will take a right on to. You're going to follow Muddy Fork Road and stay right until you reach a sign near the end that direct you to take a left to get to the Ramona Falls Trailhead.
The road overall is in good condition until the last mile along Muddy Fork Road. Here you will reach a road that has a ton of potholes and not much room in areas for cars coming in the opposite direction. I was able to take a small sedan to the trailhead, so it isn't too bad (especially if you have a truck or SUV). Just take it slower around the potholes and try to avoid any if you can. Also make sure to pass cars or stop where it's convenient since in some places it's much harder than others.
The parking lot itself is large and can easily fit 80-100 cars. If you're coming on a weekend, make sure to arrive early because it tends to get busier in the later morning. On weekdays (unless it's a holiday), it's much less busy and you will easily find a parking lot. Make sure to show your NW Forest Pass, or day pass. In the parking lot, there are 2 porta-pottys, but that's pretty much it as far as facilities go.
The Hike
This hike is 7 miles long with a 1,066 elevation gain. My watch ended up tracking 8 miles for this hike. Alltrails rates this as moderate-difficult, but I would rate is as moderate if you are going in the summer soley based on the length (since it is a longer day hike) and small river crossing. The elevation gain is gradual along the trail, so it really doesn't feel like too much. About 1.2 miles into the hike you will come to a slope that leads down to the Sandy River. This is where you will be crossing the river (yes, there is a river crossing). Don't let that scare you because the river is only a couple of feet wide at the crossing.
The river is at its lowest in the morning and highest by late afternoon, so be sure to plan accordingly. I went a little downstream where there were a few logs laid across to walk over. Someone had also added rope that you can grab on to assist yourself. I was crossing the river on my way back around 2 and the river was already noticeable higher than just 2 hours before, but was still under the logs. This hike is dog-friendly, but be sure your pup is okay to cross (mine hates bridges of any sort!). Bring a trekking pole if you think that you will need additional assistance during the river cross.
Once you've crossed the river, you will head up the slope to a sandy area. Take a left to contine to follow the trail. You will see a sign the says "Ramona" with an arrow and that's how you'll know that you are going the right way. This was really one of the only places where directions might be confusing. After this turn, you'll just follow the trail to the waterfall. After the waterfall, you can turn back to go back how you came, or you can continue on loop via the return trail. I recommend the return trail since you'll be following the river and it's a much prettier trail.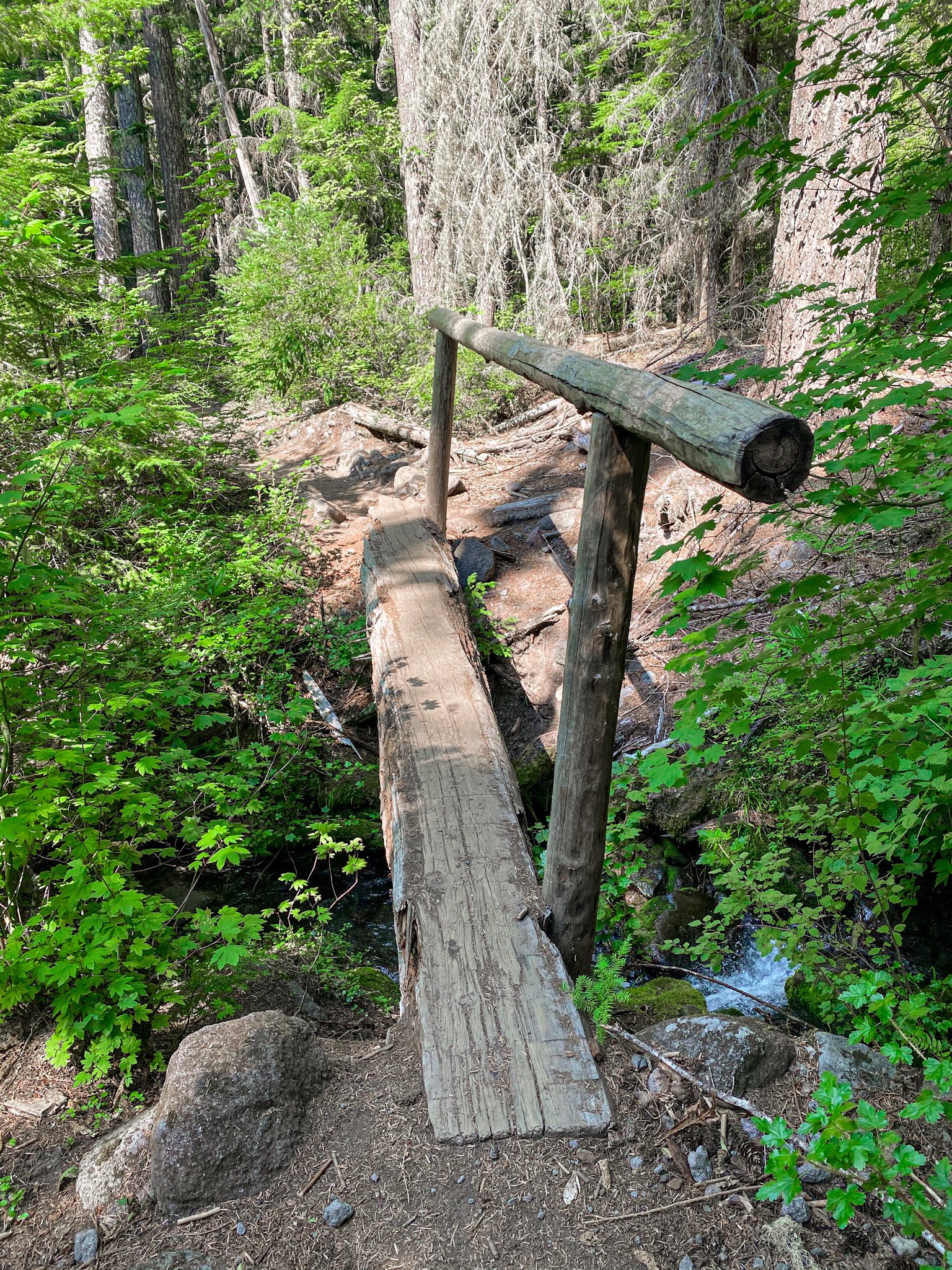 Other Tips
Bring hand sanitizer since it's likely that they are going to have run out at the porta-potty.
Near the beginning of the hike between May to October, you'll have to fill out a (free) wilderness permit. This is pretty easy and there was a pencil in the box to write with when I went. Maybe bring a pencil or pen just in case there isn't. If you do not fill out a permit, you can be fined.
Around Muddy Fork Road, I lost service. Be sure to download your map if you are worried about directions.
Overrall this is a great hike with river views, waterfall views, and a view of Mt. Hood if it isn't smoky! I recommend it if you live in the area and haven't done it before.
View this post on Instagram
MY HIKING FAVORITES
Here is some of my favorite gear to bring with me on hikes that I use:
Have you hiked Ramona Falls? If so, I want to know what you thought, so let me know in the comments below! If you enjoyed this post or are looking for other hikes in the Pacific Northwest area, be sure to check out the other hikes that I've posted:
Thank you so much for reading! If you want to follow along on my hikes and get notified when I post new posts, be sure join my newsletter below, follow my Instagram @maddie_deer here or like my Facebook page here.