Today I am sharing an easier and shorter hike located in the Columbia River Gorge. This hike to Wahclella Falls is on the Oregon side of the Gorge in Cascade Locks and is about a 30-minute drive from Portland. This hike is 1.9 miles and has minimal hills. There are a couple of places where the trail is not as wide and there are some steep drop-offs. However, it could be a great trail to bring kids on if they are old enough to know to keep to the sides, be safe, and if you keep an eye on them! Dogs are allowed on the trails.
Disclaimer: This post contains affiliate links. This means that I get compensated a small amount if purchased through one of these links at no extra cost to you. I always only link products I truly love and any profit made goes to running this blog. Thank you for your support! For more on my disclaimers, you can click here.
Wahclella Falls: What to Know Before Hiking
Although this hike is short, it's one of my favorites in the Columbia River Gorge. The Eagle Creek Fire back in 2017 did affect this hike and it ended up closing until August of 2019. You can still see trees that were burned all along the hillside and some even on the trail, however, the underbrush has come back and it looks 'green' again (even though it's not what it used to be).
GETTING THERE
To reach this hike, take I-84 East from Portland until you reach Exit 40. Once you take exit 40 (just a couple of miles after Multnomah Falls), you're going to take a right at the stop sign, and then a right at the fork. You will see the sign for Wahclella Falls and this will lead you into the parking lot. If you are coming from Washington, your best bet is to go through Portland and take this same route, unless you are coming from East of the Camas/Washougal area. If you are coming from East of this area you can take the Bridge of the Gods over to the Oregon side in Cascade locks, however, be prepared to pay a toll.
The trailhead doesn't have much in the way of amenities, just a porta-potty. This hike does require a NW Forest Pass or a $5 parking day pass. The slips to pay at the trailhead aren't always in stock and the service wasn't the best, so I recommend buying the day pass online ahead of time if you are planning to go and don't have a NW Forest Pass. If you don't, you might end up not being able to reach the website and there might not be the option to pay at the trailhead. I have seen tickets given to people who don't have a pass and haven't paid for the day, in the past. You can get a day pass or annual pass here.
THE HIKE
The hike to the falls is 1 mile from the trailhead and then 1 mile back. This trail is very well-maintained, just remember the principals of leave no trace when you go (as you should on any hike!) and carry out your garbage, doggy backs, and the like. It's an out-and-back trail but there is a little bit of a loop at the end. Near the end, you will come to a fork that leads either down or up. I went on the upper route there and followed the lower route back, but it connects so you will end at the falls no matter which route you take. Like I said above, there are some minor hills, some steep dropoffs, and some places where the trail is thin. Overall though it's a pretty easy and beginner-friendly hike. Plus the view at the end is beautiful!
In total, with time spent at the end for pictures and to see the view (unless you plan on eating lunch or spending a while at the waterfall), the trail took about an hour. There are several bridges that you cross, driftwood near the waterfall, and lots of ferns which made for the perfect ending at the falls (if the falls weren't reason enough!).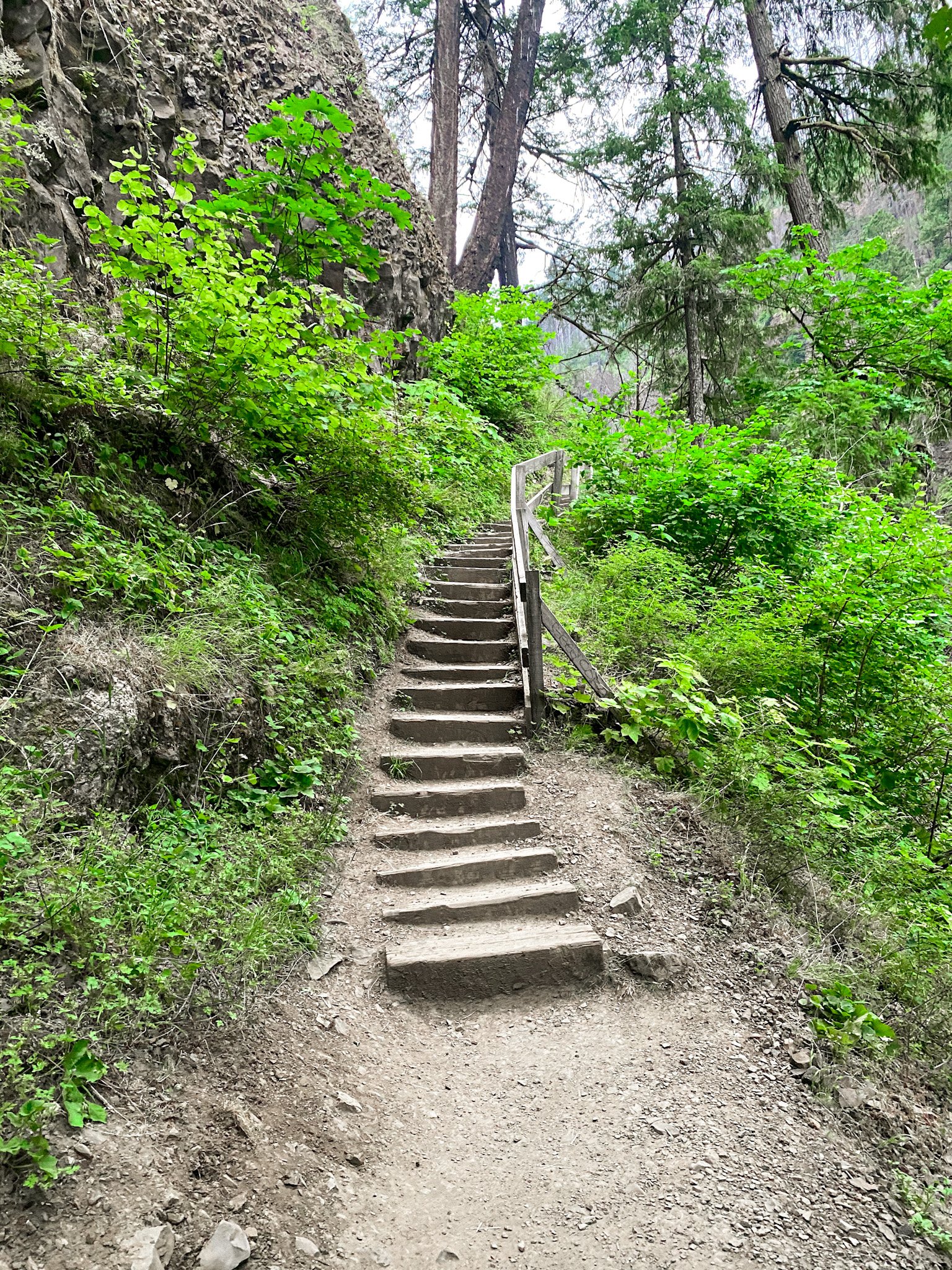 OTHER TIPS
There really isn't too much to say about this hike since it's pretty straightforward and short, however, it gets BUSY. Since it's beginner-friendly, dog-friendly, and kid-friendly, this hike can get pretty crowded. It's been a lot more busy since it has reopened after the fires, even on weekdays. I suggest arriving early or going later in the evening if you are going on the weekend. The parking lot is pretty small so it can get filled fast and you might have to find another area on the side of the road to park and then hike up the regular parking lot.
That being said, I went on a weekday evening this last week and only saw three others on the trail heading back to their car. By the time we reached the falls, we were the last one there for the night. So, it's not always busy! For more reviews and info on this trail, you can visit the AllTrails website here.
MY HIKING FAVORITES
Here is some of my favorite gear to bring with me on hikes that I use:
If you enjoyed this post or are looking for other hikes in the Pacific Northwest area, be sure to check out the other hikes that I've posted, which I will be linking below!
Thank you so much for reading! If you want to follow along on my hikes and get notified when I post new posts, be sure to follow my Instagram @maddie_deer here or like my Facebook page here.