Today's spotlight is on Silver Fall's State Park. This was my first time to the State Park and we ended up hiking the Trail of 10 Falls. This hike is an 8.7 mile loop, but there are shorter intersecting trails that lead back to the parking lot. This hike is located near Silverton, Oregon which is a little less than an hour and a half south of Portland. Like the name implies, there are 10 waterfalls that you pass on this trail and most of them are huge! You can even walk behind 4 of the 10 waterfalls. I would rate this trail as easy-moderate, there are a couple of short inclines throughout and the total incline gain is 1194 ft. AllTrails rates this trail as moderate.
Disclaimer: This post contains affiliate links. This means that I get compensated a small amount if purchased through one of these links at no extra cost to you. I always only link products I truly love and any profit made goes to running this blog. Thank you for your support! For more on my disclaimers you can click here.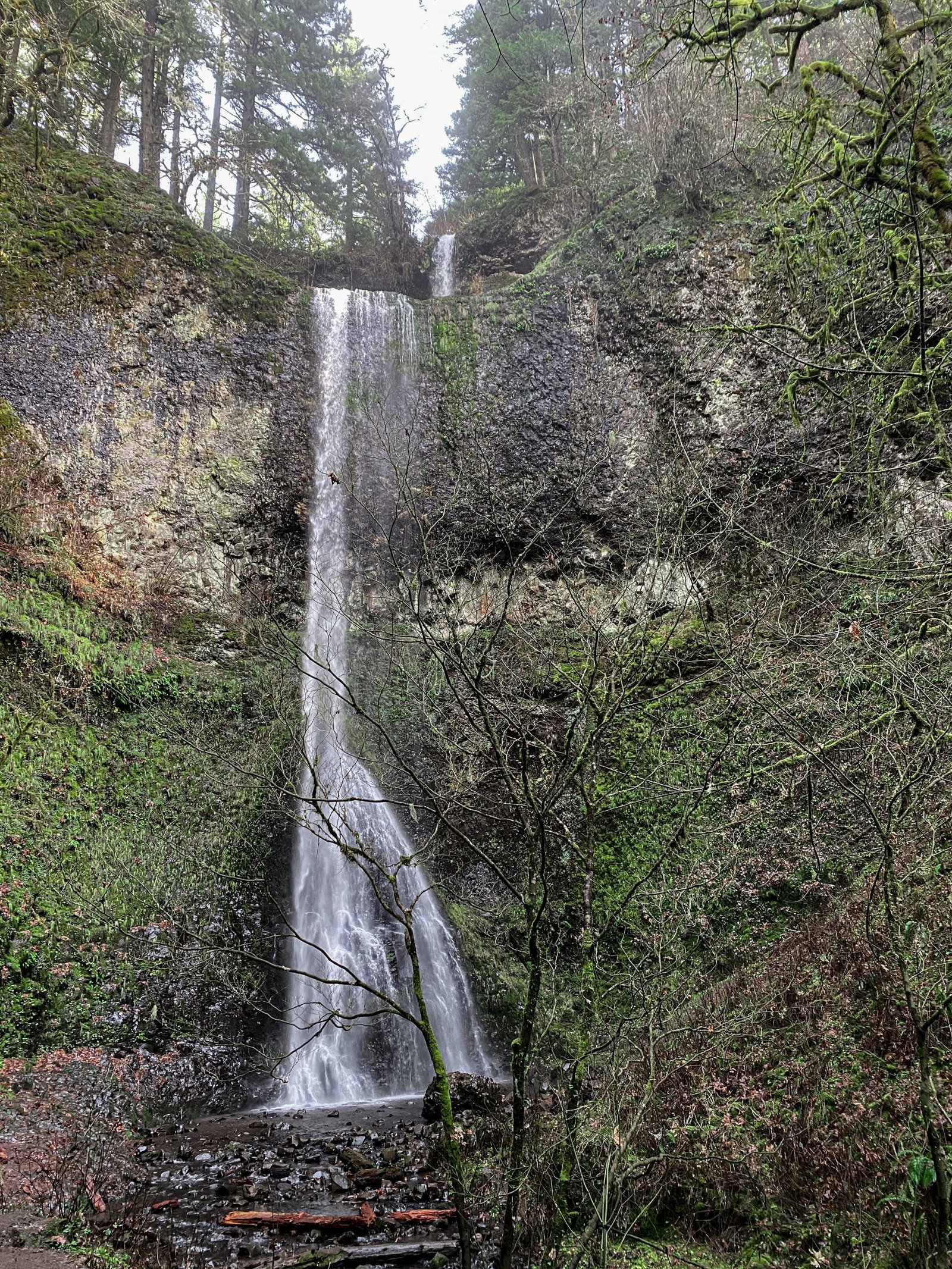 Trail of Ten Falls: Silver Falls State Park
Getting there
Location: 20024 Silver Falls Hwy SE, Sublimity, OR 97385
From Portland, you can travel to Silver Falls State Park down I-5 and through Salem, or via OR-213 and OR-214. Either way, it takes just under 1.5 hours to travel to from Portland. Once you arrive, there are two trailheads that you can park at, the North Falls parking lot and the South Falls parking Lot. The South Falls parking lot is slightly bigger than the former, but each trail is along the same loop. If you're looking for a shorter hike with more of the falls, I reccommend parking at the South Falls parking lot.
Parking for the day at the South Falls trailhead costs $5 and the machine accepts card only. The North Falls parking lot does not have a parking fee. There is service if you have AT&T at the parking lot and limited service throughout the rest of the hike. There are also bathrooms (open even during COVID-19 lockdowns), a Lodge, picnic areas, and a gift shop on site at the South Lot parking lot. The lodge is currently closed during COVID-19 lockdowns until 2021.
To get to the falls from the south falls trailhead, head down past the bathrooms until you reach the Lodge sign. You will take a right at this sign. Further down, there will be a second intersections. A left will take you to the South Falls trailhead and a right will take you toward North Falls. There are less inclines, as well if you take a left.
The Hike
This hike is open year round. Pets are allowed in the park and picnic areas but are not allowed on the canyon trail. This trail would also be good for older children who have hiked before.
The hike is rated moderate, but most of it is pretty flat. The trail is rocky and can be very muddy around the trails. With waterproof hiking boots, it's no problem at all. There are benches throughout, which is perfect if you want to pack a lunch (which I reccommend!). If you arrive early, it's not at crowded, but the parking lot and trail begins to fill up around 10 am- noon. Earlier in the morning in the winter, it can be icy so take caution if it's colder out.
The waterfalls in order from the South Falls trailhead is as follows:
South Falls
Lower South Falls
Lower North Falls
Double Falls
Drake Falls
Middle North Falls
Winter Falls
Twin Falls
North Falls
Upper North Falls
In the winter, when I went, there were also some other smaller waterfalls along the route that would not be there during the summer.
Camping
There is a campground at Silver Falls State Park. This campground is open, but the showers as closed as of writing this (during COVID-19 lockdowns). The campground has 45 tent sites, 14 cabins (7 of which are pet friendly), and 52 electrical RV spots. The toilets are flush toilets. Reservations can be made up to 30 days in advanced. Reservations can be booked by clicking here.
Overall Review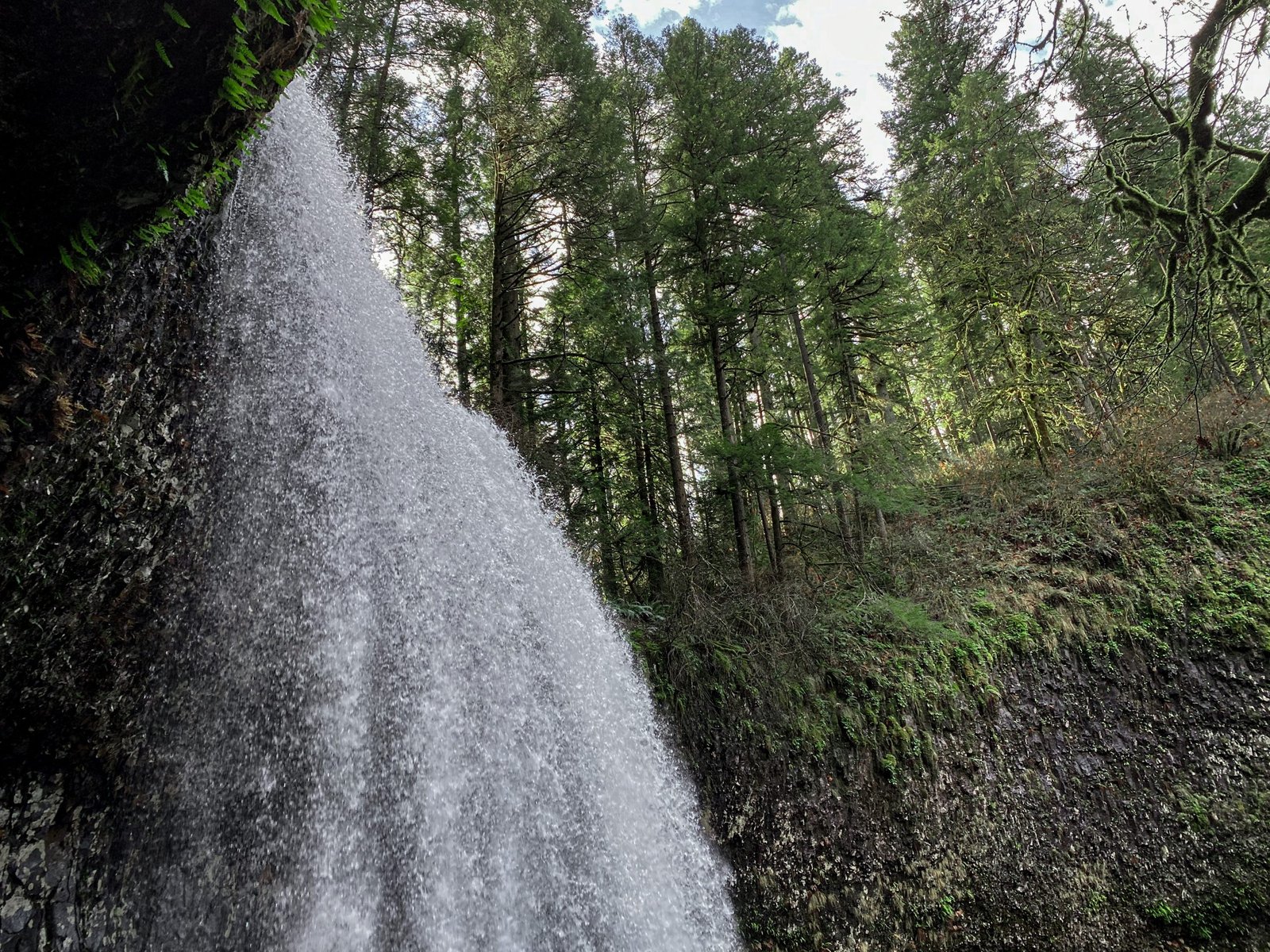 This is the perfect hike for winter when many of the other hikes in the area are either closed or snowy. Although the trees were bare, the forest was lush and green, full of moss and ferns. There were also small mushrooms popping up all along the sides of this trail. This trail would also be great to expereince and even swim at in the summer, too. Although it wasn't too challenging of a hike, it had beautiful waterfalls evenly spaced out along the trail and plenty of options for different trail lengths. My favorite of the waterfalls was the South Falls and the Double Falls.
Going on a Monday in Decemeber, there weren't many people hiking and the parking lot was fairly clear. The trail was well maintained, even though it will be inevitable muddy as it's next to so much water. During the hike at times, water will mist on you, especially behind the waterfalls, but it's a special expereince getting to walk behind four different waterfalls! Bring a lens cloth and learn from my mistake (by not bringing one) to get better pictures.
Overall, I thought this was a beautiful hike and I can't wait to go back and see what it looks like in the fall and in the summer!
My Hiking Favorites
Here is some of my favorite gear to bring with me on hikes that I use:
If you're interested in more hikes, check out my post on my favorite hikes in the Gifford Pinchot National Park located in SW Washington here.
Thanks for reading, I hope you enjoy the hike! I want to know your thoughts! Comment below if you've been on this hike and let me know what your experience was + any tips that you might have.
You can follow along with my other adventures on my instagram @maddie_deer here!