The Beauty Sleep Resurfacing Serum is an Honest Beauty Product that I began using years ago. This product makes a lot of promises to improve your dull, textured skin. But does it really work? In this post, I am covering a review of the Honest Beauty Sleep Resurfacing Serum. I will be going over the claims that Honest Beauty makes, what the active ingredients in the product do, if the product actually works for me, and if it's worth the price.
I've also previously written an overall review on my thoughts on Honest Beauty. In that post, I included the gentle gel cleanser, hydrogel cream, vitamin C serum, and extreme length mascara. You can find my previous review by clicking here. I've tried a couple of new products since that post, but the product I am talking about today definitely stands out. I love clean beauty products, as you probably know if you've been a reader on this blog for a while. If you haven't, you can check out my post here about how it all started!
Disclaimer: This post was not sponsored. I bought the product with my own money and all opinions are my own! Some of the links in this post are affiliate links. If something is purchased through one of these links, I get a commission at no cost to you. I use this money to maintain my blog and produce new content! If you want to read more about disclaimers, you can click here.
Review of the Honest Beauty Sleep Resurfacing Serum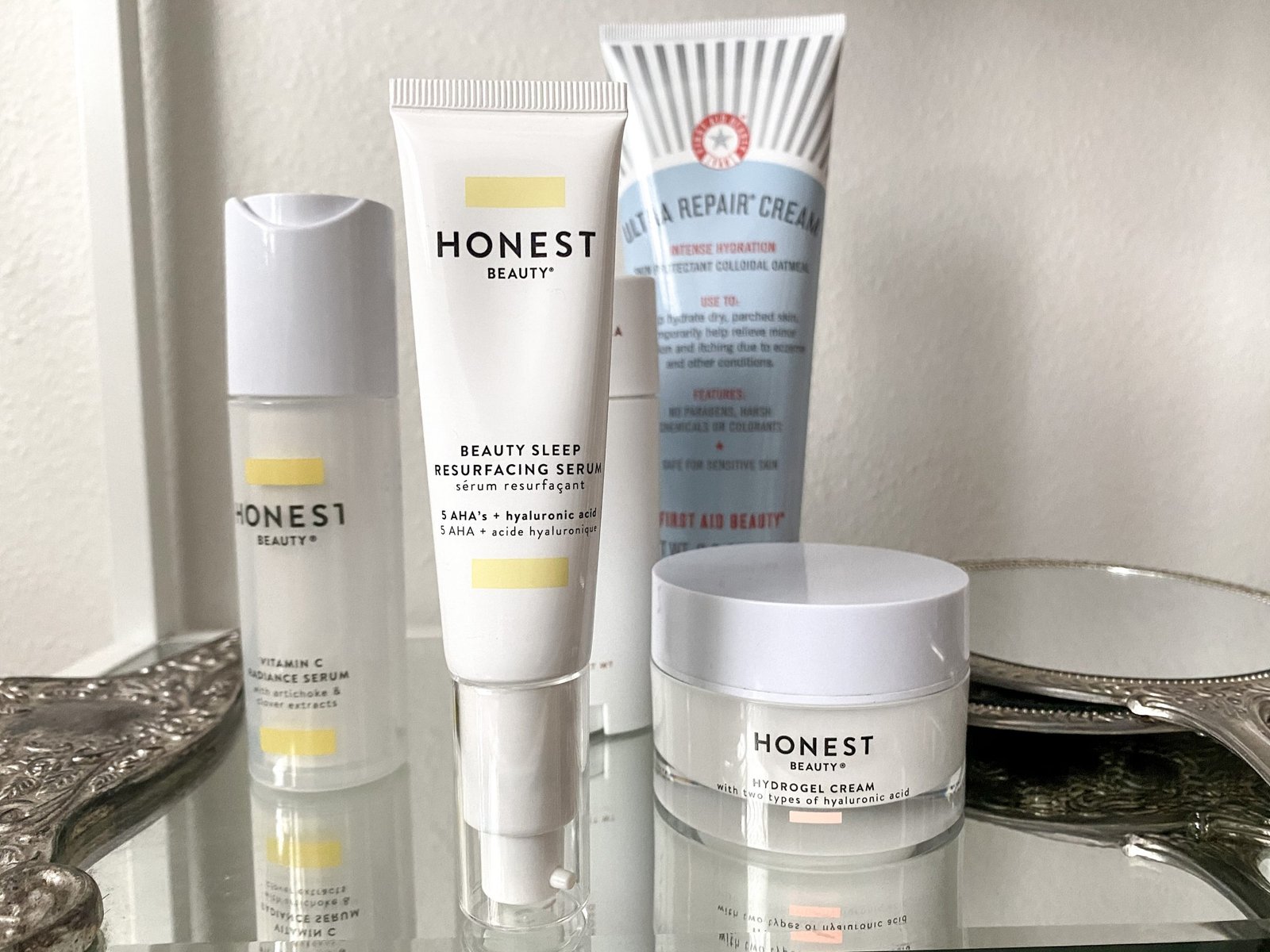 Price: $27.99
Ingredients: The full list of ingredients can be found on the Honest Beauty Website here. The main acting ingredients in this product are AHAs and Hyaluronic Acid.
If you're wondering what these active ingredients are and what they do, I will explain a little.
Alpha-Hydroxy Acids (AHAs)
This ingredient is used to reduce wrinkling and fine lines, improve skin texture and tone, and also to unblock your pores by exfoliating your face. Since their main function is reducing wrinkles and fine lines, they are commonly found in anti-aging products, however, they do come in the form of peels.
The Honest Beauty website states that this product has "a blend of Glycolic, Lactic, Citric, Malic and Tartaric alpha-hydroxy acids encased in layers for slow release on the skin over time for gentle resurfacing."
If you're wondering where AHAs come from, you can check out this article here.
Hyaluronic Acid
Hyaluronic acid is naturally produced in the body and is mostly found in the skin, eyes, and connective tissues. It functions to retain water, meaning it keeps your skin looking plump and hydrated! However, over time your body begins to produce less after damage like UV radiation or smoking. When applied directly on the skin, hyaluronic acid supplements increase skin moisture which can, in turn, reduce the appearance of wrinkles and fine lines. Applying hyaluronic acid topically can also reduce redness. This active ingredient is perfect for you if you have dry, dehydrated skin or want to reduce the effects of aging.
The Honest Beauty website states that the hyaluronic acid "infuses plumping hydration deep into the skin."
So does this product actually work?
Yes! This product has climbed its way to the top of my favorite skincare products. I love that I can put it on at night and wake up in the morning with amazing skin! My skin had been looking extra rough lately because of the change in seasons. One problem that I was especially having was the uneven texture of my skin. I would exfoliate but it still wasn't doing the job. I had even tried using The Ordinary's AHA 30% + BHA 2% peeling solution. That solution contains a higher percentage of AHAs than the Honest Beauty product, but it didn't provide the results that the sleep resurfacing serum gave me.
The Honest Beauty "Beauty Sleep Resurfacing Serum" produces immediate results. When I put this on at night, I wake up the next morning with noticeable smoother and more hydrated skin. This serum is a quick fix for dull-looking skin. I layer mine underneath the Honest Beauty hydrogel cream, which also contains hyaluronic acid. I was shocked that this product had worked so well and so fast. It's absorbed nicely into the skin, so there was no tacky feeling leftover. The serum itself is lightweight and has a light coconut scent to it. I don't hate the smell, but I don't love it either. That's probably the only complaint that I do have with this product, I don't really need it scented and would have preferred it not to be.
Is it worth the price?
Serums can be expensive. At $27.99, I don't think that it's over-priced. I think that this serum is definitely worth it. While I only paid $8 for The Ordinary solutions that promised similar results, it couldn't deliver what the Honest Beauty one could. You can use this serum as often as you want and it will last for a while. I'm going to keep using this resurfacing serum on a regular basis because it makes my skin appear healthier, isn't harsh on sensitive skin (it's so gentle), and hydrates it better than any other product I have tried! Using it every night, the product lasted me around 9 months.
If you would pay $28 to get more hydrated and smooth skin with a product that will last at least a couple of months, then I think that this serum is for you!
Final verdict
Okay, the final verdict for my review of the Honest Beauty "Beauty Sleep Resurfacing Serum," you need to try it! It works as it should, has great ingredients, is at a good price point, and is a game-changer for your skin. To check out this product on the Honest Beauty website, you can click the link here!
I want to hear from you! Have you tried this product (or are you going to)? Let me know what you thought about it in the comments below!