A couple of months ago I posted about the clean beauty documentary I watched, Toxic Beauty. I made it my mission to gradually transition to clean beauty. So far I've transitioned most of my hair products and skincare products, although I'm still working on using up the makeup I still have! Transitioning gradually was the best option for me because I didn't want to waste the products I already had and it'd also be expensive to get rid of all my products and completely replace them all at once. I've already known about Honest Company and I had even tried their mascara at one point, too (more on that below)! When replacing my skincare products I chose to replace them with Honest Beauty products. Here is my *honest* review of Honest Beauty!
Disclaimer: Some of the links in this post are affiliate links. If something is purchased through one of these links, I get a commission at no cost to you. I use this money to maintain my blog and produce new content! If you want to read more about disclaimers, you can click here.
Why I Chose Honest Beauty
The reason I chose honest beauty is that it's accessible, affordable, cruelty-free, and it ranks low on the EWG Skindeep Database scale. To go over it briefly, the EWG database is a resource that you can look up any of your products. EWG gives a rating based on the ingredients in the products. The lower the rating, the better. A rating of EWG certified, 1, or 2 is best. 3-6 products are to be used with caution and products rated 7-10 are not good. The database also breaks down each individual ingredient in the products and rates them as well. You can see if an ingredient causes cancer, reproductive or developmental toxicity, allergies or immunotoxicity, or has use restrictions.
This is how I've been figuring out which beauty products are actually "clean." Some stores have a mark of approval that says they are clean but only a few well-known dangerous ingredients like parabens are included to decide whether they are good for you or not. These products can still contain dangerous ingredients like talc and be marked "clean."
My Honest Review of Honest Beauty
Gentle Gel Cleanser
EWG Rating: 2
Price: $12.99
I really enjoyed this gel cleanser. I've used a ton of different face washes in the past and I've had a lot of issues. My skin type is 'normal' but also more on the sensitive side. In the past, some of the face wash that I have used has made me break out, or has dried out my skin.
This was one of my favorite face washes that I have used. The chamomile smell is really nice and my face feels clean and refreshed after using it. It doesn't overly dry out my face and I haven't had a breakout in the last couple of months since using it.
According to the Honest website, this facewash works for all skin types. They also claim it removes makeup, however, I use makeup remover to remove my makeup beforehand anyways. With daily use and using 2 pumps of the cleanser per day, I haven't run out but I feel like it would last 3-4 months. It doesn't contain as much product as other face washes, but I feel like for the price and how it performs it's well worth it. You can find this product linked here.
Update: In the end, I decided to use Cerave Hydrating Facial cleanser which is also rated a 2 on the EWG scale and is at a similar price point at $12.91. The Cerave cleanser does contain more product so it lasts longer, too. You can find the Cerave cleanser linked here.
Hydrogel Cream
EWG Rating: 1
Price: $19.99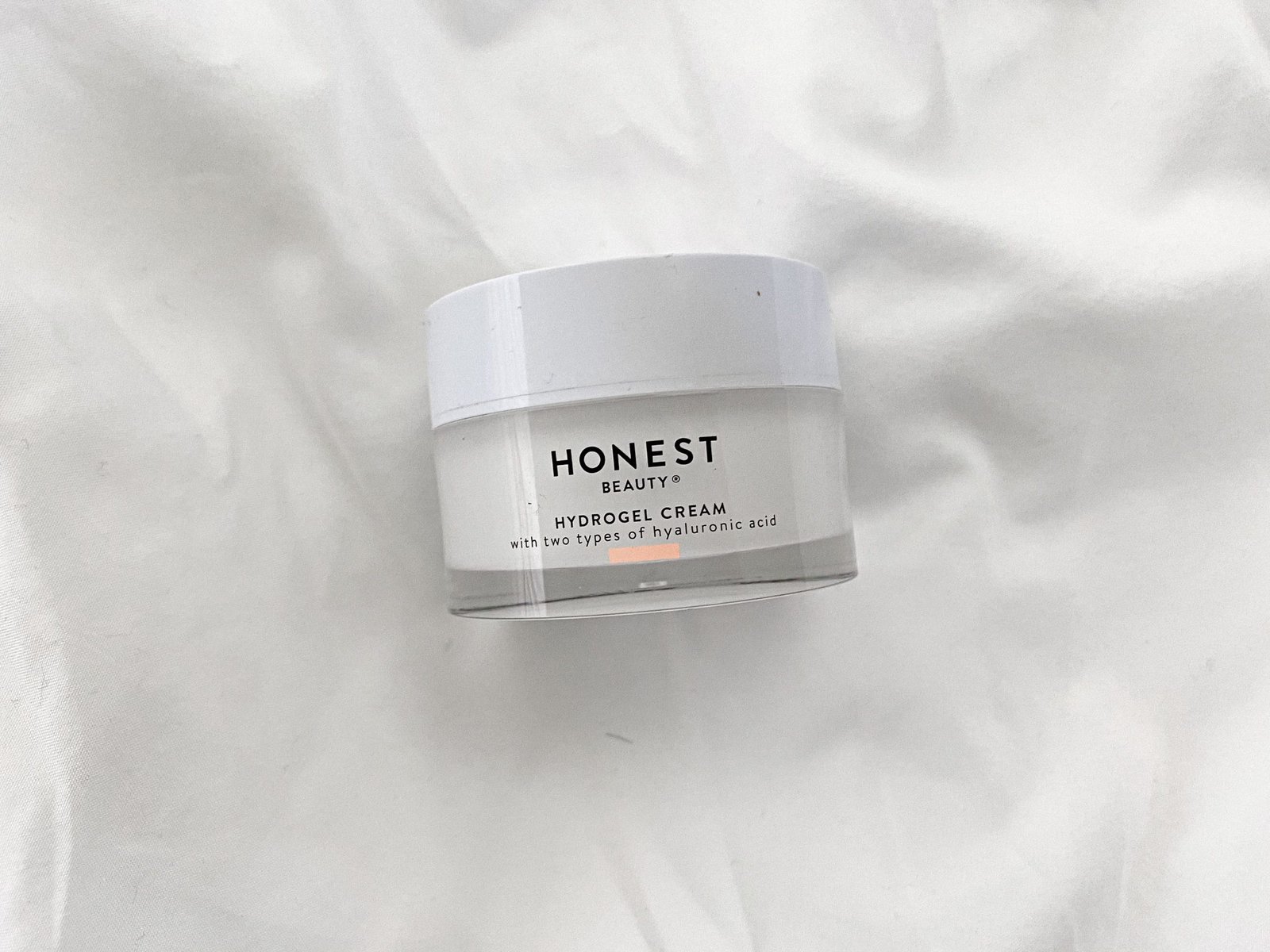 This moisturizer has two kinds of hyaluronic acid, which helps with anti-aging (by making skin firmer and reducing fine lines) and also helps with skin hydration. This moisturizer also won the 2019 Byrdie skincare award.
I've used a lot of moisturizers that I've liked in the past, although one issue that comes up is being too greasy. This moisturizer wasn't the best moisturizer that I've ever used, but it's up there in my top 2 or 3. It absorbs fast into my skin and keeps it feeling hydrated all day long. I also have used this in the morning underneath my makeup and it works really well as a base. Makeup layered on top doesn't look cakey or oily, and it actually makes a good primer.
I use this every night and some mornings. I haven't run out of the product yet, but at this rate, I feel like the moisturizer would last 4-5 months total. I feel like this moisturizer is one of the more affordable ones that I've used so it's amazing for the price. I will definitely be repurchasing this once it runs out! you can find a link to this moisturizer here.
Update: It's been almost 2 years and I still use this moisturizer! I momentarily tried another moisturizer but ended up coming back to this one for the price point and performance.
Vitamin C Radiance Serum
EWG Rating: 3
Price: $27.99
This product is rated a little higher on the EWG scale, but I wanted to implement a vitamin C serum into my skincare routine and I already had luck with the other products. Vitamin C helps to even out skin tone and make skin smoother. I have had texture problems with my skin, even though I don't usually break out.
The morning after first using this product, I noticed a difference in how glowy my skin looked. I feel like this gives you an instant glow. I didn't notice a difference in the texture of my skin until a couple of weeks in, but it got there. I don't have any problem with skin tone yet, so I can't speak to that effect. Vitamin C is a good preventative skincare product to use while you're in your 20's and this serum also includes hyaluronic acid, so that's great too! You can find a link to this product here.
Update: I still use this as my vitamin C serum even 2 years later! However, I like the Honest Beauty Beauty Sleep Resurfacing Serum much better. I have a full review on that product here.
Extreme Length Mascara + Primer
EWG Rating: 2
Price: $16.99
This was the one non-skincare product that I've tried and there are definitely pros and cons. The product works really well and I like that it also includes a primer. This mascara makes your lashes look so long but I used a second mascara for making my lashes look fuller. I like an all-in-one so that is one of the cons that I had. Another con was the price of the mascara for the amount you get. Only half of the bottle is mascara since the other half is the primer. So, the mascara didn't last nearly as long as other mascaras would've.
I did like the primer more than I have liked other mascara primers, but I would have rather had the mascara last longer than to have had the primer. Although it was overall a good mascara, I am still trying to look for a clean beauty mascara that I like as much as the Too Faced 'Better than Sex' mascara. However, if long lashes are your goal and you don't mind replacing your mascara more often, this is the mascara for you! You can find a link to it here.
Overall
The price points of the product, I feel are very good for the quality that you get. These products are also more accessible than some of the other clean beauty brands. You can find Honest Beauty products at select Targets, Ulta, and also from the website. There are also a lot of sales between Target and the Honest Beauty website where you can get 15-20% off the products and free shipping.
I've been converted to an Honest Beauty junkie and can't wait to try more of the products. The next product I'm planning on buying is the retinol. Overall, I am really impressed with the quality and would recommend it!
I hope my *honest* review of Honest Beauty has been helpful, even though I only used a couple of products!
Be sure to check out my review of Beauty by Earth's clean beauty sunless tanner if you're looking for a self-tanner, which I posted here. I also have another review of the Honest Beauty Resurfacing Serum in its own post here.
Have you tried Honest Beauty? Let me know your thoughts in the comments below!