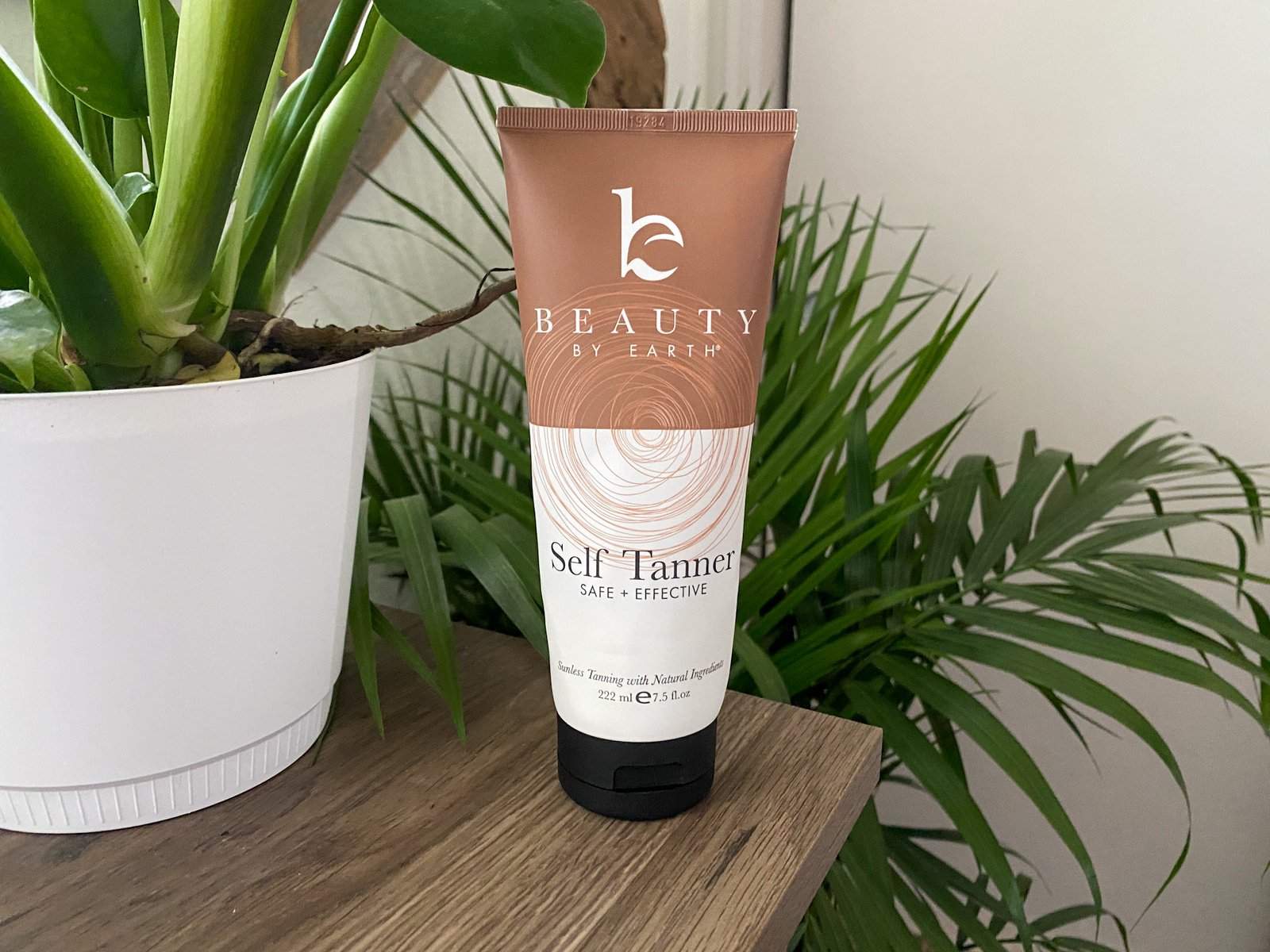 I love the look of a tan, but hate the consequences of spending too much time in the sun. Luckily we live in the day and age where there are lots of really great sunless tanning products. There are just SO many out there and that can make it difficult to find the perfect one. I've searched and searched and I think I've finally found the perfect one. Not only is it an amazing self-tanner, but I think it might be the most clean beauty self-tanner, currently on the market!
Disclaimer: This post contains affiliate links that gives me a commission at no additional cost to you. The small commission earned goes to support my blog and cover the costs to keep it up and running. You can read more about my disclaimers here.
The five key things that I look for in a self tanner are as follows:
Free of any toxic, irritating, or harmful ingredients (the lower on the EWG Skin Deep Database the better)
Easy to apply and doesn't streak.
Fades naturally and doesn't look like it's flaking off.
Looks natural and doesn't make me look orange, especially for me being so pale!
Doesn't have a nauseating smell while it's developing.
How to Prep to Achieve the Best Self-Tan:
To achieve the best possible self tan, I exfoliate and shave 24 hours before. This will allow for the product to not flake off unevenly, or look darker on dry spots. If you apply self tanner too soon after shaving, it can turn your pores darker if the tanning lotion were to get stuck in it, which is why I wait a day after prepping.
Right before applying self-tan, I apply lotion to my ankles, wrists, knees, and elbows which tend to be areas that can get darker or tan unevenly.
To apply the self-tanner I use a tanning mitt. I lost my tanning mitt for a week and tried using a sock (as recommended by Google) and I would not recommend. My tan turned out horrible and streaky. I also know that some people choose to use vinyl gloves, but that doesn't work for me either. I swear by a tanning mitt, it evenly blends the product on your skin (especially with products like this one where you can't see where the self-tanner has already been applied). I've also tried using an old (clean) makeup brush to apply the self tan onto my face, hands and feet but I've found that the tanning mitt works best to apply a thick enough layer and distribute it completely.
The Best Clean Beauty Self-Tanner:
I think I found the best clean beauty self-tanner on the market! Here's my review on Beauty by Earth's Sunless Tanning Lotion. I've been slowly transitioning all of my products to clean beauty since watching The Toxic Beauty Documentary which I talked about in this post. I referred to the EWG Skindeep Database to search for the 'cleanest' sunless tanner. That's where I found Beauty By Earth's Sunless Tanner. This was ranked a 1/10 with the most toxic beauty products being a 10 and the best being EWG verified which is essentially a 0 on the scale. There was no EWG verified sunless tanner, but ranking a 1 or 2 means that a product is safe and not toxic.
The ingredients of the product were displayed on the website and there is nothing weird. All the ingredients are recognizable, like aloe leaf extract or shea butter (see below). From personal experience, I know that the ingredients are so moisturizing and it leaves your skin feeling so soft and hydrated while making it look tan at the same time. This self-tanner is certified vegan and cruelty free, which I always look for, and even certified organic, made in the USA and reef safe.
Ingredients:
Water, Organic Aloe Barbadensis (Aloe Vera) Leaf Juice, Organic Butyrospermum Parkii (Shea) Butter, Dihydroxyacetone (Sugar Cane Derived DHA), Cetyl Alcohol, Stearyl Alcohol, Organic Cocos Nucifera (Coconut) Oil, Glycerin (Vegetable), Organic Camellia Oleifera (Japanese Green Tea) Leaf Extract, Organic Punica Granatum (Pomegranate) Extract, Organic Hamamelis Virginiana (Witch Hazel) Extract, Organic Vaccinium Macrocarpon (Cranberry) Fruit Extract, Organic Simmondsia Chinensis (Jojoba) Seed Oil, Organic Argania Spinosa Kernel (Argan) Oil, Radish Root Ferment Filtrate, Cocos Nucifera (Coconut) Pulp Extract, Vanilla Tahitensis (Vanilla) Fruit Extract
The Results:
The non-toxic part is important, but the product needs to work well too. I am so pale and I don't want to turn out orange or have a tan that looks unnatural. The sunless tan from this product turns out looking so natural! It's not streaky if you apply correctly with a mitt and prep properly. It also doesn't turn me an unnatural orange oompa loompa looking color. It's easy to apply on to your face and it doesn't make me break out, even though I have sensitive skin. There is a separate 'face' self tanner on the website but I compared the ingredients and it's the same so I just use the 'body' one.
The product out of the tube just looks like lotion and it's white so you can't tell where you have applied this product. It's easy to blend throughout so you don't miss any spots. Since it's white and absorbs into the skin within 15 minutes, it doesn't stain your clothing or your sheets if you decide to put it on before going to sleep.
Below you can see a before (left) and after (right) featuring part of my leg. The color is able to layer so if you don't reach your desired level of tan after the first application, you can apply again. I just want to look less ghostly since I am naturally very pale, so I usually do one application.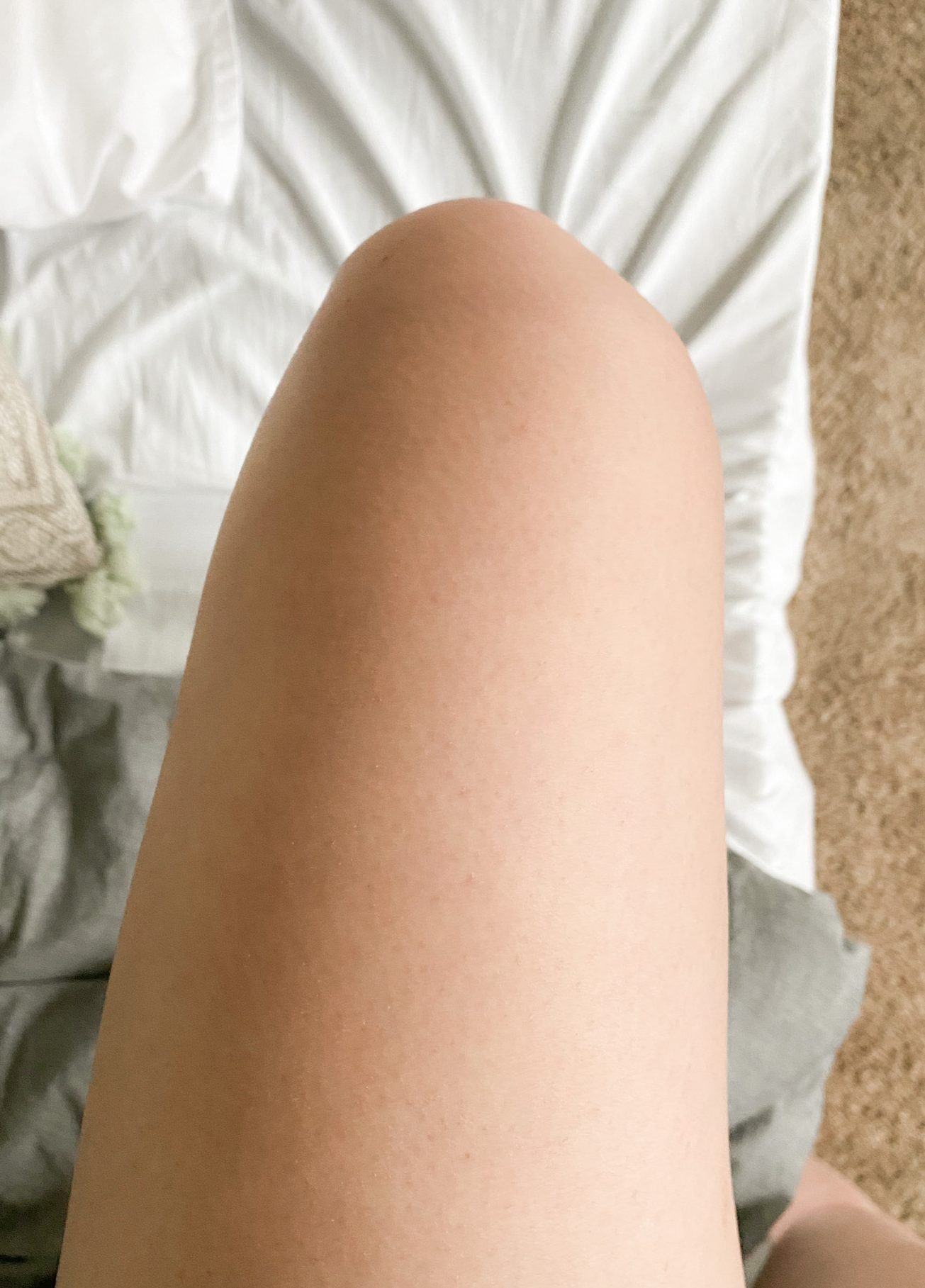 The Development:
The tan develops in 6-8 hours and there isn't a horribly nauseating smell like from most self-tanners until around hour 6. It isn't as strong or chemical smelling as I've experienced in other self-tanners, but there is still a subtle smell. The tan fades naturally and doesn't flake off like I've experienced with spray tans or other self-tanners in the past. Usually it starts to fade around day 6ish for me on my body, but sooner on my face. When it fades too much I will re-do the prep and reapply. I usually need to reapply the self tanner every 4-7 days. It mades faster on my face since I am removing makeup and washing it a lot more, but thats the case with any fake tan and it's easy to correct with foundation during the day.
The Price:
This self-tanner comes in at $30.99 or is 10% off if you subscribe. Beauty by Earth is always having sales for holidays (15-20% off) so you can probably snag another discount depending on when you buy. I feel like the price is really reasonable and I was able to use it at least 10 times before the bottle ran out. Other comparable self-tanners are at least $50 and have toxic ingredients, leave streaks, or stain clothing and sheets so I feel like the price point is reasonable!
Overall:
I loved this product and I would 10/10 recommend. If you want to try this clean beauty self tanner out for yourself, you can use my link by clicking here. If you have used this product before, let me know in the comments below, what did you think? Do you agree that it's the best clean beauty self-tanner?
For more on clean beauty, be sure to check out my post here!
You can also watch the documentary "Toxic Beauty" that pushed me to transition to clean beauty by renting on Amazon here.