Today I'm sharing part one of the best hikes in Washington State. This mini-series is going to cover the best hikes in each region of Washington. I am starting off with Gifford Pinchot National Forest since it is the closest region to me and has some amazing hikes. Gifford Pinchot National Forest is located in SW Washington State and is only around 1-3 hours from Portland depending on where you're headed. This National Forest features some of the most amazing waterfall and mountain view hikes. You can also find hikes with stunning views of the Columbia River Gorge.
Disclaimer: This post contains affiliate links. This means that I get compensated a small amount if purchased through one of these links at no extra cost to you. I always only link products I truly love and any profit made goes to running this blog. Thank you for your support! For more on my disclaimers, you can click here.
The Best Hikes in the Gifford Pinchot National Forest
1. Silverstar Mountain – Ed's Trail
Elevation Gain: 1240 ft.
Distance: 5.0 miles
My absolute favorite hike in the Gifford Pinchot National Forest is the Silverstar Mountain hike, more specifically Ed's Trail. If you're in the Portland area, it's much closer than most other hikes in the Gifford and it's gorgeous!
The road leading to the trailhead is rough. I wouldn't be able to make it up in my little Toyota Corolla, a car higher off the ground is necessary. The roads are not well maintained and there are deep cracks and tons of potholes. If you have a truck or car that you're able to make it up with, you'll be greeted with a beautiful view of the mountains. Ed's trail is challenging, but not too difficult if you're used to hiking. There are some steep hills, but there is an alternate 'Jeep Trail' for those who want to climb something a little less steep.
In the spring there are wildflowers all along the sides of the trail and you might even see some deer or other wildlife. Snow doesn't tend to melt until June, but by then it's patchy and mostly in the shade anyways. Hiking season for this trail is May- November, otherwise the trail might be covered in snow.
Once you reach the top you'll have a 360 degree view of the surrounding area!
Alternate hike: If you don't have a car suited to rough backroads, you can drive slightly further to the Grouse Vista Trailhead. Here you can enjoy a different (but still great) hike and end at Silverstar Mountain.
2. Siouxion Creek to Chinook Falls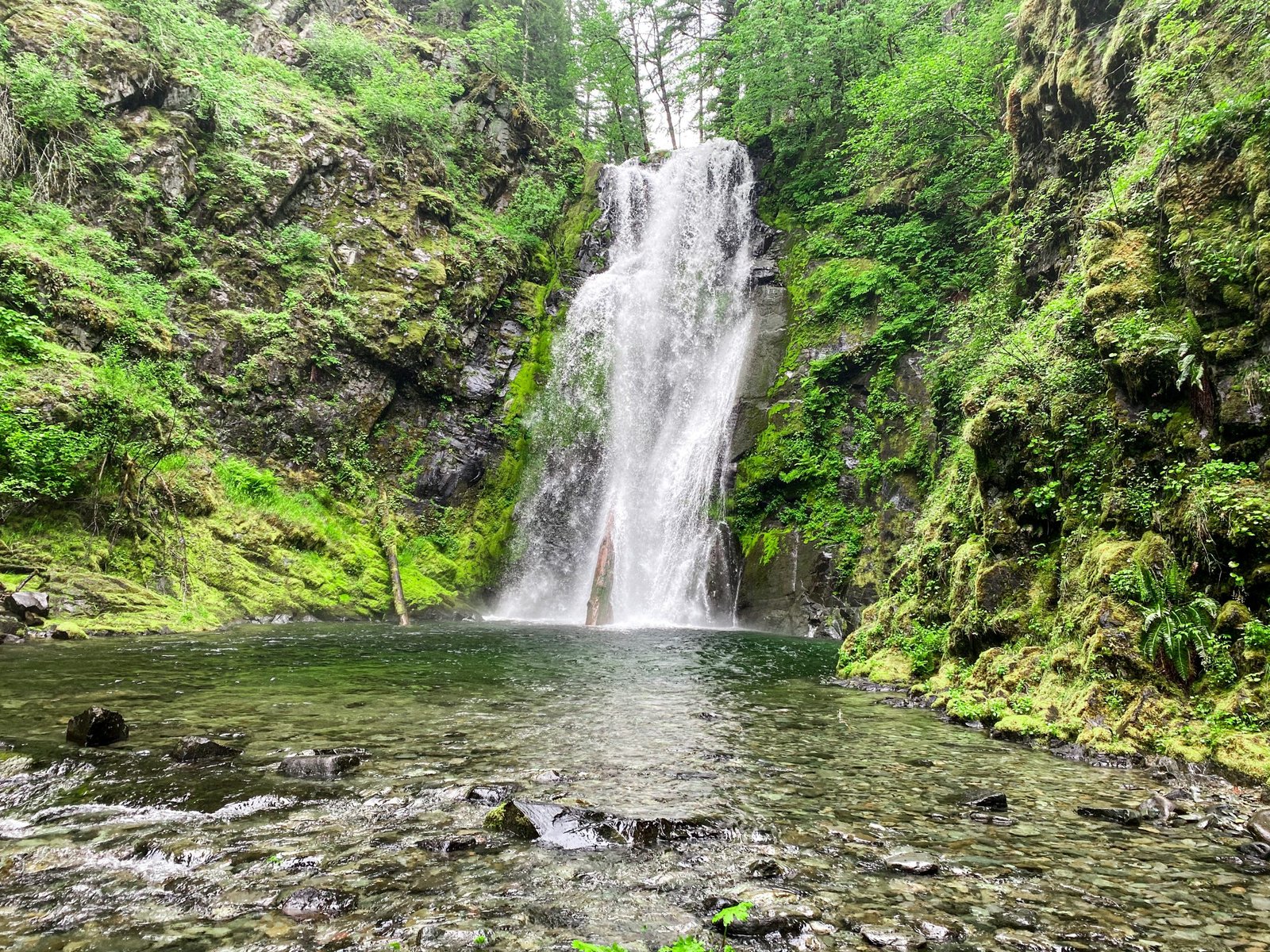 Elevation: 635 ft.
Distance: 8.0 miles
Siouxion Creek to Chinook Falls is one of my more recently discovered trails. but quickly became a favorite! This trail is great for a less strenuous hike and is a fairly breezy trail. The only steep part of the trail is right near the trailhead where you will begin by going down hill. It gets muddy if it's recently rained so come prepared with the right footwear if you try this trail!
On the hike you will pass by several waterfalls and end at the 60 ft. waterfall, Chinook Falls. From here you can camp at the nearby hike in camp spots, continue onto the Siouxon Creek Trail (total: 13.8 miles) or turn around and head back the way you came! In the summer, the creek below the bridge near Chinook Falls would be the perfect place to swim or hang out.
The road on the way in is pretty remote and does have a few potholes and lots of gravel. A car that isn't too low to the ground should be able to make it out there without trouble!
UPDATE (2021): Due to wildfire damage in the summer of 2020, the trail is currently closed.
3. Bunker Hill
Elevation: 1250 ft.
Distance: 4.4 miles
Bunker hill might be the most challenging hike on the list, although it's still really doable if you frequently hike! To begin this trail, you start on the Whistle Punk Trailhead. Make sure to bring a NW Forest Pass to park. Once you find the trailhead, it's a fairly breezy start. You'll be walking through a meadow along a section of the PCT which sometimes has elk. There are also a ton of wildflowers and wild strawberries on the ground.
Once you head into the forested area, you'll take the left path at the fork in the road to go uphill. From here you'll hike 1.7 miles straight up for 11 switchbacks. Some of the switchbacks were long or challenging, but the view at the top is worth it!
On the 11th switchback, continue straight on the footpath to the opening in the trees where you'll see a rock that's overlooking the mountains. This is your best view and is the perfect spot to eat lunch!
The road to the trailhead is manageable for any car! I drove my Corolla out there with no problems since the road is paved. There are a couple potholes, but they're easy to maneuver around.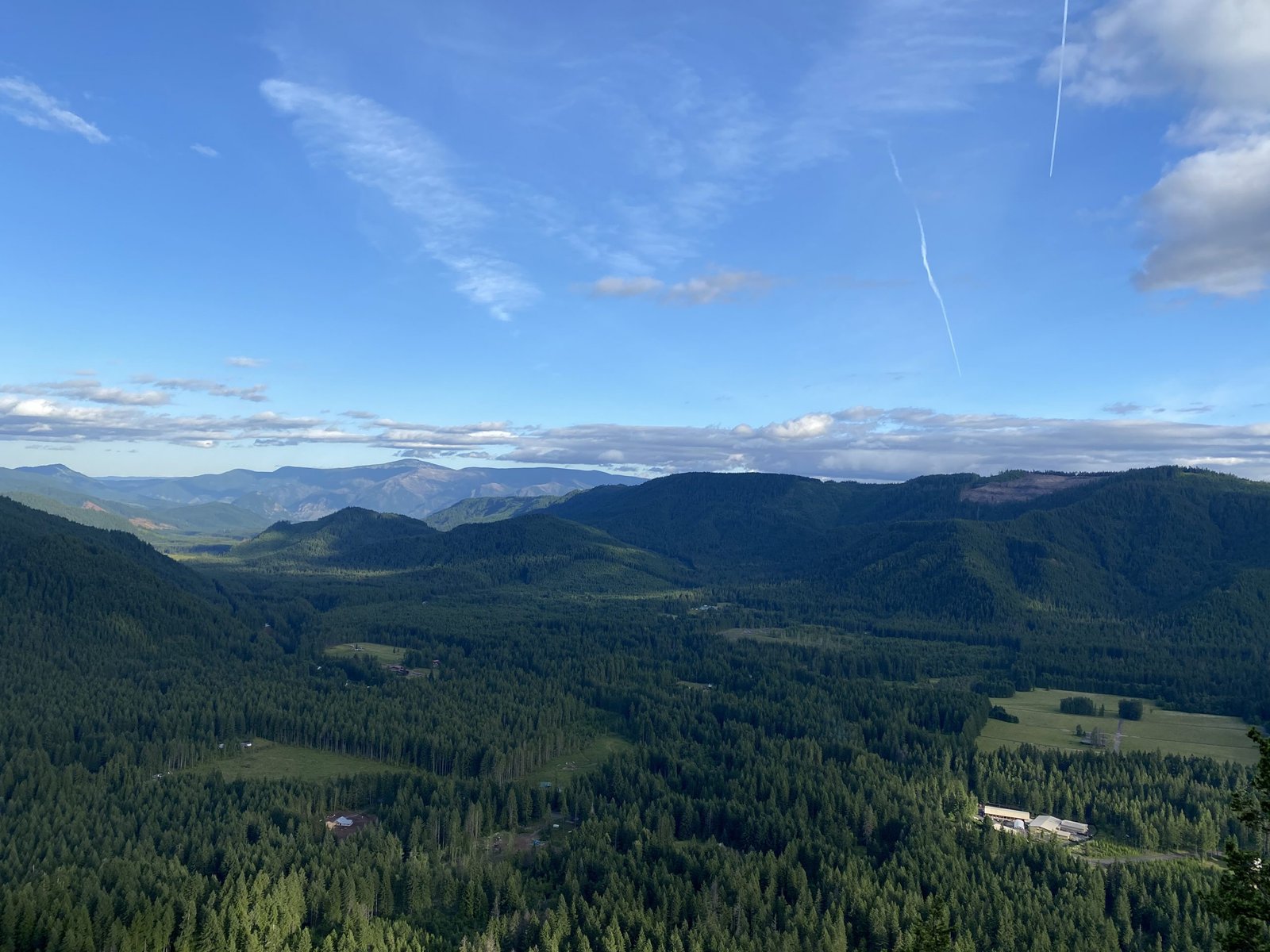 4. Lewis River Falls
Elevation: 450 ft.
Distance: 8.8 miles
For a full post on Lewis River Falls and what to know before hiking, read my post here! Lewis River Falls is highly trafficked in the summer, so be prepared beforehand! There are four parking lots, one before the lower falls, the lower falls in the campground, middle falls, and upper falls. Currently, the lower falls parking lot is closed, but you can park at any of the others and just hike out from there. Make sure to bring your NW Forest Pass! The road is also manageable for pretty much any car, although there is a gravel section on the way there.
Once you park it's a out-and-back trail where you'll be able to hike out from the main trail to several different waterfalls. The highlight of the trail is Upper Lewis River Falls, a 58 ft. high, 175 ft. wide waterfall!
The hike itself is fairly flat, aside from hiking off the main trail down to each of the falls. There is mud if it's recently rained, so be prepared with proper footwear. The trail also wasn't too maintained the last time I went, so you might have to step over stumps and brush against plants along the sides of the trail.
UPDATE (2021): As of 2021 there is a permit system in the summer due to the high traffic in previous years. Request your permit here.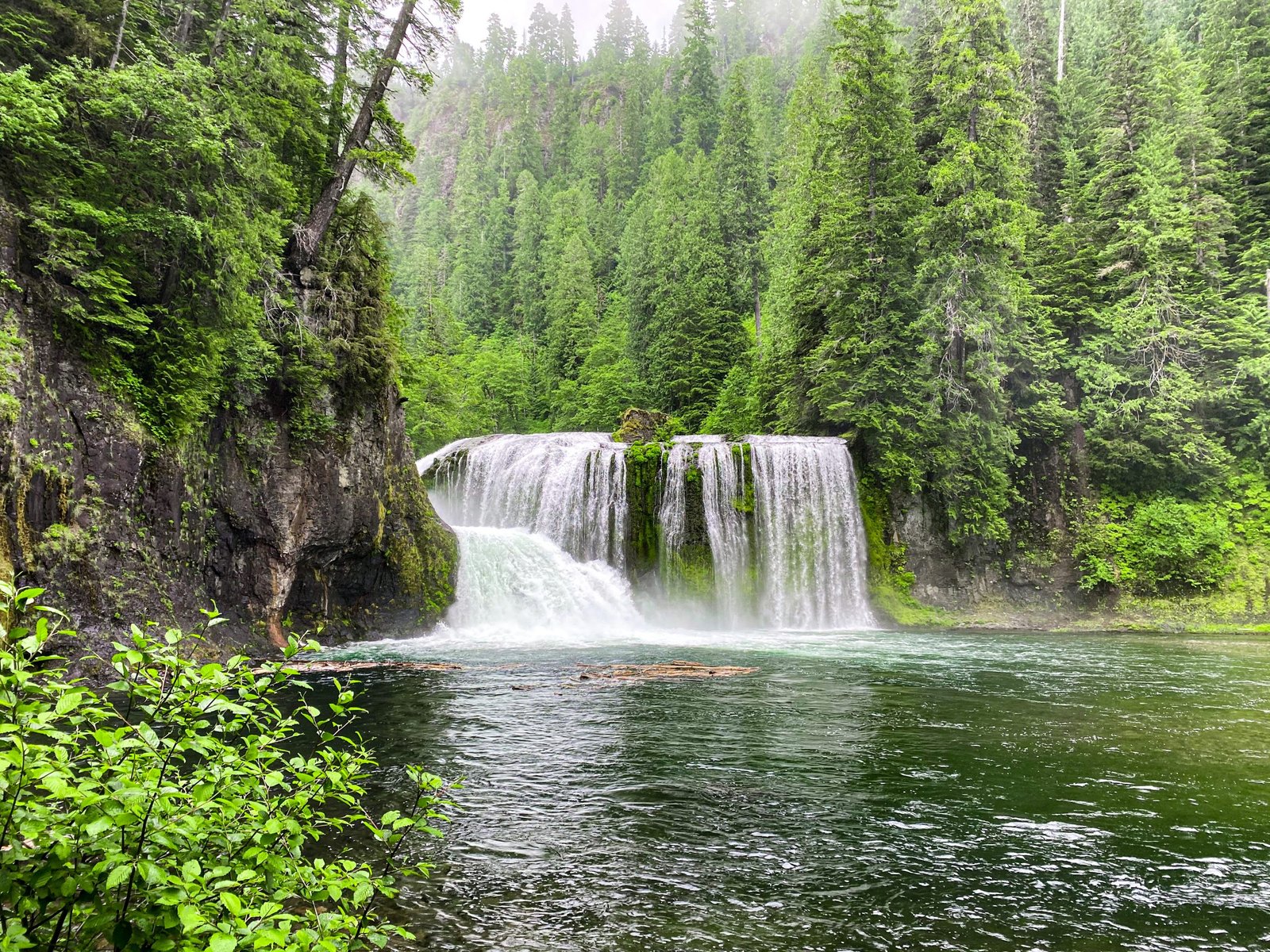 5. Ape Caves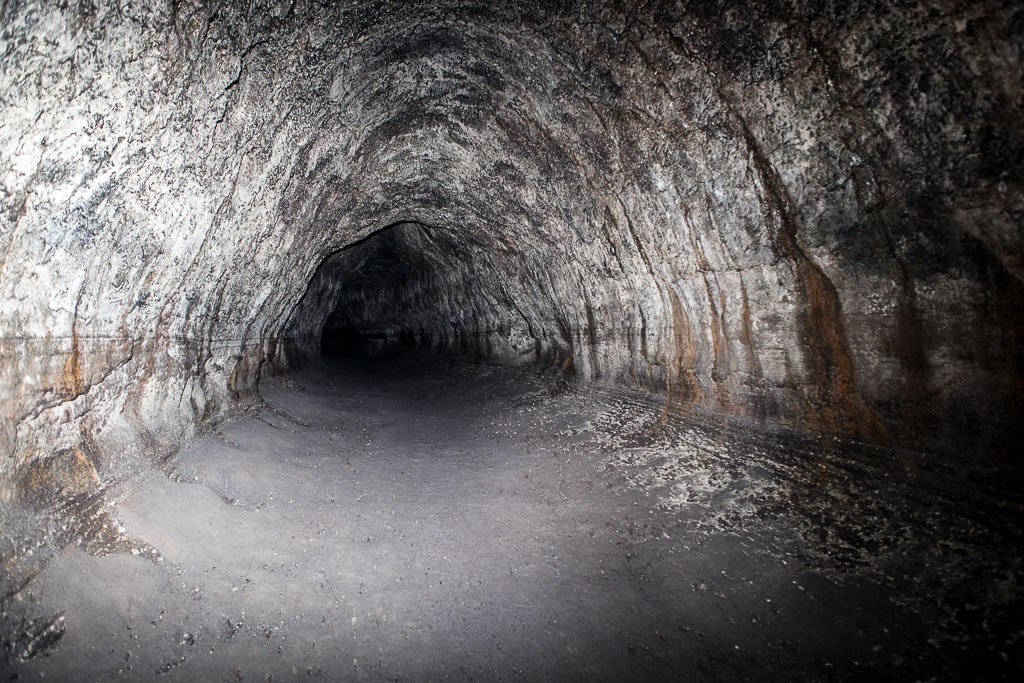 Elevation: 350 ft.
Distance: 2.8 miles
Ape Caves made the list because it's a hike unlike many others! It's the 3rd largest lava tube in North America. If you live in the area, chances are you've already been. If not, or you're travelling to the area, you should!
Ape Caves allows you to explore a lava tube. When you descend down the stairs into the cave, you can go in two directions. The lower side is a more easy, fairly flat side that is great for if you have younger kids. The upper side is 1.5 miles and involves scrambling over rock piles and climbing up an 8 ft. wall using a rope, but it's the one I recommend.
Even if it's warm outside, it's pretty chilly in the caves so bring an extra layer! Also it's dark so bring a couple of flashlights (and extra batteries!) too.
The parking lot is fairly large and it's usually a heavily trafficked hike. In the winter, there is a lot of snow and it can make it difficult to find the trail heading back, so I wouldn't recommend it from experience. Pretty much any car will be able to reach the parking lot, just make sure to bring a NW Forest Pass!
UPDATE (2021): There is now a ticket system in place in the summer due to high traffic. Get your ticket here.
6. Falls Creek Falls
Elevation: 695 ft.
Distance: 3.2 miles
Falls Creek Falls is a 130 ft. waterfall. I have a separate post completely dedicated to this waterfall, which you can check out here!
Honorable Mention: Takhlakh Lake
Although not a hike, Takhlakh lake is one of the lesser known hidden gems in the forest. This lake, that lies below Mt. Adams has beautiful blue water and is the perfect place to swim or tube during the summer. The lake is at a well-maintained campground where you can stay since it's a little off the beaten track. At night, the milky way is crystal clear and is the perfect place for night photography!
It's an honorable mention since it's not really a hike, but perfect if you're looking to spend your day by the water!
If you're exploring the SW Washington or live near Portland, be sure to check out hiking in the Gifford Pinchot National Forest!
Hikes in the Gifford Pinchot National Forest are beautiful and unlike any others in the area. There is really a hike for everyone from waterfall-chasers to spelunkers. If you haven't had the chance, check out some of these hikes and bring your camera for pictures! For more posts feat
MY HIKING FAVORITES
Here is some of my favorite gear to bring with me on hikes that I use:
If you enjoyed this post or are looking for other hikes in the Pacific Northwest area, be sure to check out the other hikes that I've posted, which I will be linking below!
Thank you so much for reading! If you want to follow along on my hikes and get notified when I post new posts, be sure to follow my Instagram @maddie_deer here or like my Facebook page here.