This week's hike is seriously one of the biggest and most beautiful in the Gifford Pinchot National Forest. I can't believe that I had not hiked this trail until recently! The Falls Creek Trail Loop is a 5.3 mile hike with an elevation gain of 1,118 ft. Overall I didn't feel like it was too bad, but there were some hills that Danny was struggling with as a beginner hiker. I would rate this trail as moderate (as does Alltrails).
This trail is located about 2 hours from Portland, Oregon out by Stevenson and Carson, Washington. Be prepared for a bit of a drive, but this hike is totally worth it! There are also plenty of other hikes in the area if you're feeling up for it. For more hikes in the Gifford Pinchot, check out my post here.
Disclaimer: This post contains affiliate links. This means that I get compensated a small amount if purchased through one of these links at no extra cost to you. I always only link products I truly love and any profit made goes to running this blog. Thank you for your support! For more on my disclaimers, you can click here.
Falls Creek Falls: What to Know Before Hiking
Getting There
To reach this hike you're going to take Highway 14 East towards Camas/Washougal. This highway is on the Washington side and runs along the Columbia River Gorge (opposite of I-84). You can also take I-84 East if you're coming from Portland and cross at the Bridge of the Gods, however, there is a $2 toll fee each way. Once you go through Stevenson, you will come across a roundabout where you will take the 3rd exit towards Carson, Washington. At this point, you will continue to Wind River highway where you will take a right. The next turn will be Meadow Creek Road/NF-30. At the end of this road is a large parking lot.
The service is very spotty around Skamania and then completely disappears around Wind River highway so be sure to have the maps loaded or downloaded so you don't get lost! There should be a sign for Falls Creek when turning onto Meadow Creek Road which is just a couple of miles past the fish hatchery.
The trailhead has a large parking lot, picnic tables, and a pit toilet (no running water or hand sanitizer so be sure to bring something). There are also no garbage cans at the trailhead, so remember to pack out and leave no trace! Even though this is in the Gifford Pinchot National Forest, no parking/day pass fee or permits are required!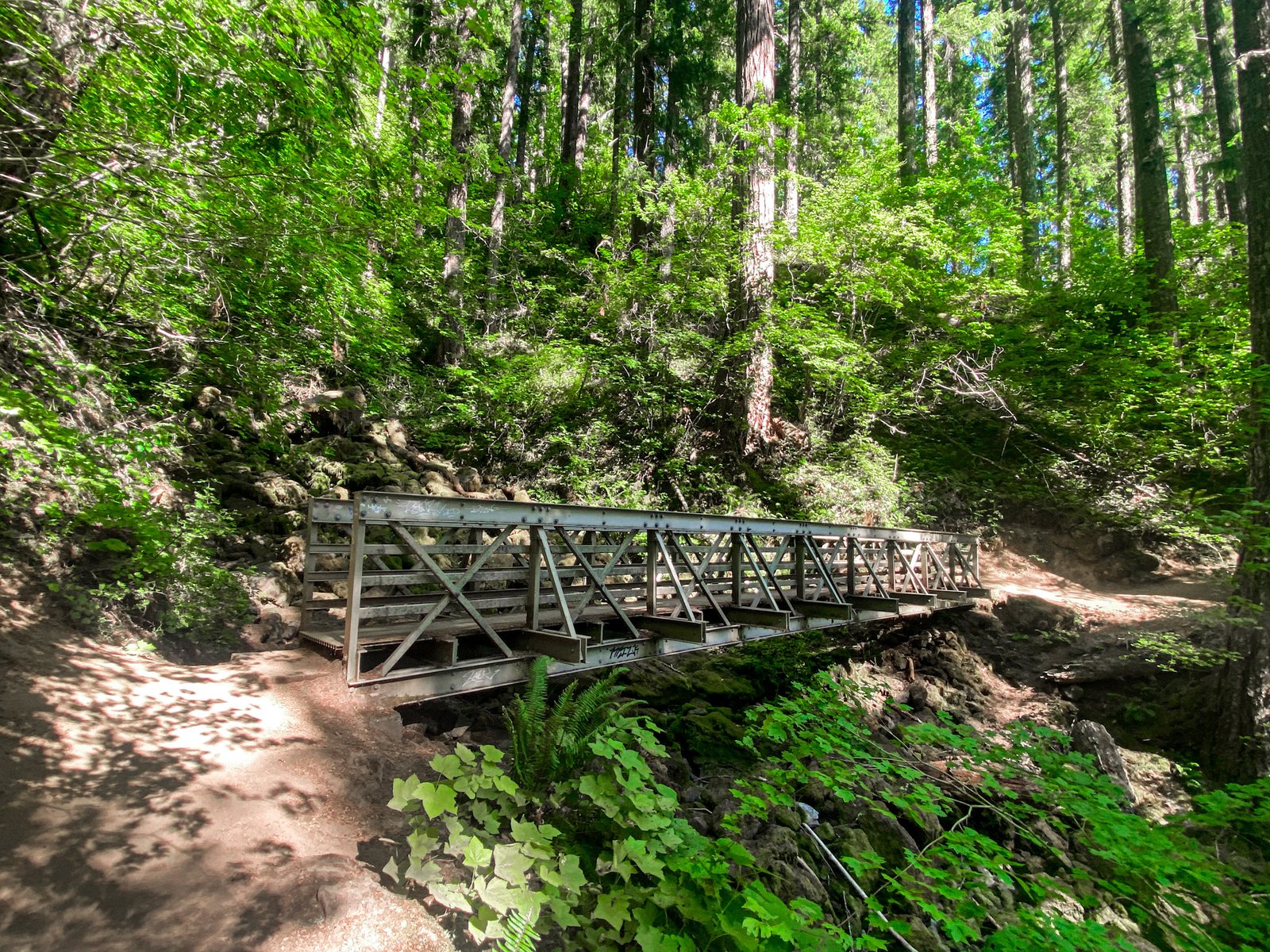 The Hike
This is an out-and-back hike. The course of the hike is well shaded by the tree cover, but the very end at the waterfall isn't as well shaded. Like I mentioned in the beginning, the length is 5.3 miles. For a seasoned hiker, this hike is no big deal. There is a minor uphill climb to the falls with an elevation gain of just over 1,000 feet, so beginners might struggle a little. However, the incline isn't for that far and there are some straight and flat stretches to break it up. This hike would also be a great hike to bring kids or dogs on (and dogs are allowed).
There are 2 bridge crossings along this hike that follows Falls Creek. The trail is pretty wide, but there is some loose gravel in some areas. Towards the end, there are lots of rocks to sit on and view the falls while you're eating lunch. There is also an area that you can climb down to that is great for a picture! in total, with time spent at the end, this hike took about 2.5-3 hours. I would budget 3.5 hours if you plan on spending more time at the falls or are a slower hiker.
If you just want to hike to the viewpoint of the falls, the hike is a little less than 5 miles roundtrip. However, you are able to hike to the top of the falls, which is much steeper than the hike to the view. There isn't too much of a view at the top, but great if you're looking for more of a workout.
Other Tips
I went on a Monday, during a holiday, and in the afternoon. At that time, the trail was not very busy (although many of the other hikes we passed like Beacon Rock on the way to the falls were packed). However, I can imagine that on summer weekends this trail would become busier. The parking lot is very large, however, so I wouldn't worry about parking.
If you're going on a warm day, there is a shallow area of the creek near the parking lot that is calm and would be perfect to bring kids and cool off on a hot day. While we were there, there were a couple of families in this area of the creek.
MY HIKING FAVORITES
Here is some of my favorite gear to bring with me on hikes that I use:
If you enjoyed this post or are looking for other hikes in the Pacific Northwest area, be sure to check out the other hikes that I've posted, which I will be linking below!
Thank you so much for reading! If you want to follow along on my hikes and get notified when I post new posts, be sure to follow my Instagram @maddie_deer here or like my Facebook page here.