Looking for your next hike in the SW Washington area? One of my favorites is Lewis River Falls which is located only a 2-hour drive away from downtown Portland. This hike can be found in the Gifford Pinchot National Forest and is a family and dog-friendly trail. I posted Lewis River Falls as a part of my post on my favorite hikes in the Gifford Pinchot National Forest a few months back but decided this waterfall-filled hike needed a post all to itself. Here's what to know before you hike, an overview of the trail, and the best time to visit this hike!
Disclaimer: This post contains affiliate links. This means that I get compensated a small amount if purchased through one of these links at no extra cost to you. I always only link products I truly love and any profit made goes to running this blog. Thank you for your support! For more on my disclaimers, you can click here.
Lewis River Falls | Trail Route, Hiking Tips + Best Time to Visit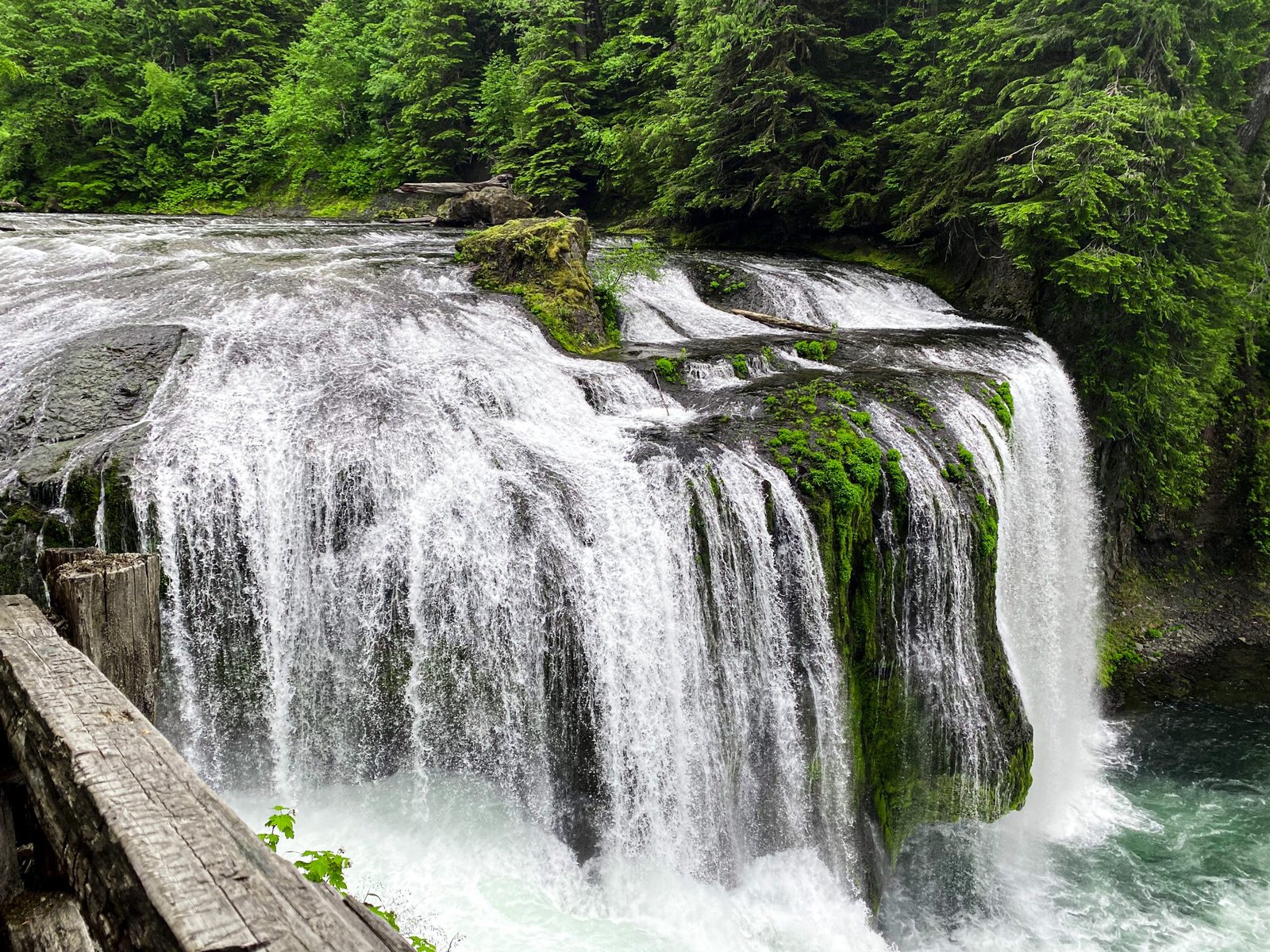 Overview + Hiking Tips
Location: [Click Here]
Lewis River Falls is an 8.6 mile heavily trafficked trail. This hike especially gets busy in the summer. To avoid the traffic on the way up to the trail along the gravel road and to avoid not have a spot in the parking low, plan to arrive earlier in the day (before 9). There is active ticketing if you park along the road or try and make your own parking spot, especially on the weekends and busier months. To avoid getting a ticket, make sure you aren't parking on the roads (especially around the lower falls parking lot). If you continue up the road, you will find additional parking. Also, you'll also need a Northwest Forest Pass for this trail. Make sure it's displayed to avoid a ticket!
AllTrails describes this hike as moderate which I think is pretty accurate because there are some steep inclines in a couple of places. However, I think the trail is totally manageable if you want to bring along kids! Also, prepare for limited cell service. It was pretty spotty when I was there having AT&T, but you may have better luck if you have a different provider.
Occasionally there will be smaller logs down on the trail that you need to step over and growth of foliage into the trail that you will dodge. Be prepared to get a little wet if you go in the rainy months! Not only can the falls' mist you, but you might be running into the foliage that is covered in dew if the trail hasn't been maintained in a while. Some areas are also very muddy. I would recommend hiking boots, but I think it's manageable to tip-toe around the muddy areas if you really needed to.
Best Time to Visit
While the trail can get pretty busy and crowded in the summer, the winter months are much less busy. I recommend checking the Alltrails website before heading up in the winter months to see if the road is still manageable. There will be snow since it's at a higher elevation. Much of the trail isn't near a drop-off and the viewpoints have rails so you should still be safe on the trail. It's always a good idea to take extra precautions and wear the right shoes, though!
As for the best time to visit, I think summer is the perfect time to take advantage of the weather. Below the upper falls, there is an area to swim. It's deep in some areas so I wouldn't recommend bringing kits to swim. If you're worried about crowds in the summer, try a weekday instead of a weekend and go during the late spring or early fall for milder weather conditions and fewer crowds!
Trail Route
Along this trail, there are several waterfalls. The three main waterfalls are the upper, middle, and lower falls. Most chose to park at the lower falls and hike up. However, if you can't find parking there is a campsite that allows parking in the offseason, a parking lot near middle falls, and a parking lot at upper falls.
This is an out and back trail with only 974 ft of elevation gain. The waterfalls are some of the best in the US (in my opinion). You can decide for yourself from the pictures, or while visiting the trail! Lower Lewis River Falls is 43 ft high and 200 ft across while Upper Lewis River Falls is 58 ft high and 175 ft across. It's one of the hidden wonders of the PNW!
Camping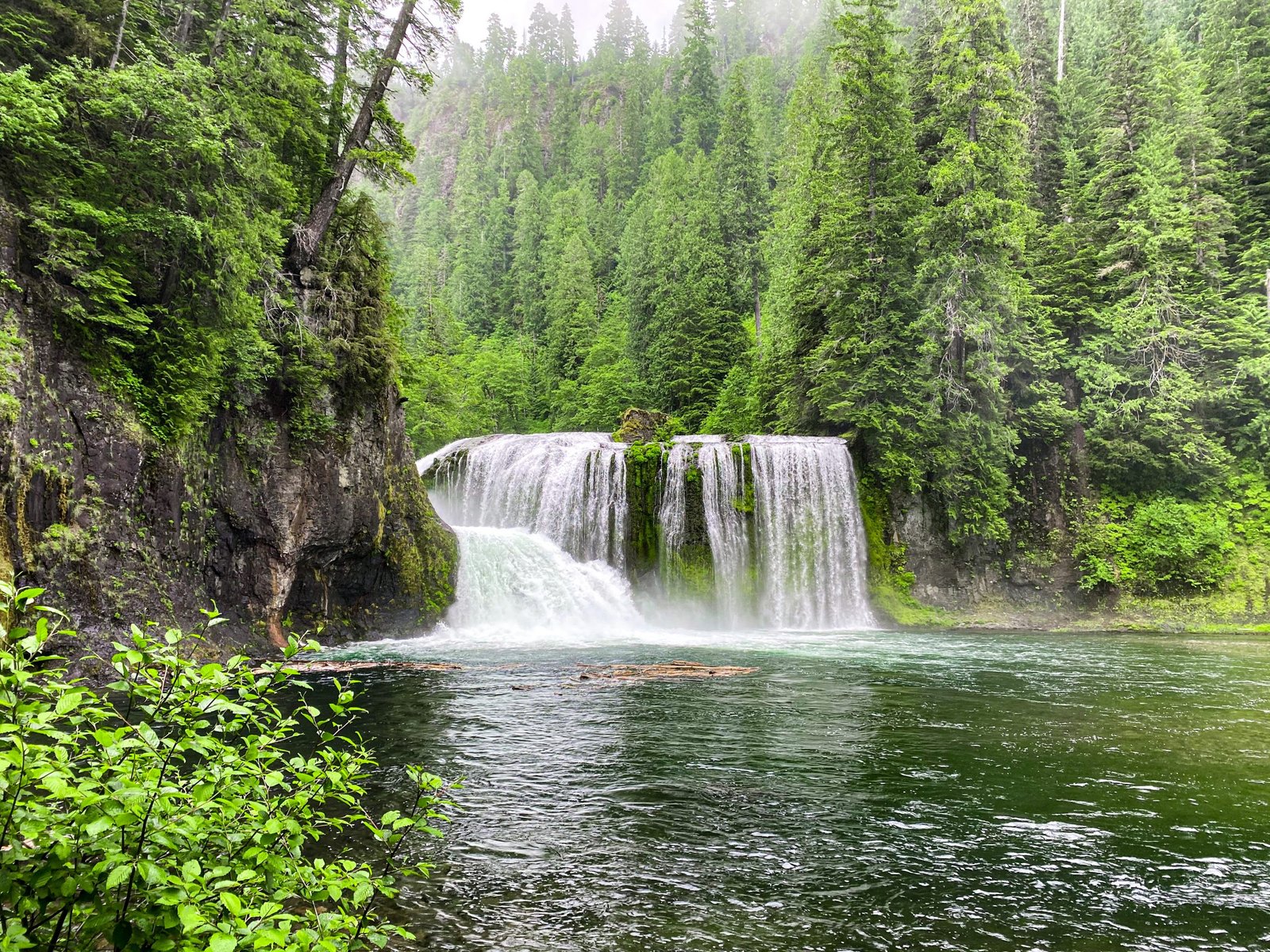 If you're from further away, or just looking to take a camping trip, there is a campsite near the falls. This campsite is open from May to late September. There are 43 sites for tents and campers up to 60 ft. There are no hookups available. Campsites range from $15- 35 depending on the site and cars are an additional $5. Reservations are required but if you don't make one you might still be able to grab a site on a first-come, first-serve basis. To make reservations or for more info and the campsite, you can visit the website here.
My Hiking Favorites
Here are some of my favorite gear that I bring with me on hikes:
If you're interested in more hikes, check out one of the posts below!
Thanks for reading, I hope you enjoy the hike! I want to know your thoughts! Comment below if you've been on this hike and let me know what your experience was + any tips that you might have.
You can follow along with my other adventures on my Instagram @maddie_deer here!