Today I'm sharing a hike that's more on the harder side. Mount Storm King is a hike located in the Olympic National Park. This hike is a 5.3 mile heavily trafficked out and back trail near Port Angeles. The elevation gain for this hike is 2,076 ft. This hike has one of the best views of Lake Crescent. If you're going on the weekends during the high season, be prepared for heavy crowds. To avoid crowds, go during the weekdays, earlier in the morning, or later in the afternoon if possible. This trail is rated hard by AllTrails and I would agree with that. It's not for those who are scared of heights, rock scrambles, or steep inclines! There are also no dogs allowed on this trail.
Disclaimer: This post contains affiliate links. This means that I get compensated a small amount if purchased through one of these links at no extra cost to you. I always only link products I truly love and any profit made goes to running this blog. Thank you for your support! For more on my disclaimers, you can click here.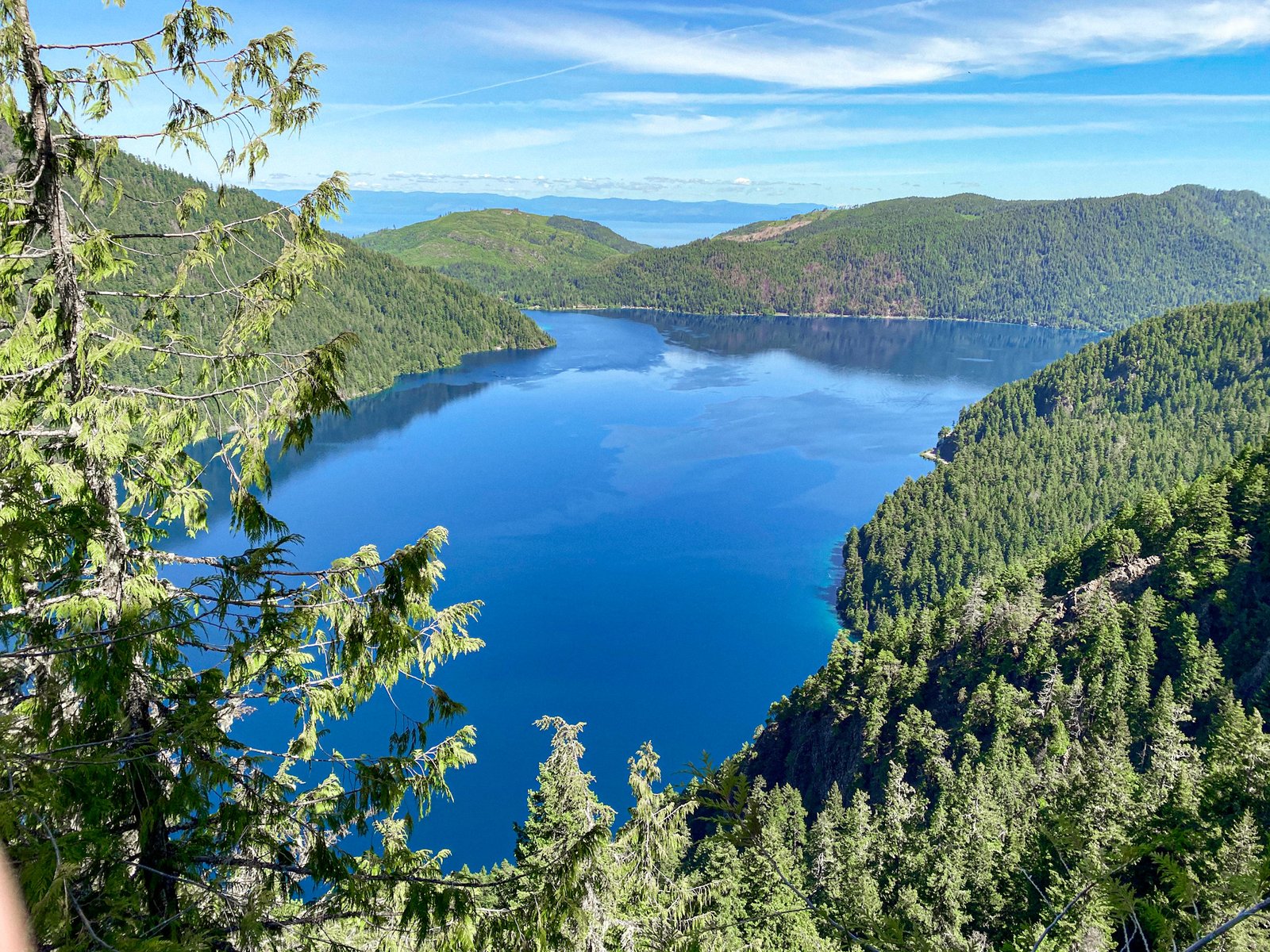 Mount Storm King: What to Know Before Hiking
Getting There
From Port Angeles, take 101 West for 20 miles (heading towards Forks). It will take about 30 minutes. There will be a sign for Marymere Falls and the Lake Crescent Lodge with room to park on the right. If you are coming from the direction of Forks, you will take 101 East for around 30 miles until you reach the same sign. Once you turn at the sign there is room to park by the Lake Crescent Lodge to the left, or the Storm King Ranger station by going to the right. Parking is free, but fills up fast, even on weekdays. Plan to arrive early (before 10 am) if you want to have an easier time finding a parking spot.
In the lot there are garbage bins, bathrooms, picnic areas, a boat launch, lodge, and ranger station. Currently the Ranger Station and Lodge is closed per COVID regulations in place. If you are parking at the Storm King Ranger station lot, take the Marymere trail behind the station to get to the trail. There will be a tunnel leading under the main road once you start the trail. If you're in the Lake Crescent Lodge parking lot, follow signs for the same Marymere trail. These trails with converge just before the Mount Storm King trailhead.
This hike is only about 3 hours from Seattle. if you are heading from Seattle, take the Bremerton ferry to the peninsula and then follow signs towards Port Angeles before following the directions above.
The Hike
What to Expect
The hike up is just about 2.5 miles once you reach the Mount Storm King trailhead. At the trailhead you will take the incline up the mountain. The incline gets steeper and does not flatten out at any point so be prepared for a workout! The trail has been well maintained for the most part, however near the last part of the trail there is a sign that says "End of Maintained Trail."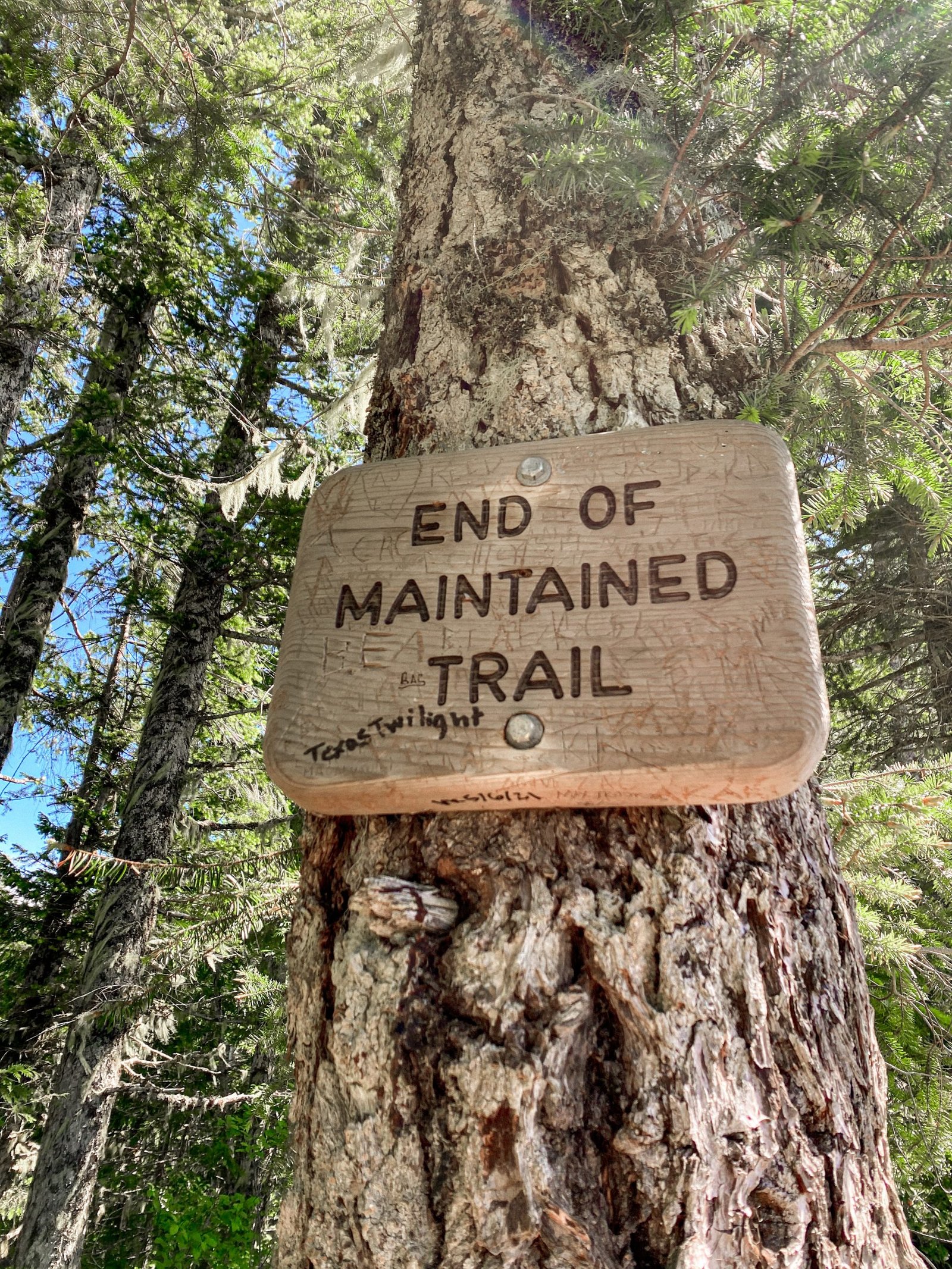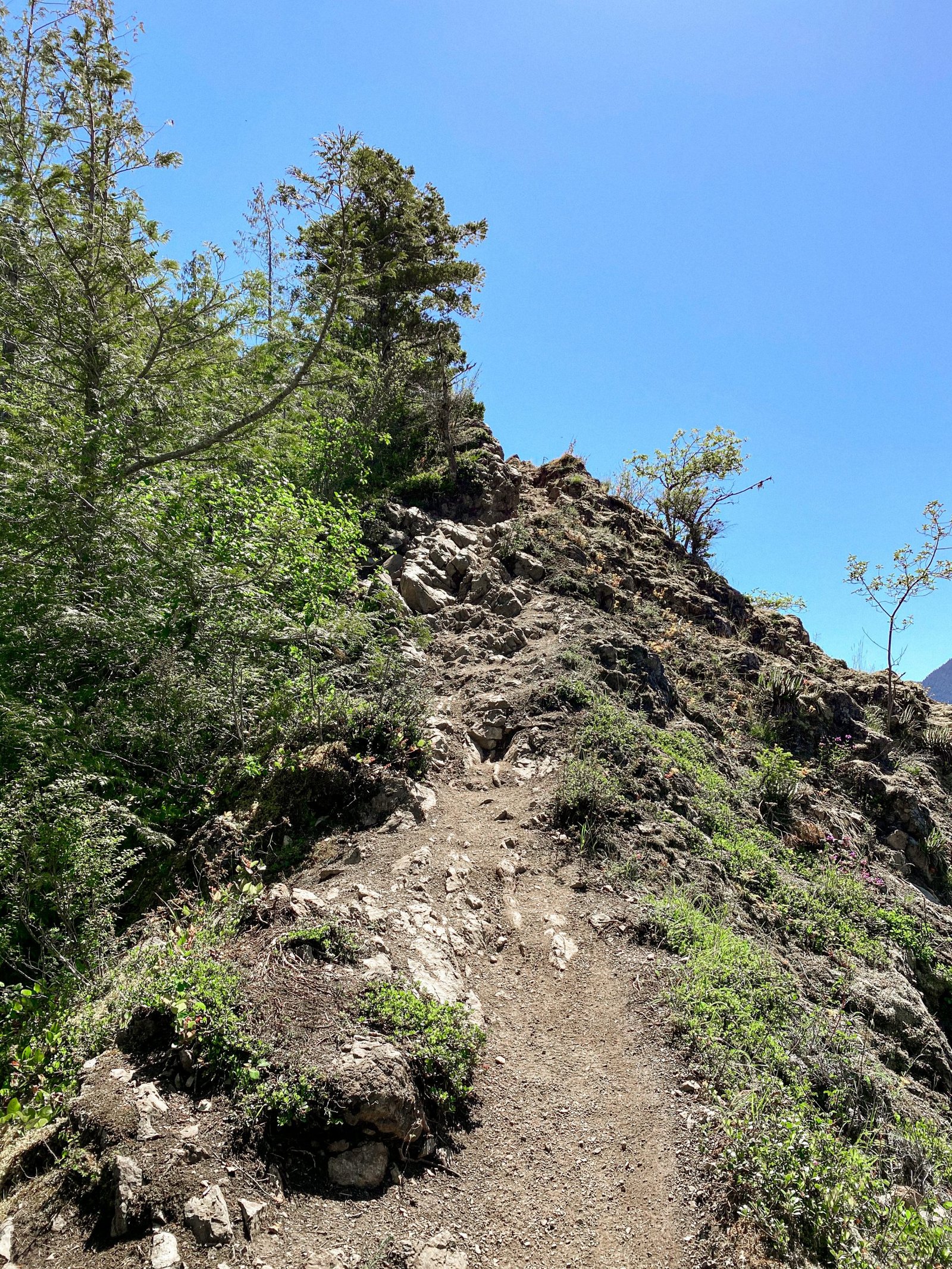 After the end of the maintained trail there will be somewhat of a rocky scramble over steep heights. After this scramble, the final portion of the trail has ropes that can be used to ascend the final part of the trail. This part of the trail is a little sketchy, especially because there is loose gravel that can make finding your footing hard. Others on the trail are also heading down these same ropes so sometimes you need to find a place to wait to ascend or descend if someone is already using the rope.
In total, the hike took about 2.5- 3 hours including the time spent at the top. That is with limited breaks so if you haven't hiked steeper hikes before or plan on stopping for breaks, budget around 4 hours. Before or after the hike, if you wanted to go to Marymere Falls, it's only about 1/4 mile away from the Mount Storm King trailhead.
Other Tips
Gloves for the ropes can be helpful, but I don't think they are necessary. Trekking poles can also be helpful, but prepare to need to hold them while using the first set of ropes as there wouldn't be anywhere to put the poles! I think the hike is easily doable without trekking poles, as well. The unmaintained section of this trail can be dangerous if you don't know what you are doing because of steep drop offs and loose gravel. Make sure you're wearing good hiking shoes with traction and are watching your footing! This trail is best done between May – October while weather conditions are better. Go on a clear day for a good view of the lake.
Camping
If you want to stay in the area, there are a few good campgrounds nearby. My go-to is Fairholme Campground. At this campground you can grab a site right on Lake Crescent. Aside from the campgrounds, there is the Sol Duc Lodge nearby, as well as hotels in Port Angeles.
Lodging Options:
My Hiking Favorites
Here is some of my favorite gear to bring with me on hikes that I use:
If you're interested in more hikes, check out my post on my favorite hikes in the Gifford Pinchot National Park located in SW Washington here or Trail of 10 Falls hike here.
Thanks for reading, I hope you enjoy the hike! I want to know your thoughts, comment below if you've been on this hike and let me know what your experience was + any tips that you might have!
You can follow along with my other adventures on my instagram @maddie_deer here or Facebook page here.