I just got back from a week-long trip to Austin, Texas! Danny and I had a great time and realized the food and drinks in Austin are no joke. We had some of the best food! I have visited before, so I already knew that it's easy to eat vegan in Austin, Texas. The first time I went, I primarily ate at vegan places (since I went solo). This time around since I went with Danny (who is not vegan) we mostly went to places that could accommodate us both. This isn't the best strictly vegan in Austin, Texas post, but some of the places that we both agreed on were the best that we visited (that can accommodate you if you're vegan, too). I also included some of the restaurants I really enjoyed that were completely vegan when I went a couple of years ago.
While you're in Austin you have to try the queso, breakfast tacos, margaritas, and bbq. Bbq isn't really my thing, so I didn't include any of those places on the list, but here's a post from an Austin blogger with bbq recommendations. This list also excludes coffee – I wrote a second post ranking the coffee places that I tried in Austin that I will link here once it's posted.
Anyways, let's get into it. 🙂
The Best Places I Ate + Drank as a Vegan in Austin, Texas
Food
1. Better Half Coffee and Cocktails
Happy hour: 3 pm – 6 pm Tuesday- Friday and Sunday ($6 cheeseburgers, $6 sangria, $2.50 high life, $3 St Elmo Carl Kolsch)
Reverse happy hour: 9 pm – close every day ($6 burgers)
Although the name mentions coffee and cocktails, they offer way more! You can check out their menu here. This restaurant was close to downtown, but more on the West side of Austin near the flagship Whole Foods store. There was a pretty good amount of indoor seating and a ton of outdoor seating. You can seat yourself and then order at the bar.
I had the vermicelli salad, which I've already recreated since being home, and Danny had the glazed baby back ribs. Danny has said that their ribs were the best ribs that he has ever had. Their portion sizes were huge and their prices were great. They have multiple vegetarian + vegan options on their brunch and dinner menus (which I love to see).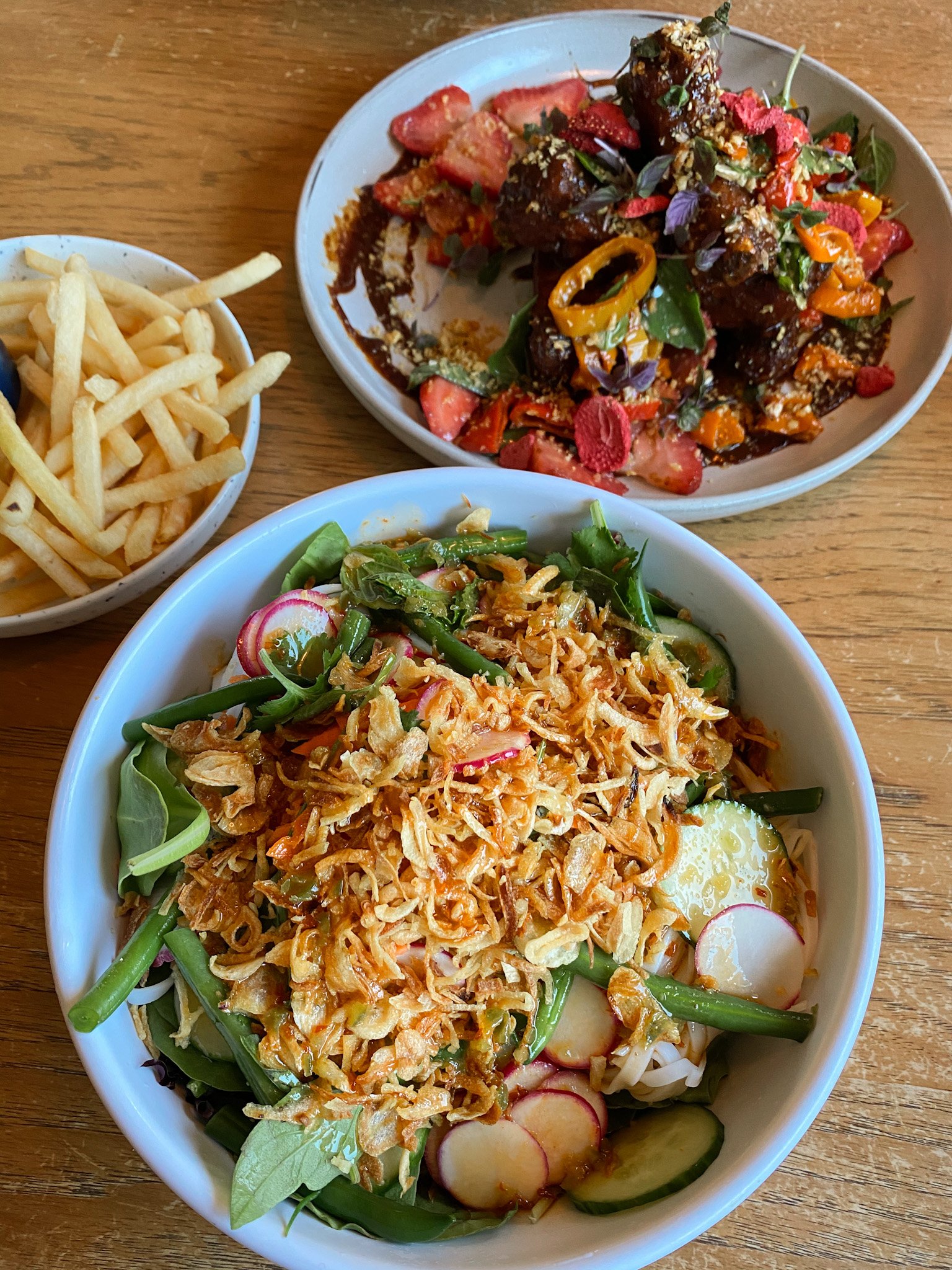 2. Café No Sé
Reverse Happy Hour: 6 pm- 8 pm Monday – Friday ($2 off beer, wine & menu cocktails)
This cafe is a healthier option in South Congress, although it doesn't have as many vegan options. You can find the menu here. There are plenty of vegetarian options and you can make substitutions for some of the choices to make them vegan. The prices are on the higher side, but the food was delicious and the atmosphere is great. I really liked the options they had here and the food was really good!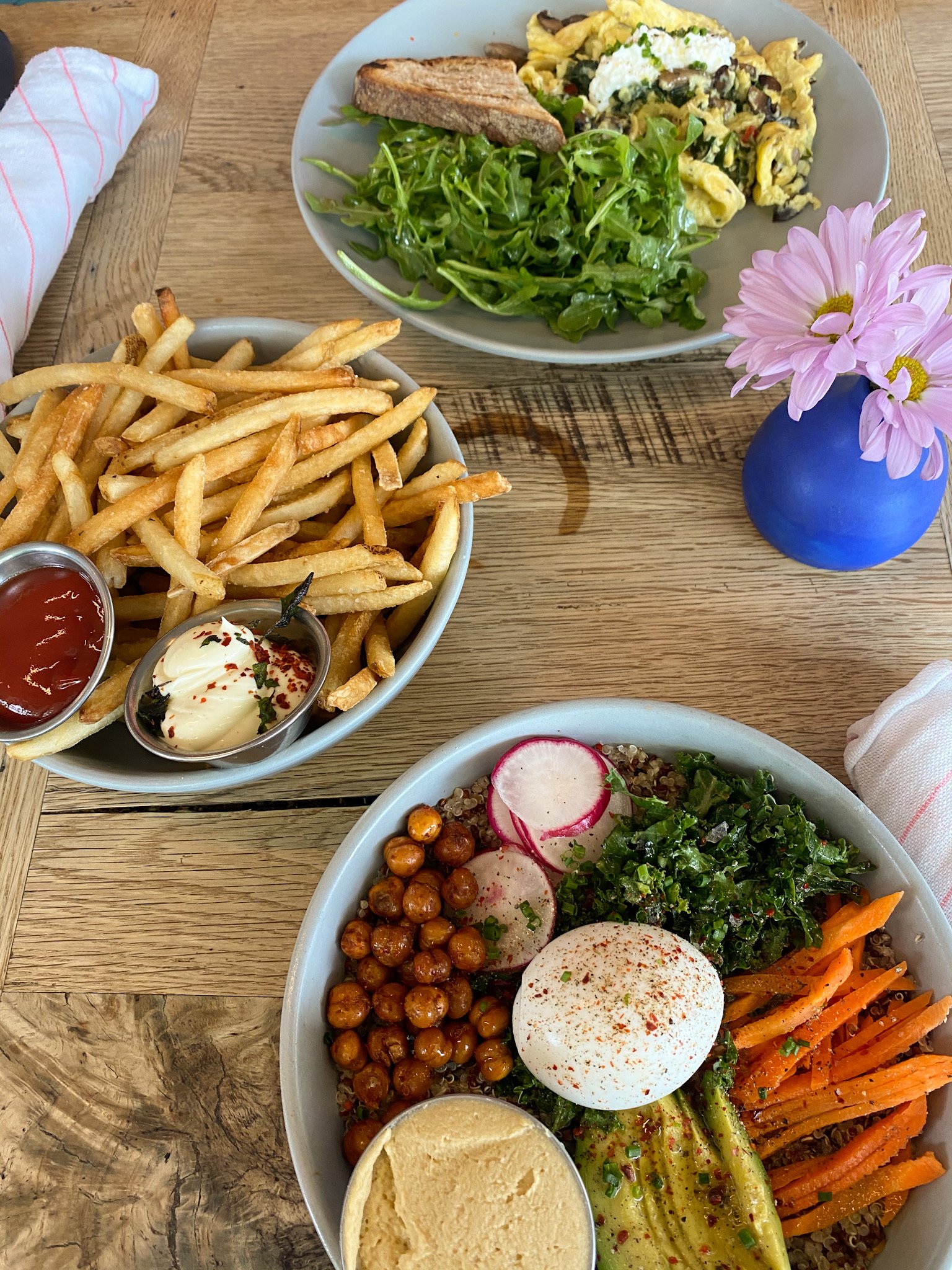 3. Bouldin Creek Cafe
This restaurant is a vegan/vegetarian restaurant that I visited during my first time in Austin. You can find their full menu here. As the name implies, it's in the Bouldin Creek area. I was excited to go back, but they were doing building repairs during the time that we were visiting! They serve delicious vegan versions of comfort food favorites. If you're vegan or vegetarian and visiting Austin, I highly recommend this spot!
4. Veracruz All Natural
Happy Hour: 3 pm- 6pm ($5 margarita or $2 beer with purchase of a taco)
For vegan (and regular queso), the best chips, and yummy tacos, you need to stop at Veracruz! This was one of my favorite places to eat while visiting. They had multiple vegetarian and vegan taco options (which is usually hard to come by), good prices, and a great atmosphere. You can find their menu here. There was a long wait during a couple of times that we went, but we did go during the peak eating times. The margaritas that they had at The Line Hotel location were also really good. There are 6 locations, if you're in downtown the closest location is The Line which is near the Congress bridge.
5. Counter Culture
Another vegan/vegetarian restaurant that I really liked during my first trip to Austin. You can find the vegan version of your comfort food favorites here like mac and cheese, Reubin Sandwiches, and cheesecake. You can find their menu here. If you're staying in the downtown area, it can be a bit of a drive. This restaurant is closer to East Austin.
7. Zanzibar
Zanzibar is a rooftop bar with a tropical theme. This bar is located in a Mariott in the downtown area near the Congress bridge. To access the bar, go to elevator D and take it to the 8th floor and follow the signs to the bar. I loved the atmosphere, the view, and the drinks here! I wish I could've taken more pictures (check out more to see the atmosphere here), but it was dark because we went late so I only got a picture of the drinks. Danny got the Duke's Pearl (rum, passionfruit, pineapple, honey, lime) and I got the Zanzibar swizzle (rum, hibiscus, ginger, allspice, lime – frozen). You can find the menu here.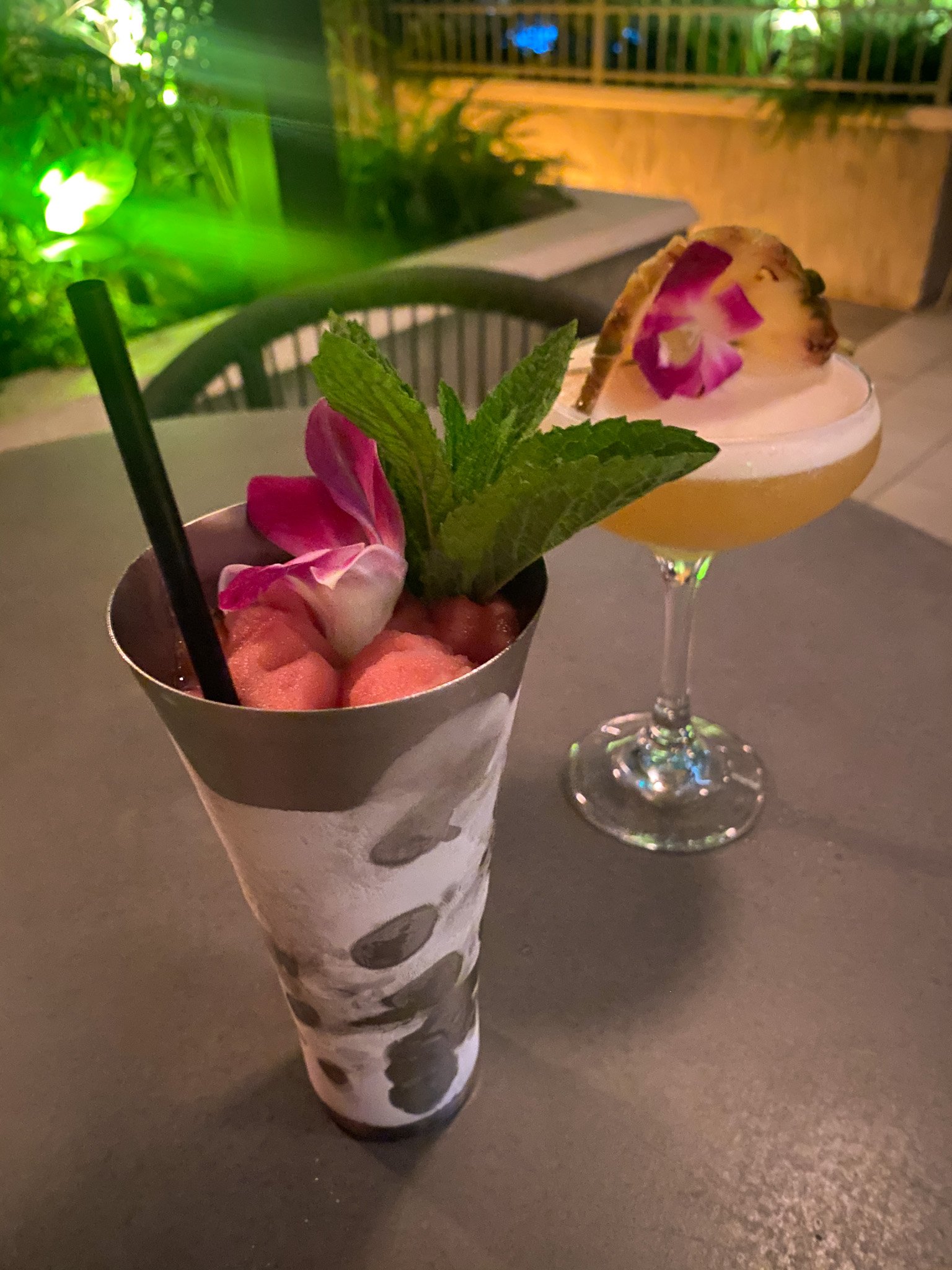 The next places on our list:
If you're looking for more places to try while in Austin, here are some of the places that we wanted to go to but didn't get the chance because of timing:
There are so many different amazing places to eat in Austin so in no way is this an all-inclusive list, but maybe this will give you a couple of options if you are visiting. We only had 4 days in Austin during this trip, which is hardly any time to really explore the food scene. To see more pictures of Danny and I's trip to Austin, you can find me on Instagram @maddie_deer here and click on my 'Austin' story highlight. Eating Vegan in Austin, Texas is super easy which can sometimes be hard to do when traveling.
If you've had a chance to eat at one of the restaurants above, let me know your thoughts. Or, if you have other recommendations from when you visited Austin or had a favorite restaurant, let me know in the comments below!
For more travel-related content, be sure to check out one of the posts below: