Oh my freaking goodness, this year felt like it went by extreamly fast and slow at the same time. Honestly, around March when lockdowns began I threw out all of my New Years Resolutions. I became unmotivated and even though I had all the time in the world (at first after getting laid off) I just didn't want to do anything. Anyways, the first few months in lockdown were a blur. Regardless, I still wanted to do a reveiw of my 2020 goals and go through a yearly reveiw.
If you want to read my original 2020 goal post, you can check it out linked below. I am also linking my past resolutions post from 2019.
In the beginning of 2020, I posted my 2019 reveiw and goals in the same post, but this year I decided to split them up (and post them on the same day). You can find my 2021 goals that I posted today by clicking here.
A Review of my 2020 Goals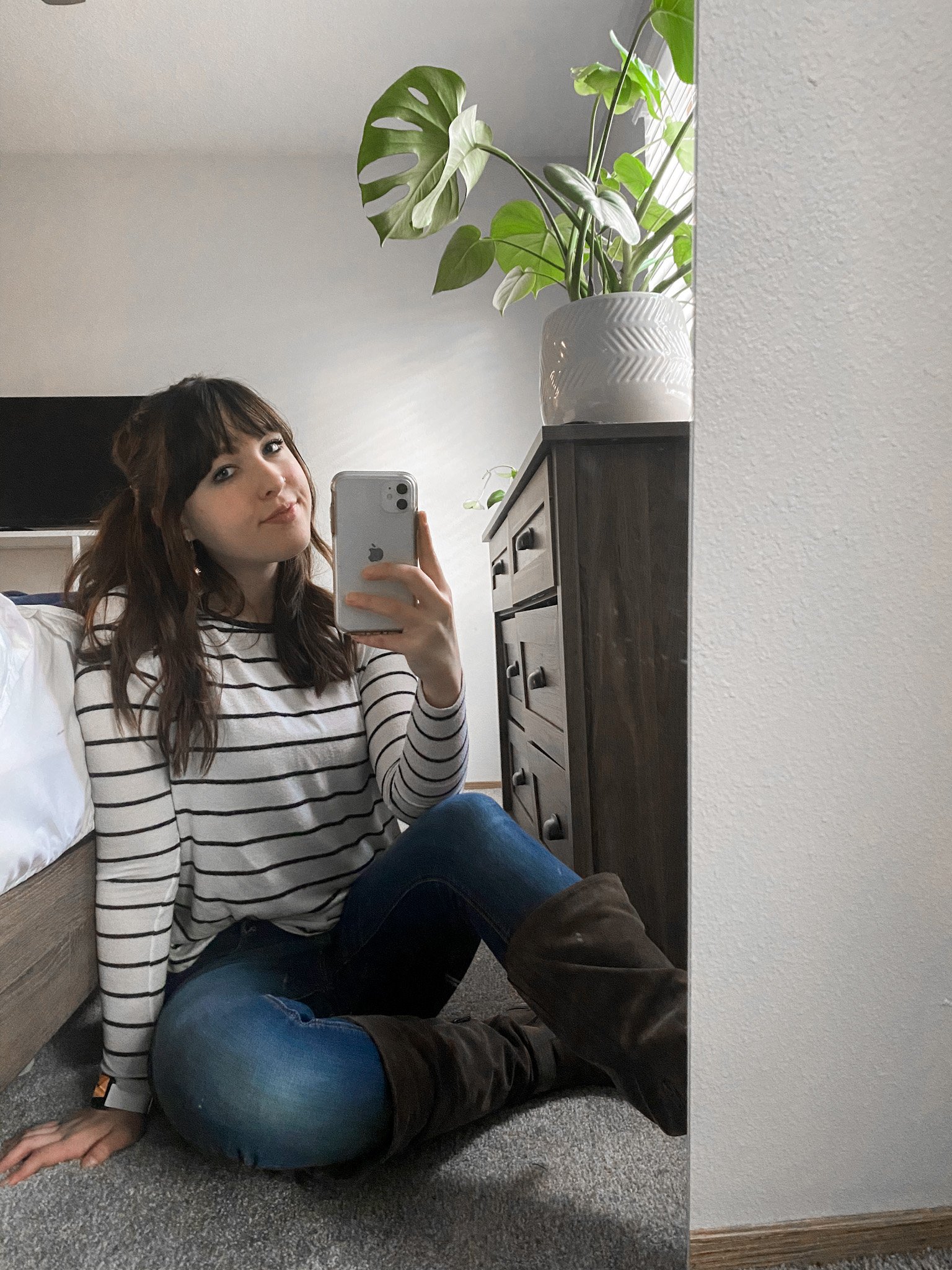 Okay, I briefly went over this above, but I think I need a second disclaimer. I don't think anyone should be hard on themselves EVER (let alone this year) for not reaching their resolutions!! I think if you choose to set them, that's great! If you choose not to set them, also great! You do you and if you don't reach a goal this year, you can try again next year (or not). Also, goals can change. My goals completely flipped only a couple of months into the year. I thought about doing a mid-year reveiw and changing them but I'm glad I didn't. Starting nursing school this year completely preoccupied all of my time. It also has changed my priorities for my upcoming goals and resolutions.
Anyways, I am going to get into it. I will post each of 2020 goals/resolutions below and reveiw if I reached it or not and if that's still something that I want to achieve.
1. Read 52 Books
Goal met [Goodreads].
I had set this goal every year since 2015 and had yet to reach it. This year, staying at home a lot more, I ended up reaching it! I made it to 48 books back in Septemeber and read the last 4 books that I needed after completing this quarter. I tried starting multiple books durign the quarter but I couldn't do it. It's impossible to read for fun when you have to read and retain 200 pages of nursing textbook each week. I would seriously be amazed by anyone who manages to read (and want to read) for fun during the quarter, especially mid-to-end of the quarter.
My favorite books from this year are pretty much the same that I talked about in this post here.
I will not be setting this goal for 2021 because of school and also I felt pressured to read just to meet a goal. I want to feel more like reading for fun and not just because I want to add another book to my tally for the year. It's a mini-experiment for me. How many books will I read without a goal?
2. Finish Revising My Book
Goal not met.
Back in November of 2019 I finished writing my first draft of my first book. I did NaNoWriMo, wrote a 50,000 page novel in 30 days and then posted about that whole experience here. As much as I love that experience, I don't plan on revisising it anymore. I am so glad that I wrote it, it helped me realize that I could write a book if I wanted to. I love it, and am going to keep that first draft tucked away in a folder for probably forever. But, at this point I don't have any intentions of revisiting it. It's not a story that I want to tell anymore. Even if I did revise it, I wouldn't do anything with it.
I plan on writing again in the future and it is one of my 'life long' dreams to actually publish a book, but that one just isn't it! I had plenty of time back in March to knock it out but that's when I started to think twice about revising it. Now, I'm looking forward to my next project and think that maybe it might be this summer… or after nursing school!
3. Write a New Book
Goal not met.
Okay, so I was planning on participating in NaNoWriMo and completing a whole new 50,000 word novel in November of 2020. I pretty much threw that out after starting school in September. It's a much different ballgame than pre-req classes.
4. Run a Half-Marathon
Goal not met.
This (again) became a goal that I'm not sure I want to do at this time. I ended up running a lot this year. I ran more this year than any other year since I stopped running in cross country back in highschool. I think the most I ran at once was 8 miles too which isn't that far off. I started a half-marathon training plan and was around week 6 when everything was happening with COVID. All the races were cancelled and everything was up in the air. I stopped running after that and picked up other various workouts.
In August I started doing pilates and love it. It's also raining all the time now, so I don't intend to start running anytime soon. I do want to run a half-marathon some day, but I don't think 2021 will be that year either.
5. Post Once/Week this Entire Year on My Blog
Goal not met.
Yikes! This didn't go that well (oops!). I did post over 52 posts so maybe that counts? I think I was aiming more for consistency though, so I don't think I met this goal. I ended up posting multiple times some weeks and skipping other weeks. Overall, I was much more consistent than I was in 2019 (during my first year) and I am so proud of the progress I've made! I started using all my own pictures when I used a lot of stock the first year. I also went from 10,000 readers in 2019 to 50,000 in 2020 which is crazy to me! That is a lot of growth and I just want to thank each and every one of you who has read my blog, commented, and emailed me! I seriously can't believe the support.
Overall Thoughts
I thought that my most far-fetched goal was reading 52 books and that was the only goal I actually reached! My priorities completely changed and I feel like that's life!
That's my reveiw of my 2020 goals. I want to hear your 2020 goal review! Leave me a comment below and let me know if you met any of your resolutions this year or what your 2021 goals are!
For my 2021 goals and resolutions, you can check out that post here. Thanks for stopping by!