November is National Novel Writing Month, also known as NaNoWriMo. For the thousands who choose to participate, the big goal is to write 50,ooo words. I decided that this November 2019, I was going to participate and finally write a book, like I've always wanted to. So, I tried writing a novel in 30 days this month. Last month, I posted How I'm Preparing for NaNoWriMo. This post is going to cover all the other bases of actually writing with such an immediate deadline. Let's get into it!
I Tried Writing a Novel in 30 Days and Here's What Happened:
1. I got over the mental block
I always had wanted to write a book. I mean, I've dabbled in poetry and short stories in the past but writing a novel always seemed like this unachievable goal. I have attempted to write a novel twice before, but without a set deadline I stopped working on both projects after losing interest. The mental block of writing a book can come from many different reasons. For me, I didn't feel qualified, I didn't feel like I had the time, and I felt like everything has already been written about before in some form.
With the 30 day deadline and the drive to actually finish something, NaNoWriMo made me crush the mental block that I had with writing. Instead of thinking too much about all the doubts I had, I just wrote. It doesn't matter if you have a degree in creative writing or not. All that matters is the quality of story telling and you don't need a degree to be a good storyteller. I found the time, mostly by waking up an hour earlier than normal to write between 6:30 – 7:30 am and then sneaking in more writing time when I had the time on weekends or before going to sleep. Now, when I think about writing a novel, it doesn't seem impossible or like a big unachievable goal. It seems exciting and very doable.
If you're thinking about writing but think your ideas already been done before, just know that everything has been done before. But, it hasn't had your take on it. So, who cares if your great idea is similar to another that has already been published or a genre you think is oversaturated? If that's what you want to write, then just do it.
2. I've developed a habit
One way that I met my word goal nearly everyday was the routine that I began to follow. For the majority of the month, I would wake up at 4:45 am to be working out by 5. Then after working out and getting ready I would write from 6:30 – 7:30 am. My routine would change day-to-day in the afternoon because weekends were unpredictable and I work from 9:00 am – 6:00 pm on weekdays and have school on Tuesday/Thursday nights from 6:30 – 9:00 pm. I could always keep the time I wrote consistent and I developed a habit throughout the course of the month. If I didn't write (which happened 3 days out of the month), I felt off.
This is a habit I know I want to continue after NaNo, but because I won't have as big of a deadline for myself, I will probably only write for 30 minutes/day instead.
3. I feel empowered to write the book I've always wanted
When I chose what I was going to write for NaNo, it wasn't the book I had always dreamed of writing. AKA the book that I've attempted to write twice just wasn't in the cards this time. I needed an accomplishment to motivate me. If I could finish a 50,000 word romance novel, then why can't I write a 100,000 word science fiction with more time?
I ended up loving writing this romance novel. I stuck to what I know and wrote about a solo female backpacker in Europe. Even though my book is fiction, It brought me back to when I traveled. Writing this book has also sparked 10 different new ideas that I want to write about ranging from horror to another romance.
Even though I didn't write the book I had always wanted to, I feel more confident than ever in my ability to write it. I made a good choice when choosing to start out with a smaller and more manageable goal, yet something that is more challenging than I've done before.
4. I found the writing style and atmosphere that works for me
Since I hadn't wrote more then part of a novel and a variety of short stories before, it was hard to really know what my writing style was. After writing for all these hours this month, I think I've finally found the 'writing voice' that works for me.
I also realized what atmosphere I need to be in to be the most creative. The time where I would fly through the pages would be writing in the morning (versus the night where I would lag behind), in a specific chair (every other place didn't feel 'right') in my room, in complete silence, with a candle on, a heated blanket, and a coffee. Those elements and the ultra-coziness vibes led to my peak creativity and made writing a whole lot easier. While I couldn't imagine sitting at my kitchen table or at a coffee shop writing this novel, that is probably the best spot for someone else. Everyone is different and you don't really know where you write the best until you start to write and experiment with different times and atmospheres.
5. I successfully finished the first draft to my novel
I wrote 50,023 words and it took collectively about 65-ish hours. I went from being able to write about 1000 words/hour in the beginning of the month to nearly 2000 words/hour towards the end of the month. It used to seem impossible to write a book but I realized once I actually began that it was easier then I thought it would be. Not to say that writing a book isn't hard work. It totally is. I just used to think it was much more unachievable than it actually was.
After finishing on November 26th, I went and printed out my draft. I'm going to spend the entire month of December (and maybe January) revising. I didn't write the scenes in any specific order and will need to add transitions and separate them into chapters. I will edit and revise by hand before retyping onto the computer. Then, who knows! Maybe I will go the self-publishing route and create an ebook or maybe I will find a publisher. My big goal for this was to just finish something I was proud of, and other people reading it or getting it published isn't really important to me right now. In the future, I might want to publish another piece, but for now I'm just riding the wave of actually finishing my *first* first draft for an entire novel!
To anyone looking to do NaNoWriMo in the future (or just wanting to write a book in general):
I would say to anyone who is looking to do NaNoWriMo in the future that it is totally worth it, especially if you are goal-oriented or have never written before. The main purpose of NaNoWriMo is to get your thoughts out on paper and to just write. It doesn't matter if you don't finish, just focus on the progress you've made. If that means writing 100 words and that's a 100 more than you've ever written before, that is success. If that means just commiting to yourself or outlining that you will attempt your project one day, that's success too.
And to anyone who wants to write a book, you don't have to wait until November to do it. You can set a goal for this month if you wanted to, or this year. Build a routine that fits into your life. Make a small goal to start or try to go nuts with a big goal. What's stopping you?
Did you do NaNoWriMo (or are you thinking about doing it in the future)? Let me know in the comments below! Plus, share this post using one of my pins below!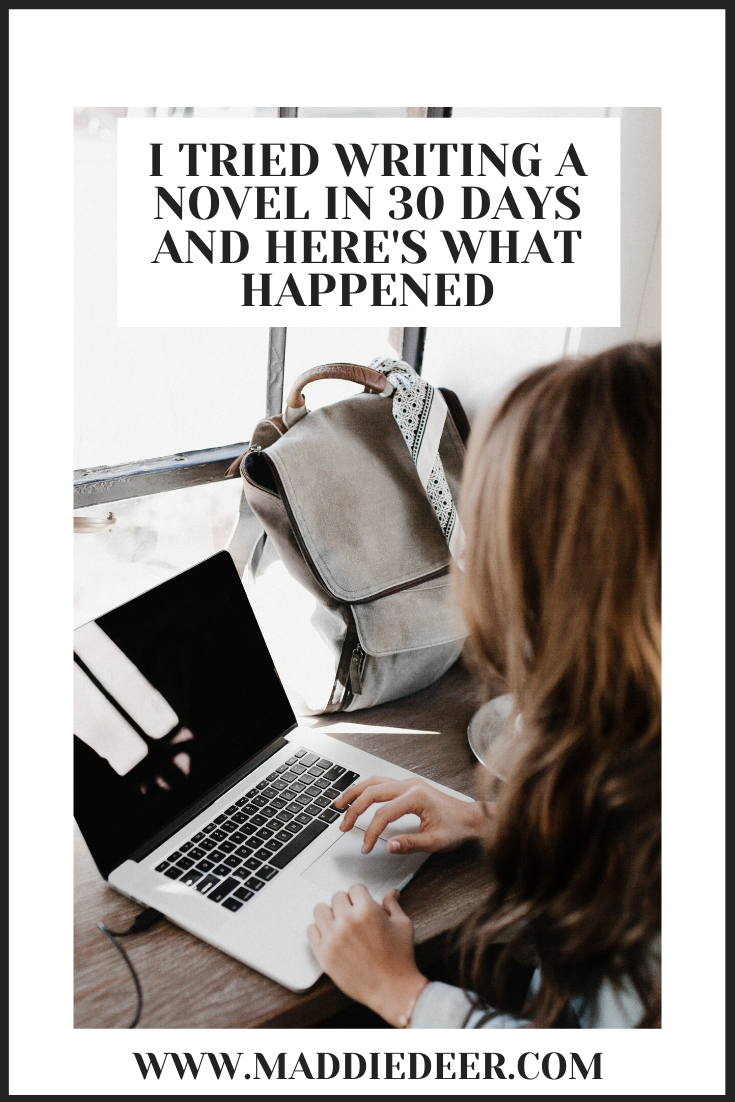 If you want to follow me along through revision, publishing, and all the like, make sure to subscribe to my e-mail list below!