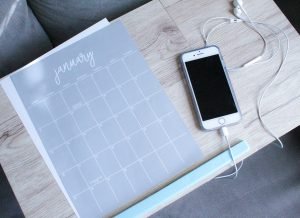 I love goals and make them year-round. I write goals every month and then every Sunday I'll do the same for the week. So, as you can imagine, I love New Years Resolutions! They're just goals that you're making for the entire year and I'm a fan of committing and challenging myself.
New Years Resolutions have a stigma around them. Everyone seems to have their own opinion on them.  I don't think they need to cause stress and pressure and I also think that you can adjust them whenever. I don't feel disappointed if I don't finish my resolution because what's the point in that? I've made progress, I've continued to better myself.
My New Years Resolutions for 2018 was to go vegan, read 52 books, and save $10,000. I mean, I feel like I did pretty good. Nowhere close on the books, but there's always 2019! Speaking of 2019 and New Years Resolutions, here are some of mine:
1. Read 52 Books
To start off my New Years Resolutions is a goal that I've tried to accomplish the last few years! So far, the closest I got was 36 books. Books increase creativity, motivation, and are great for relieving stress! I love reading science fiction, self-development, and health and wellness books. This year I am going to try and expand the variety of non-fiction that I read. But seriously, self-development books are the shit and they give me so much motivation and encourage all the ideas that bounce around in my head.
2. Drink 100 oz of Water (at least) Every Day
I'm typically not one to make a New Years Resolutions to do something every single day. However, even if I don't completely accomplish this every day I know it will vastly improve how much water I drink and how often. I've made working out a habit, eating healthfully a part of me, but one area that I still lack in is how much water I drink. I maybe drank a 100oz for a solid month straight this year when I tried making it a priority.
To make a greater effort to drink water this year, I'm going to take my Hydroflask with me everywhere and mark on a habit tracker every day to see how often I actually drink over 100 oz.
3. Run a 10k race
When I was in high school and middle school, I ran in cross country. It was seriously the best feeling after you finished a race or got to the end of a particularly rough practice. The endorphins were crazy good. I miss it so much! I slowly stopped running and by the time I tried to pick it back up again, I could only run about a mile and my chest would feel so tight by the end of it. This was a couple of years later and I knew that the shape I was in had severely declined since then.
When I was in Cross Country, I never thought that I was good enough compared to the people I ran with. I could run a 7:30 minute mile and I could run up to 8 miles at once. Other people ran faster miles or could run more and that clouded my judgment a bit. I've gained a different perspective from not running for so long. I don't care if other people are better at it, I'm more concerned about how I feel about my progress.
Since I started working out consistently last year and doing HIIT, I've rapidly increased my endurance and speed. I always look forward to my time on the treads. I know I would currently be able to run a 5k, so I want to push myself this year and run a 10k race. I'm super excited to start training! It's always been a bucketlist item of mine to one day run a half-marathon so I'm hoping that training for a 10k will give me the push I need to keep going.
4. Volunteer for 2 Weeks (at least) with All Hands and Hearts
In 2018, I was involved in quite a bit of disaster recovery and relief. I spent about 5 weeks in Puerto Rico after the hurricanes, about 5 weeks in St. Thomas in the USVI doing the same, and then several months after the hurricanes I went to Texas for a month. People all over the world need and want help. There are people who want to help, like me, and All Hands and Hearts gives a great avenue for the average person to help.
The first day I was in Texas, I was painting the kitchen of someone's home who was in the finishing stages of a rebuild. The radio was on and the host popped on the channel and said: "Do one thing every day to help yourself, help someone else, and help the world." This stuck with me and it's something that I try to live by.
It's so easy to do something to help yourself and I think most of us do so without giving it a second thought or putting in any extra effort. It's also easy to help someone else, although sometimes we need to make it a conscious action. You tip your barista when you get your coffee, you help your neighbor carry something in their house they are struggling with, etc. To help the world though, it requires something a little bit more. Spreading hope and recreating a part of someone's life they thought might be forever gone is so powerful. It checks the box on all three.
I know I won't have as much time or money this year because of school, but I want to commit to at least two weeks, but preferably a month, volunteering with AHAH to continue their relief efforts. This is the New Years Resolution I'm looking forward to the most!
5. Travel to at Least 3 New Countries
2018 was my year for travel. I got my passport, went to 12 different countries and traveled to tons of places in the US. In the US I spent extended periods of time in The Coastal Bend area of Texas, Puerto Rico, St. Thomas, Seattle, and The Olympic National Park. I was also able to go to San Diego and Austin. I had a lot of time in 2018 and had saved money. This year, my traveling expectations aren't as high because I am paying tuition and trying to save for potentially moving away to attend a medical sonography program. I still think it's good to be worldly and experience other cultures, plus it is the best of times.
*Cue my tiny goal of only 3 new countries.*
I expect to take a couple weeks this summer to travel. I'd like to do a workaway in Romania or the Balkans and travel a bit more in that area.  Eastern Europe is much more affordable than some places and having a place to stay would significantly cut costs and improve my cultural experience. I also think going to The Czech Republic and Germany during Christmastime would be amazing. Last month, I went to the German Christmas Market in Vancouver, B.C. and it was so sweet. I'd love to go to the original Christmas markets in Germany.
2019 is going to be an amazing year, I can feel it already! Are you making any New Years Resolutions? I'd love to hear them!