Next year I'm going to try and be more intentional about the books I am reading. I read a lot of books this year, but not a lot of them were REALLY good, ya know? I carefully picked out 9 books (one for each month) that I think are going to be really good. I'm probably going to read more than 12 books this coming year, but these are the books that I'm really looking forward to. Hopefully, if you're also trying to find good books to read in 2020 and you're into the same genre as me, these 9 books to read in 2021 will help give you some ideas!
If you want to follow along with my reading through the year, friend me on Goodreads! You can find it here. I am also linking some of my past reading posts below!
Disclaimer: This post contains affiliate links. This means that I get compensated a small amount if purchased through one of these links at no extra cost to you. I always only link products I truly love and any profit made goes to running this blog. Thank you for your support! For more on my disclaimers, you can click here.
P.S. This post is so long!! I'm sorry it's extremely long. If you don't want to read all of it, I tried to make it skimmable for you!
9 Books to Read in 2021
1. The Invisible Life of Addie LaRue by V. E. Schwab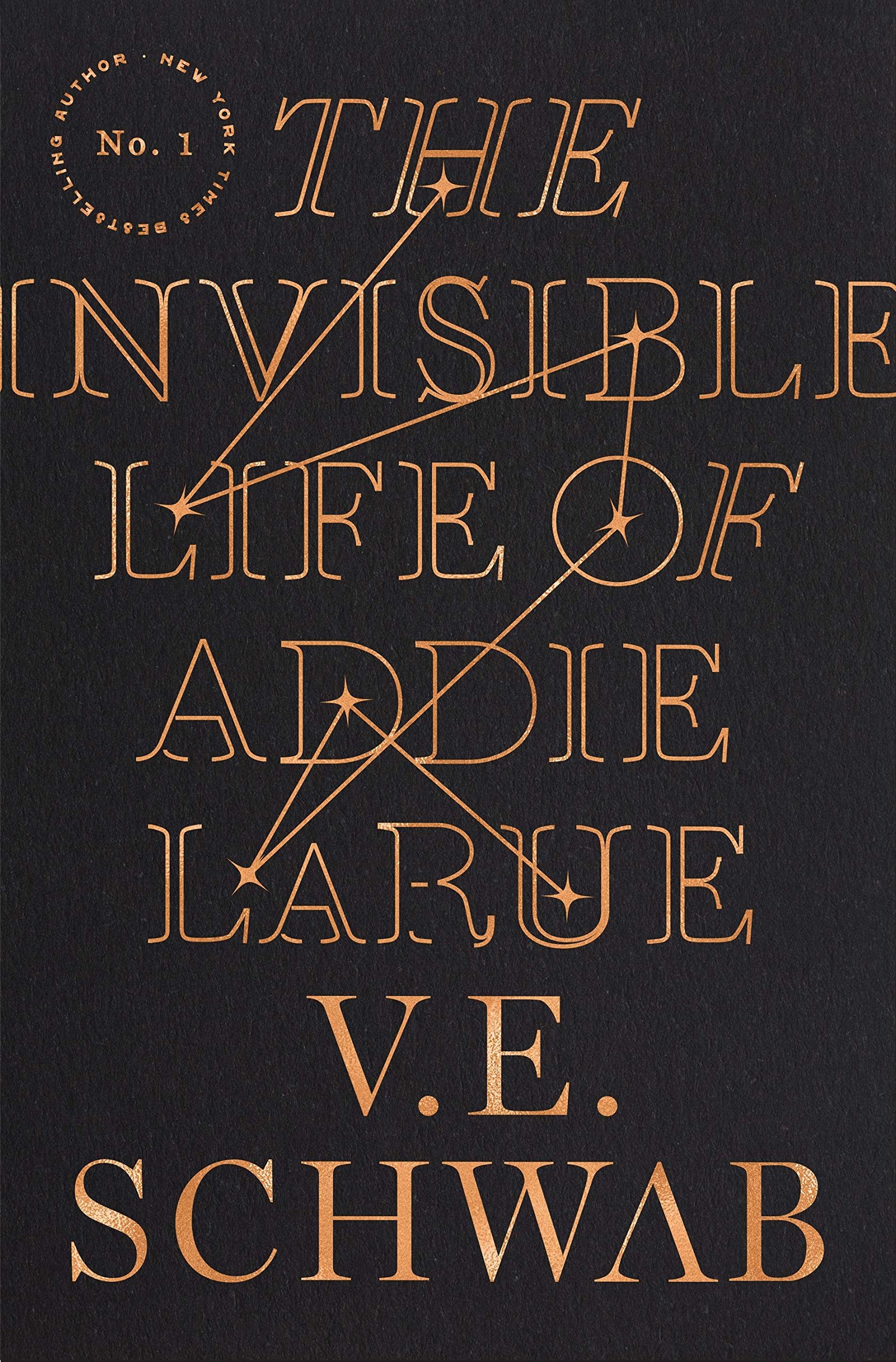 Genre: Fantasy
Goodreads Description:
France, 1714: in a moment of desperation, a young woman makes a Faustian bargain to live forever and is cursed to be forgotten by everyone she meets.
Thus begins the extraordinary life of Addie LaRue, and a dazzling adventure that will play out across centuries and continents, across history and art, as a young woman learns how far she will go to leave her mark on the world.
But everything changes when, after nearly 300 years, Addie stumbles across a young man in a hidden bookstore and he remembers her name.
Why it's on my TBR: I have high hopes for this first of the 9 books to read in 2021. It sold out on Book of the Month, has a high Goodreads rating, and I've heard great things about it from everyone who has read it. The description gives me The Time Travelers Wife vibes, which is one of my favorite books. The description is also intriguing. It seems like a book that will transport you through history. I am here for it and I've already ordered it!
You can buy this book here on Amazon.
2. Mexican Gothic by Silvia Moreno-Garcia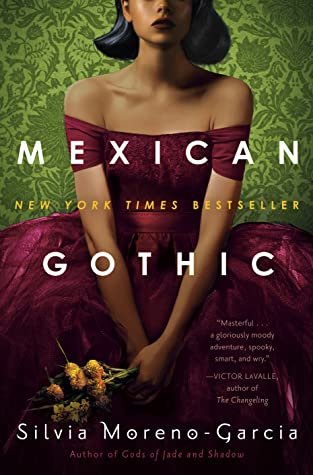 Genre: Horror
Goodreads Description:
Noemí is also an unlikely rescuer: She's a glamorous debutante, and her chic gowns and perfect red lipstick are more suited for cocktail parties than amateur sleuthing. But she's also tough and smart, with an indomitable will, and she is not afraid: Not of her cousin's new husband, who is both menacing and alluring; not of his father, the ancient patriarch who seems to be fascinated by Noemí; and not even of the house itself, which begins to invade Noemi's dreams with visions of blood and doom.
Her only ally in this inhospitable abode is the family's youngest son. Shy and gentle, he seems to want to help Noemí, but might also be hiding dark knowledge of his family's past. For there are many secrets behind the walls of High Place. The family's once colossal wealth and faded mining empire kept them from prying eyes, but as Noemí digs deeper she unearths stories of violence and madness.
And Noemí, mesmerized by the terrifying yet seductive world of High Place, may soon find it impossible to ever leave this enigmatic house behind. 
Why it's on my TBR: The description sounds like no other book that I've read before. I love finding haunting horror stories and this sounds like exactly that. The description is also very mysterious and leaves a lot to wonder. With the ratings on this book, it's position as one of the Book of the Year finalists, and rating as Goodread's top horror story of the year, I have high expectations for this book, as well.
You can buy it here on Amazon.
3. The Midnight Library by Matt Haig
Genre: Fiction
Goodreads Description:
Somewhere out beyond the edge of the universe there is a library that contains an infinite number of books, each one the story of another reality. One tells the story of your life as it is, along with another book for the other life you could have lived if you had made a different choice at any point in your life. While we all wonder how our lives might have been, what if you had the chance to go to the library and see for yourself? Would any of these other lives truly be better?
In The Midnight Library, Matt Haig's enchanting new novel, Nora Seed finds herself faced with this decision. Faced with the possibility of changing her life for a new one, following a different career, undoing old breakups, realizing her dreams of becoming a glaciologist; she must search within herself as she travels through the Midnight Library to decide what is truly fulfilling in life, and what makes it worth living in the first place.
Why I want to read it: First of all, the cover of this book is beautiful! I haven't heard much about this book during the year, however, it was rated the top fiction book of the year on Goodreads. I also love the premise of knowing your 'alternate realities.' I think we all thing about how our life might be if we took another path. How cool would it be if we could read books about the different paths we've decided between in our lives?  
You can buy it on Amazon here. 
4. The Southern Book Club's Guide to Slaying Vampires by Grady Hendrix
Genre: Horror
Goodreads Description: 
Patricia Campbell had always planned for a big life, but after giving up her career as a nurse to marry an ambitious doctor and become a mother, Patricia's life has never felt smaller. The days are long, her kids are ungrateful, her husband is distant, and her to-do list is never really done. The one thing she has to look forward to is her book club, a group of Charleston mothers united only by their love for true-crime and suspenseful fiction. In these meetings, they're more likely to discuss the FBI's recent siege of Waco as much as the ups and downs of marriage and motherhood.
But when an artistic and sensitive stranger moves into the neighborhood, the book club's meetings turn into speculation about the newcomer. Patricia is initially attracted to him, but when some local children go missing, she starts to suspect the newcomer is involved. She begins her own investigation, assuming that he's a Jeffrey Dahmer or Ted Bundy. What she uncovers is far more terrifying, and soon she–and her book club–are the only people standing between the monster they've invited into their homes and their unsuspecting community.
Why I want to read it: Okay, this totally doesn't strike me as a horror. If anything, I feel like it's a thriller. But, the fact that it's a horror book intrigues me even more. Assuming from the title that this book has vampires in it, I haven't read a book about vampires since Twilight when I was in the fifth grade. I've heard some great things about this book and I also think the title and cover is pretty cute!
You can buy it on Amazon here.
5. The Inexplicable Logic of My Life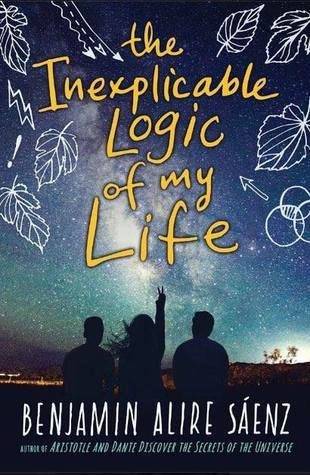 Genre: Young Adult/ LGBTQ
Goodreads Description:
Sal used to know his place with his adoptive gay father, their loving Mexican American family, and his best friend, Samantha. But it's senior year, and suddenly Sal is throwing punches, questioning everything, and realizing he no longer knows himself. If Sal's not who he thought he was, who is he?
Why I want to read it: Aristotle and Dante Discover the Secrets of the Universe was one of my favorite books of all time. This book is actually by the same author and has some of the same themes throughout. This might be the closest shot I get at rereading a book like Aristotle & Dante for the first time all over again. You know that feeling of reading an amazing book for the first time? Then rereading again doesn't have the same magic? I hate that. Hoping I get a little bit of that magic by reading this book.
You can buy it on Amazon here.
6. Illuminae
Genre: Young Adult/ Science Fiction
Goodreads Description:
This morning, Kady thought breaking up with Ezra was the hardest thing she'd have to do. This afternoon, her planet was invaded.
The year is 2575, and two rival mega-corporations are at war over a planet that's little more than a speck at the edge of the universe. Now with enemy fire raining down on them, Kady and Ezra — who are barely even talking to each other—are forced to evacuate with a hostile warship in hot pursuit.
But their problems are just getting started. A plague has broken out and is mutating with terrifying results; the fleet's AI may actually be their enemy; and nobody in charge will say what's really going on. As Kady hacks into a web of data to find the truth, it's clear the only person who can help her is the ex-boyfriend she swore she'd never speak to again.
Why I want to read it: Although I heard great reviews when this book came out, it wasn't even on my radar this year. But, I saw multiple reviews comparing it to These Broken Stars, a trilogy that I read a couple of years ago and remember really liking. I also know this book might be in the works of becoming a movie. Regardless, the premis seems interesting and the story is sold in a variety of different documents (best get a physical copy). I also like that if I love this book, I can read the next two in the trilogy.
You can buy it on Amazon here.
7. Home Before Dark
Genre: Mystery and Thriller
Goodreads Description:
Twenty-five years ago, Maggie and her parents moved into a Victorian estate in the Vermont woods. They spent three weeks there before fleeing in the dead of night, an ordeal her father recounted in a nonfiction book called House of Horrors. His tale of ghostly happenings and encounters with malevolent spirits became a worldwide phenomenon, rivaling The Amityville Horror in popularity—and skepticism.
Maggie is too young to remember any of the events mentioned in her father's book. But she also doesn't believe a word of it. Ghosts, after all, don't exist. When Maggie inherits Baneberry Hall after her father's death, she returns to renovate the place to prepare it for sale. People from the past, chronicled in House of Horrors, lurk in the shadows. And locals aren't thrilled that their small town has been made infamous thanks to Maggie's father. Even more unnerving is Baneberry Hall itself—a place filled with relics from another era that hint at a history of dark deeds. As Maggie experiences strange occurrences straight out of her father's book, she starts to believe that what he wrote was more fact than fiction.
Why I want to read it: I love mysteries and thrillers and this gives me total Haunting of Hill House vibes. It seems like a great spooky book to read near October (or really any time of the year, for me). I have heard great things about it and I'm hooked, just by the description!
You can buy it on Amazon here.
8. Love Her or Lose Her
Genre: Romance
Goodreads Description:
Rosie and Dominic Vega are the perfect couple: high school sweethearts, best friends, madly in love. Well, they used to be, anyway. Now, Rosie's lucky to get a caveman grunt from the ex-soldier every time she walks in the door. Dom is faithful and a great provider, but the man she fell in love with 10 years ago is nowhere to be found. When her girlfriends encourage Rosie to demand more out of life and pursue her dream of opening a restaurant, she decides to demand more out of love, too. Three words: marriage boot camp.
Never in a million years did Rosie believe her stoic, too-manly-to emote husband would actually agree to relationship rehab with a weed-smoking hippie. Dom talking about feelings? Sitting on pillows? Communing with nature? Learning love languages? Nope. But to her surprise, he's all in, and it forces her to admit her own role in their cracked foundation. As they complete one ridiculous – yet surprisingly helpful – assignment after another, their remodeled relationship gets stronger than ever. Except just as they're getting back on track, Rosie discovers Dom has a secret… and it could demolish everything.
Why I want to read it: This is the second of a 3 part series that are inter-related. You don't need to read one before another, but I read the first last year. I remember it being one of my favorite romance books that I've read in recent years. I like the author's writing and story structure. I'm excited to read this one because it's about a couple whose relationship you got to peek into in the first book!
You can buy it on Amazon here.
9. The Survivors
Genre: Mystery/ Thriller
Goodreads Description:
Kieran Elliott's life changed forever on the day a reckless mistake led to devastating consequences.
The guilt that still haunts him resurfaces during a visit with his young family to the small coastal community he once called home.
Kieran's parents are struggling in a town where fortunes are forged by the sea. Between them all is his absent brother, Finn.
When a body is discovered on the beach, long-held secrets threaten to emerge. A sunken wreck, a missing girl, and questions that have never washed away…
Why I want to read it: So this book doesn't officially come out until February 2nd, 2021. But, I am getting it in my January Book of the Month box! I am really excited to read this one because it sounds a lot like Agatha Christie's And Then There Were None which is one of my favorite books. It's a murder mystery that takes place in a coastal town and I love the mystery of not knowing who the killer is and trying to figure it out page by page. I think this book is going to be a good one.
If you want to join Book of the Month and get your first book for only $5, you can sign up with my referral link by clicking here! To preorder The Survivors, you can find it on Amazon here. 
9 Books to Read in 2021
WOW! That was a long post. If you made it this far, you definitely deserve a gold star!! I hope you found some good books to add to your TBR from these 9 books to read in 2021. Do you have any New Year book goals? Or have you read any of the books above? Let me know in the comments below! 🙂
I already linked my BOTM referral link above, but I will link it *here* as well, in case anyone skimmed and wants to join BOTM!
Thanks for reading, Happy New Year!!