There is no shortage of dog-friendly things to do in Portland! This is great for those who think of their dogs as a part of the family and want to bring them everywhere! I know I am always excited when I get to bring my pup somewhere new for her to explore. Portland has over 10,000 acres of parks, and tens of dog-friendly restaurants, breweries, coffee shops, and seasonal events. In this post, I am covering just 8 of the dog-friendly things to do in Portland.
Just a few tips when you're out and about with your dog:
Make sure to keep them on a leash when you are not in an off-leash designated area. This not only protects your dog but other dogs as well.
Pick up your dog's poop! Always carry doggy bags on you and pack out the bags.
Be aware of your dog's comfort level. You know your dog best, so be their advocate and pay attention to their body language to keep them safe and others.
Disclaimer: This post contains affiliate links. This means that I get compensated a small amount if purchased through one of these links at no extra cost to you. I always only link products I truly love and any profit made goes to running this blog. Thank you for your support! For more on my disclaimers, you can click here.
8 Dog-Friendly Things to Do in Portland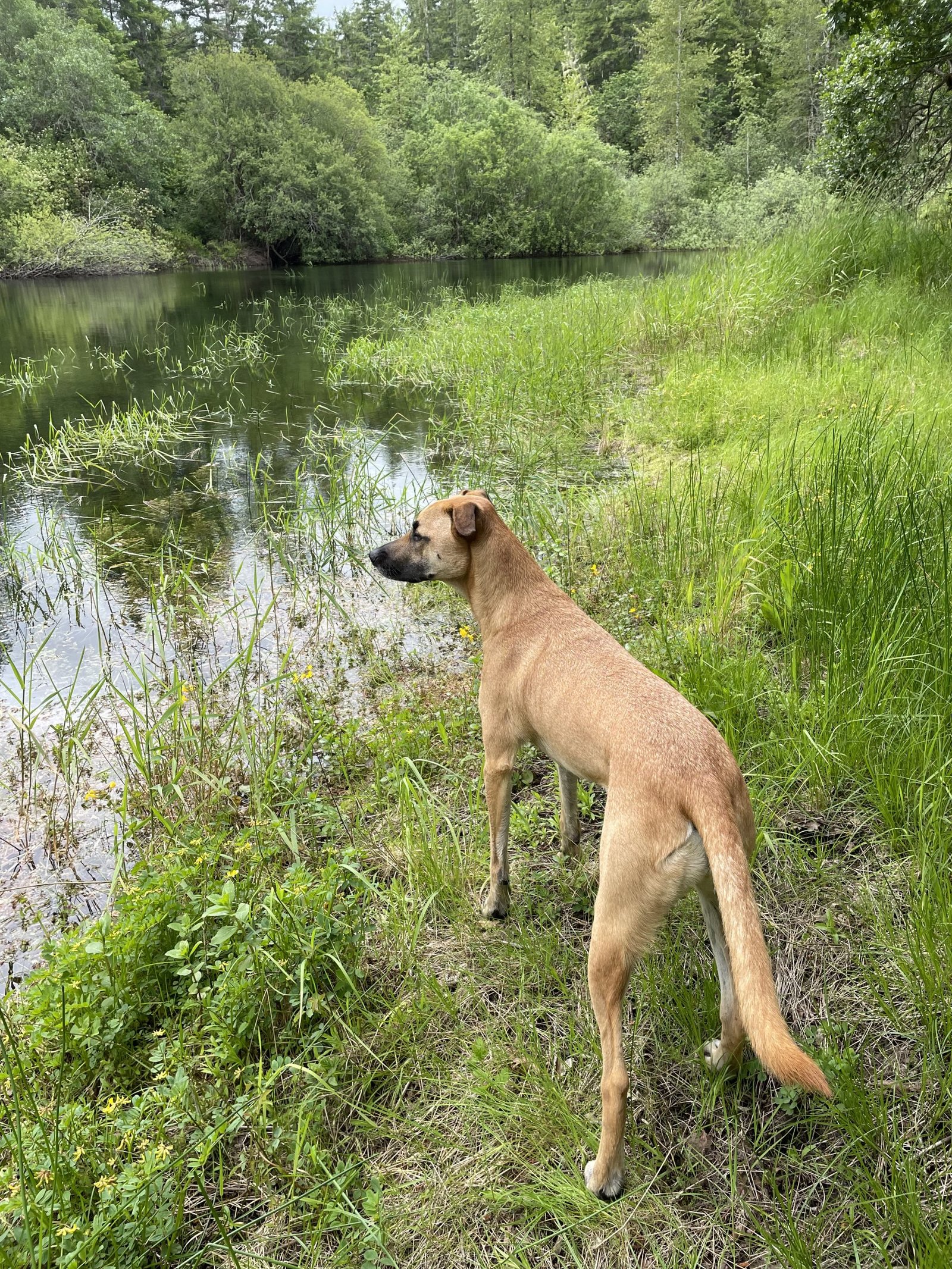 1. Take a Walk at a Park
There are several parks that are perfect to explore with your dog around Portland. Mt. Tabor is a great park with lots of paths, great views, and grassy areas. A little outside of Portland, you can visit the Sandy River Delta Park, also known as A Thousand Acres. At this park, you can take your dog off-leash and explore some of over 1,000 acres. There are nature trails, grassy fields, and even river banks where your dog can go in for a swim. Another good park to take your pup for a walk is Laurelhurst Park, which also has an off-leash area for dogs.
2. Grab a Pup Cup at Salt and Straw
As of August 2022, Salt and Straw is offering ice cream for dogs! You can grab a pup cup at any of the locations so your dog doesn't have to miss out on the deliciousness when you go for an ice cream run. Salt and Straw worked with veterinarians to make sure that the pup cups they offer not only taste good but are healthy for your dog!
3. Roam the International Rose Test Garden
The International Rose Test Garden is open year-round, but the roses are blooming from June to late summer with June being the peak bloom. This is the country's longest-running test garden, and it features over 10,000 varieties of roses. The garden is free and dog-friendly! You can visit from 7:30 am- 9:00 pm daily.
4. Go Plant Shopping at the Portland Nursery
If you're looking to add to your plant collection, the Portland Nursery is dog-friendly. You can bring your pup as you stroll around the nursery. While the nursery is open year-round, much of it is outside so bear in mind the weather! There are all sorts of smells for your dog at the nursery, so it's great mental stimulation!
5. Grab Brunch at Tin Shed
Tin Shed is consistently ranked as one of the best places to grab brunch in Portland. There is always a wait for brunch on the weekends, but if you do eat here, they offer a menu for your pup too! The outdoor seating area is covered and heated so that you can take your pup here year-round. While you brunch, you can get your dog something off the menu so that they can eat with you too!
6. Grab a Beer as Your Dog Plays at Cycle Dog
Cycle Dog is a company that makes dog leashes, toys & collars from recycled bike tubes. They also happen to have an indoor/outdoor dog park and dog-friendly tavern. While your dog plays (within your supervision) you can grab a drink! In order to bring your dog, they must be well socialized with all types of dogs and people. You will need to bring proof of current vaccinations (Rabies, Bordetella & DHPP). Dogs over 9 months must also be spayed or neutered.
7. Go for a Hike
There are so many hikes in and around Portland that you can bring your dog on! If you don't want to leave the city, head to Forest Park which has over 80 miles of trails. If you want to go chasing waterfalls or great views, head to the gorge or the coast. Some of my favorite hikes to take my pup on are Tamanawas Falls in Mt. Hood National Forest, Wahclella Falls in the Columbia River Gorge, and The Trail of Ten Falls in Silver Falls State Park!
8. Take a Staycation at McMenamins Edgefield
In Tualatin, you can stay at McMenamins Edgefield which is a dog-friendly hotel and property with various breweries, restaurants, a spa, a winery, a golf course, and more. You can wander the property gardens with your dog before grabbing dinner at one of the outside dining areas. When on the property, your pup must remain on a leash and when left in the room must be in a crate.
If you don't want to stay at Edgefield, you can still bring your pup along if you visit for the day at this location or when eating outside at any of the other McMenamin locations.
There are so many dog-friendly things to do in Portland
These are just 8 of the many things you can have your pup tag along to. There are many more dog-friendly shops, restaurants, breweries, bars, and more. If you have a favorite activity that you love to bring your dog to in Portland, let me know in the comments below!
If you're looking for more things to do in Portland, check out one of my other posts below!
Thank you so much for reading! If you want to follow along on my hikes and get notified when I post new posts, be sure to follow my Instagram @maddie_deer here or like my Facebook page here.