Tamanawas Falls is a popular hike in Mt. Hood National Forest. This moderate hike is perfect for a day trip to Mt. Hood and boasts stunning views of a waterfall. Although this hike is a bit further than hikes in the Columbia River Gorge, it's still worth a day trip and you can stop in Hood River after to grab some food. This hike is also a great stop if you're camping in Mt. Hood National Forest and want a shorter hike that will only take a few hours. In this post, I'm covering what to expect when hiking Tamanawas Falls including how to get there, facilities at the trailhead, details about the hike, and other hikes in the area.
Disclaimer: This post contains affiliate links. This means that I get compensated a small amount if purchased through one of these links at no extra cost to you. I always only link products I truly love and any profit made goes to running this blog. Thank you for your support! For more on my disclaimers, you can click here.
Hiking Guide to Tamanawas Falls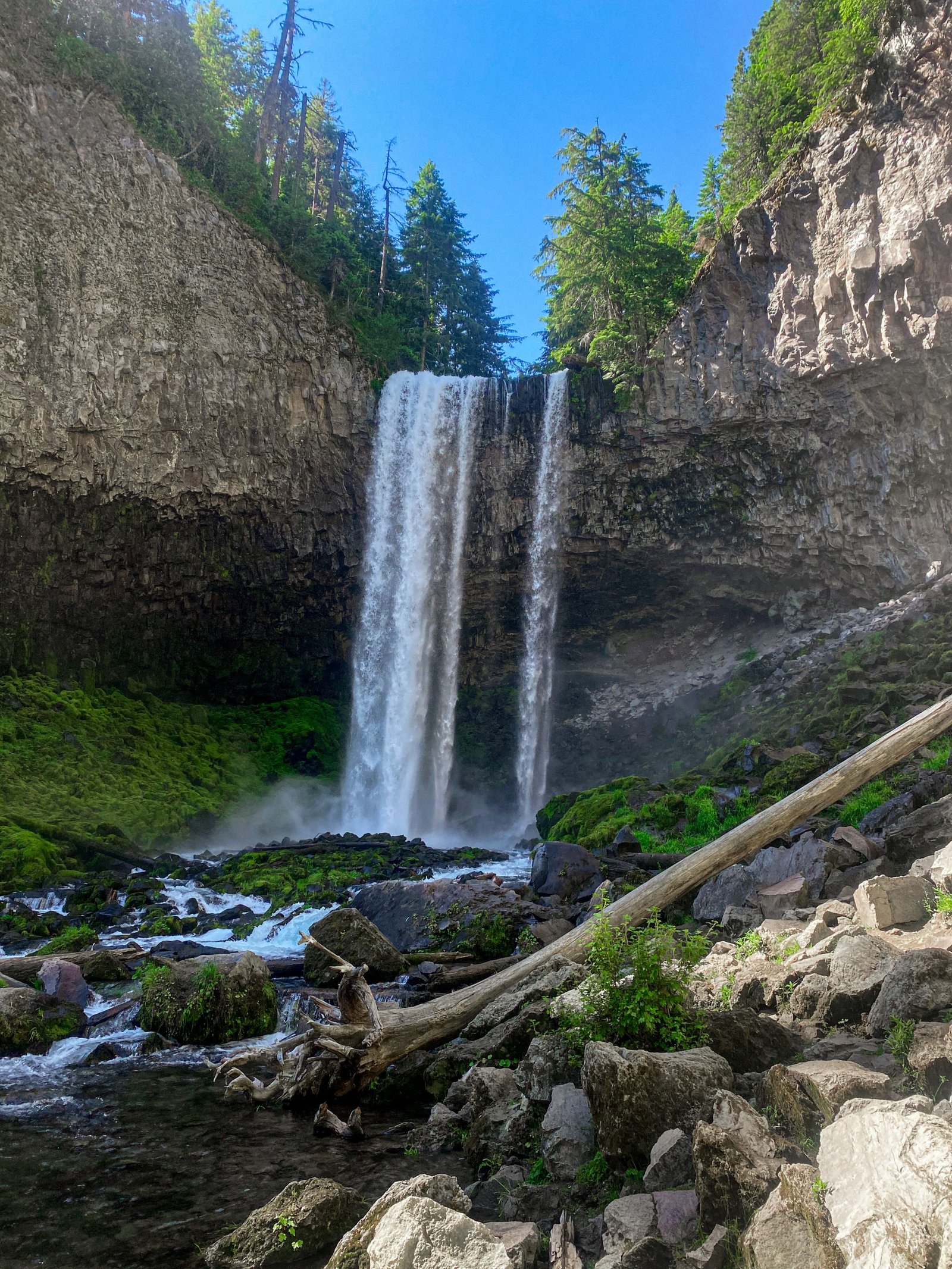 Getting There
To get to Tamanawas Falls from Portland, you can either go through Hood River or Sandy. Either way, it takes about the same amount of time to reach the trailhead. Typically it takes between 1.5 hours to 2 hours to reach Tamanawas Falls depending on traffic conditions.
To get to the trailhead from Sandy, take I-84 East towards Gresham. You'll get off at Exit 14 towards Fairview Parkway. From here you will navigate from US-26 E through Sandy to OR-35 N in Government Camp, around 42 miles. Once you take the State Route 35 N Exit, continue on for 16 miles and the trailhead will be on the left.
To get to Tamanawas Falls through Hood River, follow I-84 E for 62 miles. Take Exit 64 onto OR-35 S. Follow this road for 35 miles and the destination will be on the right.
At the trailhead, there are bathrooms with vault toilets, picnic tables, and garbage facilities. To park at the trailhead, you will need a NW Forest Pass, to buy a day pass for $5, or use one of the other valid interagency passes. The gravel parking lot can fit about 30 cars and does get packed on most days during the summer.
The Hike
To get to the hike, cross the bridge and hang a right. According to AllTrails, the hike itself is 3.4 miles and has an elevation gain of 580 ft. My watch tracked it as a slightly longer trail around 3.8 miles. There is tree cover for most of the trail, however, there is a rocky portion without cover that can get hot. While this trail is dog friendly if leashed, try going earlier in the day before the rocks have soaked in the heat if it's going to be a hot day. If your dog pulls, you should also keep in mind the rocky portion. It is pretty steep going down and can get crowded, making it more difficult for some dogs to handle.
This trail would be a great hike for beginner hikers and is also kid-friendly if the kids are older and have good balance to manage the rocky scramble portion. Once you reach the rocky portion, the falls are soon after. You could complete this hike easily in some hiking sandals such as Tevas so that you can stop in the water without having to take off your hiking boots or sneakers. The trail follows the river for the middle portion and there are several small waterfalls along the way that makes for a good place to stop and break if needed. The trail isn't too muddy in the summer, just dusty, so hiking boots aren't necessary and sneakers would work.
This is a popular hike, so it does get crowded, especially on warm days. For lower crowds, plan to arrive before 9:00 am and go on a weekday. People like to hang out and wade in the water at the end on hot days so the parking lot can also become crowded in the afternoons.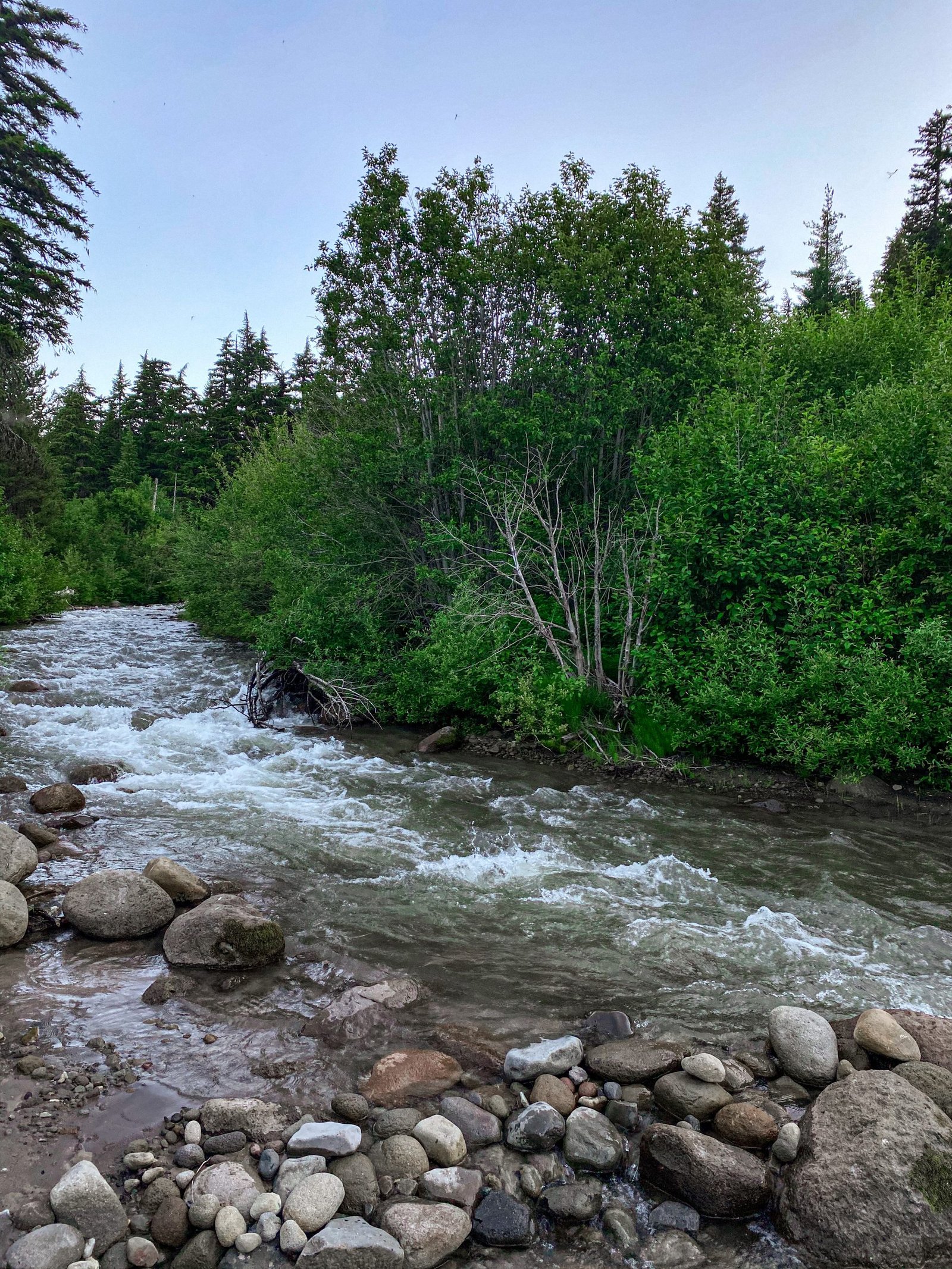 Other Tips
Hood River makes a good addition to your trip if you're wanting to get lunch or explore some of the shops after hiking.
Make sure to pack out what you bring in, including doggy bags! If the garbage at the trailhead is full, and you don't want to pack them out inside your car, check out this magnetic doggy bag garbage to pop on the outside of your car.
If you want to get an early start on the hike and camp in the area, Nottingham Campground is a great campground in the area only 3 minutes away! There are 23 sites with 11 of them being FCFS after 2:00 pm. A campsite costs $24/night and there are no hookups. Most of the campsites are right along the river, have privacy in the site from the surrounding trees, and have spacious campsites. Make sure to bring cash for firewood ($9/bundle unless you can find it cheaper being sold along the side of the road) and the site if you don't reserve ahead of time.
Trillium Lake is also about 15 minutes away from this hike and is a great place to cool off on a hot day, paddleboard, kayak, or swim with a great view of Mt. Hood. This lake can also get really busy on hot days, has a campsite, and requires a parking pass for day use access.
Other Hikes
Looking for more nearby hikes? There are so many hikes in the Columbia River Gorge, Mt. Hood National Forest, and the surrounding area! If you enjoyed this post and are looking for more hikes in the area, check out one of my other posts linked below for more hiking ideas: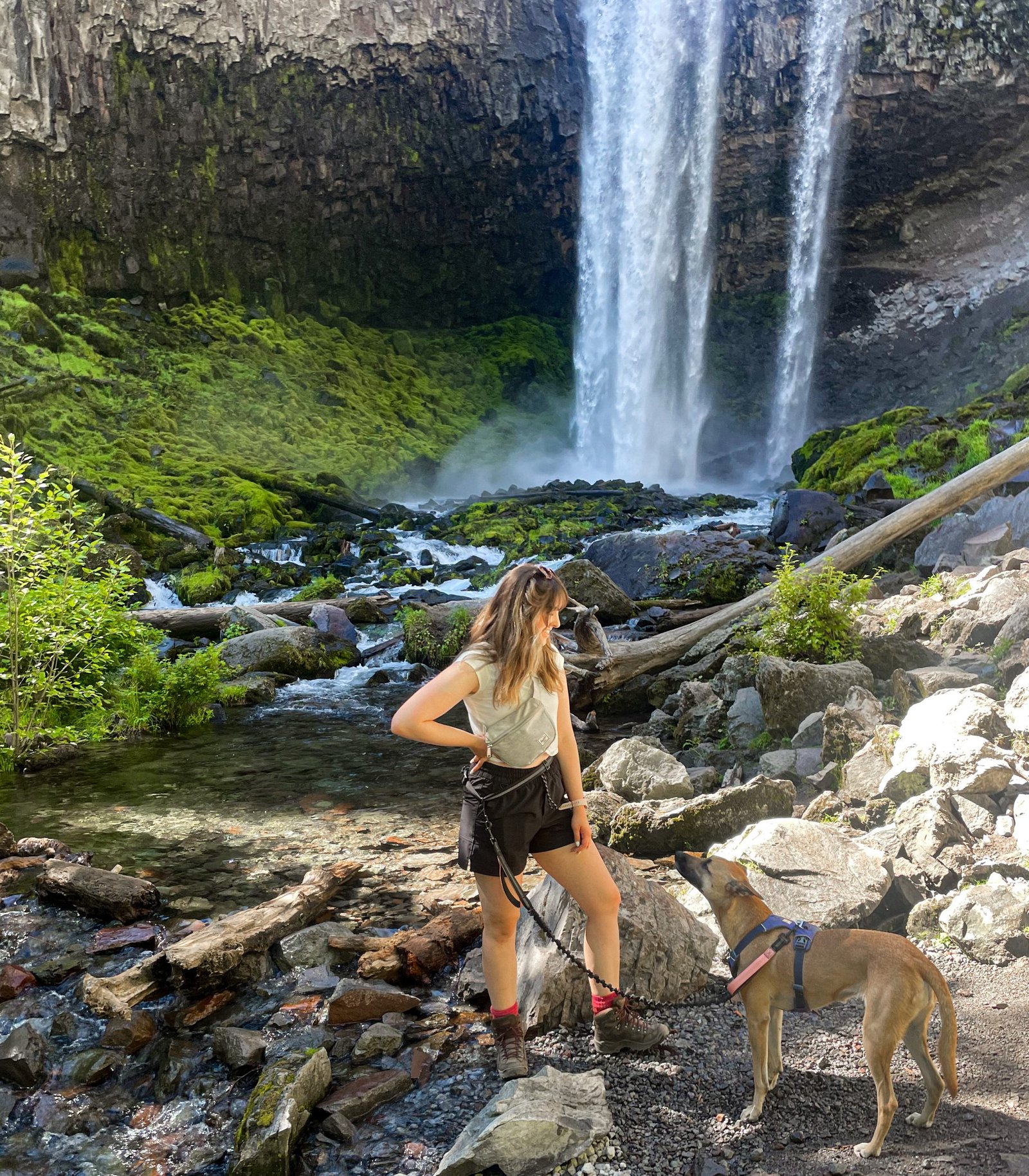 Thank you so much for reading! If you want to follow along on my hikes and get notified when I post new posts, be sure to follow my Instagram @maddie_deer here or like my Facebook page here.