The Labyrinth Trail is a hidden gem overlooked due to the more popular trails in the surrounding area. This trail is much less crowded than others in the area like Dog Mountain, or Catherine Creek. Although overlooked, you'll find beautiful views of the Columbia River Gorge, wildflowers from late spring to late summer, and a waterfall. What drew me to this hike, is the beautiful rock formations that you don't typically see around the hikes closer to the Portland area in the gorge. This hike just opened in 2019 and I think the word has yet to spread to most others in the area. In this guide, I'm covering everything you know about this hike including how to get there, what to know before you hike, and other tips for the Labyrinth Trail.
Disclaimer: This post contains affiliate links. This means that I get compensated a small amount if purchased through one of these links at no extra cost to you. I always only link products I truly love and any profit made goes to running this blog. Thank you for your support! For more on my disclaimers, you can click here.
Hiking Guide to Labyrinth Trail near Hood River, Oregon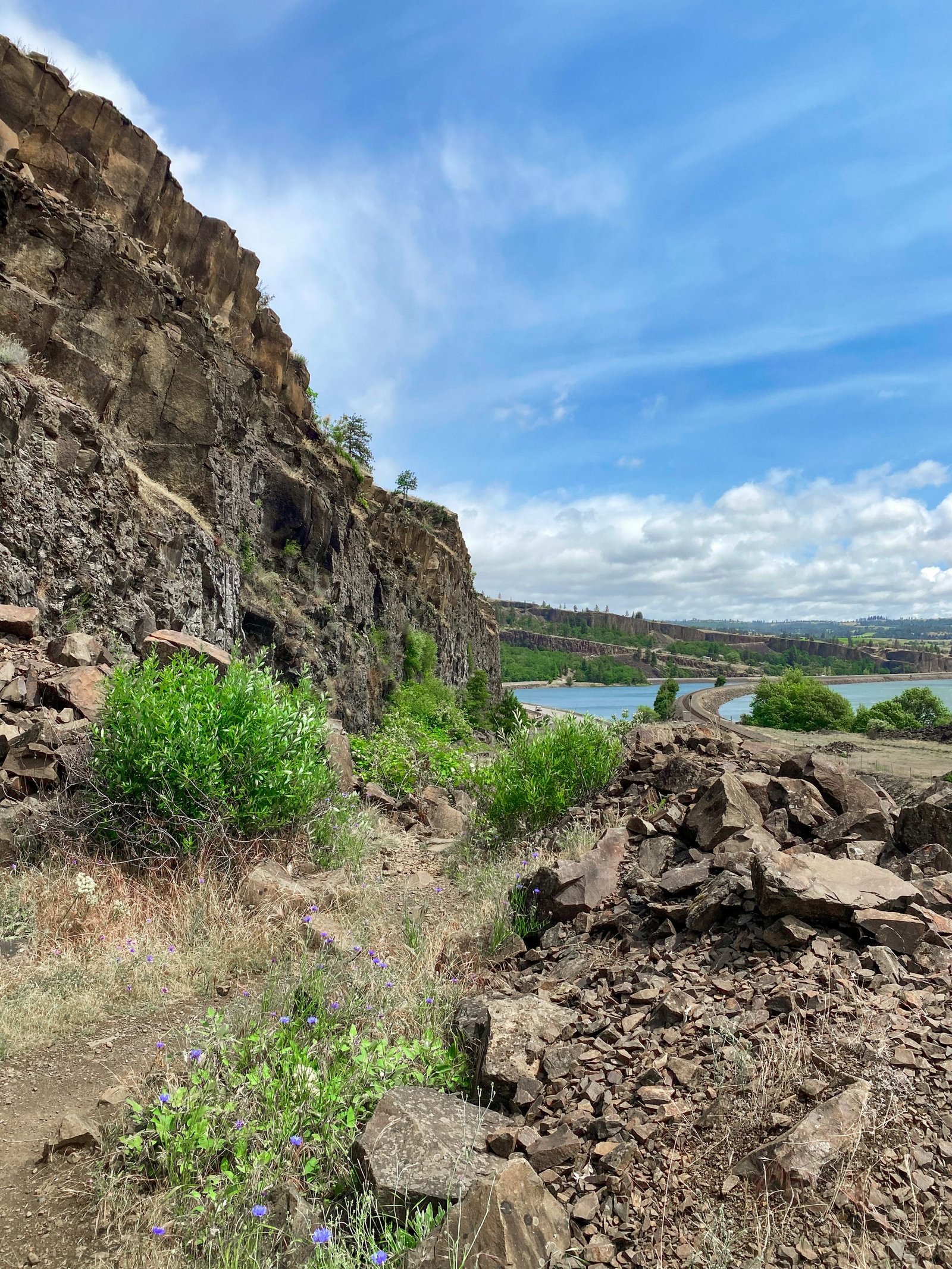 Getting There
It's pretty easy to get there from Portland or Vancouver! If you're coming from Portland you will take I-84 for around 60 miles until you get to the Hood River Bridge. You will cross the Hood River Bridge and then take a right and drive 7 miles along WA-14 E until you reach the Old Hwy 8 intersection. Hood River Bridge is a toll bridge, so you will have to pay a few dollars to cross. The parking lot is just a small gravel area to the left in between Old Hwy 8 and WA-14. If there weren't any cars there, I probably wouldn't have recognized it as a parking lot. There are no signs or other amenities like restrooms or a garbage at the trailhead.
Alternatively, you can access this hike on the Washington side by following WA-14 E from Vancouver. Through this route there are no tolls unless you want to cross to stop in Hood River for lunch (which I highly recommend). Depending on traffic, it may be faster to access this hike through driving on the Oregon side, even if you're coming from Vancouver.
The parking lot can only fit about 5 cars or so. If you're wanting to go on this hike and for some reason the parking lot is full, check the Coyote Wall parking lot and consider doing the loop. The parking lot at Coyote Wall is bigger since it is a more popular hike. At both the Labyrinth and Coyote Wall parking lot, no fee or parking pass is required to park, so that is always a bonus.
The Hike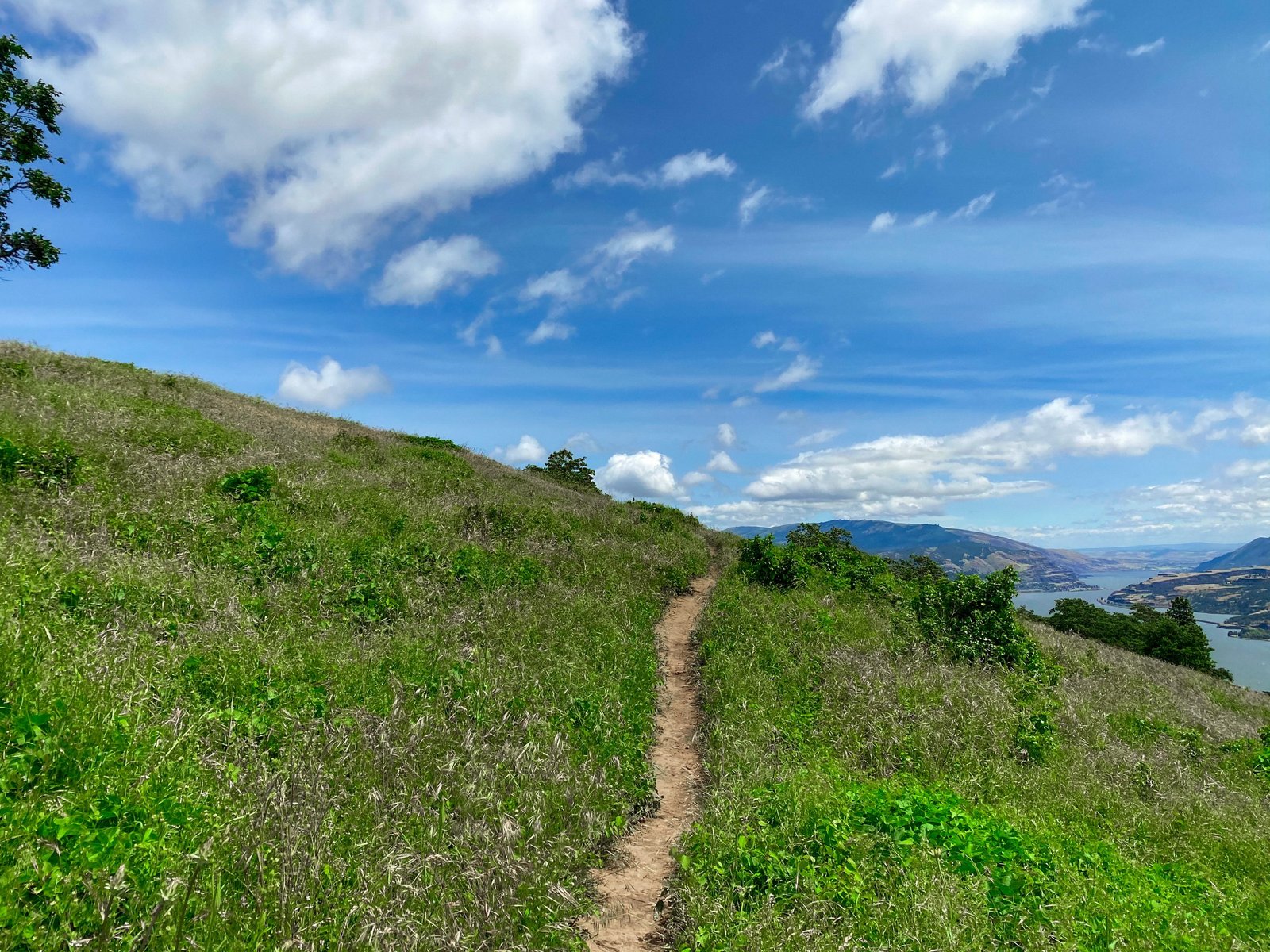 The Labyrinth trail is around 4.7 miles and has an elevation gain of 1,131 ft according to AllTrails. You can hike this trail independently, which is much less crowded, but has no "official" end, or you can add Coyote Wall onto it which makes for a longer hike and more crowds if you're visiting during wildflower season, especially on a weekend. Adding on Coyote Wall makes this trail 6.7 miles with an elevation gain of 1,489 ft. Adding on Coyote Wall makes it a loop, but without it is an out-and-back trail.
When first starting out on the trail, it will look like you're walking along an old road. Once you make it up to the top of this initial hill and pass the small waterfall, the official hike begins and you will find yourself in a meadow of wildflowers if you're visiting between April- August. There are some rocky portions along the trail, but nothing too strenuous to climb over. There is also a small creek that you can stop to cool down by. Overall, this trail had limited tree cover so avoid visiting during the peak sun and bring sunscreen. There were also a lot of mountain bikers along this trail to look out for, and the possibility of horseback riders too.
If you're just doing the out-and-back Labyrinth Trail, there is no "official" end. Once you're about 2.5 miles up the mountain, there is a flat gravel area that I think makes for a good stopping point if you're wanting to eat lunch or enjoy the sweeping views of the Columbia River. Further past this point, the trail goes through a short area of trees and then enters back into the meadow where it leads to Coyote Wall.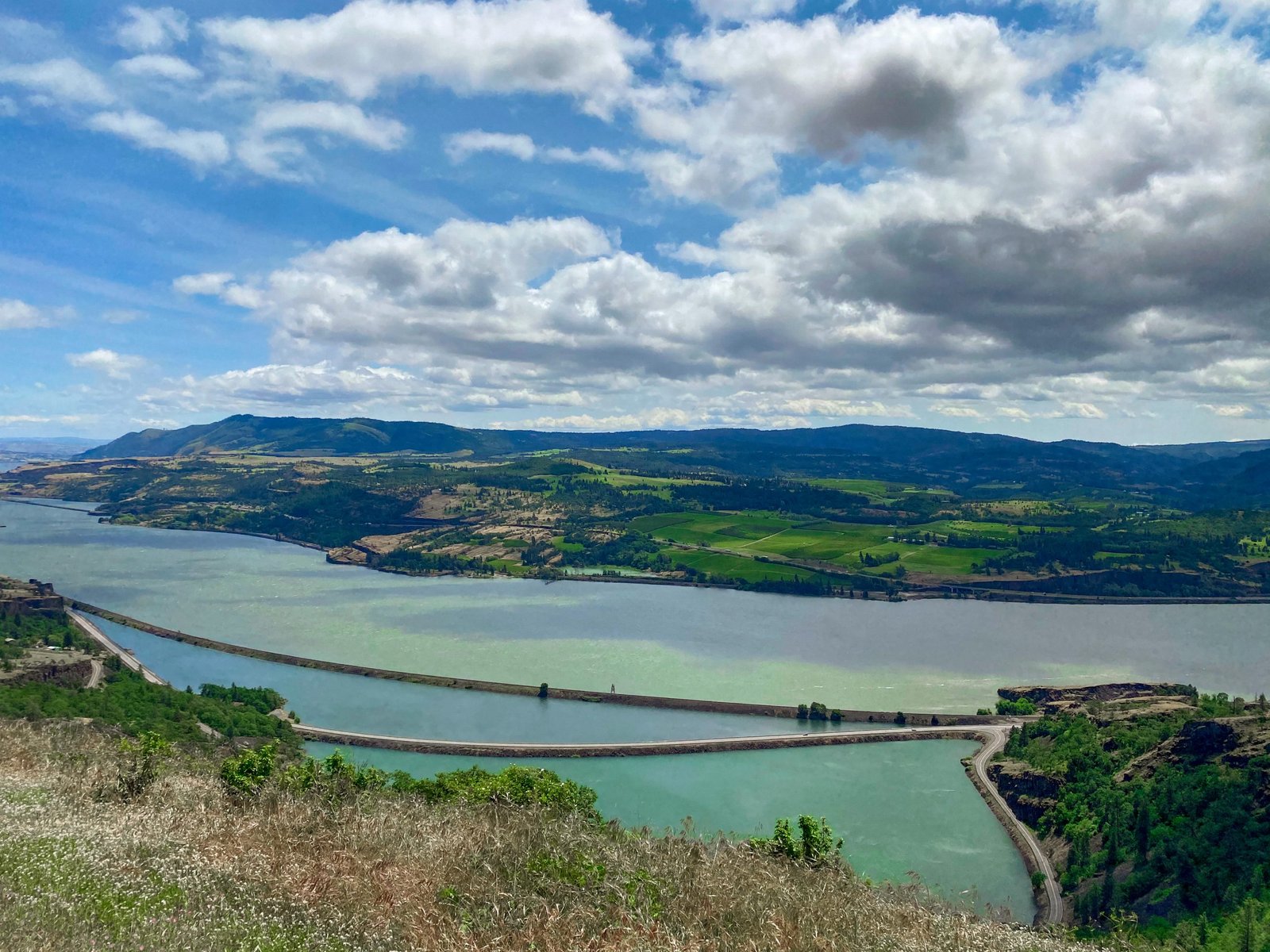 Other Tips
This trail is moderate and has some inclines. However, I think it is still a great hike for older kids, and also to bring your dog on as well. If you have a younger dog that may pull, beware because my pup accidently pulled me down one of the rocky hills. However, going slow down the hills it shouldn't be much of a problem.
Hood River is right across the river so it makes a good addition for your trip if you're wanting to get lunch or explore some of the shops.
If you're bringing your dog, prepare ahead of time to pack doggy bags out with you since there are no garbages at the beginning of the trail. If you're looking for a contraption so you don't have to pack them inside your car, check out this magnetic doggy bag garbage to pop on the outside of your car.
Other Hikes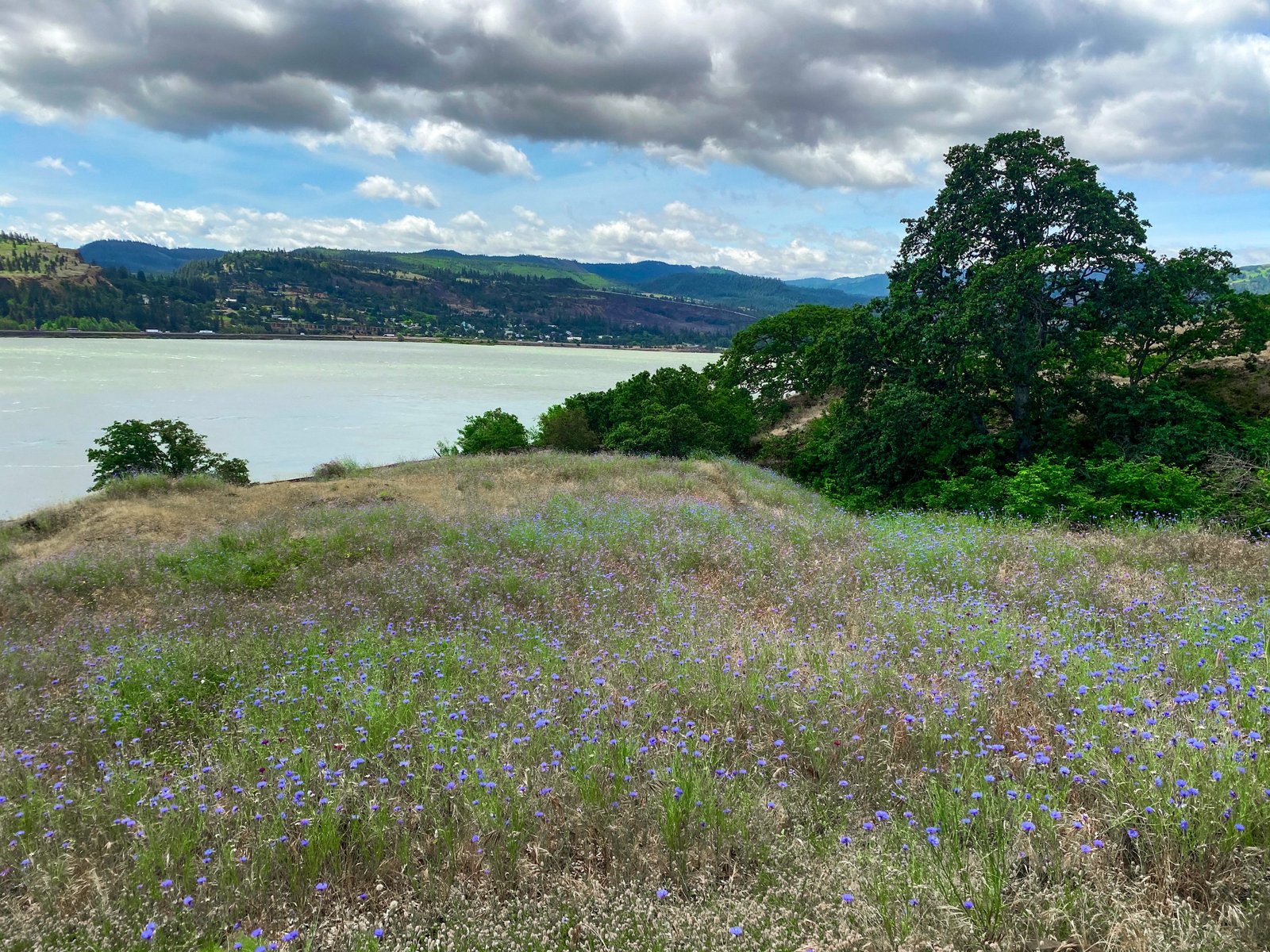 Looking for more nearby hikes? There are so many hikes in the Columbia River Gorge! If you enjoyed this post and are looking for more hikes in the area, check out one of my other posts linked below for more hiking ideas:
Thank you so much for reading! If you want to follow along on my hikes and get notified when I post new posts, be sure to follow my Instagram @maddie_deer here or like my Facebook page here.