Fall is the superior reading season. I read all year round, but for some reason, books seem so much better in the fall! It's getting colder outside, it's spooky season, and it starts to get dark earlier. It's basically begging for thriller, horror, mystery, and fantasy books. If you're looking for a book to help you get into the new season and feel cozy, put aside your romance books (that were probably perfect for summer) and reach for one of these 10 books to read this fall!
Disclaimer: This post contains affiliate links. This means that I get compensated a small amount if purchased through one of these links at no extra cost to you. I always only link products I truly love and any profit made goes to running this blog. Thank you for your support! For more on my disclaimers, you can click here.
10 Books to Read this Fall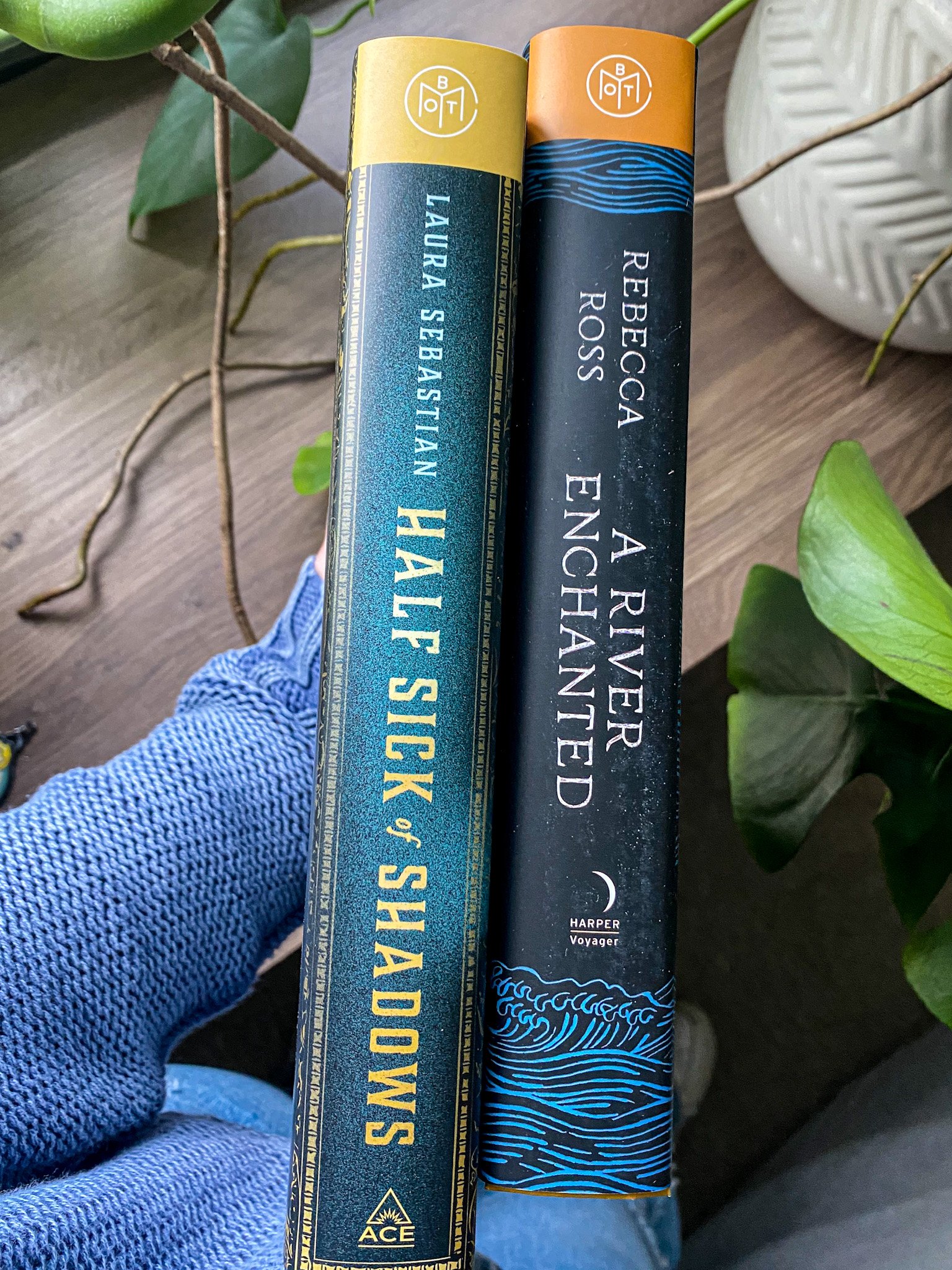 1. Half Sick of Shadows by Laura Sebastian
My Rating: 4/5
Goodreads Rating: 3.75/5
I've noticed that Greek Mythology Retellings are a big deal right now. There are so many books floating around booktok, and new releases coming out on yet another Greek God. When I first picked up Half Sick of Shadows, I thought it was going to be a Greek Mythology Retelling. However, I was pleasantly surprised when I realized that it is actually an Arthurian Retelling told through the lens of the oracle. I loved that you really got to know and get attached to the characters, it was fast-paced, and it moved through multiple timelines. It is definitely a cozy fall read if you enjoy retellings, historical fiction, and fantasy.
Get Half Sick of Shadows here on Amazon.
2. My Best Friend's Exorcism by Grady Hendrix
My Rating: 4.75/5
Goodreads Rating: 3.98/5
Grady Hendrix, in my opinion, writes some of the best horror-themed books, which is why he earned not only one but two spots on the list! My Best Friend's Exorcism is about exactly how it sounds. Gretchen and Abby are two best friends in the 80s when one of them becomes possessed by a demon. I had reservations about starting this book because I wasn't sure how you could get the flair of possession in a book. But, Grady Hendrix is a pro. This book paints the perfect picture and plays out almost as if it is a movie. If you like stranger things, anything paranormal, and the vibes of the 80s, then this is the perfect fall read for you!
Get My Best Friend's Exorcism here on Amazon.
3. The Maidens by Alex Michaelides
My Rating: 3.75/5
Goodreads Rating: 3.63/5
A Greek Tragedy professor, a secret society of girls that follow him around called "The Maidens," a murder, and an investigation for the killer sums up what this book is all about. This book is pure dark academia, and there is honestly no better time to read dark academia than fall. I didn't think this book was much of a thriller, but there is definitely a lot of mystery and a couple of plot twists that I wasn't expecting.
Get The Maidens here on Amazon.
4. The Ex Hex by Erin Sterling
My Rating: 4.5/5
Goodreads Rating: 3.55/5
If you can't get away from romance books, even during the fall, this is a witchy-themed romance that is perfect for fall! I first saw this book on Book of the Month last year (If you want to try Book of the Month, you can use my referral code to get your first book for $5 by clicking here). When reading it, I thought the characters were cute, the plot was there, and it is perfect for the spooky season. I would say that a lot of people didn't like this one on audiobook, so opt for reading rather than listening if you have the option.
Get The Ex Hex here on Amazon.
5. Ninth House by Leigh Bardugo
My Rating: 4/5
Goodreads Rating: 4.04/5
For the occult, dark academia, mystery, paranormal, and horror themes, this book has it all! Although there was a bit of a slow start, the story picked up and it got good fast. This one was along the same wavelength as The Maidens where girls are going missing and there are secrets among the university. However, Ninth House definitely has more paranormal and occult themes that make it perfect for the spooky season. If you are looking to just give one of them a go, I would recommend this one! Ninth House is also on Kindle Unlimited so you can grab it for free if you have that!
Get Ninth House here on Amazon.
6. The Southern Book Club's Guide to Slaying Vampires by Grady Hendrix
My Rating: 5/5
Goodreads Rating: 3.83/5
The second Grady Hendrix book on the list, The Southern Book Club's Guide to Slaying Vampires will help with your vampire fix. This thriller takes place in the South during the 90s where a group of women meet each week to gossip and discuss their latest read. When someone new moves to town, the gossip naturally turns to this dark and mysterious stranger. However, when local children begin to go missing, one of the women sets out on an investigation to determine who this stranger really is.
Get The Southern Book Club's Guide to Slaying Vampires here on Amazon.
7. The 7 1/2 Deaths of Evelyn Hardcastle
My Rating: 5/5
Goodreads Rating: 3.87/5
For a Groundhogs Day type of read, The 7 1/2 Deaths of Evelyn Hardcastle follows Aiden Bishop who relives the day again and again until he can figure out who killed Evelyn Hardcastle. This whodunnit gives Agatha Christie vibes and is set in the 1920s at an elegant party that sets the perfect scene for a murder mystery. If you are someone who doesn't mind the same-day repeating type of trope and love a good murder mystery, this is a great book to read this fall! It's also on Kindle Unlimited so you can grab it for free if you have that!
Get The 7 1/2 Deaths of Evelyn Hardcastle here on Amazon.
8. Lock Every Door by Riley Sager
My Rating: 5/5
Goodreads Rating: 3.91/5
Lock Every Door is the ultimate thriller. Riley Sager knows how to pull the reader in and twist the story into the unexpected. In this read, the MC is apartment sitting in a secretive and high-profile building. She's getting paid well, but it doesn't stop her from looking into the secrets of the building. And why have the last few apartment sitters disappeared? She intends to find out. I honestly don't think you can go wrong reading any Riley Sager for the perfect fall thriller, this one just happens to be one of my favorites!
Get Lock Every Door here on Amazon.
9. Bunny
My Rating: 5/5
Goodreads Rating: 3.58/5
A controversial pick because it barely got a 3.5/5, but I feel like this book is for a very specific type of person. Most people who read this book either loved it or hated it. It will confuse you, and leave you feeling completely lost… but in the best possible way! Does that make sense? It's probably the weirded book I've ever read. It mixes magical realism, horror, and surrealism. If you don't want a WTF moment, definitely pass on this book. I had to include it on the list though because it is horror and honestly perfect for the approaching spooky season!
10. The Cruel Prince by Holly Black
My Rating: 5/5
Goodreads Rating: 4.09/5
If you have a free weekend and want to blow through a series, The Cruel Prince trilogy is the perfect cozy fall series. It's fantasy, and as someone who doesn't typically read fantasy, I wasn't sure that I would be into it. However, Holly Black has a way of bringing characters to life, world-building without over-doing it, and creating moving relationships. In this series, Jude was 7 when her parents were murdered and she was taken along with her two sisters to live in the High Court of Faerie. In an attempt to belong (safely) with the fae, she begins working with part of the court and digging herself deep into trouble.
Get The Cruel Prince here on Amazon (I also recommend getting The Wicked King and Queen of Nothing too because you're going to want to read them as soon as you finish the first).
10 Books to Read this Fall
That's it for my 10 books to read this fall. I hope you found at least one that sparked your interest and can be added to your TBR. Reading during the fall is honestly the best time of year to do it! Grab a blanket, a warm drink, light a candle, and find a cozy corner to really set the mood. If you have any other fall reading recs, feel free to leave them in the comments down below!
Want more book recs? Check out some of my previous posts below!
You can follow my on my insta @maddie_deer here, or on Facebook here for updates on all future posts! Happy reading!