Isla Mujeres is a beautiful island just a short ferry away from Cancun. Translated as "Island of Women," this island served as the sanctuary for the goddess Ixchel. Ixchel is the goddess of the moon, fertility, medicine, and happiness. Isla Mujeres is the perfect destination for either a day trip or a weekend trip. It has some of the most beautiful beaches in all of Quintana Roo, as well as some of the best snorkeling spots. In this post, I will be covering when to visit, how to get there, things to do, and other tips to make a more enjoyable experience for Isla Mujeres.
Disclaimer: This post contains affiliate links. This means that I get compensated a small amount if purchased through one of these links at no extra cost to you. I always only link products I truly love and any profit made goes to running this blog. Thank you for your support! For more on my disclaimers, you can click here.
Things to Do in Isla Mujeres, Mexico
When to Visit Isla Mujeres
The best time to visit Cancun and the surrounding area, including Isla Mujeres is December through April. During this time of year, the weather is clear, it isn't too hot, it is the dry season, and there isn't a lot of seaweed that washes up on the beach. During this time of year, the temperature is usually between 75- 90 degrees Fahrenheit. This is also the peak season, so expect more people and higher prices.
During the spring and into the summer, there is a lot of seaweed that washes onto the beach. Aside from being unsightly, it also is smelly. The heat also surges in the summer and it becomes hurricane season. Hurricane season in Mexico is from June- November. However, the peak time for hurricanes is usually September and October. While there was seaweed in Cancun when I visited in July, Isla Mujeres still had pristine white sandy beaches and turquoise-blue waters.
Getting to Isla Mujeres
Since Isla Mujeres is an island, you will need to take a ferry or private boat. If you are staying on the island, some hotels offer a private boat. Otherwise, you can take the ferry. The ferry was easy and straightforward to navigate. To see the times and departures for the Ultramar Ferry that also travels to Cozumel, you can click here.
The ferry typically departs every 30 minutes from both Isla Mujeres and the Cancun ports starting around 6:00 am. It is recommended that you arrive at the port 30 minutes before your desired departure time. At the port, there are some stalls for food, a mini-mart, a few stores, and a booth to buy tickets. A round-trip ticket costs $462 MXN (around $25 USD). Once you have your ticket, you can navigate to the line to wait for your boat. The ferry takes around 15 minutes to cross from Cancun to the island. There is seating on top of the ferry, as well as inside. If you are sitting inside, you need to wear a mask.
Things to Do in Isla Mujeres
1. Rent a Golf Cart
The best way to get around the island is by golf cart! There are a ton of golf cart rentals to choose from on the island. Make sure to bring your license as this is required to rent one. You can barter with different golf cart businesses, and some will try to get you to pay more than it's worth. You can expect to pay around $15- 20 per hour with a rental. Anything more and you are being ripped off.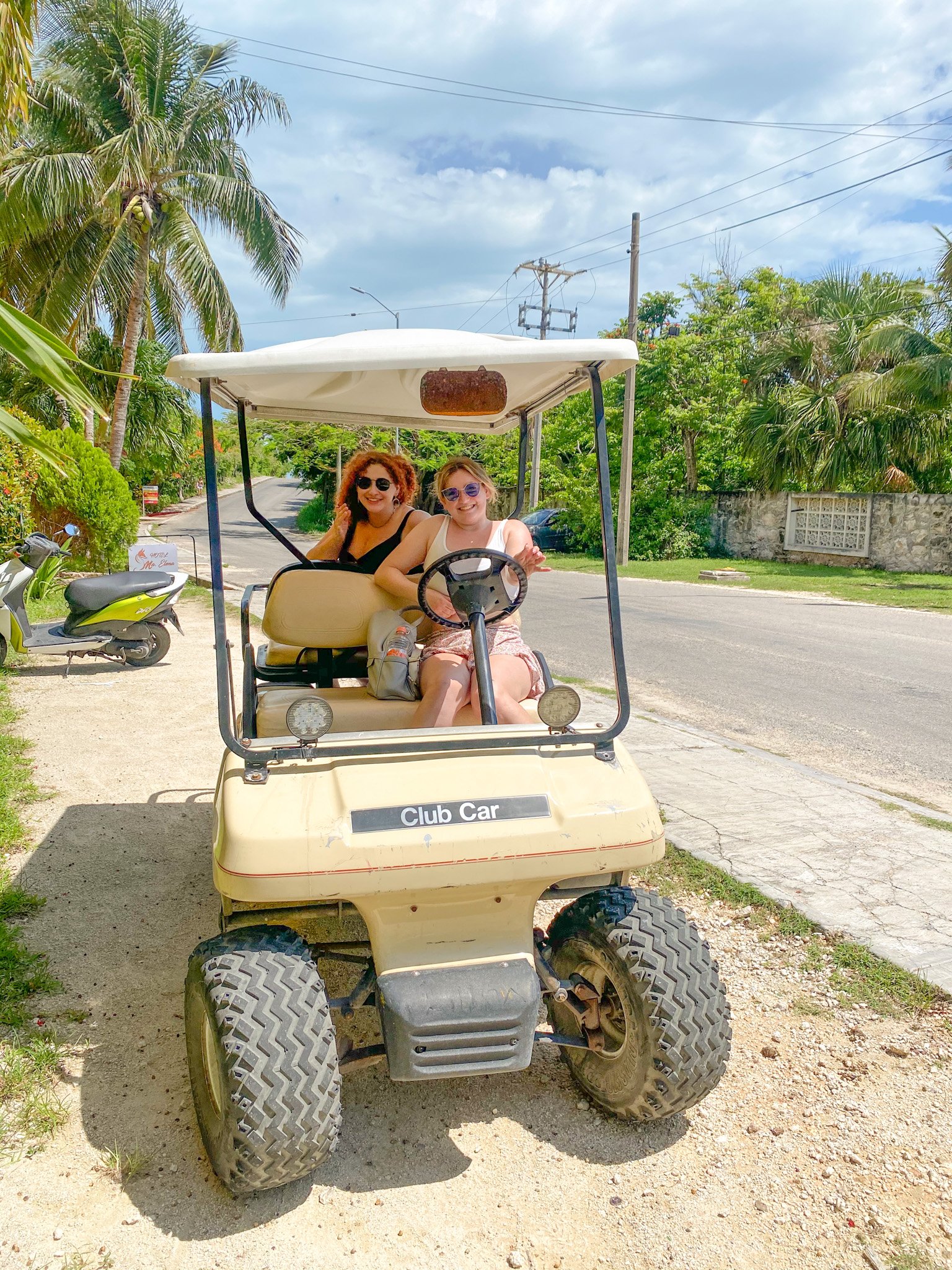 It takes around 20 minutes to drive from one end of the island to the other. There is a lot of room for parking at different places, and the roads are fairly easy to navigate.
2. Visit the Ixchel Ruins at Punta Sur Park
Punta Sur has cliffside beaches, as well as the ruins of the Mayan temple for the goddess Ixchel. The temples have deteriorated over time due to Hurricanes, and from the entrance really don't look like much. However, I highly recommend paying the $2 to enter because some of the ruins are hidden, and walking along the cliffside beaches is stunning. You can easily get to the ruins by following the main road to the south side of the island in a golf cart. Along the way, you can stop at one of the booths selling coconuts!
3. Snorkel
There are several places to snorkel around Isla Mujeres. If you're an avid snorkeler, you can pay for a tour to be taken to some of the reefs in the area. There are several snorkeling tours in the area and they generally run around $45- $70 per person. The tours usually include hotel pick up/ drop off snorkeling gear, and an all-you-can-eat buffet lunch. There are various tours for different coral reefs in the area. If you're looking for a more accessible area, you can visit MUSA, the underwater museum of art which features sculptures and other art pieces which serve as an artificial reef to preserve marine life. At MUSA you can snorkel, or take a glass-bottom boat tour.
If you're looking for a snorkeling tour, there are a lot of guides offering tours right outside the ferry or in the downtown area. You can also try looking at Trip Advisor to set something up before your trip. Tours will generally take you to 2 reefs, as well as MUSA.
4. Visit Playa Norte
Playa Norte is a beautiful beach with white sand and turquoise waters! Some of the beaches along Isla Mujeres are rocky or along cliffs, so if you're looking for a beach you can just hang out on, this is the one to choose. There are several different places to eat nearby. Make sure you have cash on you because card readers are frequently down! This area is where many of the hotels on the island are. If you are staying on Isla Mujeres and want to be near a beach, this is a good area to look in.
5. Take a Whale Shark Tour
Between June 1st to September 15th each year you can take a tour to go swimming with whale sharks during the migration. This will run you around $150 for the boat ride out to the location, equipment to snorkel, and a guide. Tours are generally 6- 8 hours (boat ride is 1.5- 2 hours each way) and leave in the morning.
Other Tips for Isla Mujeres
Make sure to bring sunscreen! There isn't a ton of tree cover or shelter on the island aside from the buildings and the sun can be intense. Make sure to get reef-safe sunscreen if you plan on going in the water to help preserve them. Over 800,000 people visit Isla Mujeres each year and sunscreen and other chemicals can be damaging to reefs.
The businesses on the island including the golf cart rentals opened around 8:30- 9:00 am. The earlier ferries weren't too crowded around this time. However, around 10:00 am- 1:00 pm a lot more people began to arrive and it got crowded. Some of the golf cart rentals even sold out. Plan to depart around 8:30 or 9:00 am to avoid the crowds.
Make sure to carry water on you! You can grab water from the mini-mart near the port before getting on to the ferry. There are also shops where you can get water from on the island. It is very hot and you will want to stay hydrated.
Bring cash! If you use pesos you will pay a little less than you would if using US dollars. However, most of the shops and businesses only take cash and the credit card machines are frequently down. There is an ATM at the port to the left after getting off the ferry in Isla Mujeres. If you do need cash, try to use this ATM as it can be tricky to find another.
ENJOY YOUR TRIP!
Those are just a few things to do in Isla Mujeres! I highly recommend visiting if you are on a trip in Yucatan or Quintana Roo, Mexico. Looking for more Mexico or travel-related posts? Check out one of my others below!
Thank you so much for reading! If you want to follow along on my travels and get notified when I post new posts, be sure to follow my Instagram @maddie_deer here or like my Facebook page here.