Chichen Itza is an archaeological site from the Mayan civilization located in the Yucatan of Mexico. It is one of the seven wonders of the world and has around 2.5 million guests each year. Chichen Itza is also a UNESCO World Heritage site. Chichen Itza is most identified by the large pyramid in the center of the site, called "El Castillo," or "The Castle." If you're staying in Cancun or Tulum, visiting Chichen Itza makes for an amazing day trip. Since it is a bit more difficult to reach than some of the other archaeological sites, I put together this guide on what to know before you visit Chichen Itza. In this post I am covering how to get there, cost, and other tips to make your experience a bit easier.
Disclaimer: This post contains affiliate links. This means that I get compensated a small amount if purchased through one of these links at no extra cost to you. I always only link products I truly love and any profit made goes to running this blog. Thank you for your support! For more on my disclaimers, you can click here.
What to Know Before You Visit Chichen Itza
How to Get There
There are a few options to get to Chichen Itza if you are coming from Tulum or Cancun:
Option 1: Take a tour. Generally, tours includes transportation from wherever you are staying. Howevr, you should confirm this before booking. This can still be an affordable option if you are looking to visit but do not want to spend $100+. You can take either private tours or group tours (which cut down the cost), and can find them by looking on TripAdvisor. This is what I did while visiting Chichen Itza and it was a great experience! We were also taken to Valladolid and a cenote. It was very touristy, but we didn't really mind. If you're looking for a less touristy option, going with a private guide or looking through what each tour offers can help.
Option 2: Rent a car. Chichen Itza is 120 miles from Cancun and 90 miles from Tulum. Most of the road to the site is highway. If you would rather do the driving yourself, you can rent a car and park at the site. It takes around 2.5 hours to reach Chichen Itza from Cancun. From Playa Del Carmen, it takes around 2 hours and 10 minutes. From Tulum, it is about 2 hours. If you drive you will need to pay $80 MXN for parking.
Option 3: Take the bus. This is the best budet option. The ADO bus goes from Tulum, Playa Del Carmen, and Cancun to Chichen Itza. If you are staying at a resort, you will need to get a taxi or find other transportation to one of the bus stops. There are also two bus stops at each destination, so make sure you are at the right bus stop! I took the ADO bus to visit the Tulum Ruins (you can read more about that experience here).
You can purchase ADO tickets on the website here. Just put in the city you are departing from, the destination, how many adults, and the days. Make sure to also buy your return ticket. The times vary by day so make sure to check the website on the day you are visiting. You can expect the bus to leave around 8:45 am and begin the return at 4:30 pm. The bus takes around 3 hours if you are returning to Cancun. From Tulum, the bus takes a little over 2 hours. If you need more time, you can also take the bus to Valladolid and take a later return bus back to Cancun or Tulum.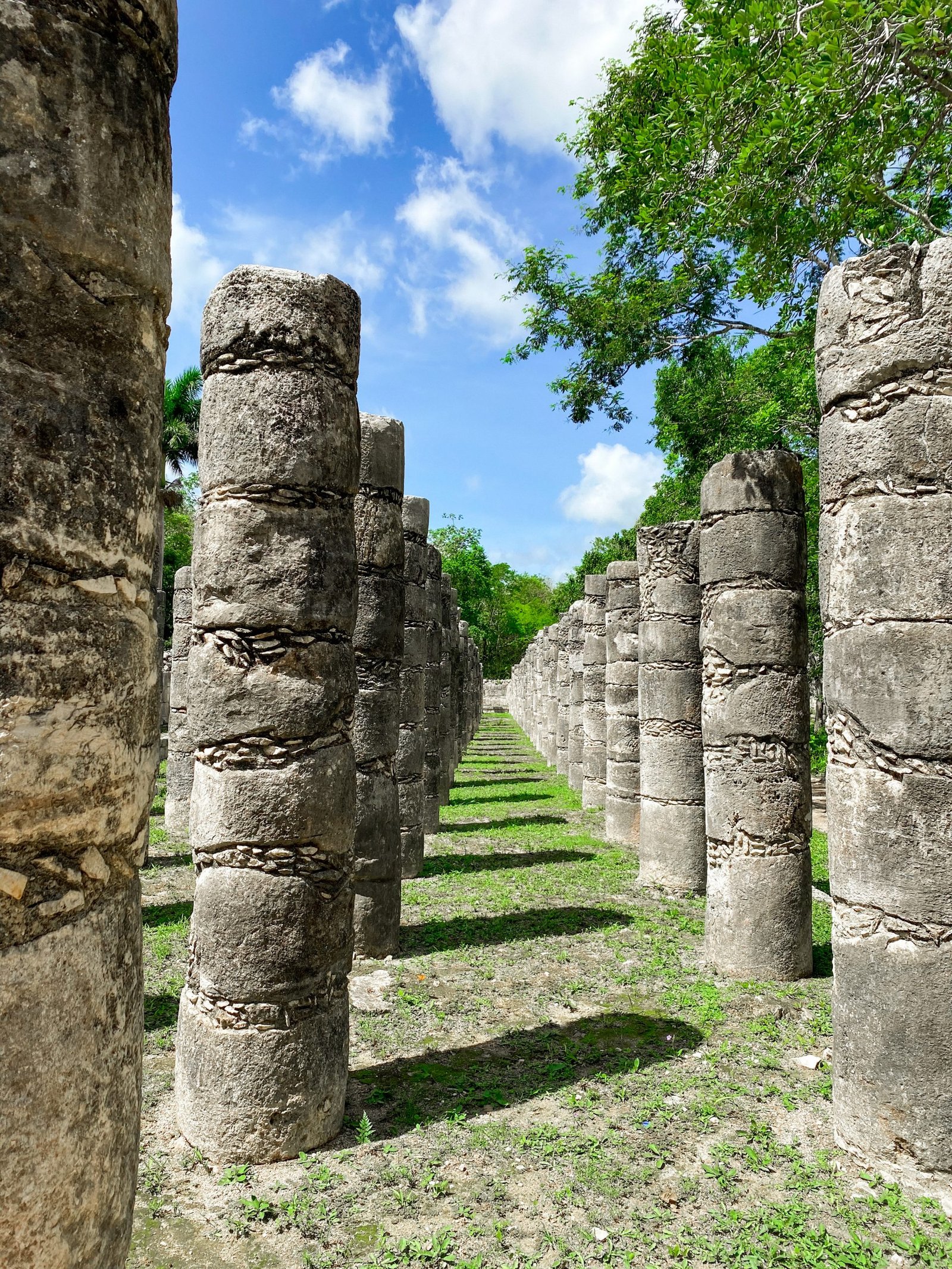 Need to know Information about Chichen Itza
Chichen Itza is open 8:00 am- 5:00 pm with the last entry being at 4:00 pm. If you purchase a tour to visit Chichen Itza, tickets may be included. If tickets are not included or you are purchasing at the site, the entry is $571 MXN for adults, $85 MXN for children 8- 12 years, and $253 MXN for Mexican citizens. On Sunday there is free admission for Mexican citizens so it can get busy. Avoid going on Sundays if you are not a Mexico Citizen to avoid the larger crowds. Saturdays can also get pretty busy. If you are looking for a day to visit Chichen Itza with lower crowds, go midweek.
You can spend all day exploring Chichen Itza. If you are booking a tour, look for one with at least an hour to explore on your own since the tour isn't able to cover everything. If you are exploring on your own without a tour, plan to spend at least 2 hours walking around, or more if you have a guide you are following. There is so much history at Chichen Itza and things you wouldn't know if you didn't have a tour or guide. I recommend at least one of these options.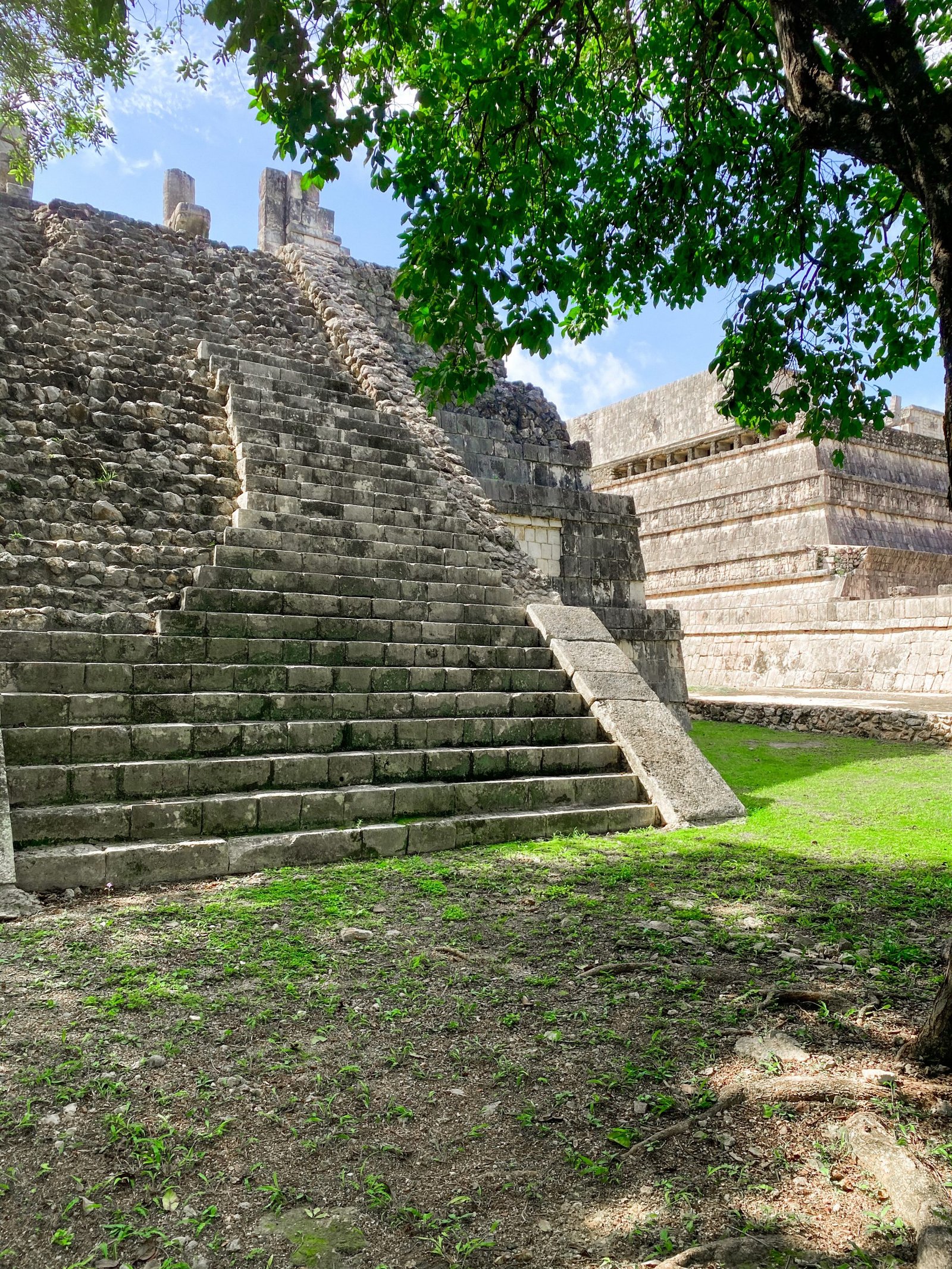 Souvenirs
If you want a souvenir to commemorate your visit to Chichen Itza, there are a lot of options to choose from. There are hundreds of stalls around of people selling souvenirs. Most everything of that is sold is similar from stall to stall. The sellers will try to bring you in to look at their stall and will barter with you. Feel free to haggle. Also, make sure to bring cash if you are planning on buying a souvenir.
Other Tips
Go early if you want to take pictures without people in the background. Chichen Itza gets bust around 9:30 am when most of the tour groups arrive. I took an early tour and was thankful to not have to battle the crowds.
Most of the ruins are in direct sunlight. Wear and bring sunscreen. A hat also couldn't hurt! If you're in a tour group you might be in the direct sun a lot.
Make sure to bring a lot of water. There isn't much of an opportunity to buy water at the ruins. On the tour I went on, we did stop at a gas station and went to a place with dinner that had bottled water. However, it is still a good idea to bring at least 2 L and leave one in the car while you go into Chichen Itza!
If you're visiting a cenote on a tour after Chichen Itza, remember to bring your swimsuit!
The ruins are huge! You will probably be walking a lot. Make sure to bring good shoes that aren't going to hurt your feet or give you blisters.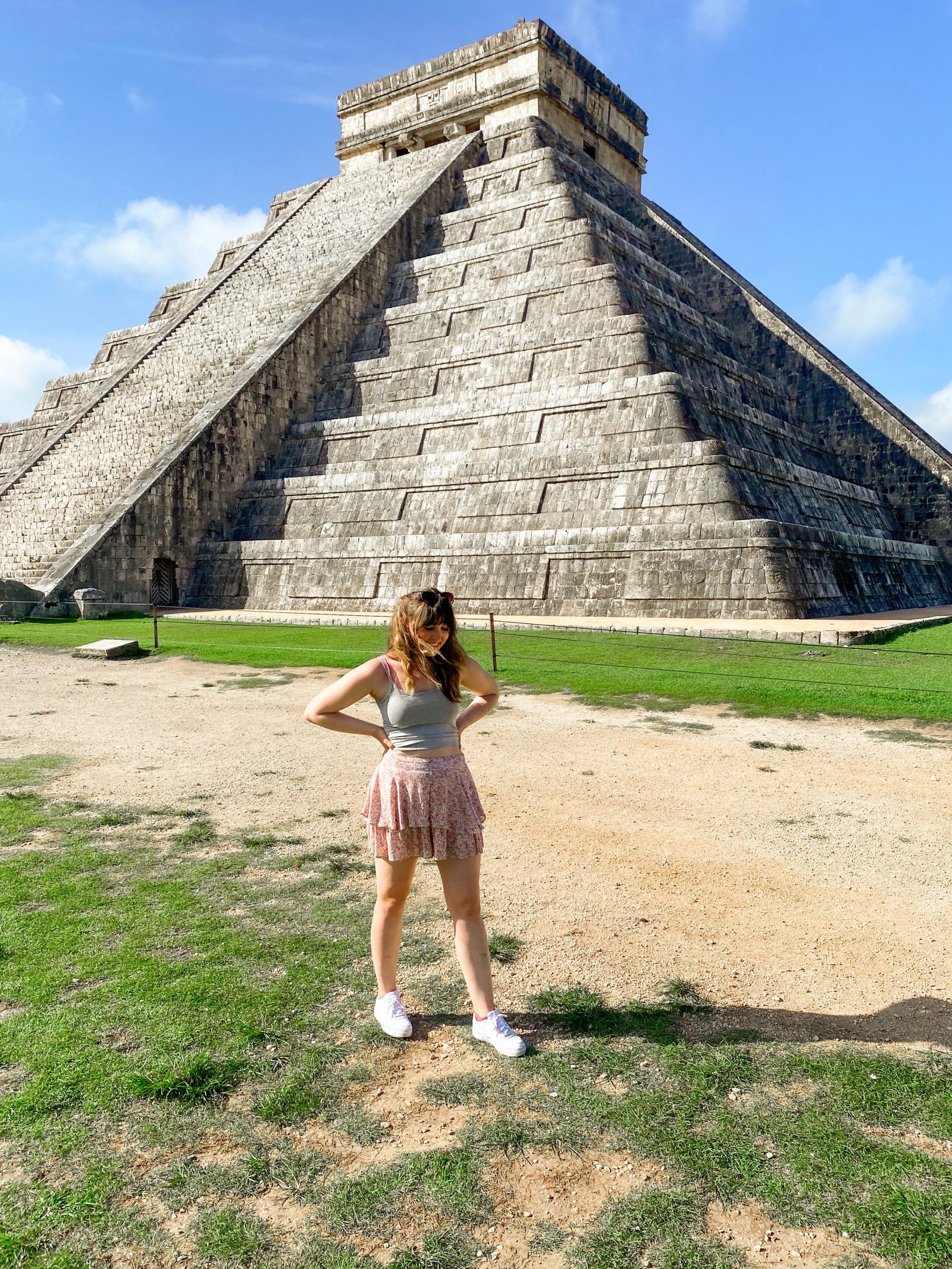 Enjoy Your Trip!
That's all the essential information you need to know before you visit Chichen Itza! I highly recommend visiting if you are on a trip in Yucatan or Quintana Roo, Mexico. Looking for more Mexico or travel-related posts? Check out one of my others below!
Thank you so much for reading! If you want to follow along on my hikes and get notified when I post new posts, be sure to follow my Instagram @maddie_deer here or like my Facebook page here.