Tulum was one of the last cities built and inhabited by the Mayans and at one point was a seaport town that made money by trading precious stones like jade, obsidian, and turquoise. Now, Tulum is known for being a laid-back jungle beach town. The Tulum Ruins, the remnants of the Mayan city, can make for a great trip both if you're staying in Tulum, or coming from Cancun. It's a completely different experience from Chichen Itza, so if you already are planning on visiting there, I would also recommend going to the Tulum Ruins, too! In this post, I will be covering the essential information for visiting the Tulum Ruins including cost, how to get there from both Tulum and Cancun, and other tips to make your experience a bit easier.
Disclaimer: This post contains affiliate links. This means that I get compensated a small amount if purchased through one of these links at no extra cost to you. I always only link products I truly love and any profit made goes to running this blog. Thank you for your support! For more on my disclaimers, you can click here.
The Ultimate Guide to the Tulum Ruins
To find the ruins using maps type in "Zona Arqueológica de Tulum" or let your taxi driver know this instead of just calling them by the Tulum Ruins!
Getting There
If you're coming from Tulum, it is a pretty short trip to get to the ruins. From the beach area, a taxi will take about 15 minutes. From the downtown area, a taxi will only take around 5 minutes. If you are renting a scooter or bike, it's also an easy ride to the ruins, you will just have to pay for parking. Parking for scooters and bikes is around 50 pesos. If you are renting a car, parking is around 80 pesos. If you are coming all the way from the beach, I wouldn't recommend biking. There were some main roads you needed to bike on and it felt like a long ride in the heat of the day.
It's a bit trickier to get to Tulum if you are coming from Cancun, but there are a few options:
Option 1: Rent a car and make the drive to Tulum. It takes around 2 hours, but renting a car can be a bit more expensive.
Option 2: Take a taxi, shuttle, or hire a driver. This can also be expensive. Taxi prices can vary, but this would probably run you around $125- 200+ USD round-trip.
Option 3: Take the ADO bus, which is more of a charter bus rather than a public bus. This is how I got to Tulum from the Cancun area and it is the most affordable option and really easy to navigate. The cost is around $14 USD round-trip and takes around 2 hours. More information on how to manage the ADO bus will be in the section below.
Option 4: Take a tour. This can also be a more affordable option to visit the ruins hassle-free since your tour guide is setting everything up. If you book a tour from Cancun it typically includes transportation.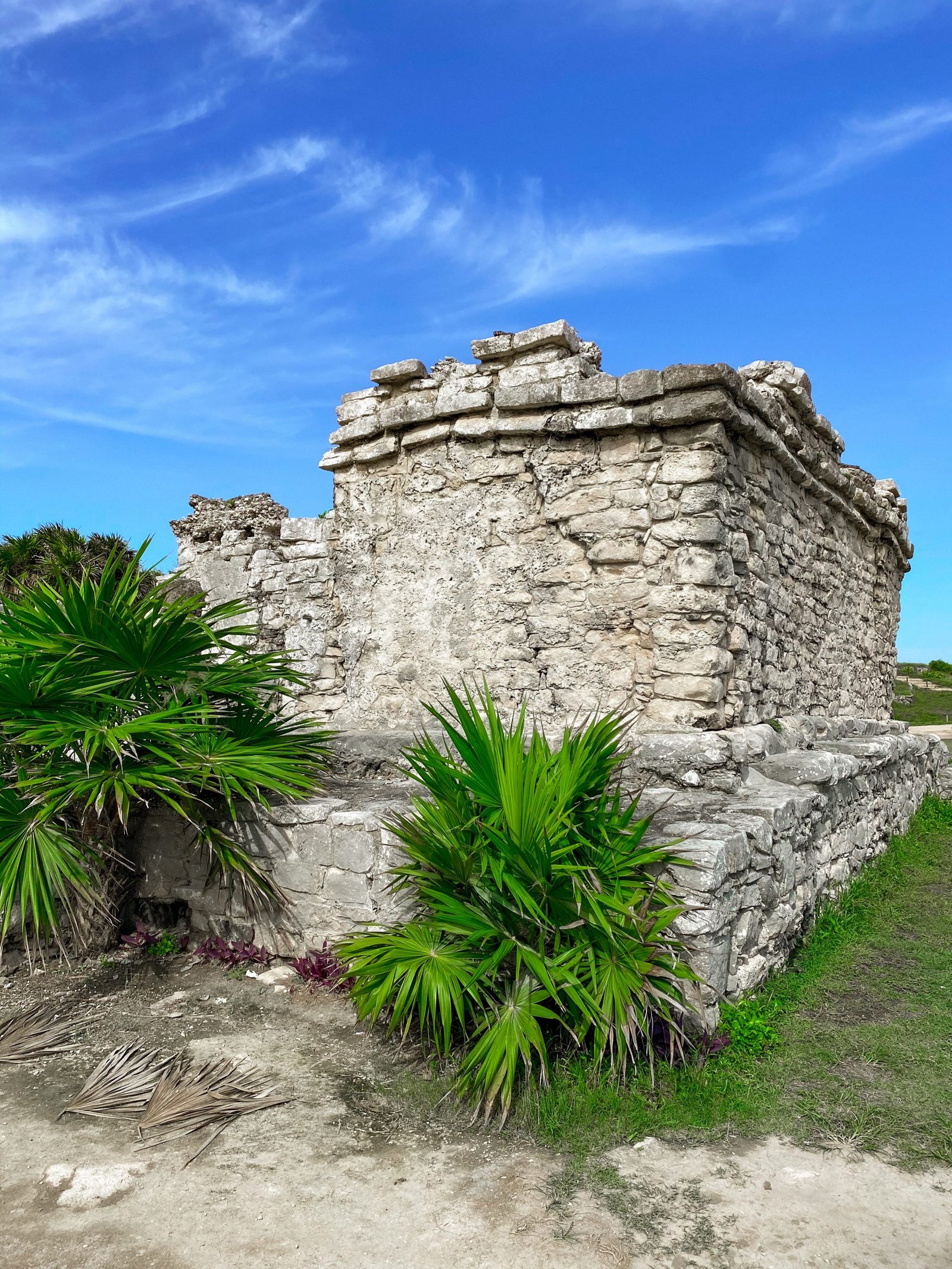 Getting to Tulum on the ADO Bus
There is an ADO bus stop both in Cancun near the airport and in Playa Del Carmen. If you are staying at a resort, you will need to get a taxi or find other transportation to one of the bus stops. There are also two bus stops at each destination, so make sure you are at the right bus stop! I went through the Playa Del Carmen ADO bus stop and was dropped off at the wrong one. Luckily we were early and the other stop was a short distance away. Learn from my mistake!
You can purchase ADO tickets on the website here. Just put in the city you are departing from, the destination, how many adults, and the days. Make sure to also buy your return ticket. There are buses departing every 30 minutes with the first bus departing Cancun and Playa Del Carmen around 9:00 am and the last bus departing from Tulum around 5:30 pm. The times vary by day so make sure to check the website on the day you are visiting.
ADO Bus Station
Another thing to note is that you get dropped off at an ADO bus station in Tulum near the downtown. However, when you are traveling back to Cancun/Playa Del Carmen, the pick-up spot might be at the Tulum Ruins (check your tickets for confirmation of the bus stop). You will need to walk, bike, scooter, or taxi to the ruins after being dropped off, it's only about a mile away but during the heat of the day it can be rough since there is no cover.
When departing from Tulum, the Zona Arqueologica bus terminal can be a bit tricky to find. Type in the address exactly as it appears. It is near the entrance of the ruins before walking the 500m to the admission booth. Coming from the ruins just walk past the 7-11 to the street and take a left. The stop is unmarked and is in front of an out-of-use information booth. You will be on the street side of a chain link fence, not the side that looks like an abandoned bus station. As I am typing this, I am realizing it sounds really sketchy, but it's really not! The ADO bus felt very safe, was inexpensive, and was easy to use. When the bus pulls up, have your ticket ready and the driver will scan it. Head back to your seat and you can relax the rest of the ride!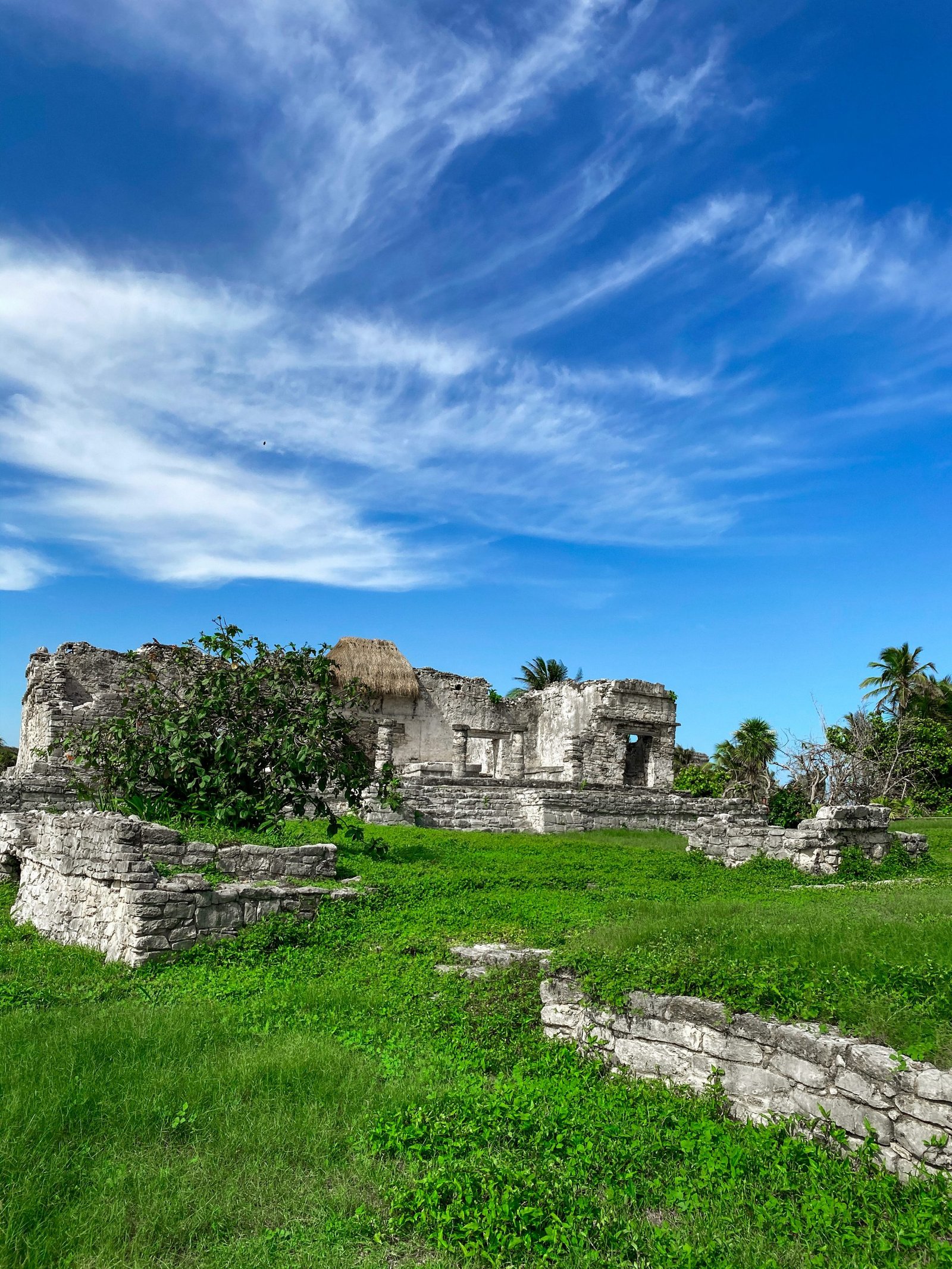 Need-to-know Information on the Tulum Ruins
When you arrive at the Tulum Ruins by taxi, you will be dropped off at the end of a long street. This will also be the area with parking for bikes, cars, and scooters. You will have to walk 500 m (0.3 miles) to get from this entrance to the admission booth. On hot days, there is sometimes a shuttle running that you can pay an extra few dollars for.
Along this path, there are a few touristy shops, some food stands, and a Starbucks. These shops are on the expensive side and a bit overpriced. There are also booths where tour companies are trying to sell you tickets. Although the booth may say "official" or they will tell you that is where you purchase your tickets, this is not the admission booth. You can purchase a tour here for around $40, but it really isn't necessary. You can explore on your own easily and there are signs in English and Spanish throughout. If you want, you can even pick up a guidebook at a shop for a few dollars to learn more about the history as you wander.
Once you make it to the admission booth, it costs $85 pesos/ person to get in. Only cash is accepted, so make sure to bring enough. A sign on the admission booth said that exact change is required, however, they were able to give me change when I didn't have exact cash. The ruins are open 8:00 am- 5:00 pm and take around 1- 2 hours to explore on your own.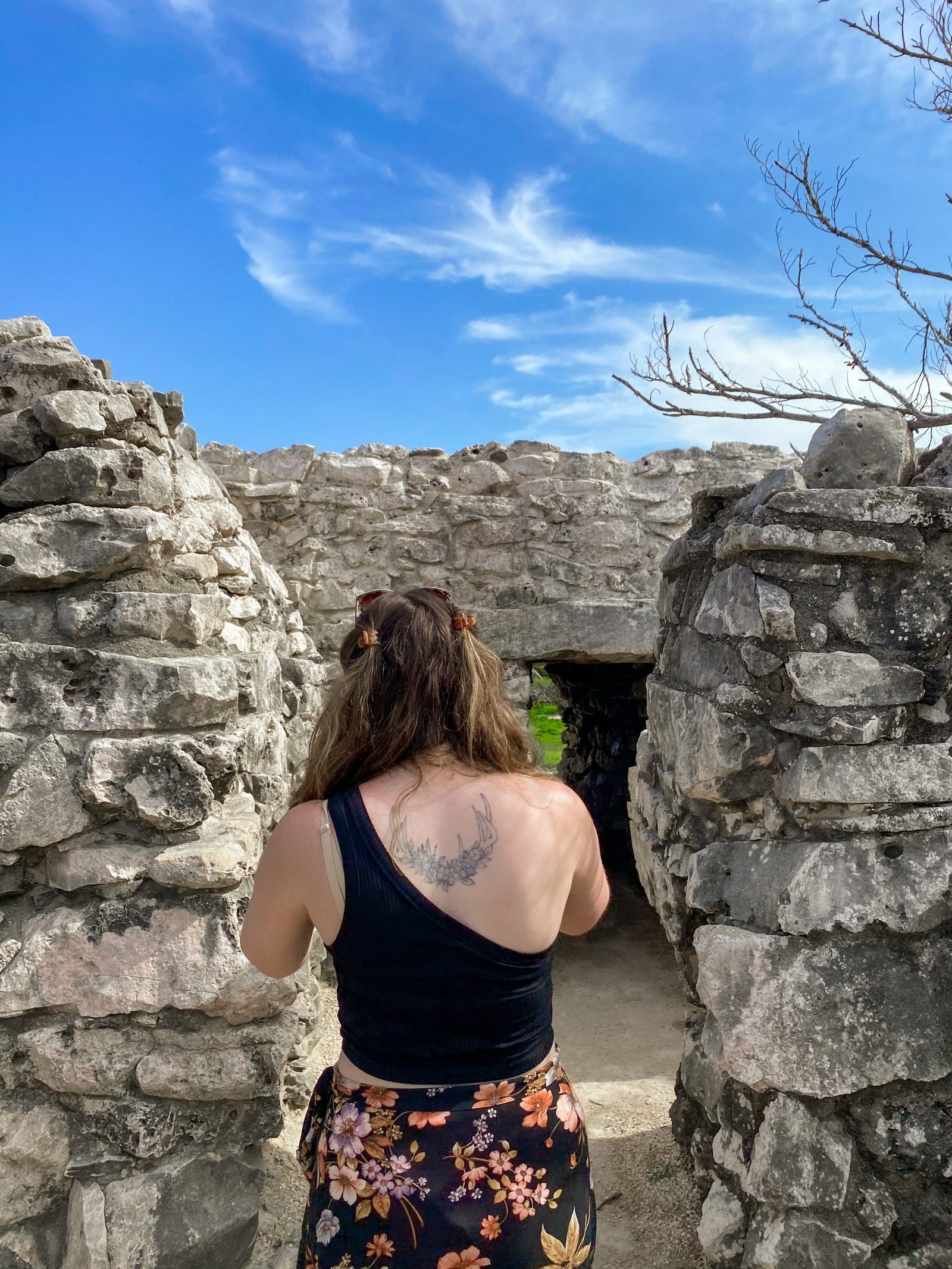 Tips for Visiting The Tulum Ruins
Make sure to bring sunscreen! There isn't a lot of tree cover while exploring the ruins.
Going earlier in the morning or near closing can help you to avoid most of the crowds.
Bring your water with you and make sure to use the bathroom outside near the ticket booth before entering. There is nowhere to get water, food, or use the bathrooms after passing through the admission booth until you leave.
If you're visiting from November- April, wear your swimsuit under your clothes and bring a towel if you want to swim at the beach inside the ruin site. Keep in mind there is nowhere to change when inside the site. If you plan on swimming, also make sure to check the tide times because the beach can become pretty small during high tide.
From May- October, turtles are returning to lay their eggs so the beach is closed.
Wear comfortable shoes, you will be walking a lot as you explore!
If you are a tourist coming from outside of Mexico, avoid going on Sundays. On Sundays, the Tulum Ruins are free to enter for Mexico locals. This means that it gets pretty packed so if you can avoid going on this day you can miss the larger crowds!
If you plan on biking in Tulum or using Taxis, make sure you have cash! There are several ATMs in the downtown area, but many places only accept cash so it's good to have some on hand.
Less than a mile away from the ruins is Playa Paraiso which is considered the most beautiful beach in Tulum! Save time to go to the beach after. If you are visiting between May- October, however, there will probably be a lot of seaweed on the beach.
Enjoy Your Trip!
Visiting the Tulum Ruins is something you have to do if you are in Tulum! Looking for more Mexico or travel-related posts? Check out one of my others below!
Thank you so much for reading! If you want to follow along on my hikes and get notified when I post new posts, be sure to follow my Instagram @maddie_deer here or like my Facebook page here.