As 2021 is coming to an end, so is our reading goals for the year (if you made any). Maybe you're trying to come up with the next books to add to your endless TBR for next year. I know I am. Instead of scouring Goodreads, Booktok, Pinterest, etc., I put together this list of 9 books that should be on your 2022 TBR. These are the books that I am hoping to read this upcoming year. There is a mix of new releases, past popular books that I never got around to reading, and others. For context, I mostly read adult fiction and more specifically mystery or thriller. I tried to add a variety of different books on this list, though.
Disclaimer: This post contains affiliate links. This means that I get compensated a small amount if purchased through one of these links at no extra cost to you. I always only link products I truly love and any profit made goes to running this blog. I also only suggest buying things you really want or need! Most of these books can be found at the library which I highly recommend if you can't afford to buy books. Thank you for your support! For more on my disclaimers, you can click here.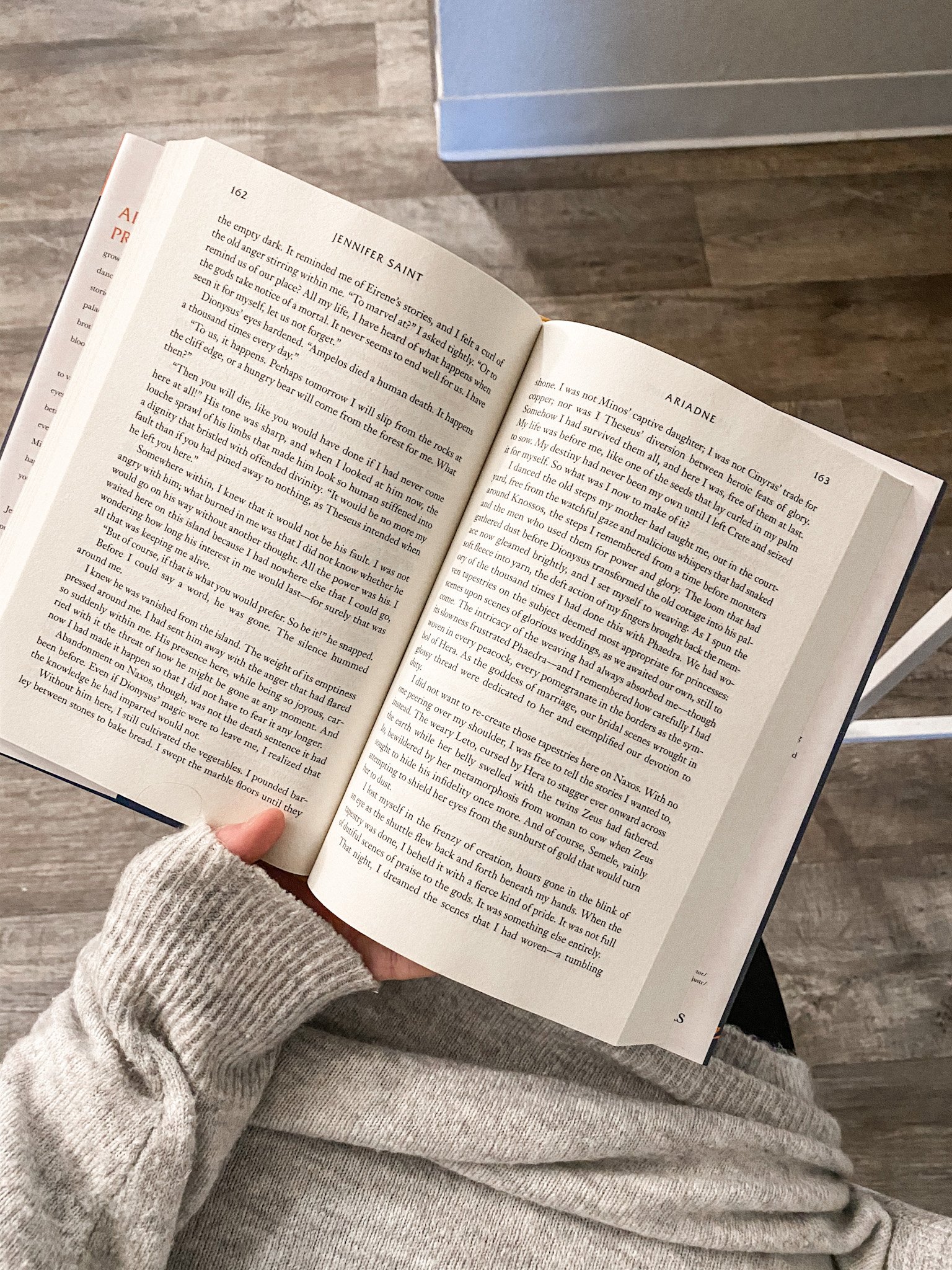 9 Books That Should Be on Your 2022 TBR
1. The Four Winds by Kristin Hannah
Genre: Historical Fiction
Read if: You enjoy historical fiction dating back to the depression era and you're wanting a book to make you feel all the emotions
This book read Book of the Month's award for the best book of the year. I had already wanted to read this one and almost chose it for one of my BOTM boxes but had decided against it. Since it seemed that it was so captivating, I've moved it up on my TBR and am hoping to read this one in early 2022! This book was rated an average of 4.32 on Goodreads and can be found at the link here.
2. Half Sick of Shadows by Laura Sebastian
Genre: Fiction, Fantasy
Read if: You enjoy myth retellings, Circe or Song of Achilles is one of your favorite reads, you love a strong female lead.
I read Circe, which is another book that I highly recommend, in 2021 and that led me to retellings. I'm working my way through the popular books out there and this one is a book that caught my eye at the bookstore, but that I haven't heard a lot about. It has an average rating of 3.8 on Goodreads which isn't too bad. If you want to pick this book up, you can find a link here.
3. Gallant by V.E. Schwab
Genre: Fantasy, YA, Horror
Read if: You enjoyed The Invisible Life of Addie LaRue, you love reads that take place in a gothic setting with spooky undertones, you enjoy a lead who is trying to uncover secrets.
The Invisible Life of Addie LaRue was my first book of 2021 and I soon realized that it was everywhere. Everyone loved this book and while I wouldn't say it was my top book of the year, I did really enjoy it. I love a good gothic setting and I know that V.E. Schwab has a writing style I like so this is going on my TBR. There is no precise release date yet, however it is anticipated to be released in 2022. So far on Goodreads, beta readers seem to be liking it. I think that this will be a book that everyone is going to talk about in 2022. You can preorder at the link here.
4. The Anthropocene Reviewed by John Green
Genre: Nonfiction, Essays
Read if: You enjoy essay collections, you love to learn when you read, you want to reflect on your place in the world.
I, like everyone and their mother, have read a few John Green books like A Fault in Our Stars. Do I love them? Not like I think I should with all the hype. However, I do think he has a really great writing style, I love the cover of this book, and I usually like to take some non-fiction breaks in between a few fiction. So, here we are. The reviews for this one on Goodreads are great, with an average rating of 4.5 and you can find a link to grab this book here.
5. The Paris Apartment by Lucy Foley
Genre: Mystery, Thriller
Read if: You enjoyed The Guest List, you love settings in European destinations, you love unraveling a good mystery.
Lucy Foley is most well known for writing mysteries and I've seen her latest book, The Guest List, on a ton of different book lists. While it's been on my TBR for the longest time, I have yet to read it. It's one of those book where I am always wondering if I actually have read it before when I am at the library and looking for a new book. Anyways, that's aside the point. The Paris Apartment has already enticed me with the promise of the lead looking for a new start in a European destination. There is no exact publication date on Goodreads, however it is expected in 2022 and a link to preorder can be found here.
6. Book Lovers by Emily Henry
Genre: Romance
Read if: You love a lead who likes to read, you enjoyed Beach Read or People We Meet on Vacation, you love enemies to lovers romance books.
While I don't frequently read romance books, I usually try to read at least one or two during the year. In 2021 I read two of Emily Henry's books including People We Meet on Vacation, which is another one of her romance books. I feel like she writes light reads that are easy to find entertainment from. Enemies to lovers is a popular trope, and I feel like I can't go wrong reading this one. The anticipated release on Goodreads says 2022, but there is no exact publication date. You can find a link to preorder here.
7. Razorblade Tears by S.A. Cosby
Genre: Mystery, Thriller
Read if: You enjoy fast paced mysteries, you love when a book is packed with action, you love a book with representation, you want to really get to know the character's personalities.
This was another one of the highly rated books of the year on Book of the Month. This one is about two ex cons who are taking the death of their son's into their own hands. I love a mystery, and when books are fast-paced, I know I will get sucked in. Goodreads has this book with an average rating of 4.2 and you can find the link to buy this book here.
8. The Maidens by Alex Michaelides
Genre: Thriller, Mystery
Read if: You enjoyed The Silent Patient, you like a university setting, you are looking for a book that plays out like a movie.
If I am being honest, I wasn't a fan of The Silent Patient. It's so surprising to me that it has so many rave reviews. However, I want to give the author a second chance because The Maidens also has rave reviews and is apparently even better. I think that I listened to The Silent Patient through audiobook, so this time I am going to grab a hardcover. The Goodreads rating for this book is an average of 3.64 and you can find the link to this book here.
9. Daughter of the Moon Goddess by Sue Lynn Tan
Genre: Fantasy, Retellings
Read if: You love retellings, you want to learn more about ancient Chinese mythology, you love reading about quests.
I have not read any books about Chinese mythology, which I am hoping to change with this book. This is a new release that is expected in 2022. The plot seems interesting and action-packed, and this COVER is so detailed and beautiful. This might be a book that I buy for my shelf. So far, Goodreads ratings for beta readers are really good for this one. You can find the link to preorder this book here.
That's it for my list of 9 books that should be on your 2022 TBR. I am also hoping this year that I will be able to start some of the popular fantasy series like ACOTAR, but I am not the biggest Fantasy person, so I'm not sure how far I will get with those!
For more TBR posts, I linked some that I have previously posted below. I never repeat a book on a list (even though I still haven't read most of these and they are still on my evergrowing TBR).
If you want to try Book of the Month, you can use my referral code to get your first book for $5 by clicking here.
I would love to hear what books that should be on your 2022 TBR are in your opinion, so let me know in the comments below!