As much as I love to camp with my dog, it can be difficult at times. Thankfully, as I have camped more and more with my pup, I narrowed down what gear I need that will make camping with a dog easier. Your camping gear for your dog can either make or break your experience! Being unprepared, having something break, or not being able to find that leash you swear you packed (true story) can put a damper on your trip and even lead back to a trip into town. In today's post, I am covering the best camping gear for dogs!
I also have a post on camping tips for dogs. If you're all set on your gear, check out that post below!
Disclaimer: This post contains affiliate links. This means that I get compensated a small amount if purchased through one of these links at no extra cost to you. I always only link products I truly love and any profit made goes to running this blog. Thank you for your support! For more on my disclaimers, you can click here.
The Best Camping Gear for Dogs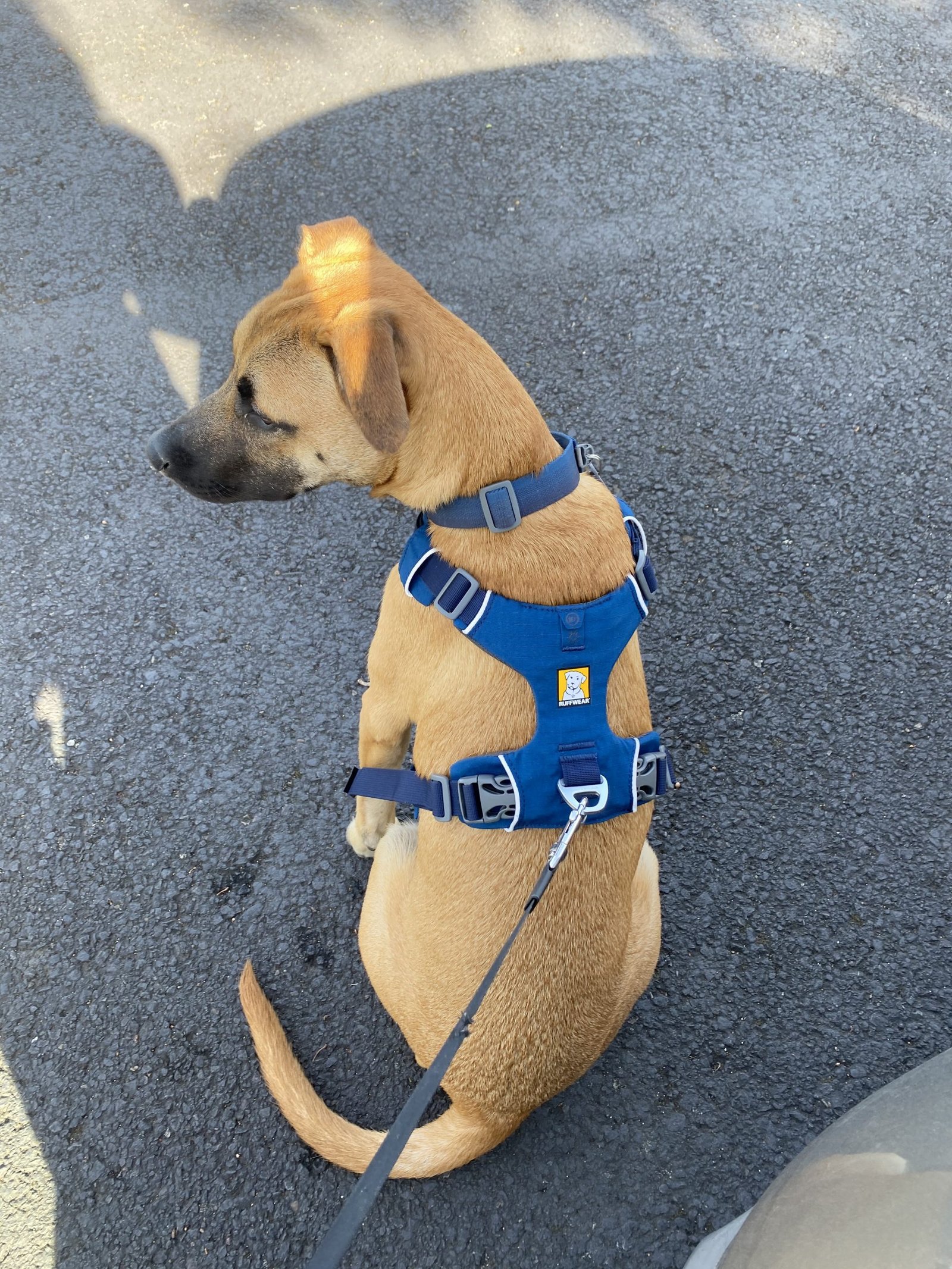 Ruffwear Front Range Dog Harness
I am a huge fan of Ruffwear and have several different products from them on this list. I use this as an everyday harness for my dog. They aren't indestructible, but I can tell it's more comfortable for my pup than other harnesses we have tried and they are pretty tough. A good harness that they can't get out of is a must for camping. If you put them on a lead, you want to be sure they aren't going to be able to pull out if they see a squirrel or something else run by that they want to chase. They carry three colors on Amazon, which are linked here.
There are more colors on their website, which is linked here. If you are near an REI, Sportsmans Warehouse, or local pet store, you might be able to find this harness there too. If you're camping I recommend getting a small light to put on their harness and light up at night so that they are easier to see on a lead or if they get loose.
My dog is 46 lbs and wears a medium on the largest setting, but she is lean. She has tried a large on the smallest setting and it also fits but looks pretty big in proportion to her body. Pictured she is wearing the color Blue Moon and Huckleberry Blue.
Ruffwear Front Range Dog Collar
If you intend to keep your dog only in a harness, then a collar might not be necessary. I always make sure to use a collar when camping because there are times like when in the tent that I will take off the harness. I know my dog can't get their head out of this collar and so I put her tags on it. You can find their whole color range on Amazon, linked here. My dog is pictured wearing the collar in the colors Blue Moon and Huckleberry Blue (matching her harness). She wears the medium, the same size as her harness.
Ruffwear Cloud Chaser Jacket
The price tag on this jacket is pretty hefty at $80, but it is worth it. I went through other coats that just ended up ripping, getting snagged, or falling off when wearing. This coat is great for colder summer nights or even when it's raining, but not too cold. This jacket is completely waterproof. The only complaint I have is that you need to put the harness on top of it, rather than under it. You can find it on Amazon in the color pictured on my pup, or black, linked here. My dog is pictured wearing a size medium.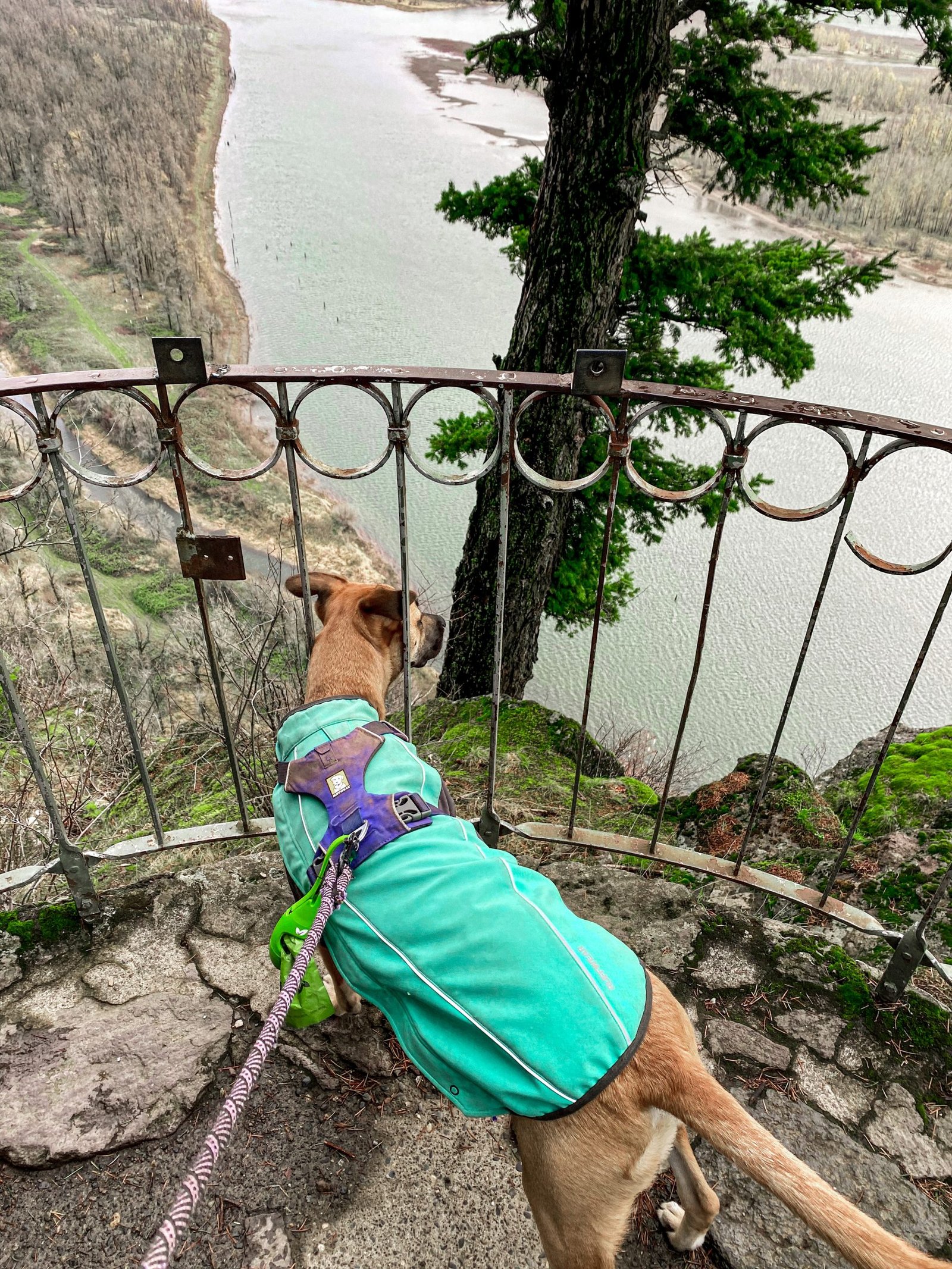 Ruffwear Highlands Dog Sleeping Bag
I have yet to invest in a sleeping bag for my pup because she doesn't like to sleep under any covers. However, I do think it's a great investment if it's right for your pup. The Ruffwear highland dog sleeping bag is water-resistant, highly rated, durable, and easy to pack. It comes in sizes medium and large. It's an investment at $99 for the medium and $140, but this will last your dog for years. You can find this sleeping bag linked here.
Ruffwear Knot-a-Hitch Campsite Hitching System
I started out with a cable tie-out and quickly realized the Ruffwear Knot-a-Hitch is worth paying a little more. This hitching system goes between two points (like two trees) and a leash attaches so that your dog is able to walk freely along the line. I tried doing this with a cable, but it just doesn't work as well and ends up getting tangled. The cable is also much harder to work with than the rope. If you know there won't be anywhere to use the hitch on, I still recommend a cable tie-out like this one. The cable tie-out is also not as easy to pack up, while the knot-a-hitch comes with a little pack to keep everything together. You can find the Ruffwear Knot-a-Hitch system linked here.
Rope Leash
Rope leashes are more durable than the typical nylon leash. I previously had a nylon leash and it was covered in rips and tears just from getting snagged on things, and also if my dog decided it was annoying her and she wanted to chew on it. Regardless, when your camping or hiking, it can get snagged on all sorts of things, and a rope leash is 100% the way to go. I also recommend having a leash and harness specifically for camping because it's probably going to get dirty. The rope leash linked here is my favorite. It's less than $10 and has foam on the handle for a more comfortable grip.
Hands-free Dog Leash
When hiking or running with my dog, I have found that hands-free leashes work much better. If your dog ends up pulling a little, the hands-free leash, which is strapped around your waist, more evenly distributes the weight. I have the leash linked here, which I love because there is a handle close to me and close to where it attaches my dog. If we are coming up to someone on the trail, I can grab the handle close to her. The handle is perfect to make sure your dog stays in a heel position.
Silicone Dog Bowls
Silicone dog bowls are easy to clean, usually collapsable, and easy to pack. This makes them convenient for hiking and camping with your dog. I do notice that my dog accidentally knocks her silicone bowl over more often than a heavier bowl. But, it's not always possible to bring a heavy bowl camping with limited room in the car. They are fairly inexpensive and you can pick them up pretty much anywhere. You can grab the two that I have at the link, here. Silicone dog bowls across the board are pretty much the same, so I find it better not to splurge on this!
Pet First Aid Kit
It's better to be safe than sorry. The pet first aid kit linked here has everything you need in case of an emergency. It even comes with an emergency collar and tick remover, which can be very useful. You can also make your own pet first aid kit. For ideas on what to include in a first aid kit for your dog, you can check out this article here.
That's it for this post on the best camping gear for dogs. I have found it best to invest in durable products since I started out buying cheaper products that just didn't last with my pup. Most of this gear will also last you for years, as long as your dog isn't outgrowing them. If you do have a puppy, it's better not to splurge on products they are going to quickly outgrown, anyways.
Have you tried any of these products? If you have, let me know what you thought of them in the comments below! If you want to shop any of these products, you can click on the links above or below.