Moulton Falls is a regional park located 45 minutes outside of Portland, Oregon. Situated in Yacolt, Washington, Moulton Falls is the perfect location to take a short hike with the family, a photography location for photos, or a swimming hole on a hot day in the summer.
Disclaimer: This post contains affiliate links. This means that I get compensated a small amount if purchased through one of these links at no extra cost to you. I always only link products I truly love and any profit made goes to running this blog. Thank you for your support! For more on my disclaimers, you can click here.
Moulton Falls Regional Park
Getting There
To get there from the Portland area, you'll take I-5 North. You'll take exit 11 for WA-502 E toward Battle Ground. Then you will merge on to WA-502 and then turn left onto WA-503 N/NW 10th Ave. After around 6 miles, you will turn right onto NE Rock Creek Rd. From here, continue on the winding road for around 6 more miles and your location will be on the right.
There are spikes on the ground in the parking lot exit, so make sure you're going into the entrance. The parking lot is fairly small, but there is overflow parking if you continue up the road and around the bend. The overflow parking is a bit of a walk, but there are a lot of spaces open. Parking is free and you do not need a pass.
Lucia Falls
While driving to Moulton Falls, a few miles before you may see signs for Lucia Falls with a much bigger parking lot. This is another waterfall with just 0.2 miles of trails. It's another less-popular picturesque location with picnic tables in case you want to eat by the falls.
From the Parking Lot
If you parked in the overflow parking, you'll need to navigate back to the parking lot by make-shift trails on the side of the road. Near the parking lot, there is a crosswalk. This can be a bit sketchy at times since it's a winding road and there is no clear path and I wouldn't recommend it for younger kids. From the parking lot, you can go to the right and are led down to a set of wooden stairs. These stairs lead you down to the waterfalls. In the winter, the water is much higher, but in the summer when the water is calm it makes a good place to go swimming and there are lots of rocks to jump from.
If you take a left from the parking lot, there is a trail on the side of the road. This leads across a small wooden bridge and follows along the river. There are more areas near the river with calmer waters in the summer that are more suited for kids to wade in. There is also a great view of the more well-known bridge from the rocky area near the water.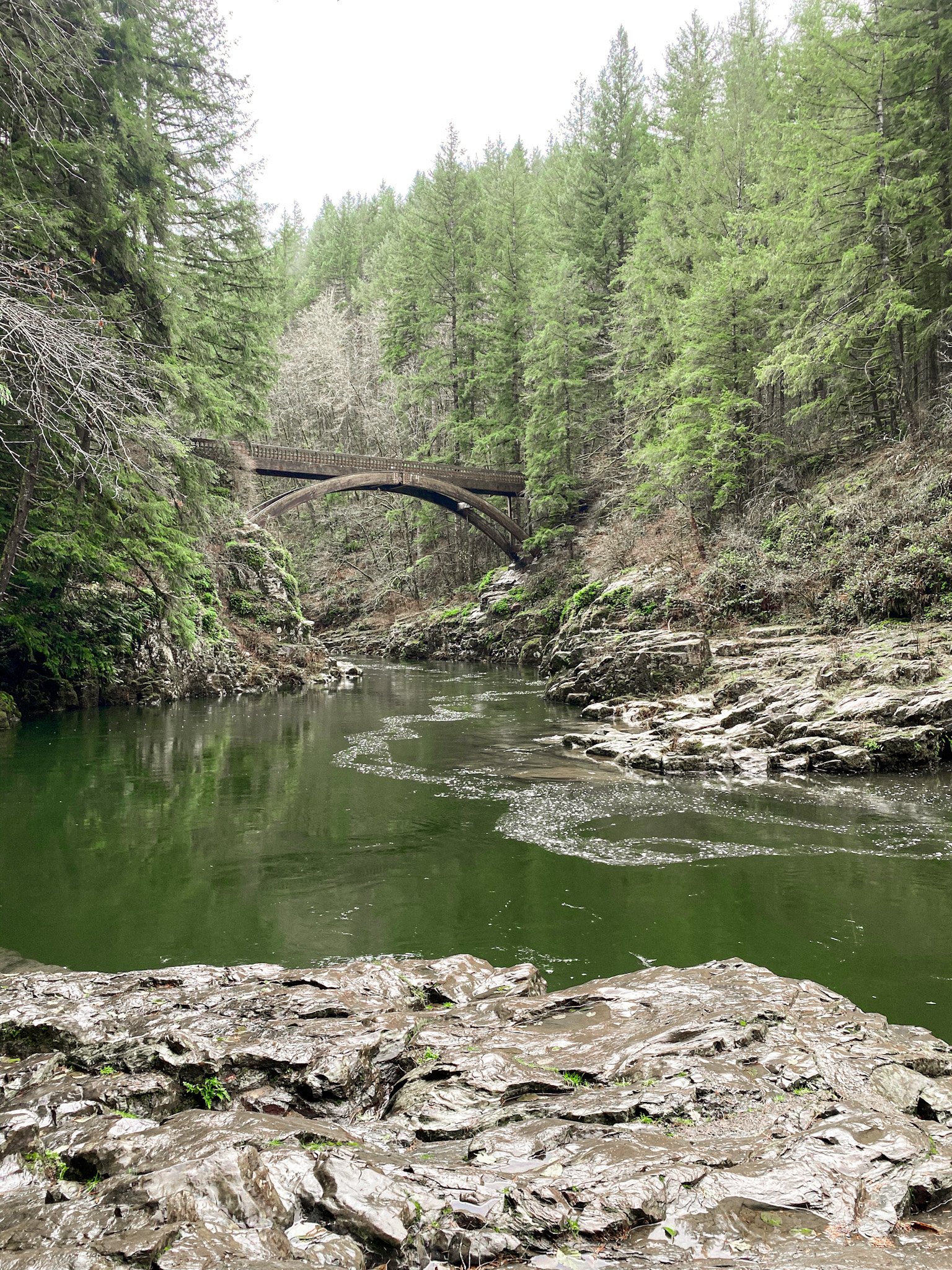 Hiking
There are a couple of trails in this park if you are up for a hike. If you follow the trail that was previously along the water, you will be led up the hill and to the larger bridge. This is a great viewpoint. If you continue across the bridge, the trail is about 2 miles each way. Directly across the bridge, there are some picnic tables. This trail is good for younger kids and is flat after the initial, short climb to the bridge. Dogs are also permitted to use this trail if leashed. The trail itself is very wide and there are several small waterfalls along the way. However, just note that there are some steep drop-offs on the side, so make sure to watch dogs + young kids!
If you are looking for more of a challenge, the Bells Mountain trail intersects 0.5 miles down the trail from the bridge. The Bells Mountain trail is a 16-mile long trail with a 2,692 ft elevation gain. I have not hiked the Bells Mountain trial myself, but the initial trail is pretty steep and reviews say that it is not well-maintained after the first 2.5 miles, which is good to know in case you plan to tackle this trail.
Other things to note
In the parking lot, there is a port-a-potty. There are also pit toilets near the initial ascent to the bridge. Throughout the area along the water, there are lots of garbage cans. There are also various benches and picnic tables throughout.
The service can be pretty spotty. Some of my texts will go through, while others don't. Prepare for no service, but chances are you may have some in spots.
There are lots of cliffs to jump from when swimming in the summer and there is usually a rope to swing from under the bridge. This is at your own risk.
When you're done visiting, Moulton Falls Winery & Cider House is just up the road past the overflow parking and has indoor seating in a small lodge and outdoor seating as well. There is also the winery at Pomeroy Farms which is just before Moulton Falls that I have not been to, but have heard good things about!
MY HIKING + CAMPING FAVORITES
Here is some of my favorite gear to bring with me on hikes that I use:
For more PNW-related posts, check out some of my previous posts below.
Thank you so much for reading! If you want to follow along on my hikes and get notified when I post new posts, be sure to follow my Instagram @maddie_deer here or like my Facebook page here.