It's approaching mid-January. For those who made a New Years Resolution to get in shape, you may find that you're approaching your first loss of motivation. The first week of working out, it's easy to stay highly motivated. You want this. Even the second week! By the third week, however, not seeing the results you're wanting as fast as you want them, it can be tough.
In the spirit of achieving your goals, here are 10 ways to stay motivated!
Disclaimer: This post contains affiliate links, read here for my full disclosure!
1. Create an Upbeat Playlist
If you've decided that you're going to the gym this 2019, it's hard to stay hyped when you're not feeling your music. In 2018 I decided to try Orange Theory. If I learned anything from their classes, it's that music is key! They have the best playlists. It keeps you pumped up the entire workout. You work harder and go for longer when you get caught up in the music.
I personally recommend using Spotify so you can create different playlists. Spotify is $9.99/month for the basic plan. However, if you haven't used Spotify yet there are always deals to get your first 3 months for only $0.99. There is also a plan for college students that is only $4.99/month and a family plan for up to five people on an account for $14.99/month.
2. Get Some Social Media Inspiration
There are tons of ways to get inspired my social media! Here are some different ways for each platform.
Facebook:
Try joining a fitness Facebook group! The best thing about Facebook groups is that there are so many. Are you looking for a Health and Fitness group for women only? There is a group for that. Looking for Cycling? Crossfit? HIIT? Daily Accountability to get your workout in? There are groups for those too. When you surround yourself by others working towards the same goals, it's easier to stay motivated. If you don't have people in your life to go to the gym with you or help keep you on track, this can be so helpful!
Pinterest
Create a board of fitness motivation or workouts. If there is ever a day when I'm not feeling like going to the gym, I look on my Pinterest. This motivates me to keep working hard on my healthy lifestyle and remember how far I've come. It's also helpful to find workouts for that day at the gym if you're feeling stumped. You can check out my Pinterest fitness board here.
Instagram:
Follow fitness accounts on here for tips, motivation or community. I know that there is a huge community for BBG and Tone It Up! If you search hashtags for programs you're apart of or just fitness hashtags in general then it's easy to find some accounts that interest you. If you use Instagram a lot, this can keep working out on the brain as you scroll through your feed and constant motivation pops up.
3. Find Cute Workout Gear
It always helps me look forward to the gym when I buy new clothes for working out! I know I'm probably going to look disgusting by the end of my workout, but if I have a cute workout outfit, you know I'm about to kill it at the gym! I'm all about the affordable workout gear, at the moment. One day I'll be sporting the Lululemon align pants, but for now, I'm good in my Old Navy compression leggings. Here are some of my workout gear favorites!
Workout Leggings:
Workout Tops: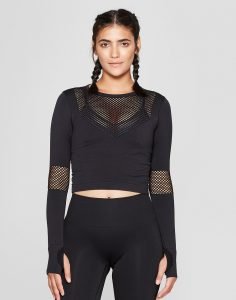 Workout Shoes:
4. Find the Right Workout
It's hard to want to workout and thus stay motivated if you don't look forward to it. Everyone has different preferences, so try taking different classes and exploring new workouts if you're not enjoying your current routine. There are so many options. I personally enjoy weight lifting and HIIT running. This is what I tend to stick to when I hit the gym. Some people really like yoga, cycling or even rock climbing. Some people like working out alone, others with a partner, and some in classes. The important thing is that you enjoy what you're doing and look forward to it so you can keep up your motivation. Put in the time to find out your favorite way to be active!
5. Make Goals, Track Your Progress and Reward Achievements
What better way is there to see how far you've come besides tracking your progress? This means taking progress pictures, tracking your body composition, your mile times, how heavy the weights your lifting are, etc. it really depends on what the goal you are trying to achieve is. Before you start on your fitness journey, set goals and a reward for achieving each milestone. I set a small reward for every 5 lbs I lost, and when I achieved my goal weight I decided I would buy a pair of Lululemon align leggings. So far, I'm halfway to my goal with another 17 lbs to go.
Make sure that the rewards you are setting for yourself are in line with what you are trying to achieve and won't hold back your progress.
Small rewards can help keep you accountable and on track, especially when you are close to reaching your goals!
6. Know Your Game Plan Before You Get There
It doesn't help when you decide to go to the gym and have no idea what you're going to do. Know what you are going to do before getting there so you know you won't spend time aimlessly walking around. Plan a workout! There are plenty of helpful guides on Pinterest and around the web to get you started. There are also so many programs out there like BBG, Tone It Up, and Bodyshred. If you're new to the gym or have found that you struggle with knowing what to do or how to use the machines and weights, these programs help. A lot of gyms also offer a one-time session with a trainer when you're just starting off.
It's so much easier to stay motivated working out when you know what you are doing, how to accomplish your goals and have confidence in your workout.
7. Power Your Body
When you're eating the right foods and getting the right nutrients, it fuels your body and puts you in a position to work out. It's hard to stay motivated when you are fatigued and not feeling your best. It's also easy to get discouraged when this starts to affect your goals. If your goal is to lose weight and you're going to the gym but not making any progress because you're not getting enough protein, eating too many calories, or whatever the diet issue is, who wouldn't feel defeated? When you see progress, you become more motivated.
When you power your body with the right foods and enough water, your energy will improve and your body is able to make the changes that you want to see.
8. Don't Get Comfy
Workout at a time when you know you will be able to hold yourself accountable and develop a routine. If you know you can't work out in the morning and have to do it after you get off work, don't go home and change into comfortable clothes and start watching Netflix. Even if you swear you'll "go to the gym later" it is going to be much more difficult now. It's so much easier to hold yourself accountable if you bring clothes to change into and then go straight after work. If you need to go home and make dinner first, change into your workout clothes after instead of comfortable clothes and go when you're finished. Leave the time to relax for after you kill your workout!
9. Start Small
Work up to the lifestyle that you want to live. If you want to live a certain way, it is much more sustainable if you slowly transition rather than jump in all at once. If you decide you want to cut out any processed foods, refined sugar, meat, and dairy in addition to working out 5 times a week and drinking 100 ounces of water every day that can be really overwhelming. Starting off slowly, forming habits, and transitioning into your lifestyle is SO much more manageable.
Maybe this means first switching from milk to plant-based milk. Maybe after this, you decide to stop drinking pop or eating chips. Maybe after you won't eat any red meat and you'll stick to chicken or turkey. Small changes can add up to make big differences!
10. Balance is Everything!
To stay motivated, also stay realistic! Treat yourself every day. If you restrict yourself so much that you don't allow yourself any 'treat' then you're more likely to binge or overindulge in the future. For example, one glass of wine a day won't hurt. One bottle of wine is overindulging and can affect your process.
The same goes for exercising. If you decide you are going to workout 7 days a week for 2 hours, that's a lot of pressure! Not only are you not giving your body time to rest in this scenario, but if you end up missing a day, you might become disappointed and think that you can't continue on with your fitness at all because it's just too overwhelming. Be realistic with your goals in relation to what's healthy and what you have time for.
In the end, it's important to remember that you won't see the progress you're wanting right away but if you keep your motivation and routine in place, the results you're looking for will come. It's not easy! Focus on how you are going to feel after being active, after seeing the results you want, and after having the lifestyle you want to live!
Do you have tips on how to maintain motivation for working out in the new year? I would love to hear from you, so comment below!
Before you go, here are some of my latest related posts!