I recently got my first Love Goodly Box, so I thought a Love Goodly Review would be fun to do. I had personally never heard of this box, but I loved it! This week I am posting each day something related to Earth Day. While these products are not zero waste, I know that it is not possibly for everyone to go zero waste! My first two posts, How to Transition to Zero Waste and 10 Swaps for Zero Waste are at their core posted to inspire others to reduce their waste consumption no matter the amount.
That being said, there are other ways to help the environment than go zero waste! For one, switching the products that you use contain toxic chemicals (that eventually end up in our oceans). Switching from non-toxic products has inspired this post, the review of a subscription box that is vegan (which reduces animal cruelty and reduces harmful carbon emissions) and contains non-toxic ingredients!
Recent research has found that harmful toxic ingredients that are used in beauty products, such as parabens, are now being found in marine mammals like dolphins. These chemicals absorb into the skin of the dolphins, just as they do for humans. Since there is such a mass amount of toxins from beauty products that are thrown out, it's getting into our water and our land. I fully encourage using and supporting products with natural ingredients that are not toxic to you or any other animal.
The Love Goodly subscription box sends you 4-6 items covering beauty, skincare, personal care, and sometimes even accessories or home products bi-monthly. All the products Love Goodly curates are vegan, nontoxic, ecofriendly, palm oil free and organic! Love Goodly also donates a portion of their sales to different causes such as Orangutan Alliance, Paw Works, Beagle Freedom Project, Cure Cervical Cancer, and Farm Sanctuary!
Every item is sent in the full size meaning there's no small samples that other subscription boxes will sometimes use! There are two options for boxes that you can choose from. The Essential Bi-Monthly Subscription box is $34.95 and has a total retail value of $105+. This box contains 4-5 products. The VIP box is $48.95 and contains 5-6 products. The total retail value of the VIP box is $170+.
This was my first Love Goodly and I love the idea behind their subscription. Only using non-toxic and vegan products is so important to me. Your skin absorbs almost everything that you put on it and I want to steer clear of all chemicals.
Anyways, let's get into the box I received!
Disclaimer: This post contains affiliate links that when may compensate me at no additional price to you. I use any profit earned to keep my blog up and running! I am always honest about products with my readers and all opinions are my own.
Love Goodly Review // December & January 2019 Products
The December/January 2019 box featured 3 skincare products, 2 beauty products, and one lifestyle item.
ZSkin Pumped Lash Primer
Value: $17.95
This primer is designed to grow your lashes! Although I have not been using this primer long enough to see if my eyelashes are growing faster or thicker, I think this product has potential! I don't typically use a mascara primer so this was my first time using one. I would say that it makes your eyelashes appear longer, before putting on your mascara. However, it doesn't make your lashes appear fuller and they're a little more susceptible to sticking together.
I think it's also interesting to note that this product only has ingredients and they're all natural! The ingredients listed are sesame, basil, water, naturally formulated plant wax, and nettle.
I probably wouldn't buy this product again if I didn't see a dramatic difference in my lash length by the time I am done using the bottle. I'm pretty content with my current lash length and fullness, and the mascara I use is basically the holy grail of mascara.
If you're interested in this primer you can find it here. If you're interested in the best mascara ever you can grab it here.
Sylveco Soothing Eye Cream
Value: $32
I'm so happy that this box included so many skin care products! I have really been getting into skin care lately. In fact Lexus Pina and I are currently working on a skin care post collaboration!
I really like this product. I have sensitive skin, so I appreciate that this eye cream is gentle, fragrance-free, and soothing. It's not greasy at all and absorbs quite quickly. A little bit goes a long ways and this bottle contains SO MUCH product! Seriously, I feel like when you buy eye cream it's always in a tiny container. It's understandable since you have a smaller area to put the product, however you feel like you're actually getting your money's worth when you drop $30 on an eye cream when it looks like it is actually going to last you. This product only has a lifespan of 6 months, if you pay attention to those things. I can't imagine I will use all of this in 6 months, so I will probably share the love on this one!
I thought this eye cream was very effective. I'm a firm believer that you're never too young to use eye cream! The thinner skin around your eyes is more prone to fatigue and drying out which means it's quicker to wrinkle and show aging.
If you're interested in this product you can find it here for only $26.
Bellapierre HD Makeup Primer
Value: $75
I love this product! in the past I haven't used a primer for my face. However, after using this I can see a difference! I use It Cosmetic CC+ Cream on my face everyday and usually put it on lightly to prevent cakey-ness. When I use this primer, I can apply much more product and get a greater coverage without the risk of it looking cakey! This primer glides on to your face really nicely and feels so smooth. It doesn't clog your pores and my makeup lasts so much longer!
The only complaint that I have is that the packaging is so bulky and could have definitely be made a lot smaller and more eco-friendly.
I will definitely continue to incorporate this product in my daily routine and buy again! If you are interested in this product you can find it here for only $14!
Pulse Quick Fix Spray
Value: $22.95
This is another product I love! This may be my favorite product from the box. After working out all you have to do is spray this product and it fights off the bacteria that makes your skin vulnerable to breaking out. I feel like I am especially acne prone and I need to immediately jump in the shower after working out. If someone is in the shower when I get home- that's a no go.
It's so easy to throw this product in your gym bag or keep in your car so that after you workout you can spray your face and neck. It holds you over for if you're unable to shower right away, or even just until you get home. You can also use this product in the morning or after you shower by spraying the rest of your body as a daily acne treatment.
The only ingredients in this product is distilled water, witch hazel, tea tree essential oil, lavender essential oil, orange essential oil, and alcohol. Despite the alcohol, this product doesn't dry my skin out whatsoever and I feel so refreshed after using it! The tea tree oil and witch hazel is definitely the star in this product.
This quick fix spray is 4 fl oz and expires after 12 months. I definitely think that 4 oz. is the perfect amount to last a year if you are using it daily. If you're interested in this product, you can find it here.
Dr. Botanicals Kale Superfood Nourishing Day Moisturizer
Value: $39.00
Let me start off by saying that I am really picky when it comes to moisturizer. I've tried plenty from the budget friendly CeraVe to Benefit. Before this, I had only found two different moisturizers that I've actually liked (Benefit and Eco-Beauty) However eco-beauty is hard to get because they don't offer it on Amazon, shipping is expensive, and they're hardly ever in stock.
This! This is on amazon for only $26 and has free shipping. It's also amazing! It absorbs into your skin so nicely, isn't greasy, and you can even apply is before your foundation without looking oily (which is a problem that I have with Benefit). The kale in this moisturizer is high in vitamin C and E which are wonderful vitamins that everyone should include in this skin care routine. The cocoa butter in the moisturizer is perfect for smoothing out your skin and hydrating it.
Dr. Botanicals claim they only use 100% natural ingredients, all of which are non-toxic. The container is also glass, aside from the lid which makes it kinder for the environment.
All in all, I love this moisturizer and I will definitely be buying this again! If you are interested in this product you can find it here for only $25!
Bee Magical Save the Bees Bracelet
Last, I received this cute wish bracelet in the box! The bracelet is made using recycled materials and the purpose of the bracelet is to raise awareness for saving the bees. If you're not familiar with wish bracelets, the story behind them is that you make a wish before putting it on and when it falls off after the wear and tear of time, your wish comes true.
I thought this was a cute touch to the box and it is an exclusive bracelet just for the Love Goodly community!
So what do you think of the Love Goodly January / December 2019 Box? Let me know in the comments below!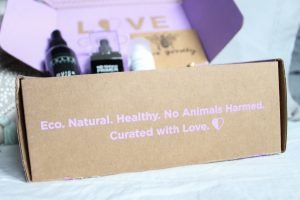 I loved all of the products and the mission of this box! If you are interested in setting up a subscription you can check out Love Goodly here!
A special shout out to my mom for getting me this box for my birthday!
Do you want to share my Love Goodly Review? I made pins just for you!