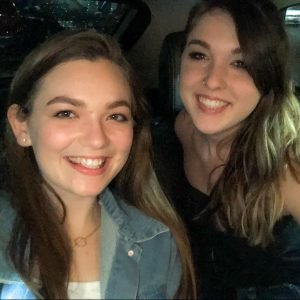 On April 14th (yesterday as of writing this post) I turned 21! It was long awaited and I'm glad to have full reign over all the cool happenings around Portland now. AKA cider festivals, TRIVIA, Portland Spirit's 80's Night, McMenamin's Passport, and OMSI After Dark.
For my birthday, I ended up going out right after midnight with Lexus and Danny to get my first drink at The Grocery Cocktail and Social. My first drink was called YAS QUEEN and it was made with Oola gin, lemon, Brovo pink vermouth, simple syrup, Scrappy's grapefruit bitters, sparkling wine. It was really good! Then Lexus , my mom and I went to the casino where we came back with no money.
The next day I went with my parents and Danny to AVID Cider where we got food and flights of cider for lunch. Afterwards we hopped around the different bars at the Mcmenamin's Crystal Ballroom and then Mcmenamins on Hawthorne to collect all the stamps for my passport! We played shuffleboard and ate tots at Backstage on Hawthorne for a bit. It was a fun day!
Anyways, it seems like the perfect time to reflect on my last 21 years of life and all the things I've learned.
21 Lessons I Learned by 21
1. If you want something, you have to go after it.
If you don't change anything, nothing in your life is going to change either. Also, it's rare for something wonderful and life-changing to just fall into your lap without having to do any work. Life isn't just some fairytale. If you have a dream you have to work hard and go after it day after day until you achieve your goals.
2. Pay off Your Credit Cards Every Month.
Prevent credit card debt by paying them off every month and not spending money on silly things before you've earned it. But also don't have such a restrictive life and allow yourself no fun because you're obsessed with penny pinching and preventing debt (note to high-school self).
3. People change and that's okay.
It's not bad if you change. It can be sad if it means someone that once meant a lot to you will no longer be in your life, but it's inevitable. Especially at this age with so many huge changes and having growing independence and sense of self.
4. Traveling Changes your Life!
Helllllooo this is the best of times! Eating good food, having no worries or responsibilities, meeting new people from every corner of the world. Travelling really gives you a chance to talk to others from cultures with different expectations and realize your conditioned beliefs. It can change your mindset for the better and open your a little more to what's happening in the world.
5. It Doesn't Matter What Other People Think.
Everyone has different opinions about everything. The way you eat, the way you act, how you dress. EVERYTHING. You can't please everyone, nor should you. You should do what feels right or what's best for you. Therefore, it doesn't matter what other people think because someone will always be judging or disapproving but their opinion isn't important.
6. You Should Know When to Act Impulsively and When to Think Through Decisions.
Sometimes it's great to make impulsive decisions. It adds adventure and can change your life. However, it's important to know when to think through your decisions and think about how they will impact your future. Decisions involving school, money/loans, a future commitment or a serious relationship should generally be thought through.
7. Your Body Matters.
I'm going to have to use this thing for decades to come! That means regular exercise, avoiding chemicals or processed foods, and eating lots of fruit and vegetables. I want my body to last me! I don't want not exercising in my 20's to cause osteoporosis in my 50's or not flossing and brushing my teeth properly to cause gum disease when I'm 40. Those are just examples, there are so many ways that I can neglect health now that can have consequential affects in the next few decades of my life. Shout out to my Anatomy and Physiology class for making me hyper-aware of all my current actions.
8. Everyone's Life Moves at Different Rates.
Looking through my Instagram feed, some people my age are having kids, some are in college, some are getting married, some working full time, others creating a startup. Everyone's life is moving at different rates and there's no right or wrong timeline. Life isn't pre-determined and everyone has different ideas as to how they want their future to be. For some that means spending the six years in school and for others it's having a baby. Who are we to judge?
9. You Can't Get Back Your Time.
So try not to waste it.
10. You Should Always Keep Learning.
Even if you're not in school, you can always be a lifelong learner. Your brain will thank you. It's also easier to learn when you are seeking out the information yourself and are interested in what you're learning.
11. Raise Your Standards.
Why settle for less when you can have more? If something isn't cutting it for you, maybe it's because you need to raise your standards. You're setting the bar for your life and you can change that bar at any time.
12. Change Your Mindset, Change Your Life.
Looking at life with a positive and grown mindset can change your life. Look at everything negatively or with a pessimistic view and you will always be wondering why you are constantly unhappy. Your mindset can change the way you perceive everything in your life- for better or for worse.
13. It's Okay to Change Your Mind
Life I said above, it's normal to change. That might mean your headed on a different path than you originally intended. Your priorities can also change. It's okay and normal to change your decisions at least every once in awhile!
14. You Define Your Own Success
Success is so subjective. What one person may consider successful is no where near what another person thinks. So, who cares. You define and create your own success.
15. Do Things When You First Want to Do it.
For example, this blog. I had wanted to start a blog for the longest time but never did (see #5). There are lots of other things I didn't do when I first wanted to (like travel) for one reason or another. But I should have just done it when I first wanted to (see #9).
16. Something Always Comes Up
If it's not one thing then it's another. When life seems to be going to "plan" something always comes up. Life never goes as planned.
17. Drink Lots of Water.
Okay, this is a lesson. I don't know why this ends up being something that's really hard for me. I made it one of my resolutions this year to drink 100 oz. of water each day. How's it been working out for me? Not that well! But still, I know it's important and I will keep trying to get into a routine, especially because I sweat when I work out and I'm losing lots of water that way.
18. It's Not About Where You Are, It's About Who You're With.
In my 21 years of life, I've realized this. I can be somewhere completely ordinary but that experience has become so memorable because of who I was with. At the same time, I could have been somewhere exciting but not have had nearly as great of a time because of who I was with. It's really the people that make life worth living and your experiences memorable.
19. You Should Always Pursue a Better Version of Yourself.
That's mostly what this blog is about! I post a lot of personal development posts and I fully know that I have lots of room to improve. I'm still working on a lot of things trying to be my best self. That being said, no one is perfect and every one has room to improve! Which is why I've learned, and strongly believe, that you should always pursue a better version of yourself.
20. You're Meant to Have Fun!
You only get this one life to live. What's the point in all work and no play? Stressing out 24/7, always working on something you're not passionate about and wasting time on mindless activities is not fun. We're meant to have fun, relax, and enjoy ourselves. That's the best part of life.
21. There's no Point in Dwelling on the Past and Your Regrets.
If I thought about all the regrets I've had in my life up until this point, I would waste a lot of time. Everyone makes mistakes and regrets decisions. However, not everyone spends a ton of time obsessing over their past and feeling bad for themselves. You made a mistake and now you can use what you learned to make better decisions or calculated risks in the future.
Those are 21 Lessons I've Learned by 21.
I've probably learned about a million lessons this far in my life, but 21 lessons I've learned by 21 just has a certain ring to it! I have so much to learn and I'm constantly changing. There's no way I will be the same person in another decade, however for now I'll keep trying to be the best me and live my best life.
So here's to year 21! Cheers…