Hellooooo and Happy Earth Day! This week I decided to dedicate a full week to eco-friendly or zero waste posts! Are you wondering how to transition to a zero waste lifestyle?
Transitioning to a zero waste lifestyle has been on my mind for sometime. Being vegan, I've had to experience feeling inconvenient to others. I think the reason I haven't tried to drastically reduce my waste until now is because I felt like it would be even more of an inconvenience to the people around me.
That's the thing, plastic (single use and in general) is convenient. However, regardless of how convenient it may be in the moment, it's horrible for our oceans, the animals, and our health. Every single piece of plastic ever made still exists to this day because of the hundreds of years it takes to decompose. Microplastics are even being found in our water. Even still, only more and more plastic is being manufactured and landfills continue to fill.
I'm finally ready to take the plunge. Here is how I'm going to transition to zero waste, I hope it helps you too!
I know transitioning to zero waste is something that isn't going to happen overnight.
However, every small action helps. Even the small habits add up. Imagine, if everyone in the world decided to stop using plastic bags. A trillion single-use plastic bags are used each year. If everyone switched to reusable or compostable alternatives, we'd save nearly a trillion of them from flooding into landfills or oceans in just one year.
I also want to put a full disclaimer that being fully and completely 100% zero waste in today's world is not possible. For one, you can have second hand plastic use from products you buy (manufacturing and transporting that product to the store). Also, there are some unavoidable pieces of plastic that you can come into contact with that can not be recycled or composted. Those little pieces of plastic that connects tags to clothing, for one. Even the people who really excel at being "zero waste" have mason jars where they put these pieces of unavoidable plastic.
The point is, there are always substitutions that can massively decrease the plastic we use and zero waste is a misleading term. The goal is ultimately to be as low waste as possible, and it's not always perfect…. but you don't have to beat yourself up when you're doing the best you can. It's all trial and error and maybe one day, all manufacturers and stores will use eco-friendly alternatives.
Anyways, let's get on with the post. 🙂
How to Transition to Zero Waste
1. Always Come Prepared
Like I said before, convenience is basically the reason why so much plastic is used today! For example, if the store provides plastic bags for free then why would you bring your own reusable bags if you haven't given it a second thought? If you don't feel like doing dishes and a box of plastic forks is only $1 then it seems convenient to just buy that. Even buying deodorant encased in plastic seems like the normal and convenient thing to do.
Convenience is easy to accept when you're out and about, with no other alternative. To combat this, it's so important to always be prepared when going out. Make a car kit or make sure that your go-to products are in your bags at all time. If you have a reusable pack of utensils on you then it seems kind of silly to grab a plastic single-use set. Preparation is the key to reducing waste. I'm excited to make a car kit (post coming on Friday) with all the essentials!
2. Pay Attention to Packaging
Some incredible stores like Lush have eliminated the packaging of their products. Although not everyone is able to shop at stores that have no packaging, there are other options that are just as great!
Shopping in bulk and using your own reusable containers one option. Living right next to Portland, there are so many options for bulk shopping I have no excuse not to! Try googling your local co-op to find a store that not only offers bulk dry food, but oils, spices, soaps, and body care as well. If all else fails, some local and chain grocery stores offer some bulk options.
Another option is switching up the products you use. Common household products come in other forms as well. For example, toothpaste can come in tabs and shampoo in bars. There are also so many cool DIYs you can find with a quick Pinterest search like deodorant or car freshener. These options are always more natural and less toxic to you and the environment than their store bought counterparts.
It's not always impossible to avoid plastic, but small steps are better than none. If you need to buy peanut butter and all come in a container, it's better to buy one in a glass jar that you can reuse or recycle than in a plastic container. If all else fails, you shouldn't beat yourself up because you're only trying your best.
3. Replace Items as They Run Out
It would be wasteful to just toss out all your products to replace them with their zero waste alternative. Don't rush to throw out your half-empty bottle of shampoo, brand new box of almond milk, or your half-used bottle of floss… use them! Finish using your products and replace them as they run out. Going zero waste shouldn't be a financial burden. In fact, it can actually save you money! Gone are the days of $6 lattes, I love my French press. I'm not worrying about buying single-use cotton pads anymore, I have my reusable cotton pads courtesy of Etsy! Those are just a couple examples, the possibilities are endless.
Anyways, the point is to use the rest of your products before you replace them instead of rushing to toss them out. Then as you replace them, make more conscious and eco-friendly decisions! You might be surprised by the products out there that aren't as mainstream but just as effective.
4. Ditch the Consumerism Mindset
I'm not going to lie, this is going to be the hardest step for me. Sometimes I just feel like I want to shop. Sometimes I see something that I really like and want… but that I don't actually need.
Over the years, I've gotten better about refusing and not letting clutter pile up. Making conscious decisions about items purchasing can reduce lots of waste. I remember working in retail and taking every individual item out of plastic packaging, in a box filled with Styrofoam. Even if the item doesn't have plastic on the shelf, so much waste has gone to produce it. We just threw the plastic bags out in the dumpster, contained in a bigger plastic garbage bag.
So first, refuse. Refuse to buy something you don't need. Think it over if you really want it and weigh your options. Could you find this item at a thrift store? Borrow it from a friend or family member? Do without it? Then if all answers are no or it's something that you truly aren't just going to throw out after a bit of use, let yourself buy it. But don't let yourself feel guilty, we are only human and most of us have spent our entire lives in a linear economy.
5. Find Your Role Models
It can be so hard to stay motivated and fixed to your cause if the others around you don't understand what you are doing or why. I personally don't know anyone who strives to go completely zero waste. I do know plenty of people that try to reduce their waste when they can, which is so incredible. Anything and everything helps!
Something I found to be of great help in getting excited about going zero waste is finding my people, mentors, and community. I do this with my veganism too by following people on Instagram since I don't know too many people in person that are vegan. Facebook groups and reddit forums are also awesome places to connect with people online, spread ideas, and see cool finds!
Some people I have found that are so inspiring to me are Lauren from Trash is for Tossers, Sedona Christina, and The Girl Gone Green!
6. Just Say No
Basically what everything boils down to is just saying no to unnecessary waste. The Girl Gone Green sums it up so nicely in this video. This movement is an end goal! The movement is to live consciously, reduce your unnecessary waste consumption and be accountable for your actions. Everything has an impact, but making the conscious choice can make huge strides in the long run.
It's not shameful if you're not zero waste, it's a huge commitment to take on and it sounds scary. Just reducing your single-use plastic and utilizing the eco-friendly alternatives when you can makes a difference!
I hope this how to transition to zero waste post has helped you! Would you ever try to go zero waste? Let me know in the comments below.
For Tuesday's post, "10 Easy Zero Waste Swaps" click here!
If you want to spread the movement and this post, share one of the pins I made for you below!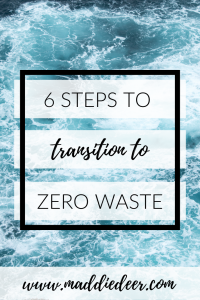 Want to join me on my Zero Waste Journey? Subscribe to my E-mail List below!