Wahkeena Fall is a popular waterfall located just 30 minutes outside of Portland, Oregon. It's a great waterfall and hike to visit for tourists or locals alike. In this hiking guide, I am covering how to get there, what to expect on the hike and other tips. This post is similar to my Multnomah Falls post since Multnomah Falls is connected to this hike. If you want to read that post, which includes info about the permit system coming in May 2022, you can read that post here.
Disclaimer: This post contains affiliate links. This means that I get compensated a small amount if purchased through one of these links at no extra cost to you. I always only link products I truly love and any profit made goes to running this blog. Thank you for your support! For more on my disclaimers, you can click here.
Hiking Guide to Wahkeena Falls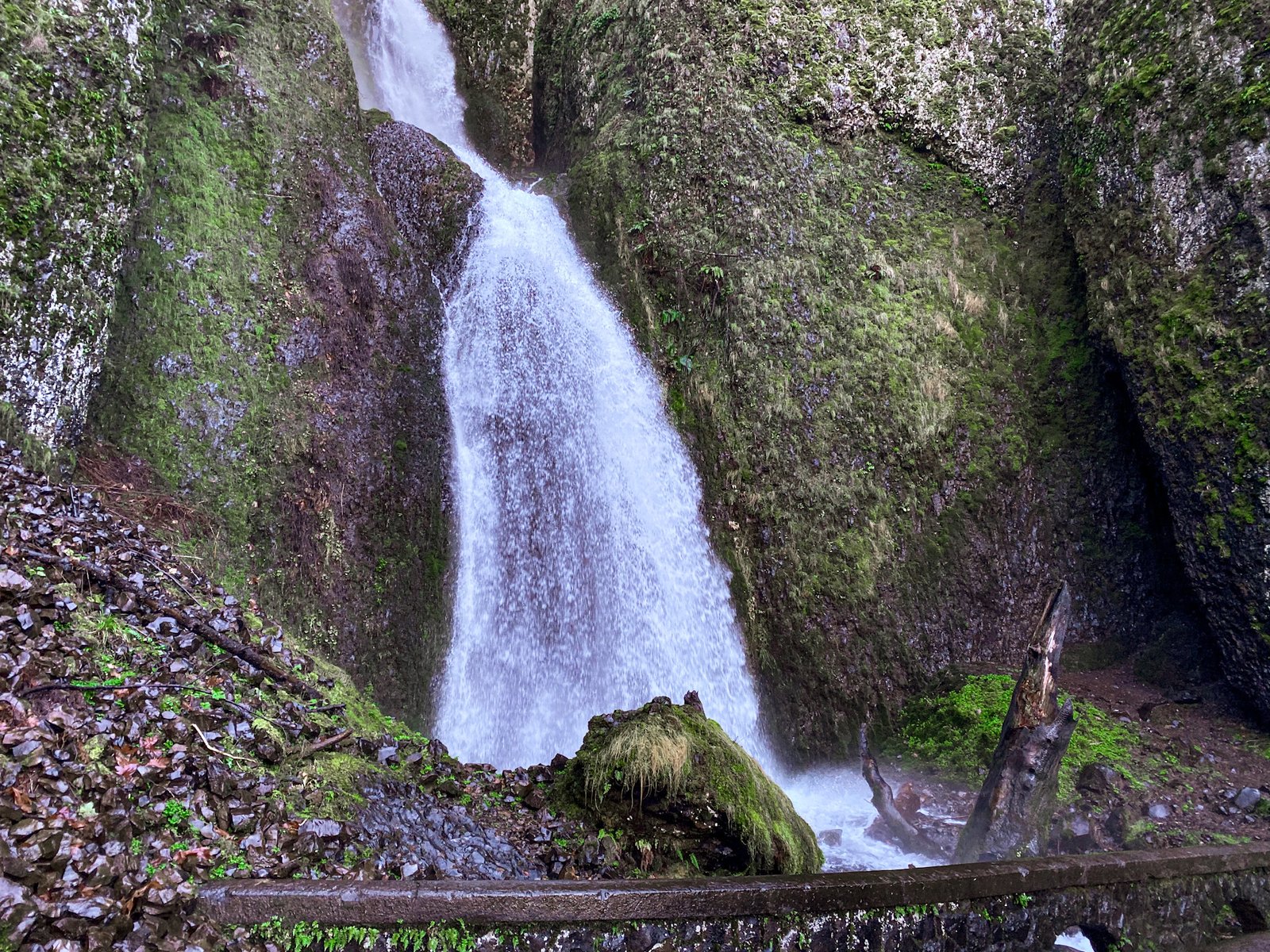 GETTING THERE
If you're coming from Portland, you will follow I-84 East for 23 miles. You will take exit 31 on the left to enter the main parking lot for Multnomah falls. There is no parking fee or pass required. This is the parking lot your map will take you to if you search "Wahkeena Falls Trailhead." Once you're in the parking lot, you will be able to see the falls. To get to the falls from the parking lot, take the tunnel just south of the visitor information booth. You'll cross the street and see the lodge to your right. Head towards the lodge and take the path behind the concrete barriers. There will be a sign pointing to the Wahkeena Falls connection trail that is 0.4 miles long to the trailhead.
There is additional parking in front of the trailhead, but I don't find that the maps take you there so I find these directions the best way to get there with ample parking and a way to see Multnomah Falls, too!
Shuttle Access
If you don't have access to a car, you can take a shuttle. There are a few different options for a shuttle. The first option is the CAT public transport which operates 7 days a week. You can find the schedule for this shuttle here. For more info on how to use this shuttle, you can find the info here. For the CAT transit, a one-day pass will cost $15 and covers one adult and one child.
Another shuttle option for the high season, or weekends on the shoulder season, is the waterfall trolley. You can find the schedule for this trolley here. The ticket for this trolley is $20 and more information about how to take the trolley can be found on the website here. The final option for a shuttle is the sasquatch shuttle which is only open during the on-season and opens back up on May 6th. You can find more information about the sasquatch shuttle on the website, here.
THE HIKE
There are a couple of different options for hike lengths if you're wanting to hike to Wahkeena Falls. I recommend the loop that includes Multnomah Falls if you're wanting a longer hike. If you want a short hike, then I recommend just hiking up to the falls and turning around to hike back once you reach it.
Both trails can be used year-round. Just remember to bring waterproof boots if you're hiking during the rainy season. I last went in December and there are some areas where you need to cross water where waterfalls are falling over the trail. My mom broke her hand one time crossing one of these sections on the trail, so be careful!
Wahkeena Falls Loop
The option that I recommend is the Wahkeena Falls Loop. If you take this trail, it's 6.1 miles with an elevation gain of 1,750 ft. You can begin at the Multnomah Falls trailhead if you want to go counterclockwise. To go clockwise, you will begin at the Wahkeena Falls trailhead. Throughout the hike, you will stay on the Wahkeena Trail #420 throughout all intersections. This hike is rated moderate and there is a pretty steep incline at the beginning until you reach the top of Multnomah Falls. From here, there is a steady incline that isn't as steep until you reach the halfway point where you will begin downhill.
This hike follows the river for a good portion after passing Multnomah Falls if you are going counter-clockwise. By doing the loop, you will also pass several other waterfalls such as Weisendanger Falls, Ecola Falls and Fairy Falls. There is some residual fire damage and charring of trees that you can see on this hike from the 2017 Eagle Creek Fire. However, the underbrush has recovered and the trail is still green and beautiful. By going counterclockwise, you will end at Wahkeena Falls which is a 242 ft waterfall.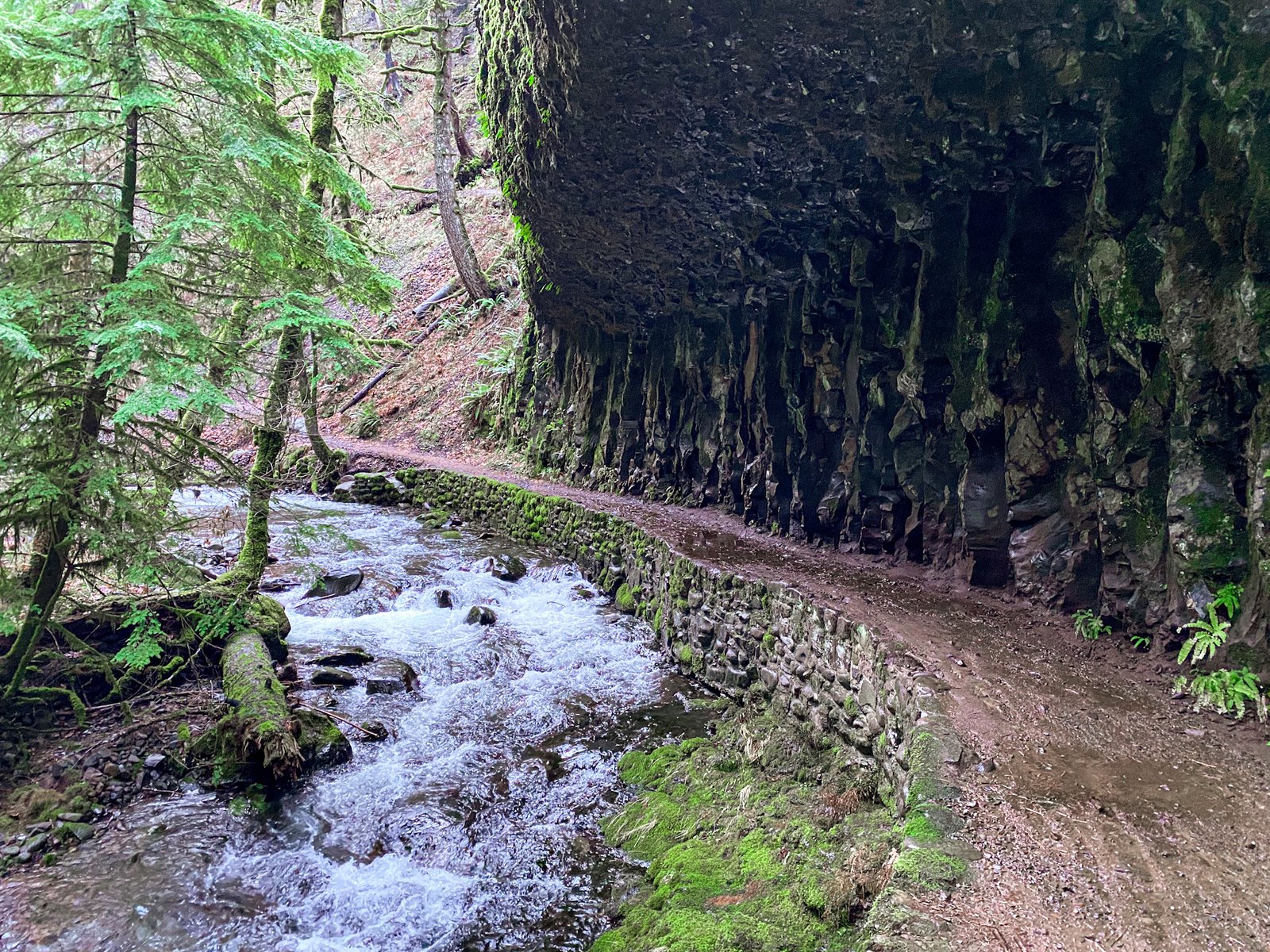 Wahkeena Falls Out-and-Back
If you are looking for a shorter hike, you can park at the trailhead and hike up to Wahkeena Falls, and then back down. If you park at Multnomah Falls this trail is a 3.1-mile hike with a 915 ft elevation gain. This portion of the loop is mostly paved, but a small portion is also packed gravel. There are several switchbacks leading up to the trail. This option is easier than the loop but still rated a moderate hike on AllTrails.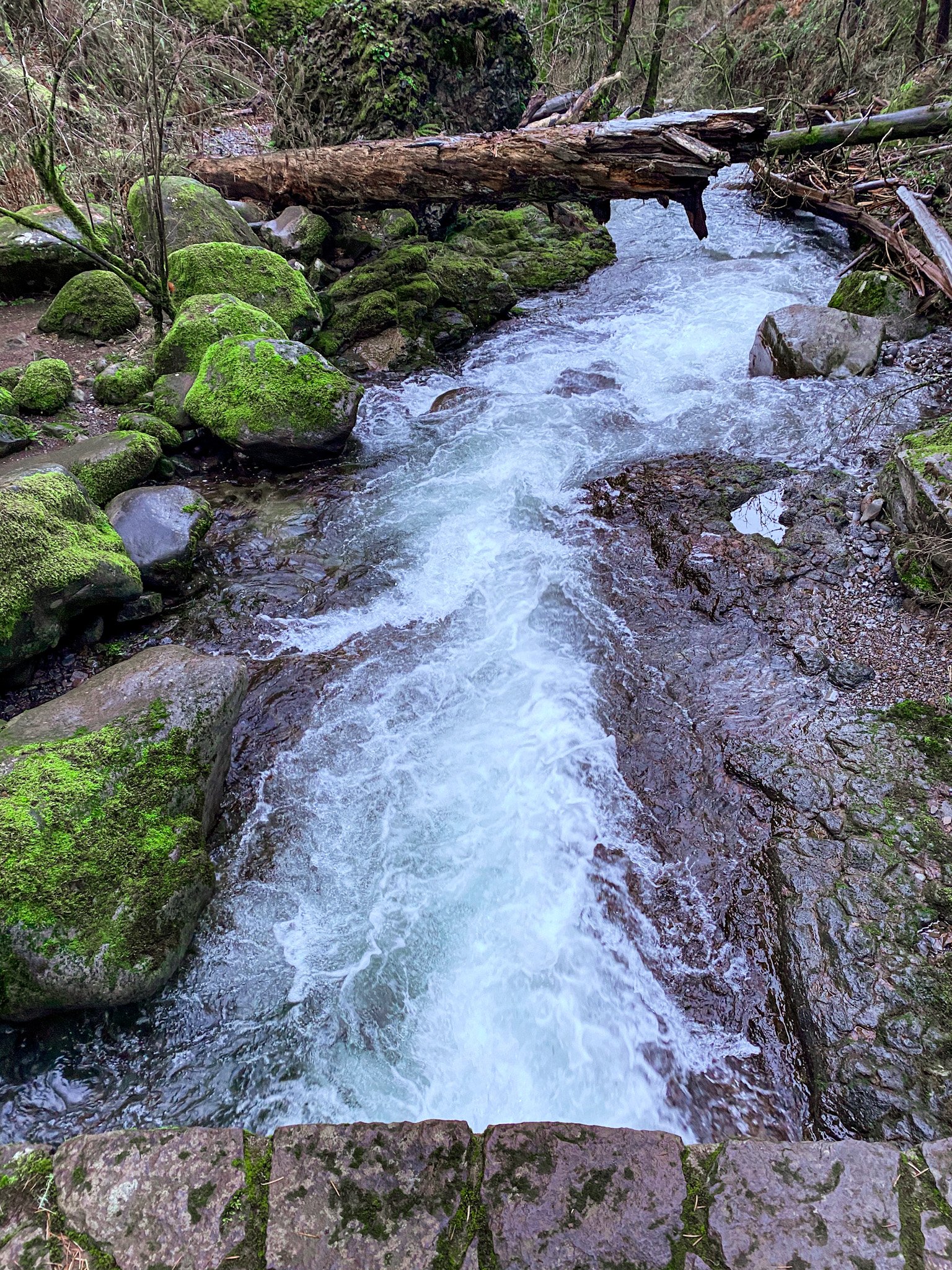 OTHER TIPS
Arrive early in the morning or late afternoon in the peak seasons to avoid the crowds. The peak season is summer. It's also especially busy in the late spring and early fall. Multnomah Falls is much busier than the Wahkeena Falls trail, but if you are parking at Multnomah prepare for crowds in that area.
There is a permit system that will begin at Multnomah Falls in May 2022, you can read more about that in my post here.
I recommend visiting other waterfalls in the area if you have time to hike and explore. If you're just stopping by, only making it up to the ground view is worth the stop!
The road conditions on I-84 can be icy in the winter. Check road conditions before you go if it's especially cold or expected to snow.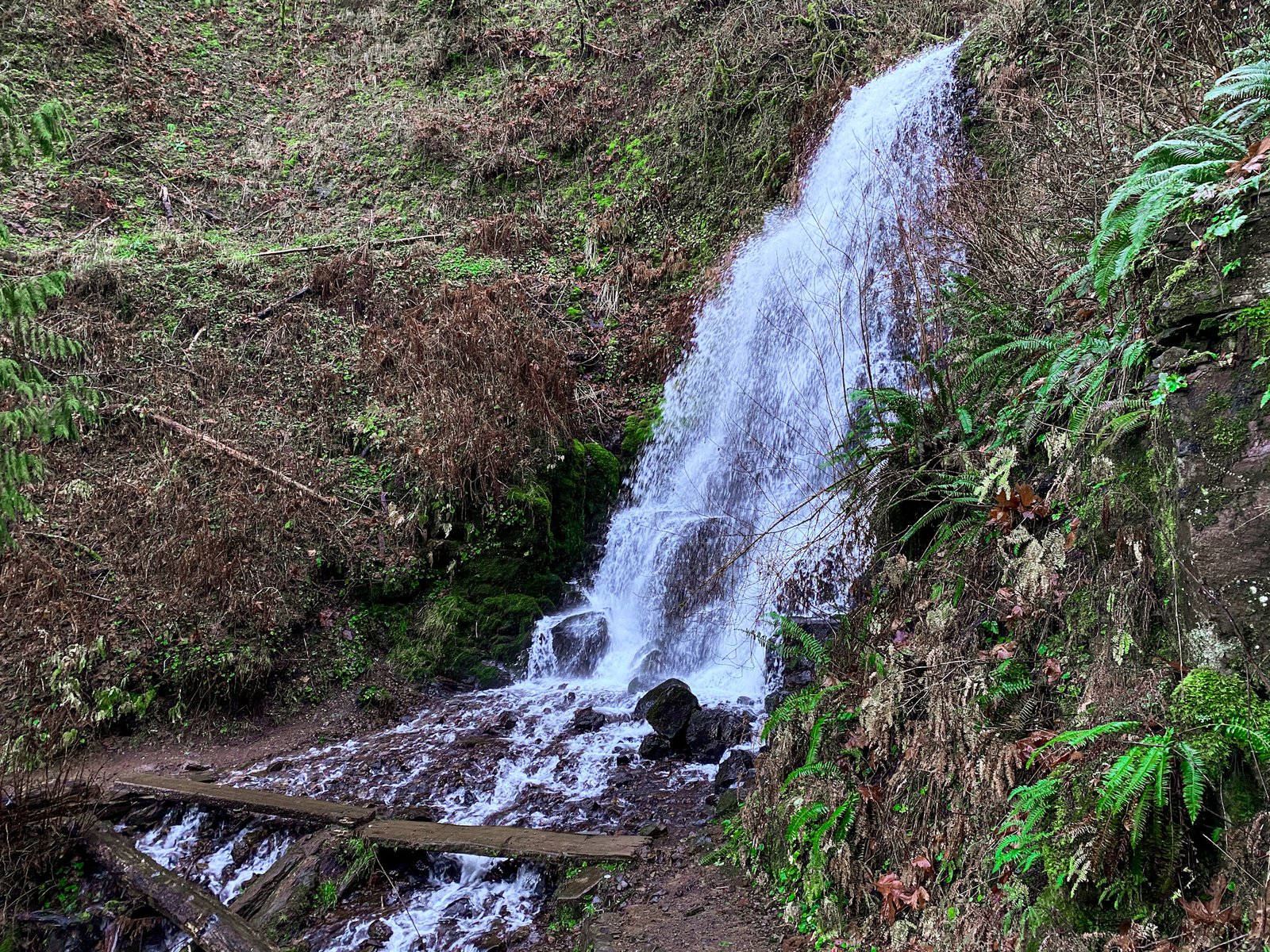 MY HIKING + CAMPING FAVORITES
Here is some of my favorite gear to bring with me on hikes that I use:
That's it for my hiking guide on Wahkeena Falls! It's a great hike to add on to your visit to Multnomah Falls if you are from out of town. If you're local, I recommend checking out some of the other hikes in the area too, and I linked a few below.
Thank you so much for reading! If you want to follow along on my hikes and get notified when I post new posts, be sure to follow my Instagram @maddie_deer here or like my Facebook page here.