The Capilano Suspension Bridge is one of the most iconic tourist spots in Vancouver, B.C. However, a trip to the Capilano Suspension Bridge is typically very busy and is costly at $63 CAD per ticket for adults 18- 64 years old (plus tax and parking if you don't want to take the shuttle). If you like to travel on a budget or just don't know if you can stomach the price, the Lynn Canyon Suspension Bridge is a great alternative to the Capilano Suspension Bridge!
The Lynn Canyon suspension bridge towers 160 ft above Lynn Creek. You'll have the chance to see what British Columbia's temperate rainforest looks like, and the view is said to be even better than Capilano since there is a waterfall underneath. Aside from the suspension bridge, there are several different hiking trails that vary in difficulty. In this post I'm covering how to get to the Lynn Canyon Suspension Bridge, cost, and what you can expect!
Disclaimer: This post contains affiliate links. This means that I get compensated a small amount if purchased through one of these links at no extra cost to you. I always only link products I truly love and any profit made goes to running this blog. Thank you for your support! For more on my disclaimers, you can click here.
Guide to Lynn Canyon Suspension Bridge
How to Get There
Lynn Canyon Park is located only 30 minutes outside of downtown Vancouver. You can get there by car, bus, or bike. The Lynn Canyon Ecology Center has a great guide for how to get there which you can find here.
Cost
Unlike the Capilano Suspension Bridge, the Lynn Canyon Suspension Bridge is free. However, you will need to pay for parking. To pay for parking, park near the park entrance, which has a large parking lot, restroom facilities, garbage, and the Lynn Canyon Cafe and Ecology Center, and use one of the parking meters. Cards are accepted, so no worries if you aren't carrying any cash. Parking costs $3/hour for a maximum of 4 hours, which is enough time to explore the park and do some of the trails.
Popular Trails
Twin Falls Loop Trail: This trail crosses the Twin Fall Bridge and can be found by heading to the right of the parking lot. There are stairs leading down and you can find the falls near the base. If you do just this loop it takes 45 minute- 1 hour. It's the perfect easy and beginner-friendly hike for the average person. It is about 1.6 miles and has a 365 ft. elevation gain.
Thirty Foot Pool Loop Trail: This easy and beginner-friendly trail leads you to a pool of beautiful green water where you can wade, stop for a picnic, or just stop to admire. To get here from the parking lot, cross the Lynn Canyon Suspension Bridge, turn left, and hike for another 20 minutes. This hike is 1.2 miles and has an elevation gain of 269 ft.
Norvan Falls: This hike is perfect if you're looking for a longer hike. This waterfall hike is 8.6 miles and has an elevation gain of 1,131 ft.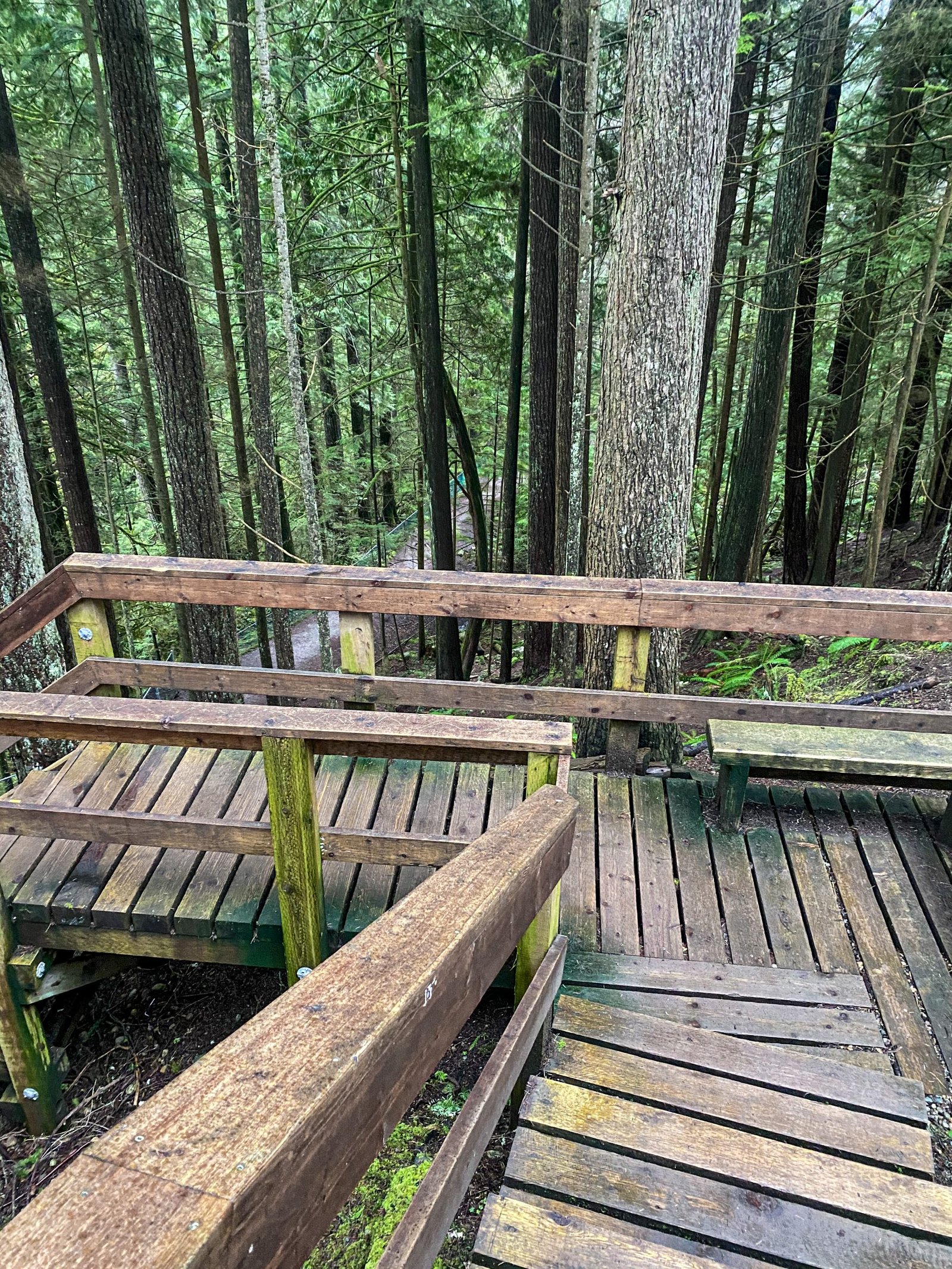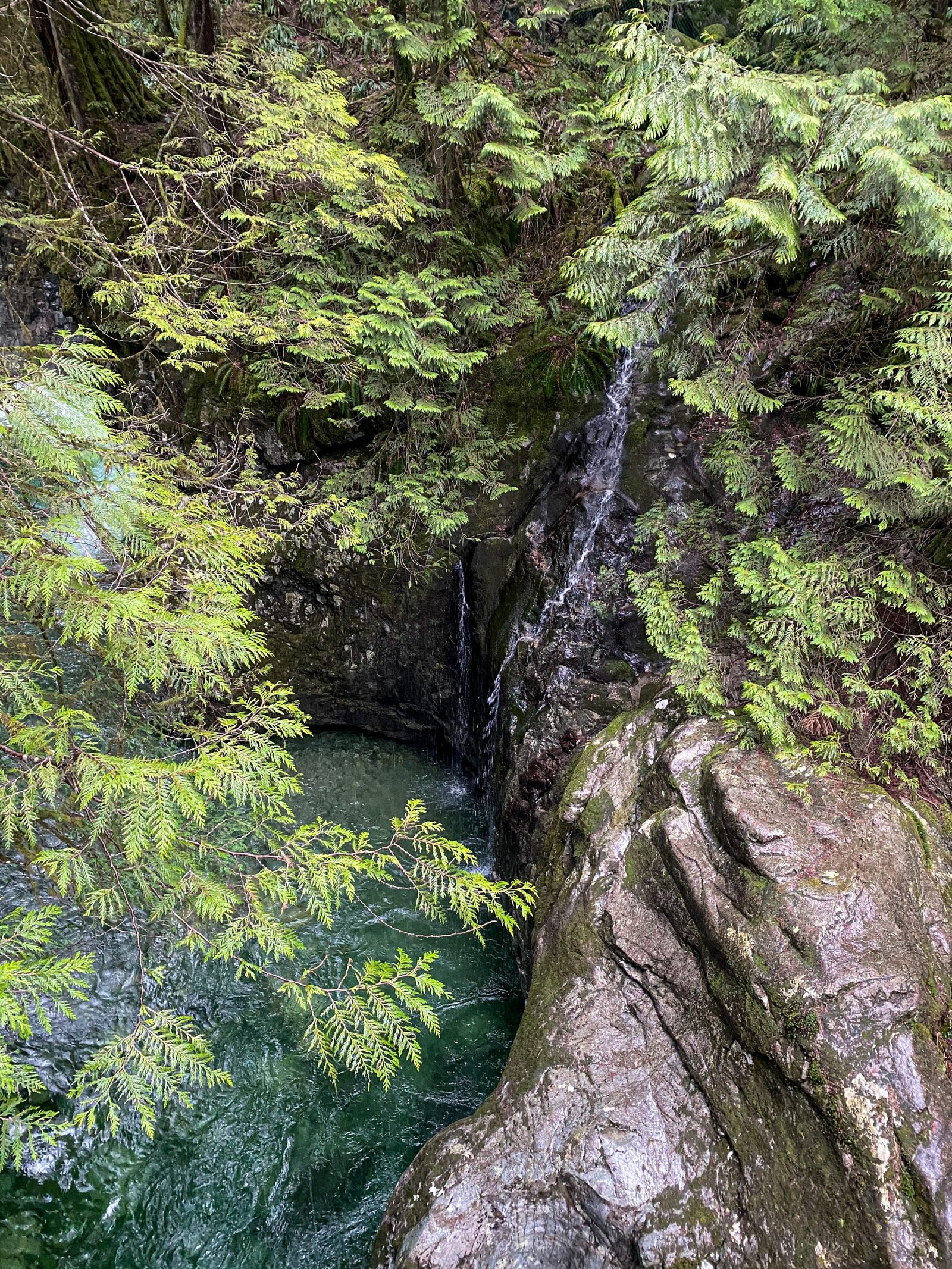 What to Wear
A lot of the trail is on a boardwalk which greatly decreases the mud. However, Vancouver is rainy most of the year and not all of the trail is on the boardwalk, so mud is a big possibility. The boardwalk can also get slippery, so I recommend wearing hiking boots if you're visiting during the fall, winter, or spring. Also make sure to bring a rain jacket (it is a rainforest, afterall), or a heavier jacket if you're not visiting during the summer! I went in late March and it was still pretty cold and rained a lot.
If you're visiting in the summer, you can probably get away with just wearing sneakers. Generally, the trail is pretty shaded, but it can't hurt to wear sunscreen in the summer. If you plan on swimming in Thirty Foot Pool, make sure to bring a swimsuit (although fair warning it will be cold, even in the summer). You'll be walking up and down a lot of stairs so above all, comfortable footwear is key!
Ecology Center + Lynn Canyon Cafe
Currently, the Lynn Canyon Cafe is closed due to COVID. The Ecology Center is open 10 am- 4 pm both on weekdays and weekends. At the Ecology Center, you can buy a self-guided tour book for just $3 if you want to learn more about the history, trails, and wildlife.
Tips for Lynn Creek Canyon
Dogs are allowed, but along most of the trail are required to be on a leash. Some areas do allow well-behaved dogs to be off-leash, but this is in the lower populated areas. There were a few areas where I saw dogs in tight quarters passing each other (like on the bridge), so if you have a more reactive dog that's something to keep in mind!
The trails are not wheelchair or stroller accessible, there are a lot of stairs.
I think that this park and many of the trails are fairly child-friendly, but if you have smaller children you may need to carry them up some of the stairs or go at a slower pace.
Overall Thoughts
The Lynn Canyon Suspension Bridge is a great alternative to the Capilano Suspension Bridge. If you don't mind missing out on some of the more touristy aspects of the suspension bridge, you'll find a more economic and less crowded experience at Lynn Canyon. The hikes are great for most ages and most abilities, and the view from the suspension bridge and Twin Falls Bridge is beautiful! I highly recommend Lynn Canyon Park if you're visiting Vancouver, Canada.
Looking for more PNW-based hikes? Check out one of the hikes below in the nearby Olympic National Park in Washington State! The Olympic National Park would make a great destination for your next trip, although it's a bit to far for just a day trip from Vancouver, B.C.
For more hikes and travel destinations, be sure to follow me on Instagram @maddie_deer or on Facebook here.