I've seen a few other bloggers do a "Friday Favorites" post. As the name suggests, I'm going to be sharing 5 of my favorite things from this week. I've been wanting to implement a couple of series on my blog, so I'm really excited to share this with you all! I post a lot of information-heavy posts, so I think it will be fun to write these as a light read! I mentioned these as a light teaser in last weeks post, 12 Things which was also more of a light and fun read.
Disclaimer: This post contains affiliate links, which means that if anything is purchased through my post I get a small commission at no cost to you! I use this to maintain my blog and keep writing posts just for YOU! I only recommend products and services I absolutely love. You can read my full disclosure here.
Enough with the Chit-Chat, Here are 5 Friday Favorites:
1. Podcasts
The first of my Friday Favorites. It's no secret that I listen to podcasts on the reg. I love listening to things in the background as I write blog posts or study. I've listened to true crime on Youtube and audiobooks in the past. Right now, I am loving listening to Jenna Kutcher's The Goal Digger Podcast and Kaitlin Bristow's Off the Vine Podcast! Jenna gives me so much inspiration and I am a Bachelor fan so I love hearing the different interviews Kaitlin does!
I have been branching out a bit and listening to some other podcasts, but I haven't found any that I love quite as much! I'm always on the hunt for more podcasts so if you have a favorite, let me know!
2. Blue Light Glasses
I feel like I've been talking about these A LOT lately. But really, these have been a lifesaver. I would get really bad headaches and feel like my eyes were burning after looking at screens (computers, TVs, phones). Even with the brightness on low, my eyes and my head would hurt. These have saved my eyes! You can tell even after wearing them for just a couple minutes that there is less strain on your eyes. My headaches have also disappeared and I can go to sleep at the end of the day without achy eyes.
The blue light emitted by screens can cause permanent damage to your eyes and over time can even lead to cataracts, glaucoma, and permanent vision loss. Scary stuff! I would rather not lose my vision because I spend a lot of time younger looking at a computer screen. It definitely makes me paranoid (hence the glasses). You can read more on it here.
These are also really cute, so I don't feel like a complete dork when I am wearing them. They TOTALLY add to my Portland hipster vibes *wink wink*. Or maybe make me look like a librarian- basically the same thing anyway, right? You can find the glasses I got here, and they come in black, leopard (like I got), clear, and pink.
I'm thinking about writing a more in-depth post on blue-light glasses and the science behind them this upcoming month, BUT I feel like I talk about them so much anyways that it wouldn't be too new of knowledge!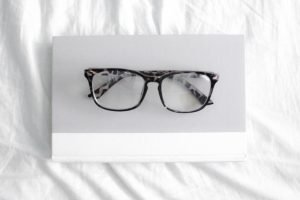 3. Old Navy Compression Yoga Pants
Does anyone else experience the yoga pant struggle? I want good looking yoga pants that don't slip, hug me in the RIGHT places and don't cost me a fortune. I loveeeee Old Navy's compression yoga pants. They fit really nice, last forever, they don't get holes easily (which I've had problems with before), and Old Navy have sales all the time. I always use my ON Rewards on these bad boys when activewear is 50% so I can snag one of two for just $1.
I just got a new pair with the moto design on the side. LOVE them. They're perfect for the gym, running errands, or just hanging out. You can find them here. I also love these, and these.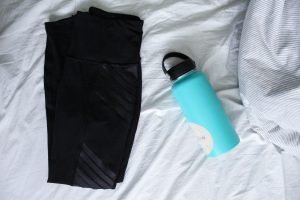 4. It Cosmetics CC Cream
I used to use the Bare Minerals BB cream, and I remember loving it so much that when the new Bare Minerals Liquid Foundation came out, I immediately bought it. When I started consistently wear foundation again, I started to break out a ton, but I blamed it on hormones!
After not wearing foundation for a couple of weeks, my skin completely cleared up and I realized it was the foundation was the cause of my breakouts. I ended up finding It Cosmetics CC Cream. It Cosmetics is a skin care based brand and I've used some of their products in the past. This CC cream comes with a built-in primer, doesn't feel greasy or thick when it's applied, and has an SPF 50! This is perfect for my sensitive skin. I've been wearing it for almost a month now and I haven't had any breakouts.
If you want to check out this CC Cream, check it out here!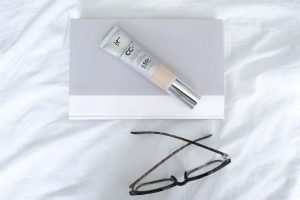 5. Kenra Dry Shampoo
The last of my Friday Favorites is no surprise. It's not JUST a this week Friday Favorites item, it's a total every-week-of-the-year favorite. Dry Shampoo is the BEST. What's not to love? You can get rid of potential greasy hair in-between washes with just a spray and fluff of the hair. I don't really ever feel like doing my hair, especially after cutting it short. The Kenra dry shampoo is really good. Sometimes dry shampoo can make your hair feel heavy or gross. I haven't experienced that with the Kenra dry shampoo or Batiste dry shampoo.
This stuff makes your hair smell good, saves you time getting ready, adds volume, takes away grease AND prevents your hair from going dry. 10/10 would recommend! You can find the Kenra Dry shampoo here.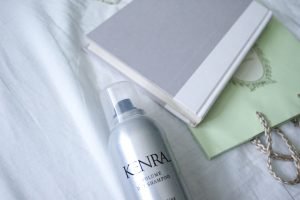 That's it for today's Friday Favorites! I love sharing the products that I've been into lately or that are on my wishlist with you all, but I would appreciate some feedback. Do you like these kinds of posts?
Are you a podcast fanatic or do you use any of these products? I'd love to hear in the comments below!
Wanting to save this post for later? Just pin the images below!