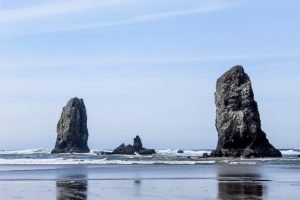 Oh my goodness, it's been AWHILE! Where the heck have I been the last two weeks because I have been totally MIA on the blog. Things have been so busy, but I am back and hopefully better-than-ever! I thought there would be no better way to get back in the swing of blogging and let you know what's been up all this time than to do a '12 Things' post! If you missed my last 12 Things post back in February and are wondering what 12 Things is, it's basically just a life update where I list *drum roll* 12 THINGS!  To check out my last 12 Things post you can find it by clicking here. Anyways, let's get into it!
12 Things: March
I finished up my final for Anatomy and Physiology Monday so I am FINALLY on SPRING BREAK! I don't really get crazy with spring break though… I'm not flying over to Miami or Cancun or wherever all those crazy parties are happening. One year I did road trip from Washington down to LA for the week and that was a pretty stellar spring break! However, this year, I will be working, blogging, and maybe sneaking some time in to take pictures and get creative.
I watched Captain Marvel in the theaters last Monday! Lemme tell ya, I am not a Marvel super fan and I don't typically watch superhero movies, but I loved it. This was the first full Marvel movie to star a female superhero and that baffles me! The first?! She literally has the craziest superpowers so why did The Hulk get TWO movies before she even got one? There are also EIGHT Spider-Man movies, so what gives?
I jumped on to the Game of Thrones bandwagon and I love it! It's been a little over a week and Danny and I are already on season two. I'm not sure if that's impressive, sad, or not notable, but regardless, have you seen it? I honestly can't stand to read fantasy or historic fiction so I didn't think this show would interest me. It hooks you though and the producers are the masters of cliff-hangers in EVERY episode.
Danny and I went to Cannon Beach and Seaside last Friday. If you live in Oregon and Southern Washington these beaches are pretty iconic and you've been once or twice! It's only an hour and a half drive from Portland and you can play skeeball, visit the little shops and look at some really cool tidepools during low tide! After spending most of last year by a beach and not having been in months, it was much needed!
Lately, I've been watching Bullet Journal videos on YouTube. I'm so inspired and I've always wanted to do a bujo, but my perfectionism has held me back. I love Jenny Journals style and she even has an Etsy shop with stickers she's made! SO get ready for a post on me setting up a bullet journal, in the near future!
If you read my last 12 Things or follow my blog insta , then you probably saw that my little Kia Forte was in the shop. It couldn't really be saved without paying $5,000 to replace the engine. This was only a 2010 and I had only had it for a year and a half! It wasabout a $4,000 loss for what I bought it for and that's a total bummer, BUT I bought a new car! I got a 2018 Toyota Corolla because it seemed like a really reliable car. To be extra safe this time around, I also bought an extra 7 year warranty so I won't have to deal with another car fiasco for at least 8 YEARS. That is a long time! I would hope this car lasts 8 years since I take good care of my cars and keep up with the maintenance but in the case of a freak event it feels good to have my car covered.
Something exciting and blog-related for me is how my traffic skyrocketed! I had only really had about 1,000 page views/month for my first two months (January and February). So far this March (even though I haven't even posted), my traffic has TRIPLED. That is absolutely crazy! Pinterest has definitely been my friend and I can't wait to see how this blog will grow for the rest of the month since I'm giving it my full attention!
Last month when I was writing my 12 Things, it had snowed a ton! This week, however, there's been blue skies and temperatures up into the 60's! That is pretty crazy, especially for Washington in March. I feel like it is going to start raining any day now as it usually rains up until the middle of May!
A (probably) well known fact about me is that I LOVE Justin's dark chocolate PB cups. I don't eat Reese's because they aren't vegan but these babies… SO GOOD! I think I eat one everyday, thanks to my huge sweet tooth and chocolate addiction.
This morning for no apparent reason, I woke up at 2:50 am. I couldn't fall back asleep and I am so tired now that it's the evening. I still have to work though so I have no idea how I am going to work for the next 5 hours running on only a couple hours of sleep! I'm usually a heavy sleeper and never wake up in the night.
I've started getting back into my creative groove and started crafting a project via my Cricut. I'm not sure if these are well known outside the craft-store-junkie crowd because people always seemed puzzled when I talk about it. Anyways, it's basically a machine that can cut (vinyl, paper, fabric, etc.), letter, and more! I love making stickers, using it to make complicated cuts in paper, and cut vinyl to make decals.
This video by Jenny Journals on YouTube has also inspired me to start designing my own stickers and printing them using her method because they look so nice! Although I have made stickers in the past, I haven't designed them to be printed and then cut, so this is a game-changer.
That's it for this 12 Things post! I am so happy to get back into the swing of blogging and finally have some time to relax after the last couple (intense) weeks of school. Are you on Spring Break? Comment below if you have any fun plans because I would love to hear about them!
If you enjoyed my post, feel free to share it with your friends or pin one of the images below!