Recently I began my nursing career and managed to snag a job where I can wear any scrubs I want. I would totally recommend working somewhere that allows you the freedom of wearing your own scrubs and doesn't give you the hospital-assigned ones. I ditched my nursing school-assigned royal blue scrubs in exchange for Figs scrubs! There are lots of things I love about Figs and a couple of things I am not the biggest fan of. In this post, I am going to do a Figs scrubs review. If you don't want a complete Figs Scrub review and just want a yes or no answer, I will save you the trouble. Yes, I think they are worth the price. If you want to know why, then read on to this Figs Scrub Review.
This is my honest Figs Scrub review and I have not been gifted by them or received compensation from them in any way. I am not a Figs Ambassador (although I would love to be!). I tried to be as unbiased as possible to answer "Are Figs Scrubs Worth the Price?" and I included both pros and cons. In the end, I did include a referral link if you did want to try them.
Disclaimer: This post contains affiliate links. This means that I get compensated a small amount if purchased through one of these links at no extra cost to you. I always only link products I truly love and any profit made goes to running this blog. Thank you for your support! For more on my disclaimers, you can click here.
Figs Scrub Review | Are Figs Scrubs Worth the Price?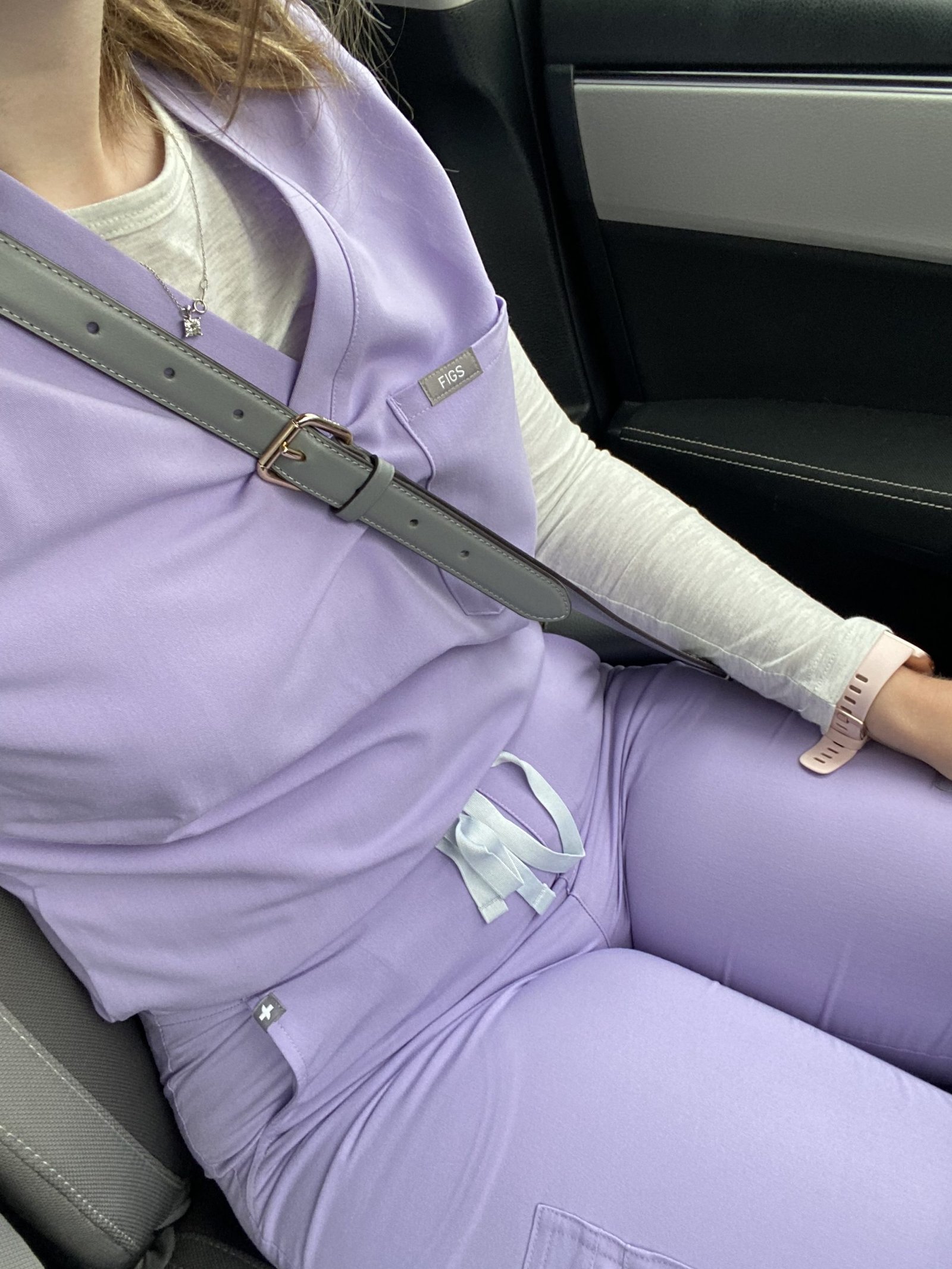 Material
There are a few different blends of materials that figs offer.
FionX – This is the most popular style. The fabric is thick and softer. Pet hair does stick to this style like crazy. But, it feels like you are wearing pajamas.
FreeX – This is a water-resistant style and is also anti-static. Pet hair doesn't really stick to this style which is nice if you have pets that shed. It's thinner than the FionX. The fabric also crinkles when you move, which is a con to me.
If you are new to Figs, I would recommend trying the FionX.
Colors
Figs Scrubs has a set group of core colors and also frequently releases limited edition colors. The core colors are black, navy, graphite, ceil blue, royal blue, and burgundy. During each color release, 1- 2 colors are dropped. Usually, there is a color release 1- 2x each month. There is always a teaser on their Instagram before they drop a new color. There are so many different fun colors that they have released. It honestly makes it worth it to me since you don't find colors like lavender being offered with other scrub brands like Cherokee.
Sizing
One thing that I am not a huge fan of for Figs Scrubs is the sizing! The sizing is very inconsistent between colors. In normal clothing, I am small or medium depending on the brand. For Figs, I wear small tall bottoms and a small top. Originally I thought I was going to be a medium so I have a medium tall/ medium top set. It is giant on me (for reference I am 5'9″ and 150 lbs). But some of the small tall/ small that I have just barely fit and don't have a lot of extra room. It's really hit or miss. Some of my sets fit perfectly, others are a little tight, but they are all the same sizing.
Fortunately, Figs has a good exchange policy so if the size doesn't fit you, you can exchange it for a new size within 30 days. The resell value of Figs is also really high. So if later on you lose or gain weight, you can sell them on Facebook Marketplace, Poshmark, Mercari, etc.
Design
Figs are breathable, have a thicker fabric, and are moisture-wicking. According to the website, they are also "antimicrobial for anti-odor, anti-wrinkle, and anti-static." These aspects of the design make them practical for working in healthcare since you will be running around, and sometimes getting something spilled on you.
One thing that can be more challenging wearing these scrubs is the lack of pockets! If you're someone who needs pockets, you will find that there aren't many functional pockets with these scrubs. You have front and back pockets with their jogger style and they don't hold much. There is also a side pocket that zips on the right leg but again it doesn't hold much. The shirt style I get is one-pocket because it tucks in. The one pocket is in the upper left and it also can't hold much. Personally, I work outpatient so I really don't need to hold much, so the lack of pockets works for me. I can keep my stethoscope at my desk and grab supplies like flushes and alcohol swabs when I need them because it's only a couple of times a day.
If you work in the hospital and need to keep supplies on you, I would recommend grabbing one of these fanny packs. I saw that nurses had them a lot in the hospital when they wore scrubs that didn't have a lot of pockets. They also just seem really convenient and if I was working inpatient I would get one!
Fit
Figs are flattering! They just are. Not to say they aren't the only flattering scrub on the market, but at this point, it's also become somewhat of a status symbol so I think that makes them more popular. There are several different styles, but the most popular is the "Zamora." The Zamora is the jogger-style bottom and usually goes with the one-pocket top that can be tucked in. There is also the "Yola" which is the skinny scrub style, the "Livingston" which is the typical scrub, and then the "Kade" which is more of a cargo bottom.
Cost
Figs are not the most budget-friendly option out there. For a pair of scrubs, it's around $90 + tax if you are buying them for full price. If you are a student or in the military, you can get 15% off after verifying with your ID. It's around $80 after taxes with a 15% discount. If it's your first purchase with Figs, you can use my link here to get $20 off your purchase of $100 or more (full disclosure, this is the "refer a friend link" and I also get $20 off my next purchase if it's used).
There are also occasional sales like discounts for nurses' week and around holidays. A couple of times a year there is also a sample sale. The sample sale has some of the past few colors that have been released and need to be cleared out.
During sales, the limited edition colors sell out fast. If you don't want to miss a certain color, it might be worth it just to buy it as soon as it is released. Certain popular colors can also sell out fast as soon as they are released in the popular styles.
Figs Scrub Review | Are Figs Scrubs Worth the Price?
If you are still wondering if Figs Scrubs are worth the price, my answer would be yes. If you use a discount to buy them, they aren't that much more expensive than other popular scrub brands. They have frequent new color releases that are unique and you can't buy with other brands. They are comfortable and flattering. While I was fine wearing other scrubs like Dickies, once I tried Figs Scrubs I knew I couldn't go back. So if you are thinking about trying them, just know that you might want to replace all your other scrubs!
Again, I wasn't compensated in any way for this post and it is my completely honest Figs Scrub review. I am not an ambassador, but I do have a referral code if you want to use it which is linked above and also here.
Let me know what you think of Figs Scrubs if you do try it and if you think they are worth the price! Thank you so much for reading! If you would like to be alerted of future posts, you can follow my Instagram here, or like my Facebook page here.