I can't believe it, but I have already been working as a nurse for one YEAR now. It feels like just yesterday that I graduated nursing school and was preparing to take the NCLEX. After graduating I interviewed with a bunch of different specialties including labor and delivery, med-surg, outpatient, and ICU. Ultimately, I chose to work in outpatient even though the pay was a bit lower because I wanted to keep a routine and good work-life balance, low stress, and no night shifts or holidays. This is a decision that I 100% do not regret and you can read more on why in my 6 month recap here. In this post, I am going to be reflecting more on how I feel after one year of working as a registered nurse and how things have changed since my last recap!
Disclaimer: This post contains affiliate links. This means that I get compensated a small amount if purchased through one of these links at no extra cost to you. I always only link products I truly love and any profit made goes to running this blog. Thank you for your support! For more on my disclaimers, you can click here.
How I Feel After One Year of Working as a Registered Nurse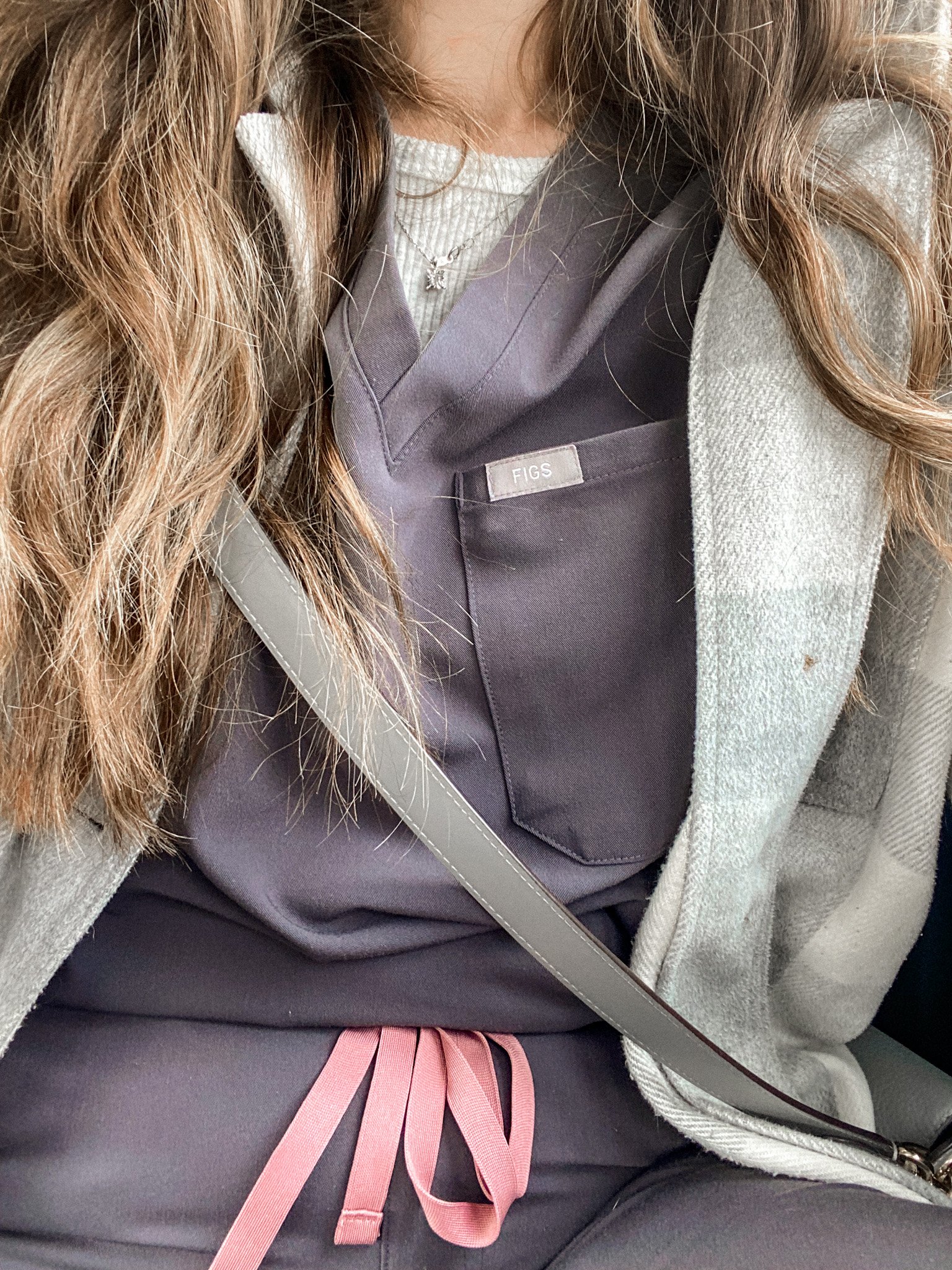 To Sum it Up
If you haven't seen my last recap, some of the things I mentioned were enjoying what I do in outpatient nursing, a healthier lifestyle for me, protecting my peace, and some of the perks. I still enjoy what I do, I am not experiencing any burnout like I know a lot of other new grad nurses are around the one-year point. In the last few months, I have felt more confident than ever in my nursing practice.
The first three months of working as a nurse were the hardest. It is a lot to transition from a student where you are following around someone and getting to do a bit here and there to being completely responsible. I honestly don't feel like I knew what I was doing for at least the first six months. But once it clicked, it clicked. It also helped to be teaching other new nurses because it made me realize that I knew more than I thought.
Do I Regret Going into Outpatient?
Nursing is so varied. No matter where you go or what specialty you work in, you are going to need to train for the new position. Even if you are working in the ICU, making the shift to another unit, or to outpatient nursing, you are going to need to train and you are going to start off feeling like you are brand new again. Having been in the same position for the last year, I have built my confidence working in primary care. I have also just built confidence in my nursing foundation and I feel less intimidated to go into new specialties. I don't regret going into outpatient and I don't think working bedside is for everyone.
If you go into outpatient right away as a new grad, that doesn't mean you can't ever go into inpatient nursing. I know other nurses who have started in the outpatient setting and switched to inpatient without bedside experience. However, starting right away in a new grad residency can be helpful with the extra support.
Expanding my Practice
One year is still not a lot of experience. Right now, I plan on continuing to work in primary care and building more on my knowledge and confidence in that specialty. This year I was going to school full-time in an RN- BSN bridge program while working so I now have my BSN. I think that eventually, I would go back to school again to get my MSN/DNP to be a family nurse practitioner. It's been helpful seeing that role while working in primary care because I can see how nurse practitioners or providers treat different chronic conditions.
I am still interested in pursuing other nursing specialties in the future such as fertility, school nursing, urgent care, OR, or psych. This last year has been incredibly busy between getting my BSN and planning my destination wedding (happening next month). I am looking forward to being able to relax a bit and not switching to a new specialty and learning a new role. I am also excited to become a preceptor now that I have been with the clinic I work for one year.
Do I Regret Going into Nursing?
I think that nursing is a field that you need to be invested in. It's not for everyone. I don't think I knew what I was signing on for when I entered nursing school since I didn't have any prior healthcare experience. However, I am so glad that I went into nursing. I love my job and role. There can be hard days, like with any job, but there are so many opportunities and roles that you can take on within the nursing field. I would recommend it to anyone considering going into healthcare if it's the right fit. There is more to nursing than just working bedside Plus the benefits like job security, decent pay, and flexibility are so worth it.
Nursing > Nursing School
I am so thankful to be done with nursing school (for your ADN). Even while planning my wedding, going to school full-time for my BSN, and working full-time, it was still less stressful to manage than the nursing school to get my RN. It was worth it though, and I know with more experience I am going to feel even more comfortable in my role and nursing practice. Once you hit that one-year mark and are no longer a new grad, you really do feel a lot more comfortable.
That's it for my recap and how I feel after one year of working as a registered nurse. As always if you have any questions about nursing, nursing school, or outpatient nursing, feel free to message me! I love getting DMs from readers! 🙂 Thank you so much for following along on my new grad journey! If you would like to be alerted of future posts, you can follow my Instagram here, or like my Facebook page here.