One of the common misconceptions of being vegan is that grocery shopping is expensive. I am sure it could be expensive if you are constantly buying substitutes and vegan cheese, but that isn't always the case. I feel like veganism has enabled me to have a more affordable diet when it comes to grocery shopping because meat and dairy are some of the most expensive products in the store. Here is how I grocery shop as a vegan, aka what I buy, a little bit on how I eat and also, why did I even become vegan in the first place?
Why I decided to be Vegan
When I was transitioning to veganism, I did it basically overnight. I didn't even know anyone who was vegan, but it was something I had been wanting to do for months. I don't necessarily recommend that, especially if you have a ton of non-dairy products in your house already. However, it worked for me and I think it could work for others as well. So why did I become vegan? I just listened to my body and realized I need to address my relationship with dairy.
In the six months leading up to completely cutting out dairy, I had not drank milk and ate cheese maybe once a week. I was still consuming dairy in packaged products like granola bars. While I suspected dairy was the cause of my health issues, I didn't consume that much so I didn't know the extent it was affecting me. I would get unpredictable attacks after eating that would give me migraines, nausea, and cramps so unbearable I wouldn't be able to leave my bed. As each month went by it was getting much, much worse. I get it… cheese tastes really good but when you aren't able to function for a solid 4-5 hours after eating then you would probably rethink eating it!
I had also come to a point where consuming any type of meat wasn't appealing to me anymore and I had built up a psychological barrier. So, the day after Christmas in 2017 (to make it easier during the holiday for my family) I became vegan.
Although I didn't become vegan for the animals or for the environment at the time, these are causes that are now important to me and I am so glad my diet can help the world in that way!
How I Eat as a Vegan
Nutrition is important, no matter what your diet. For the vast majority of my almost two years being vegan, my diet has been so much healthier and more nutritionally dense. It's harder to eat unhealthy when you depend on getting all your nutrients from plant-based sources. But, like any other diet, you can eat unhealthy. Just because someone is vegan it doesn't mean they're healthy. I feel like it's harder, but tons of people don't eat sustainably for themselves and end up doing high card diets, juice cleanses, and other (horrible for you) trends.
The Daily Dozen
I am currently reading How Not to Die by Michael Greger. This book is focused in nutrition and he actually has an app called that daily dozen that I use as a guide through my day. In the app, it guides you through how many servings of each he suggests that you have to get adequate vitamins, minerals, all that good stuff. The categories are:
Beans (3 servings)
Berries (1 serving)
Other fruits (3 servings)
Cruciferous vegetables (1 serving)
Greens (1 serving)
Other vegetables (2 serving)
Flaxseed (1 serving)
Nuts (1 serving)
Spices (1 serving)
Whole Grains (3 servings)
There are also little checkboxes for water (5 servings), your daily exercise, vitamin B12, and vitamin D.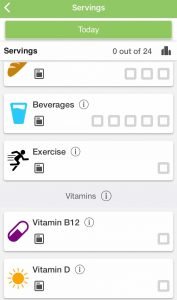 I try to hit all 24 servings in the app and every once in awhile will track my nutrition in MyFitnessPal to see how many calories I day and what my macros look like and see how much protein I am getting in a day. This is generally how I structure what I eat. I struggle with tracking everything I eat everyday in an app so I like how I can just check off when I have a serving in the daily dozen app (rather than searching for the exact food).
When you're trying to hit all the boxes, it doesn't leave much room in your diet for processed or unnecessary junk foods. You're eating food that has limited processing, is good for you and fills you up for hours.
Grocery Shopping as a Vegan
I basically eat the same thing on a week to week basis, which makes grocery shopping a lot easier! You can see what I specifically eat in my meal planning and what I eat in a day post here. But generally here is all the food I will buy in a week, using this week as an example!
What I already Have on Hand
I usually get a couple things from Costco, but they usually last me a two or more months so they're an uncommon occurrence. From Costco I will get frozen blueberries (10 lb bag), PB2 (30 oz), almond milk, black beans, diced tomato and "Everything But the Bagel" Seasoning. I also usually have olive oil (to cook with), golden flax seeds, coffee, rice, lentils and oats at home still. Buying in bulk saves money and it lasts you such a long time!
The Weekly Grocery List
bundle of 6 small avocados- $2.99 (when avocados aren't $2 each!)
1 red onion- $.89
bundle of 7 yellow onion- $2.79
green onions $.69
mushrooms (bulk)- $1.75
2 bundles of kale- $4.00
edamame- $2.49
1 pack of tempeh- $3.49
1 double pack of tofu- $1.99
spinach- $1.99
1 yellow bell pepper- $1.19
zucchini (bulk)- $0.50
5 bananas- $0.95
1 container of vegetable stock- $2.29
flour tortillas- $1.99
1 can of garbanzo beans- $0.79
1 can of kidney beans- $0.79
thai chili burgers $2.49
spicy hummus $1.99
Budgeting
The total came out to $36.05, which is pretty average for how much I spend in a week. Sometimes I will throw in something else like vegan banana bread, vegan cream cheese, or cashew fiesta dip because trader joes always gets me with the impulse buys! Typically, I eat out once a week and it's usually chipotle (a bowl with brown rice, black beans, sofritas, fajita veggies, and green salsa), Laughing Planet or Thai.
I mostly shop at Trader Joes and get a couple of things at a local grocery store chain (Fred Meyers) if I am able to get something cheaper or with less packaging. These stores definitely help save on how much money I spend because some grocery stores are a lot more expensive in the produce department.
I think $50/week to feed one person for 7 days is pretty dang good considering it is so easy to eat out and drop $20 on a meal with a drink. Although any diet (including veganism) can get expensive if you go all out, sticking to the basics it can be reasonable. Lentils, rice, beans, and vegetables are super reliable staples and I love eating this way so it makes it super easy.
If you Enjoyed this post, share a pin below or subscribe to my e-mail list!