We're about half-way into January, and I know a lot of people choose to go vegan as their resolution. It can be so hard starting out when you're constantly checking labels, turning down food from people, and all that jazz. I recently surpassed my 2 year veganiversary and at this point I pretty much know what I can and can't eat. I have my go-to meals and eating clean, plant based meals is just the norm for me. I said a couple months ago when I posted my Vegan Grocery Haul + Why I Became Vegan that I would post a "What I Eat in a Day as a Vegan" and never ended up posting. This New Year seemed like the perfect time to throw this out here! I love reading & watching other's what I eat in a day video and posts, so I think this will be insightful for new vegans, someone wondering what vegans even eat, or just to give some new meal ideas!
What I Eat in a Day as a Vegan
Breakfast
I start out my day with coffee. Typically, I add plain unsweetened almond milk to it. I get my almond milk at Costco because I go through a ton of it and it comes in huge packs (plus it's affordable)! While I was drinking my coffee I worked on my current writing project that I talked about in my resolutions post.
About 60% of the time, my breakfast consists of a smoothie. My go-to smoothie is blending 1/4 cup frozen blueberries, 1 banana, 1/2 cup rolled oats, 2 tbsp. PB2, and 2 tbsp. flaxseed. Flaxseed is one of the best sources of plant-based omega-3 fatty acids.
Being vegan, you have to be intentional with some of your nutrients, especially when not taking any supplements, and you can't go wrong with flaxseed. It's so easy to add into meals! I love putting it in my smoothies, oatmeal, and banana pancakes. It's best to use ground flaxseed since whole flaxseeds can pass through your body undigested, but you can get a bag from trader joes or any grocery store and it will last you for a long time. If you're not convinced you should check out the benefits of flaxseed and why to add it into your diet!
This morning I had oatmeal. I used 1/2 cup of rolled oats, 2 tbs. flaxseed, 1 banana and 2 tbsp. PB2, and cinnamon. In a separate smaller pan I 'fried' some apples I chopped up in coconut oil and maple syrup and more cinnamon. I topped the oatmeal when it was all cooked with the apples and voilà!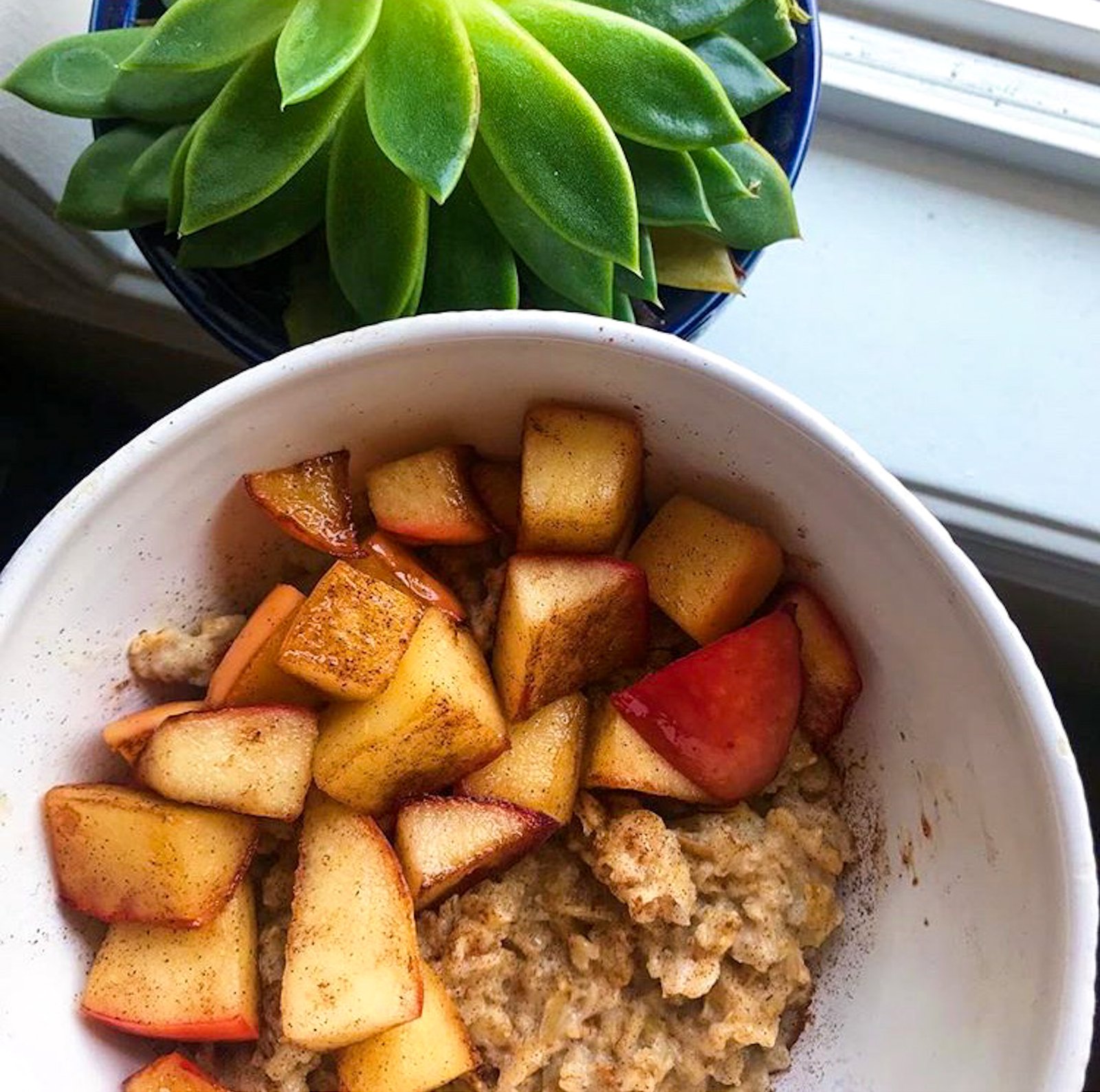 Lunch
I work a 9-6 job at a preschool and I eat with the kids, so usually I just bring leftovers from dinner the night before. During the weekends, I make whatever seems easy. Today I just ended up making us hummus and veggie wraps. I used King's Harvest lemon hummus (if your in the Portland area, check out this local hummus because it's literally the best) and spread it onto a tortilla. I topped it with roasted chickpeas, red bell pepper, cucumber, carrots, and avocado. To finish it, I used Tessamae's lemon garlic dressing which seriously makes this wrap complete. Danny and I used to go to a Brewery around us for trivia and they had a wrap that they topped with lemon dressing and it was the best hummus wrap I had ever had. I have since then adopted their trick!
I also *treated myself* to a juice. My parents bought me a juicer for Christmas (are you finally an adult when you want kitchen appliances for Christmas?) and I've been obsessed. I'm all for boujee juice bar juices but my poor college student budget can't afford $8 for one juice. Making juice at home is slightly more budget friendly. For $5 in produce I can make two servings, one for me and one for Danny. I like to get whatever produce is on sale, so every day is slightly different. For today's juice I used pineapple, grapefruit, lime, and ginger.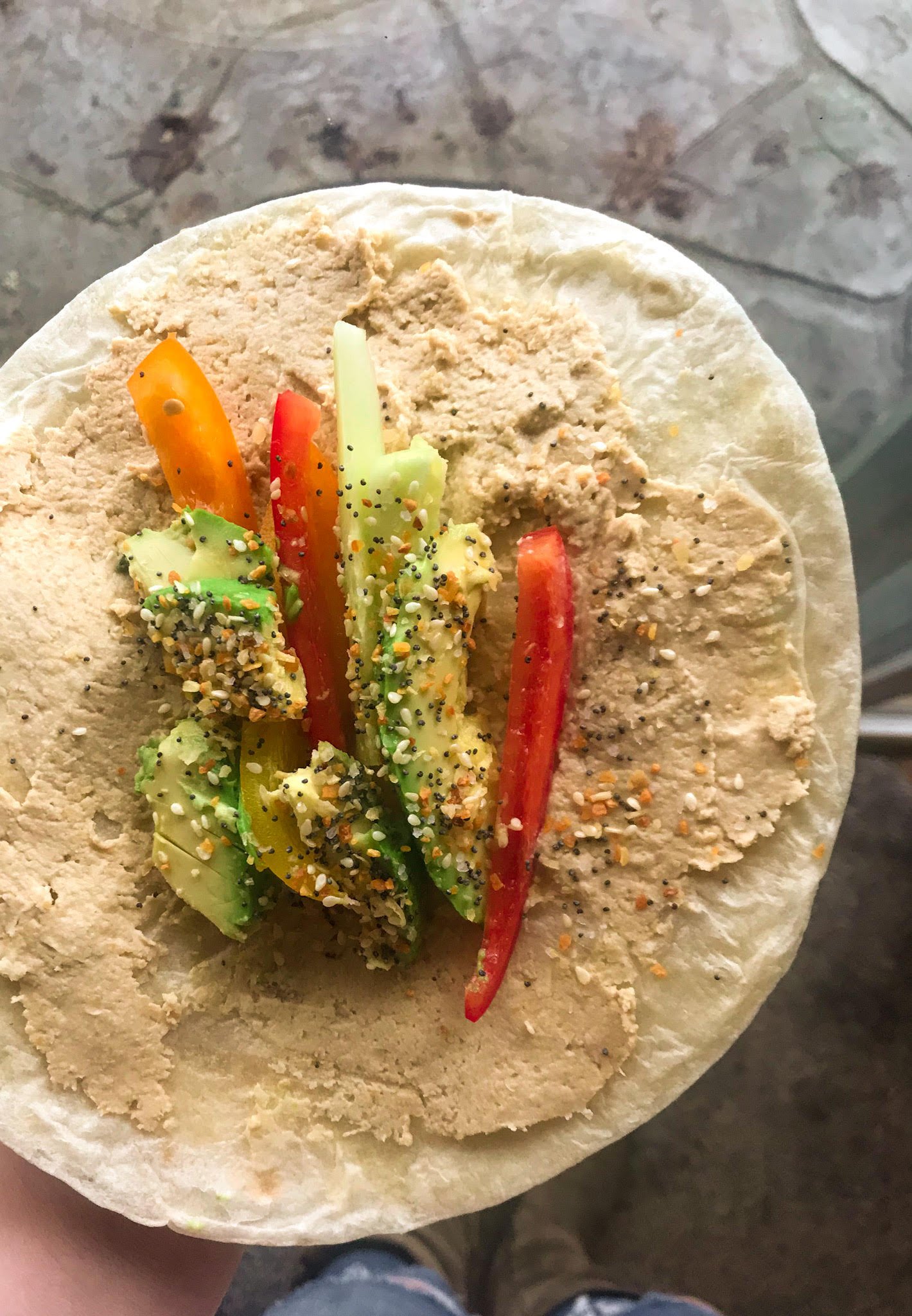 After lunch Danny and I went to this thrift store I've had my eye on for a couple weeks but hadn't had the chance to stop by at. They had really cool vintage things like an old sled, $.50 records, and mirrored vanity trays. I ended up picking up a really nice skirt, this cute little vintage Mickey Mouse bag, and a Star Ways Collector's Edition Blue Ray Set. I've been reselling vintage and thrifted items as a mini-hobby the last couple months and am making a conscious effort this 2020 to source more often so I can pay off my car. I'm also trying not to become a hoarder because some of the stuff I find I just want to keep to myself!
Dinner
I loovvveee making dinner. Trying new recipes and getting creative with healthy meals is my favorite. It's always nice to have reliable dishes to fall back on and that, for me, is curry. Curry is one of my go-to meals because it's super easy, there are a ton of variations, and it makes a ton of servings so I usually have lunch for three days after. For tonight's curry, I baked tofu for an hour while I sautéed carrots, bell pepper, mushrooms, and onion. I added full fat coconut milk and curry powder and let it simmer for 15 minutes, adding spinach in during the last 5. When it was done I added the tofu (so that it stayed crispy and didn't get soggy) and then we topped it on brown rice.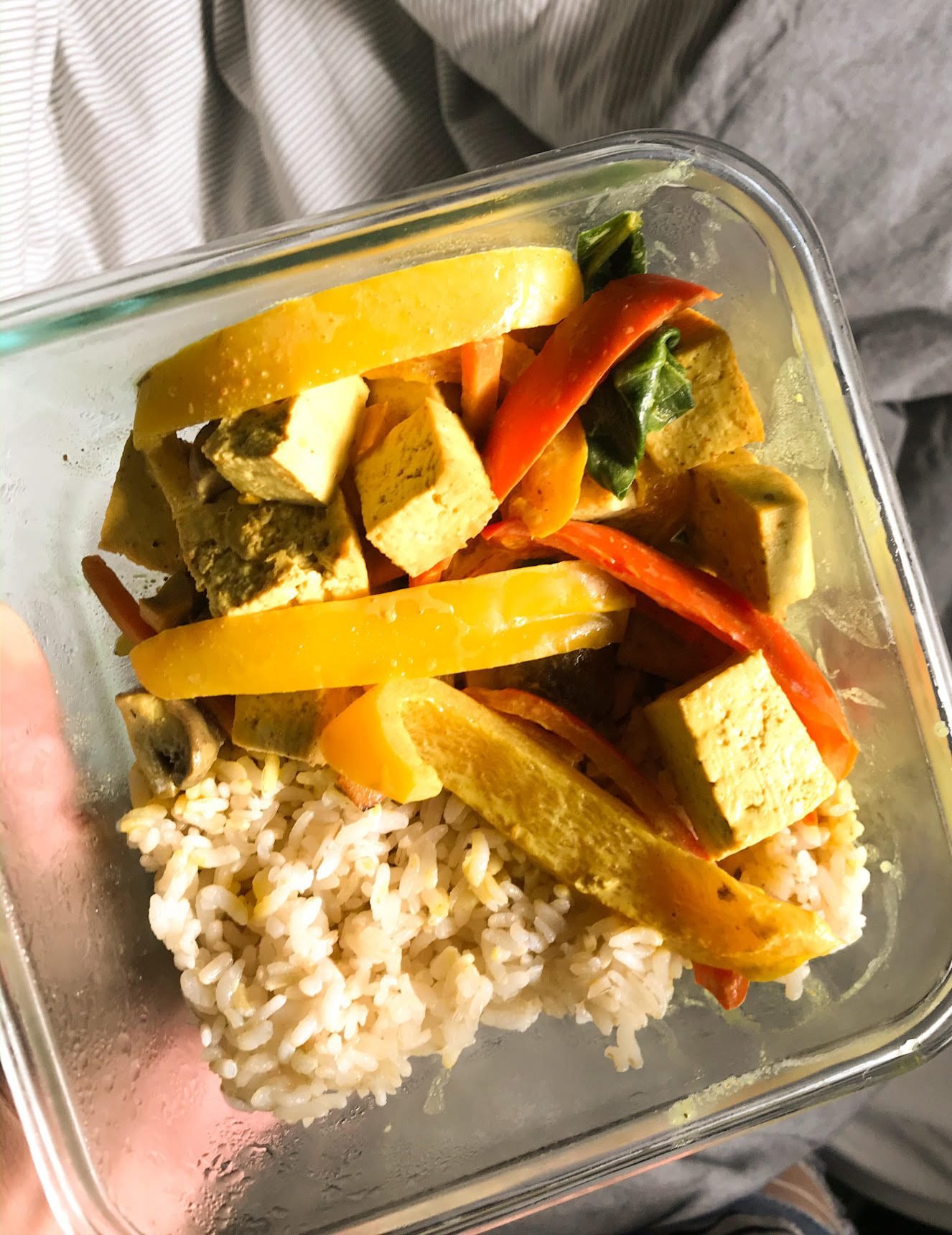 I don't typically snack through the day because I am usually full from my meals but if I need something to get me by I will have silk dairy free blueberry yogurt, a tortilla or veggies and hummus, or fruit.
In my What I Buy Grocery Shopping post, I mentioned the daily dozen app. If you haven't read that post, to sum it up the app will guides you through how many servings of each he suggests that you have to get adequate vitamins, minerals, all that good stuff. I haven't been using it lately but I plugged in my food today just to see how it would do. I will put the screen shots below, but I am pretty good on everything aside from cruciferous vegetables. I didn't eat any kale today (whoops). Pretty good overall, though!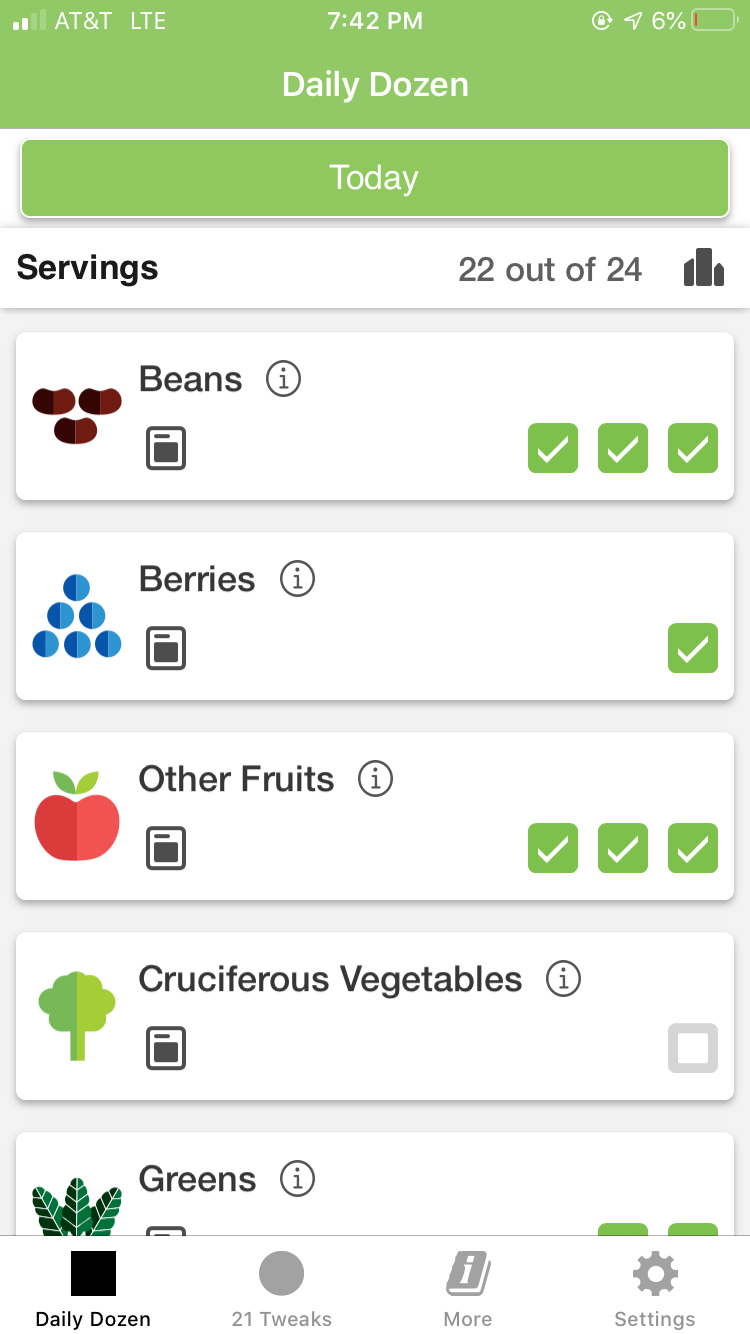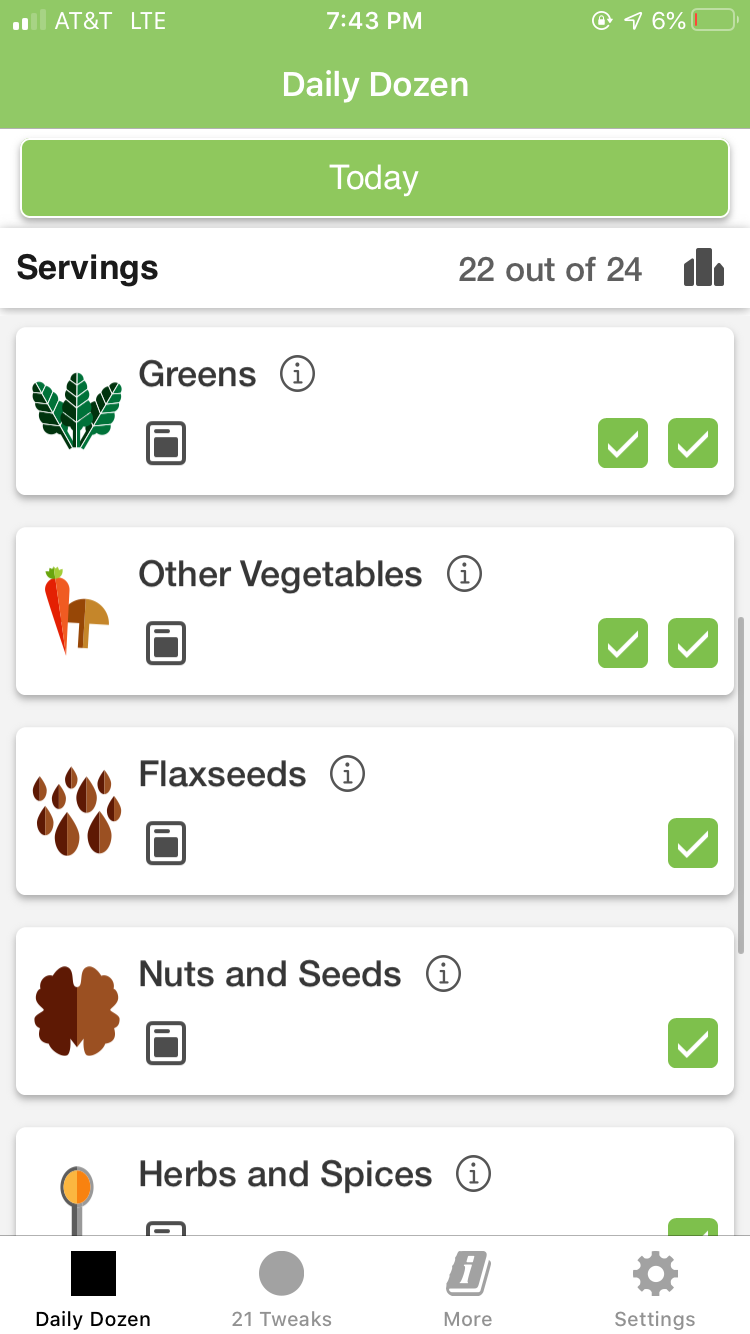 That's What I Eat in a Day as a Vegan, but everyday is a little different. What have you been eating lately? Comment Below!