I get a lot of questions from those who are genuinely curious, or lactose intolerant about my favorite vegan products. I decided to start a mini- series on my blog where I will rank some of my favorite substitutes for some of the staple 'omnivore' products. I plan on getting into alternative milks, cheeses, "meats", and ice creams, eventually. Today I am going to start out with some of the best vegan yogurts.
If you want to get into my story about why I became vegan then you can check out my post here. Before going vegan, one of my favorite foods was yogurt, especially Greek yogurt which I would eat almost everyday. When I first became vegan I stayed away from a lot of the vegan substitutes like the yogurt or faux-meats which just weirded me out. My thoughts on vegan-friendly substitutes has somewhat changed and I will occasionally add them into my diet, especially dairy free yogurt. At this point I feel like I've tried almost every vegan yogurt on the market and have my go-to products and my avoid-at-all-cost products.
Disclaimer: This post is not sponsored and all opinions are my own. These are the yogurts in the order that I prefer them by their flavor, consistency and ingredients.
The Best Vegan Yogurts
1. So Delicious Coconut Yogurt
So Delicious is definitely my favorite dairy-free yogurt that is currently on the market. They use a coconut base for their yogurts. This runs at about $1.99 per single-serving container. Since it's on the more expensive side, look out for sales and use that as your chance to stock up. The lime is my favorite, but all the flavors I've had are good. It's available at any health food store and most regular grocery chains. Usually there are more flavor options when you go to a health food store like Natural Grocers or Whole Foods. So Delicious also now has a newly released flip yogurt. They include a side of toppings like the Chobani flips that you can flip into the yogurt. I haven't found their flips at a grocery store near me yet, but as soon as I do I will be sure to grab one and update this post!
2. Oui Dairy Free Yogurt
I waited so patiently for Oui to finally release their dairy free yogurt. While I have never had their original yogurt, it just looks cute (can a yogurt look cute?). Anyways, they released the yogurt near me a few months ago and I was not disappointed. The base for this yogurt is coconut and usually they have fruit at the bottom on the container. The flavors feel a little more elevated, so I usually turn to these when I am wanting somthing for dessert. This will also run you about $1.99 and it comes in raspberry, vanilla and strawberry, which are all really good. I've only seen these at regular grocery stores, as far as finding them goes. The containers are also perfect to use to make little candles out of, or upcycle in some way since they're glass.
3. Silk Soy Dairy Free Yogurts
Silk has two separate kinds of yogurts, one with almond milk and one made of soy. The almond milk ones are definitely not for me, while I can stomach them I just don't like them. The blueberry and mango-peach soy yogurts are really good! It also comes in Strawberry but for some reason it tastes odd to me. These are more affordable than the other two and run about $1.49. These are my favorites to add toppings like granola and fruit into for a quick breakfast. These can be found at any regular grocery store or at some health/natural food stores. I probably eat these the majority of the time just because they are frequently on sale and I can get them for $1 each.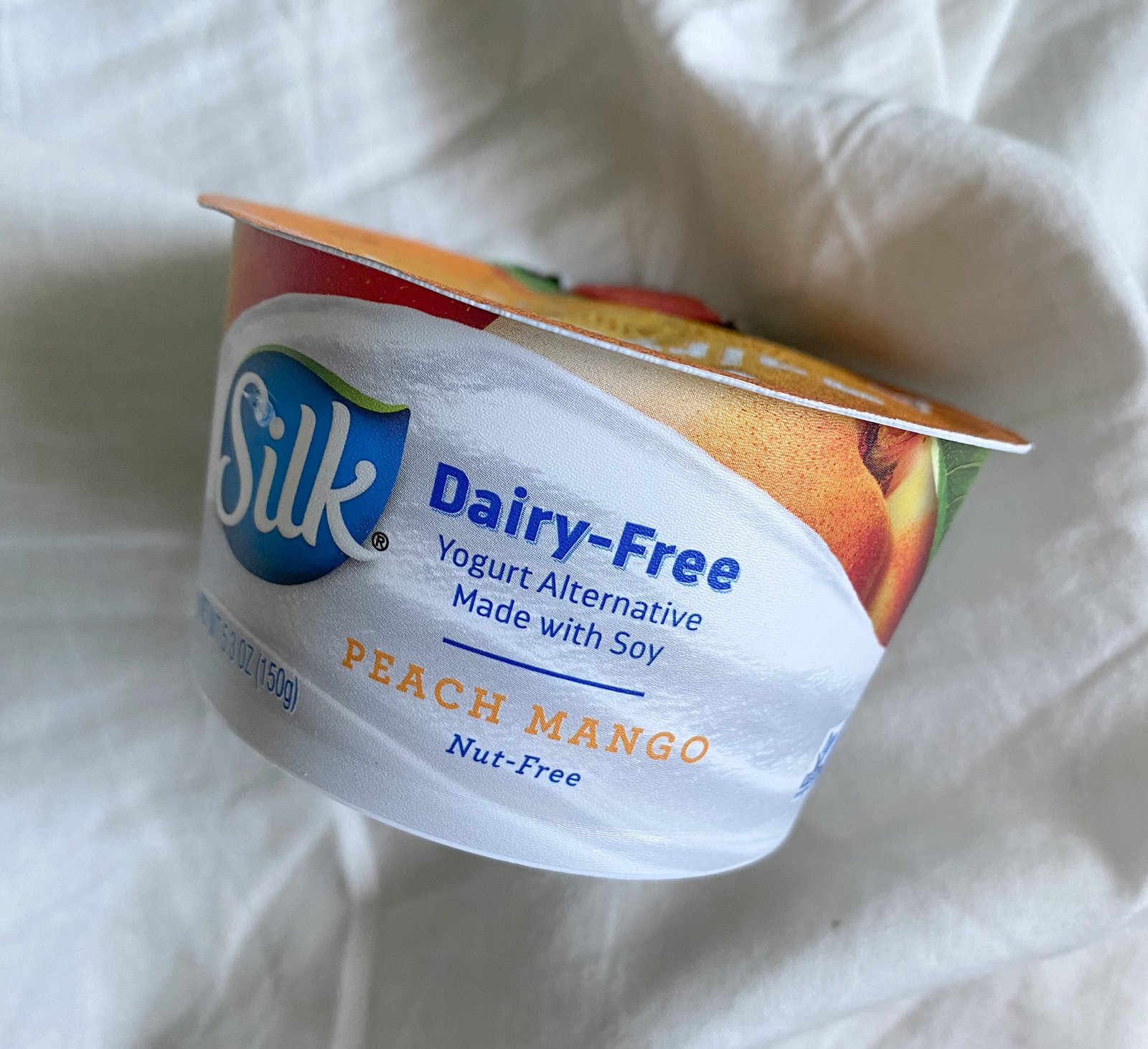 4. Kite Hill
Kite Hill has really good dairy free yogurt. It can be found at basically any grocery store, healthy food store, or natural grocers and it comes in so many different flavors. I have no complaints, but between pricing and liking some of the other vegan yogurts a bit better, I don't usually reach for it first. Kite Hill does offer one of the biggest selections in terms of flavors and their yogurt base is made from almonds. The other products that they offer are really good and it's my favorite brand for "ricotta" and pre-made ravioli, too!
5. Daiya Greek Yogurt
Daiya has had the closest replicable taste to Greek yogurt in dairy free form that I've tried. Daiya also has a version similar to Chobani flips and to me it tastes the exact same. The only problem is that it is so difficult to find! I can't really ever find it at any health food stores, natural grocers, or regular grocery chains. I've only lucked out once which is when I tried it. If you're looking for a good Greek yogurt replacement, it's hard to come by in dairy free form so don't pass up on Daiya if you can find it!
What to Avoid
I hate to admit that I've had vegan yogurts in the past that have made me spit it out and throw it away. I hate wasting food and even if it doesn't taste great I will still eat it just not to waste it. Dairy free yogurt that doesn't taste good is one of those things I can't force myself to eat, and usually it's because of the consistency or texture. Some of the not so great dairy free yogurts will have a gelatinous texture that does not go well with the taste of yogurt. Other times, the taste will have a really weird sour or tangy flavor that I can't get over.
From my experiences, if you're new to dairy-free yogurt, I would stay away from Trader Joe's dairy free yogurt (at all costs), LAVA dairy free yogurt which has a learn-to-love taste, and Forager if it's your first time having dairy free yogurt. These are yogurts that you have to become more accustomed to, or learn to love. Of course, everyone's texture and flavor preferences are different, these might be too much of a difference from normal yogurt to those who are just wanting to find a similar dairy-free substitute.
Have you tried Dairy-free yogurt? Let me know your thoughts on it in the comments below!