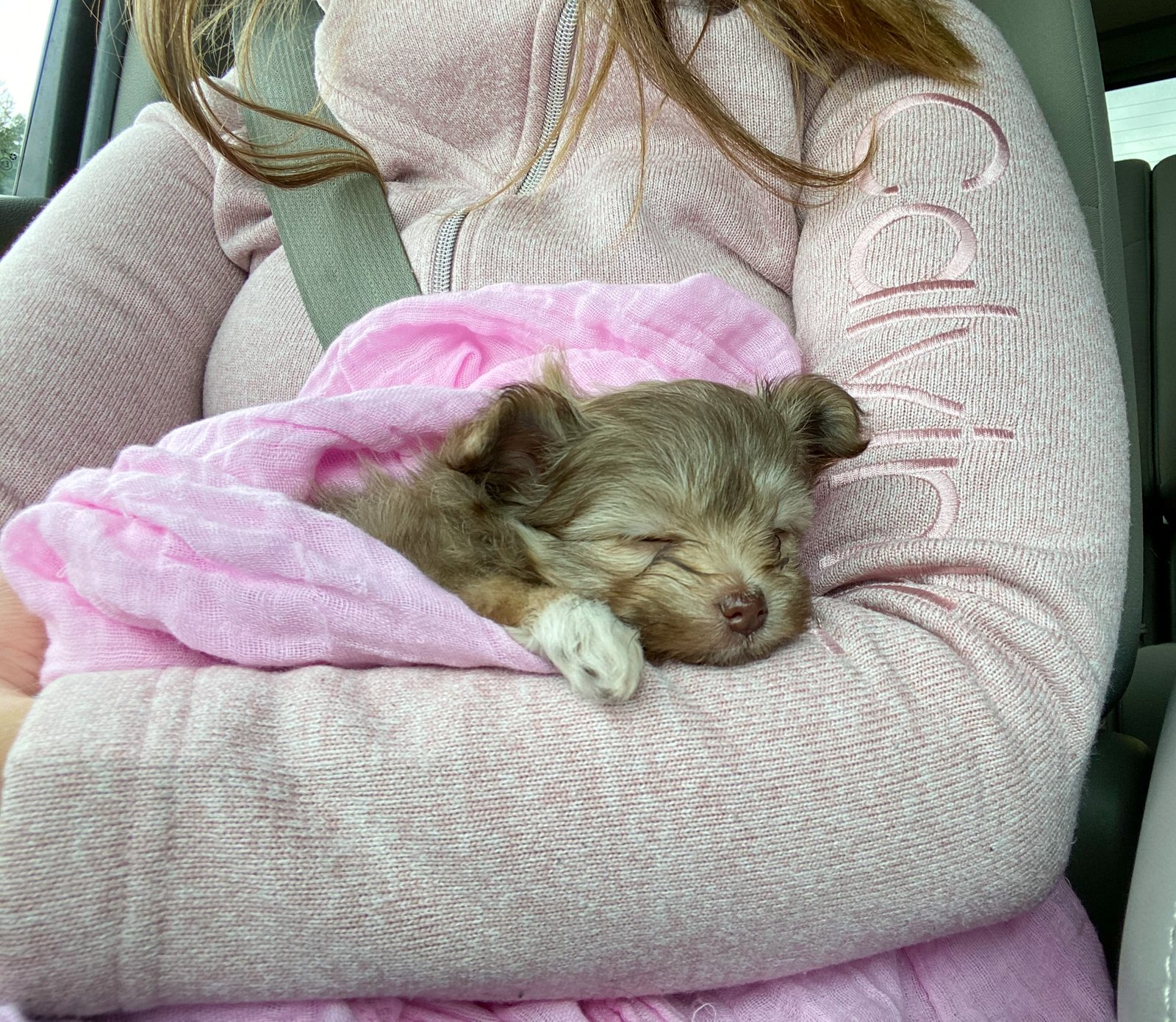 It hasn't been too long since I last updated my blog with a personal post, but I thought, why not? I posted another 12 things last March which you can find here. That was actually *before* the stay home orders and everything so as you can imagine, a lot has changed (as it has for everyone).
The format for this life update is a little weird since I'm combining this with my meet-the-puppy post, but I'm still splitting it up into different segments. If you're new to my 12 thing posts, it's basically a life update and I post 12 tidbits from my life, lately. Credit goes to Amber Fillerup! I don't post it every single month, but whenever I feel like it.
Disclaimer: This post contains affiliate links. If you use some of the links in this post to purchase anything I get a small commission at no price to you. The money goes to running this blog. You can read more on this here!
12 Things: April 2020 + Meet Hazel!
One
My birthday was earlier this month and it was weird not really being able to leave home, but it was still a nice day. We did curbside pickup for Petunia's Pies and Pastries, which is a vegan bakery in Portland. The cupcakes were delicious, of course.
Two
One of the things Danny got me for my birthday was Animal Crossing New Horizons. I don't really like video games, but I have been addicted to AC. It reminds me of my childhood when one of the older versions was my favorite game.
Three
I haven't been working because I had worked at a preschool and a lot of the families didn't need childcare anymore. They just announced that they would be closed until the earliest of July 1st. Everything feels so crazy and it happened completely out of nowhere. I had just finished school and I was planning on working a lot more and upping my vintage selling. Things have definitely changed…
Four
I failed miserably at Camp NaNo. I was planning on writing a whole other book this April, but I just lost interest in what I was going to write about. I'm more interested on finishing the piece I wrote in November. At this point it doesn't really matter because I know I can finish something, and it just isn't the right time to work on what I had planned and that's okay.
Five
Lately I've been taking a lot of walks with Danny and it's become one of the highlights of my day. This week, however, it's been raining a ton! It feel so much better to be at home when the weather is nice out. When the weather is dreary outside, I usually don't do anything and I start to lose my motivation.
Six
The current show I am working on is MasterChef. We are on season 7 and it is so good! Hell's Kitchen didn't air this year, which is what we usually watch. Anyone have any other good shows to watch? I also finished Too Hot To Handle which was sort of a knock off Love Island. It was okay but understandably, not everyone's cup of tea.
Seven
The other night for dinner, Danny and I made a ramen recipe from the Vegan Test Kitchen Cookbook. Danny got this cookbook so he could try making some vegan recipes when we're at his house. It's a really great cookbook for some basic recipes and new vegans (or those vegan-curious). There are so many recipes, too!
Eight
We got a puppy! Her name is Hazel and she is currently 6 weeks. We were walking our dog, Lulu when our neighbors had brought them out for the first time last week and one of them was unclaimed. She is the pup in the pictures in this post. She has grown so much in just the week that we first saw her! Her hair especially is out of control now and makes her look much bigger than she actually is.
Nine
Hazel is a shih tzu + maltese mix & only weights 1 lb 12 oz right now. She loves to bite and is obsessed with feet. She plays for about 20 minutes at a time and goes nuts, then she knocks out for a couple hours. I love that she is playful when she is awake! Lulu wasn't as playful when she was a puppy and definitely isn't now that she is older.
Ten
Lulu, our other pup who is 8 years old and also a shih tzu + maltese mix isn't loving the new puppy. She acts like she is scared and whenever Hazel comes close to her she tries to get as far away as possible. She will also ignore anyone who pets Hazel and will just sit facing the wall. I read that it takes about 3 weeks for adult dogs to get use to a new puppy and its only been a couple days, so I'm sure she will come around.
Eleven
We are trying to take Hazel on lots of car rides while she is young because Lulu is absolutely terrified in the car. She basically gets an anxiety attack whenever she goes on a ride since she didn't ride much in the car unless she was going to the groomers or the vet. CBD oil helps her a ton in the car, but hopefully it doesn't have to come to that for Hazel. Hazel will shake for a little bit when we first start driving, but gets comfortable and falls asleep after a couple of minutes. It's a work in progress.
Twelve
I've finally reached the point in quarantine where I am feeling super unmotivated. I just feel sort of blah all the time. I started Kayla Itsine's BBG workout program yesterday and I plan on getting back into half-marathon training on a couple of the off days (with at least a day of rest), so hopefully that will resolve this feeling.
That's it for my 12 Things: April 2020 edition. What have you been up to this month? Let me know what you've been doing this quarantine in the comments, below!