Disneyland is one of my favorite places to visit! I took my first trip to Disneyland after going vegan this last fall and realized that Disney does a pretty good job with their vegan options. Most places had at least ONE thing on the menu that is vegan or can be made vegan. Just because you're vegan, doesn't mean you have to sacrifice delicious park food. If you have an upcoming trip to Disney and wondering what vegan food you need to try, I'm covering the best vegan food and drinks at Disneyland, in this post.
The Best Vegan Food and Drinks at Disneyland
Tips for Finding Vegan Food and Drinks at Disneyland
Before we jump into the list, I wanted to go over how you can find vegan food at Disneyland. They've made it really easy in recent years!
Making Reservations
For many restaurants, you are going to need a reservation. First, make sure you have the Disneyland app. You can download this in the app store if you haven't already. If you want to make reservations to Disneyland restaurants, you can in the app up to 60 days before your trip under the 'Check Dining Availablity' section. Do this as soon as possible because reservations sell out quickly! There is also no guarantee that you will be able to get a walk-in while at Disney and a lot of restaurants don't accept walk-ins.
Finding Vegan Options on the Menu
You can view the menu for the restaurants under the 'Check Dining Availability' section before making reservations when you click on the desired restaurant. For sit-down restaurants like the Lamplight Lounge, you'll need to go through the menu to look. The vegan option typically has Impossible in the title like the Pastrami-spiced Impossible burger, for the Lamplight Lounge.
For more convenient food options that don't require a reservation, view the 'Order Food' section of the app. If you view the regular menu there is no plant-based indication. However, if you select 'Order Food' which is the middle option, you have the choice to sort the selection by plant-based for restaurants that have options.
The Best Vegan Food and Drinks at Disneyland
I have not tried every vegan option at Disneyland, so these are just some of my favorites that I did get to. I did notice that California Adventure had far better options than the Disneyland Park. If you have the park-hopper pass, consider structuring your days around where you want to get food if that is an option!
Disneyland
1. Cauliflower Tacos at Rancho Del Zocalo
While this is advertised at quick-service, the last time I visited you needed a reservation at Rancho Del Zocalo to try the cauliflower tacos. The cauliflower tacos are served with cabbage slaw and a tomatillo sauce served with rice and beans.
2. Cauliflower Steak and Grits at the Blue Bayou
It can be difficult to get a reservation at the Blue Bayou. It's located in the same building at the Pirates of the Caribbean ride and has a great ambiance if you do manage to get a reservation! This meal at the Blue Bayou consists of Romanesco Sauce, Mushroom Chips, Cajun Cheddar, Wilted Greens, and Shishito Chimichurri. This is a pricier sit-down restaurant in Disneyland.
3. Vegetable Skewers at Bengal BBQ
If you're looking for a pretty basic walk-up option, the Bengal BBQ is located in Adventureland. You can get the vegetable skewers with rice. The vegetable skewers have zucchini, summer squash, red onion, peppers, and mushrooms but can vary by visit. There is also a citrus-miso slaw on the side that was also really good and gave the meal more of a sauce!
4. Dole Whip
Possibly one of the most famous and loved food in Disneyland! You have to grab this classic if you are in the park. Located next to the Tiki Room, you can grab a dole whip in a cup, or a dole whip float. The dole whip float contains the classic dole whip in pineapple juice. This is what I opted for on my latest trip to the park.
5. New Orleans Mint Julep at the Mint Julep Bar
This isn't food, but a drink that you should get while in the park! It's refreshing on a hot day. You can also add flavors that vary depending on the season in the park. Some options are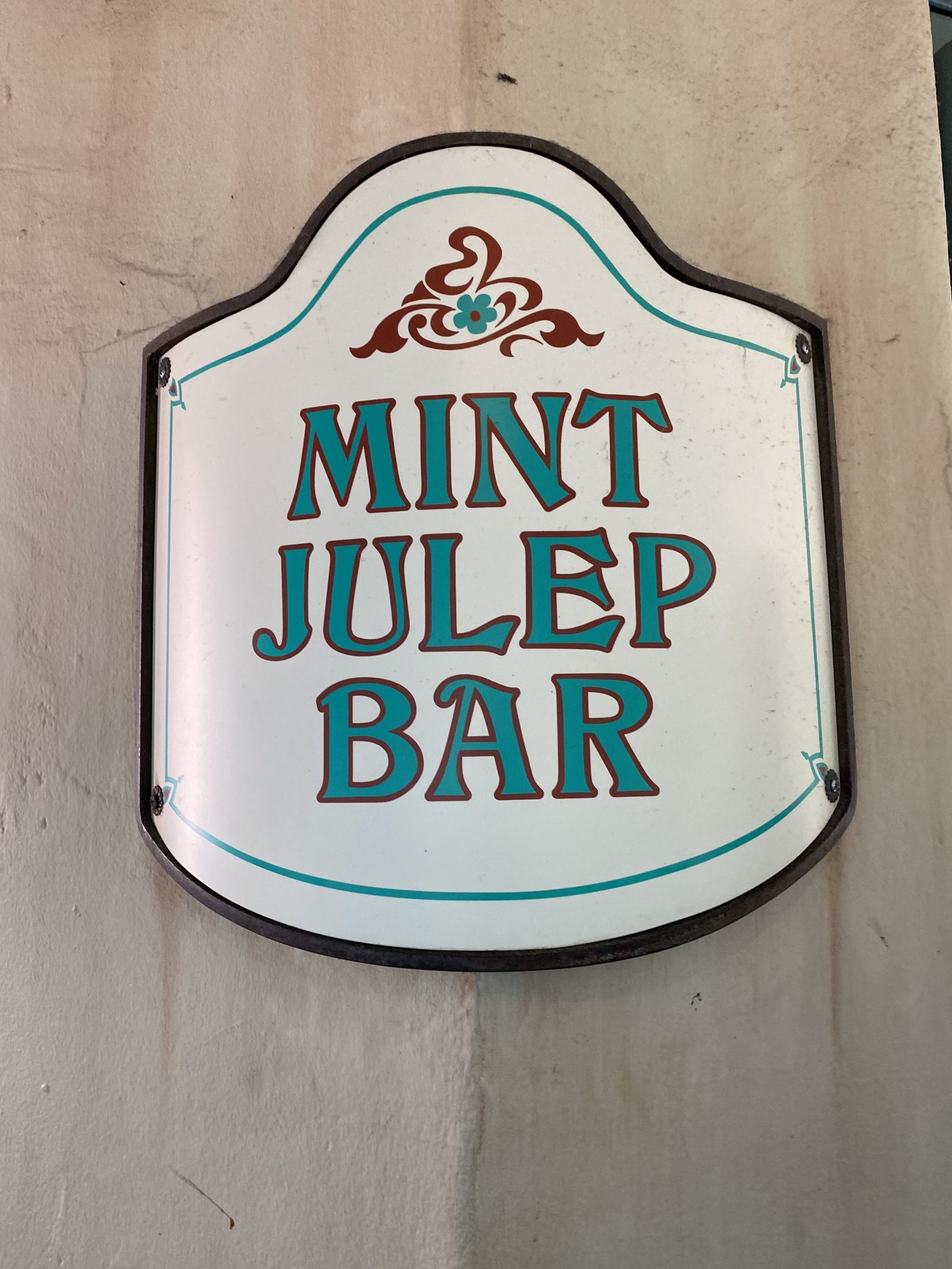 What not to get: I would stay away from the veggie wrap at the Galactic Grill. It was really not that great.
Other Options:
For a full list of vegan food and drink options in the Disneyland Park, check out this post from another blogger here.
California Adventure
1. Plant-Based Backlot Nachos at Studio Catering Co. Truck/ Hollywood Lounge
These backlot nachos were one of the best things that I ate in DCA! These nachos contain soy chorizo, house-made tortilla chips, dairy-free nacho cheese, a dairy-free crema, and green onions. You can find Studio Catering Co. Truck/ Hollywood Lounge in Hollywood Land.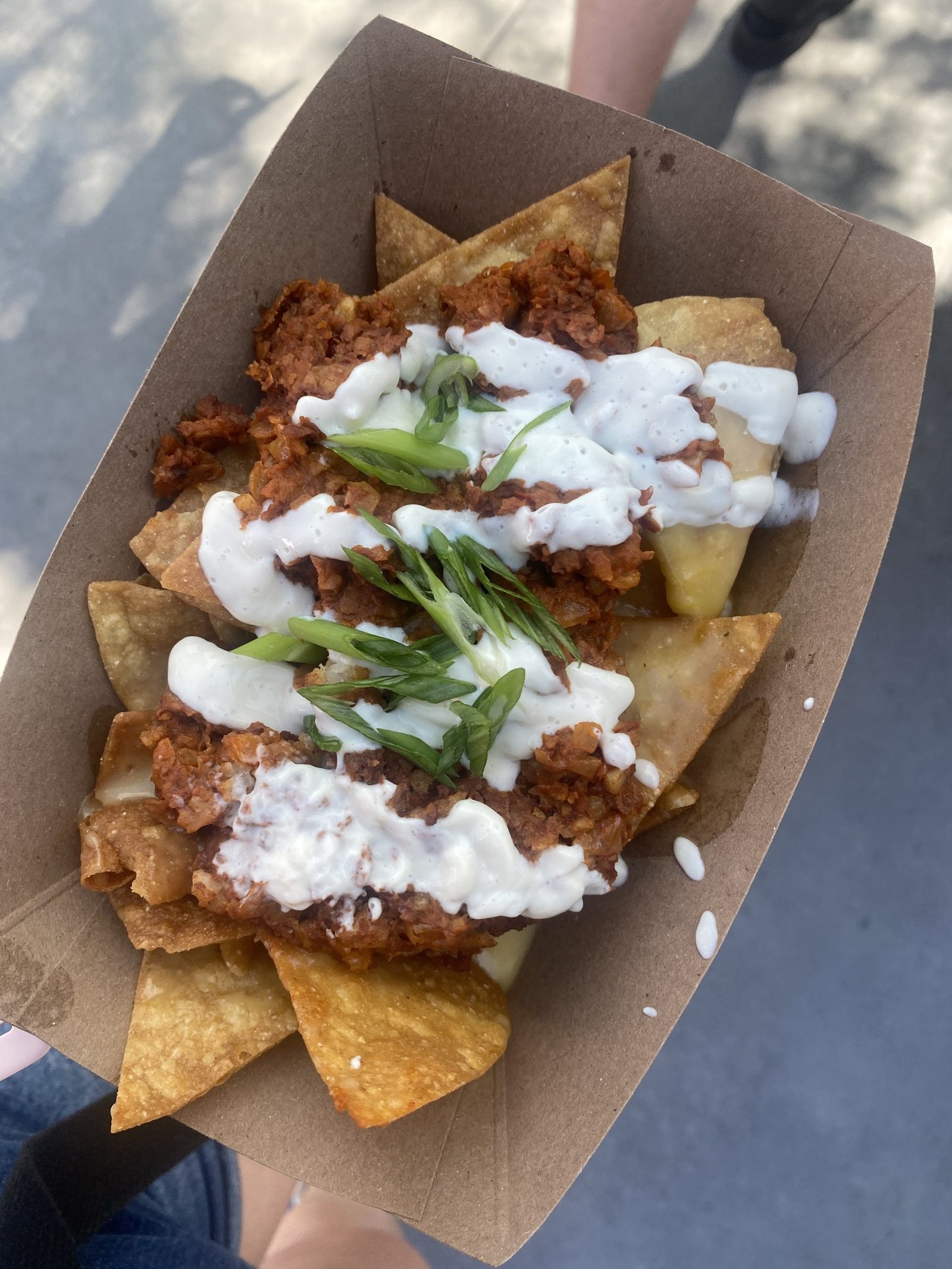 2. Impossible Victory Falafel at Shawarma Palace
I had low expectations, but this falafel wrap was delicious! You can find this option in Avengers Campus at a cart. This wrap contains falafel, garlic spread, hummus, coconut yogurt-tahini, and pickled vegetables.
3. Plant-Based Philly Dog at Award Wieners
This plant-based option is a Field roast hotdog topped with mushrooms, grilled onions, grilled peppers, and a dairy-free crema. You can get a side of the fries with it or mandarin oranges. You can find Award Wieners in Hollywood Land.
4. Apple Empanadas at a Food Cart Near Paradise Pier Grill
I believe that the apple empanadas are only available during the Halloween season but you have to grab them if you're visiting in September or October! These empanadas are accidentally vegan and have a warm apple pie filling inside a cinnamon-sugar crust. These are located at a small food cart near the Paradise Pier Grill.
5. Pastrami-Spiced Impossible Burger at Lamplight Lounge
Something else I had low expectations for. This burger was also a fairly good option at the Lamplight Lounge! This burger contains an impossible patty, vegan American cheese, pastrami-spiced pineapple, housemade pickles, and mustard aioli on focaccia bread. You'll also get a side of malted fries. This is a pricier sit-down restaurant in Disneyland California Adventure.
6. Drinks at Pym's Test Kitchen
All the drinks at Pym's test kitchen were really good! The drink pictured is the Honey Buzz which does contain honey so it's not vegan. However, I tried a few different drinks that here and can confirm that they are all really good, albeit a bit spendy.
Other Options:
For a full list of vegan food and drink options in Disneyland California Adventure, check out this post from another blogger here.
Final Thoughts
That's it for this post! I will be updating with future trips to Disney or as they release more options. While I think that Disney is doing a great job at adding more vegan options on their menus, I'd love to see even more quick-service or food-cart options in the future!
Want more travel-related content? Check out some of the posts linked below!