Last weekend Danny and I decided to visit Astoria, Oregon! If you haven't heard of Astoria, it's a small beach town in Oregon, close to the Washington border. Astoria is most famous for being the filming location of Goonies. It's the perfect destination for a day trip or weekend stay if you live in the Portalnd area. A lot of the buildings are older and have so much charm compared to other towns and cities in the area. It was such a fun time so I thought I would share some photos + what we did there. I've been wanting to feature more of these on the blog, but the last that I've done like this was for San Diego.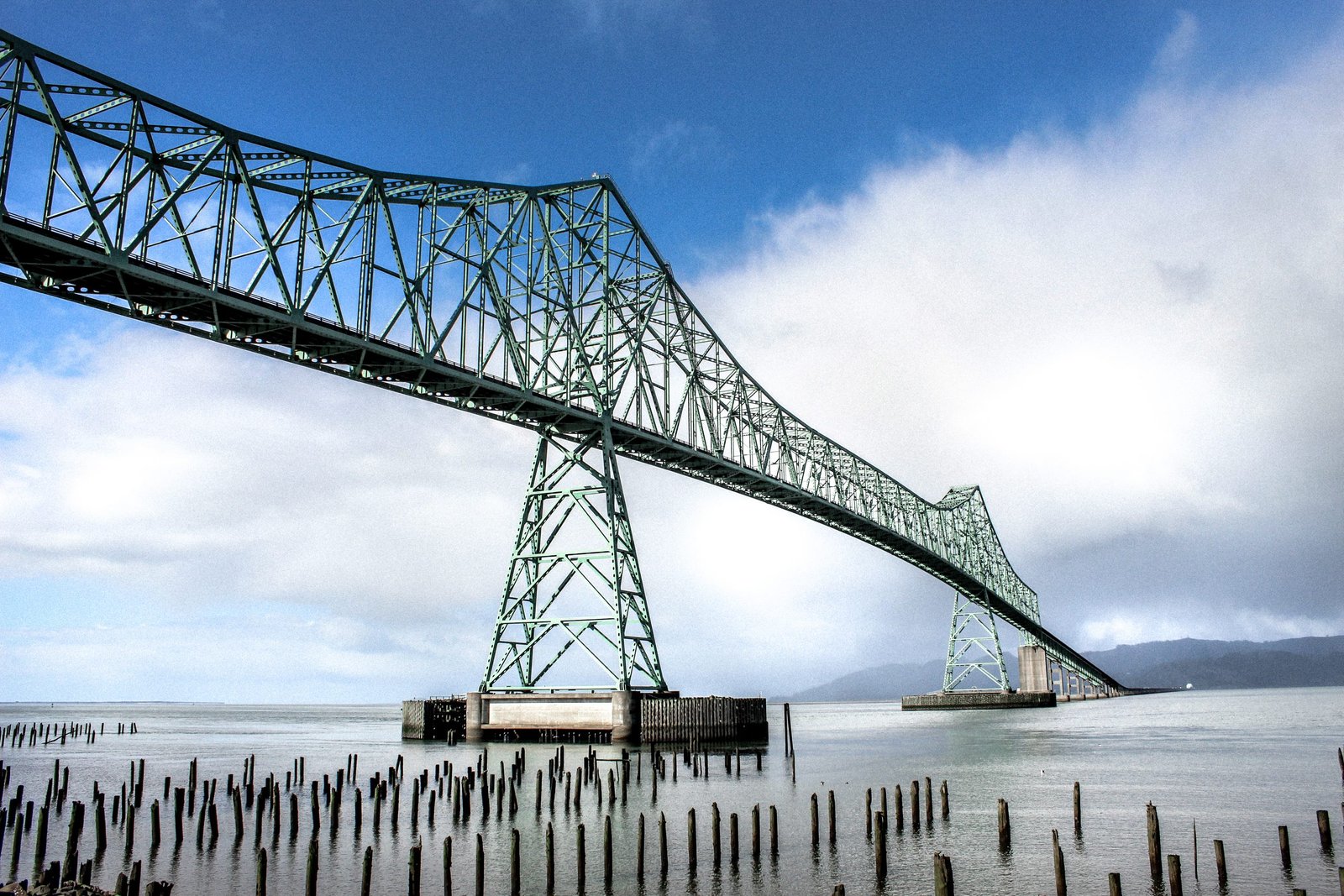 Astoria, Oregon Travel Diary
We were on the road by 9 am and t took just under 2 hours to get to Astoria. By 11 am we were parked and already walking around the downtown strip. Most of the shops didn't open until 11 am so this was perfect timing for that area. When we parked we could hear the sea lions down at the pier. We walked to the waterfront and some of the sea lions were playing with each other and they were SO loud!
The Waterfront
On the waterfront, there are tracks for a trolley that runs on the weekend. We walked along the tracks because it provided the perfect view of the waterfront. I'm not sure how far the tracks go, but we made it just below the Astoria-Megler bridge (pictured above). The bridge is just over 4 miles long and it was the longest truss-bridge at the time when it was built in the 60's.
We were starving at this point and I plugged in Blue Scorcher Bakery and Café in my phone. Once we made it there we ended up settling on Fort George, a brewery right next door. We were more in the mood for lunch than breakfast and it did not disappoint.
Fort George Brewery
Fort George Brewery was in such a beautiful building. The outside was covered in windows and the inside it looked like a renovated industrial building. There were huge tropical pants above the booths, green painted concrete, wooden rafters, and a huge glass garage door that can be pulled up when the weather is nice. I didn't get anything to drink, but they had a great selection and a ton of stouts. I'm not the biggest fan of stouts, but it's Danny's favorite.
They had plenty of vegan options all across the menu for me (most breweries within a couple of hours for Portland usually do). I ordered the Kelly Burger which was basically a burger with the works but vegan. It had a housemade vegan burger, vegan mayo, vegan cheese, all the other toppings. It was also on a housemade ciabatta bun. The picture below doesn't do it justice (because it just shows the top of my burger) but it was so good! I would probably rate it as one of the best vegan burgers that I've ever had. They can be so hit or miss.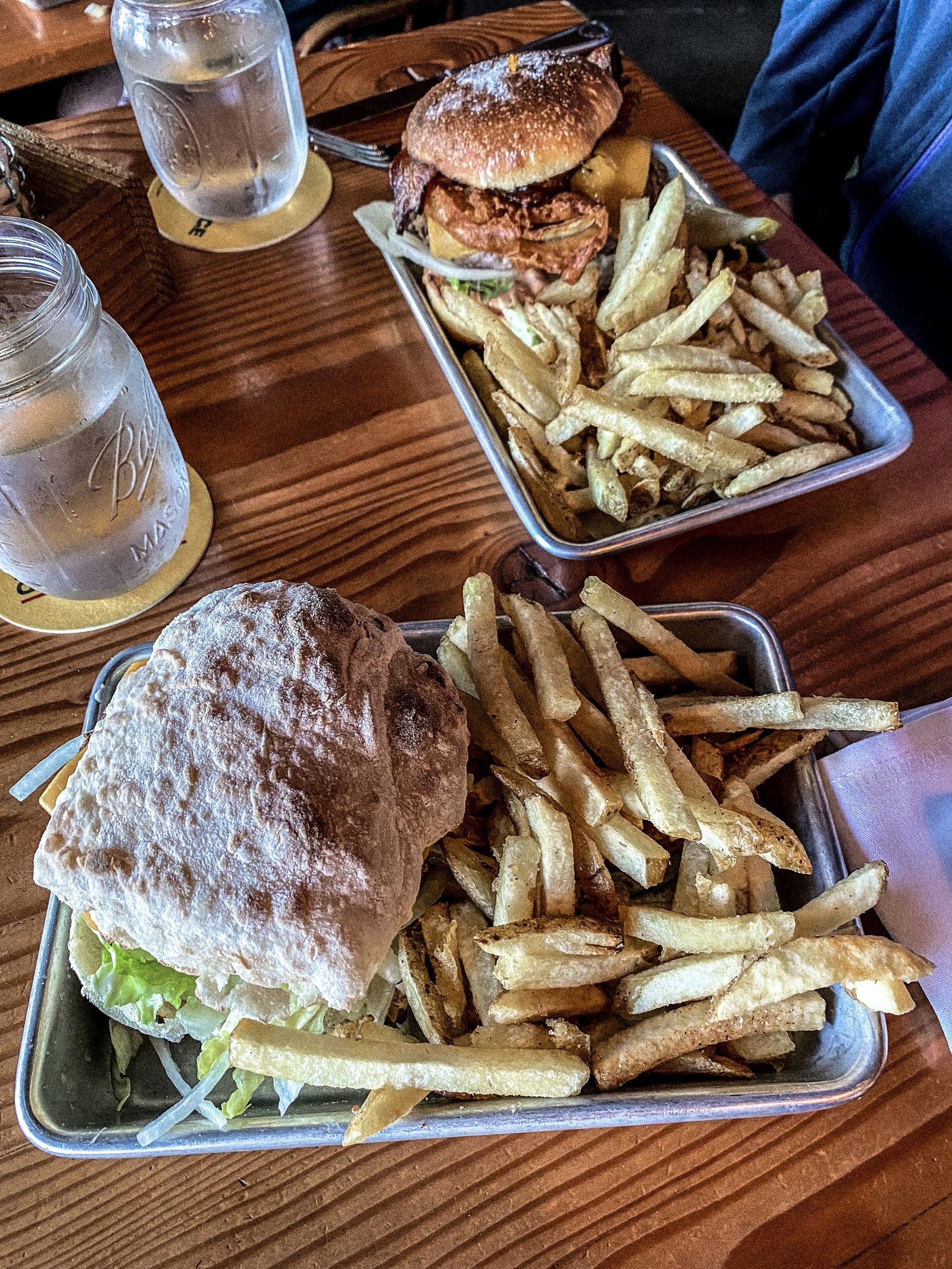 Astoria Shops
After we ate, we had time to explore some of the shops downtown. We went to Vintage Hardware which just had a bunch of old vintage hardware (surprise, surprise) for adding a unique touch for your remodels. It was still cool to look through and see some of the pieces that they had. They had a huge mosaic sink that I *loved* along with some other cool pieces.
Another really cool shop we went into was called Flower Haze Vintage. This shop was for vintage around the 60's- 70's which isn't exactly my style, but still cool to look at! They had great prices too. Some of the coolest things we saw was a superman vinyl player, 80's Barbie carrying boxes, and a bunch of 60's huge flower broaches.
I didn't realize before taking this trip and walking around, but Astoria has a lot of mini food cart pods. They looked like they'd be good too, so if you're short on time it would be the perfect option.
Fort Stevens State Park
After we were done exploring some of the shops, it was early afternoon and we decided to go to Fort Stevens. Danny and I love watching Ghost Adventures on the Travel Channel and they spent an entire season in the PNW. Their first episode took place at Fort Stevens and I was so ready. I've been to Fort Stevens, but it's been awhile and it was definitely pre-Ghost Adventure days.
Our first stop was the Shipwreck of Peter Iredale. It's the remaining frame of a ship that had wrecked in 1936. There were a lot of people around the ships and climbing on it, so I didn't get many pictures of it. I honestly don't know how I managed to get the below picture without anyone in it. The beach, overall, wasn't too crowded. It was the perfect day for a beach trip in the PNW because it was actually sunny and not freezing cold which is rare in February. I would love to come back to this spot some other evening because it would be perfect to take pictures here during sunset!
Maybe this is an unpopular opinion, but I feel like Washington beaches just have so much more character than Oregon beaches! I mean we were basically on the border of the two states, but Washington beaches have more trees, rocks and driftwood on the beach. Here was our view here (which who am I to complain since I could drive an hour and a half and get to a beach in the first place!).
After we visited the shipwreck, we went to the Battery Russell which was only a few minutes away. The Battery Russell definitely gave off all the spooky vibes. I've been to a couple forts in the past around Washington and Oregon, but it's always cool to explore. We hung out here for a bit until out of nowhere it started pouring down rain and we ran back to the car because we didn't have coats.
In the future I would love to camp at Fort Stevens. Apparently people hear whispers and see figures. It also has a lot of trails that we didn't get to explore because of the rain. The picture at the shipwreck was taken only 10 minutes before and there were blue skies, so the rain really came out of nowhere!
If you're in Northern Washington, Port Townsend is a town that has the same vibes and a lot of the same attraction as Astoria. In Port Townsend you can visit Fort Worden which is actually on a rocky beach and you can hike up a cliff for a great view. It's a lot closer than Astoria would be, and it's just a little ways away from the Olympic National Park. Basically the perfect day trip from Seattle.
As it got later…
We decided to head back. It was still had a 2 hour drive and both had to work the next day. There was some killer traffic that we didn't anticipate because they were doing road work on one of the bridges we needed to cross.
Astoria is the perfect day trip from Portland if you're looking for a charming town, are a ghost enthusiast, or love the Goonies (because obviously you have to visit the house!).
That's it for my mini Astoria, Oregon Travel Diary… but I have some questions for you:
Have you ever been to Astoria?
Would you stay in a haunted campground?
What do you like to do when you visit beach towns?
Thanks for stopping by!