I don't typically do reviews unless I find products I absolutely love or want to share. Today I am coming to you with a review of an affordable camera bag option. This post is going to be a review of the BAGSMART camera backpack.
When researching discrete camera bags options, I came across the Brevite Camera Backpack. It checked some of the boxes for me. It had a discrete and minimalist appearance, it has a laptop, and can hold a 32 oz water bottle. While the option of a Brevite backpack included a lifetime warranty, the backpack itself is $129. This backpack is also not waterproof. I knew I would be taking whatever camera bag I decided to buy on hikes with me and it rains *a lot* in Washington. The addition of the rain cover added another $25 to the already steep price.
While I decided against the Brevite camera backpack, I ended up finding a dupe that is cheaper, waterproof, comes with a rain cover and is available on Amazon. Seriously, I think I hit the jackpot with this camera backpack. In this post, I am going to be doing an in-depth review of the BAGSMART Camera Backpack including features I like + don't like.
Review of the BAGSMART Camera Backpack
Disclaimer: This post contains affiliate links. This means that I get compensated a small amount if purchased through one of these links at no extra cost to you. I always only link products I truly love and any profit made goes to running this blog. Thank you for your support! For more on my disclaimers, you can click here.
Overview of the BAGSMART Camera Backpack
Price: $37 – on sale as of writing this! The price is usually $45.
Dimensions: 10.2 x 5.7 x 14.6 inches
Weight: 1.65 lbs
Volume: 11 L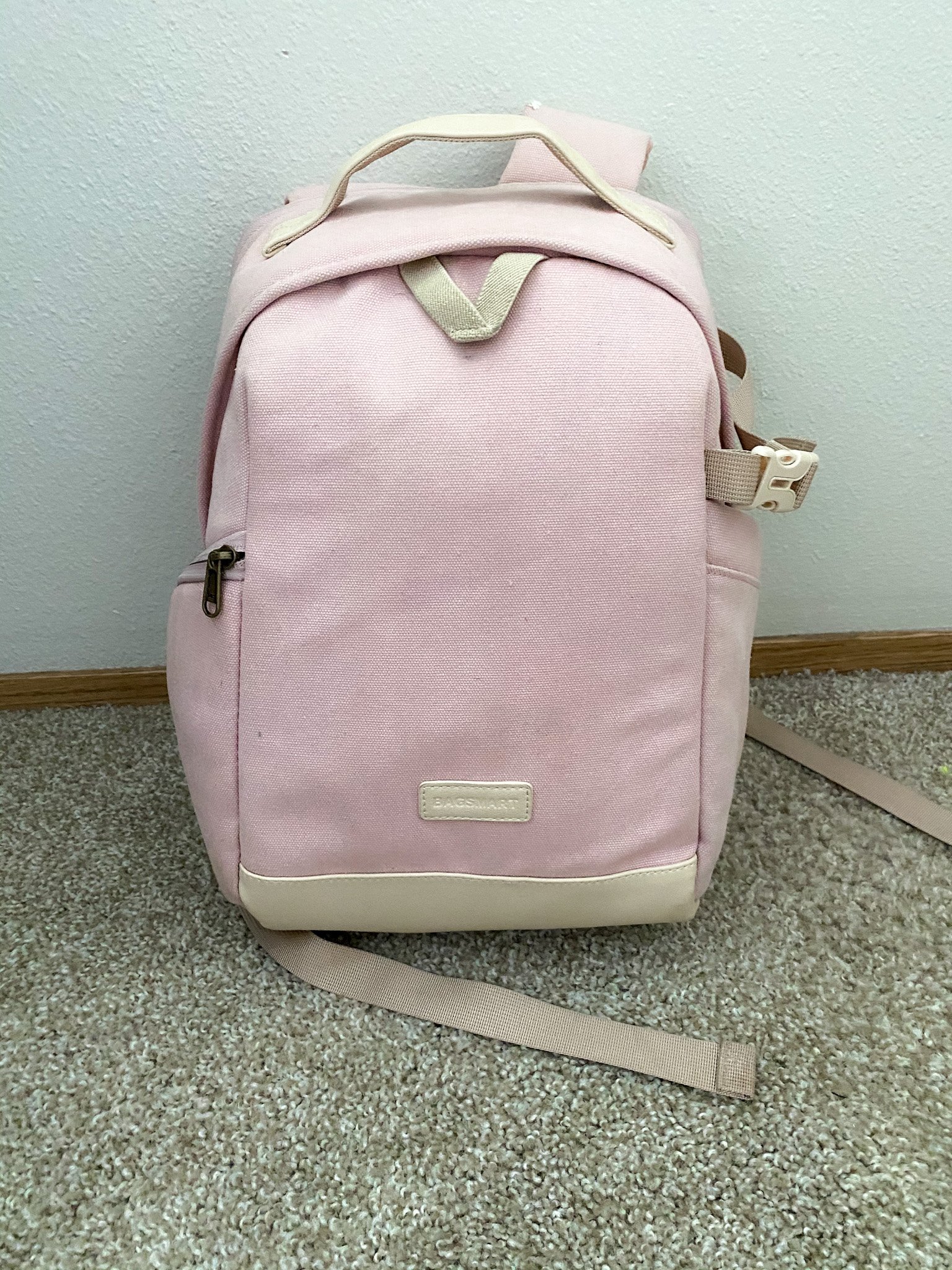 The appearance of this backpack is similar to that of the Brevite Camera Backpack. It has a discrete design that looks more like a backpack than a camera bag. This is great for when you are traveling so that your camera bag doesn't become a target to be stolen. As of now, the only colors offered are black, brown, or light pink. This backpack also has a laptop sleeve that can fit up to a 13.3-inch laptop. There is also one pocket for a tripod or a 32 oz water bottle. It is just big enough to fit my Hydroflask.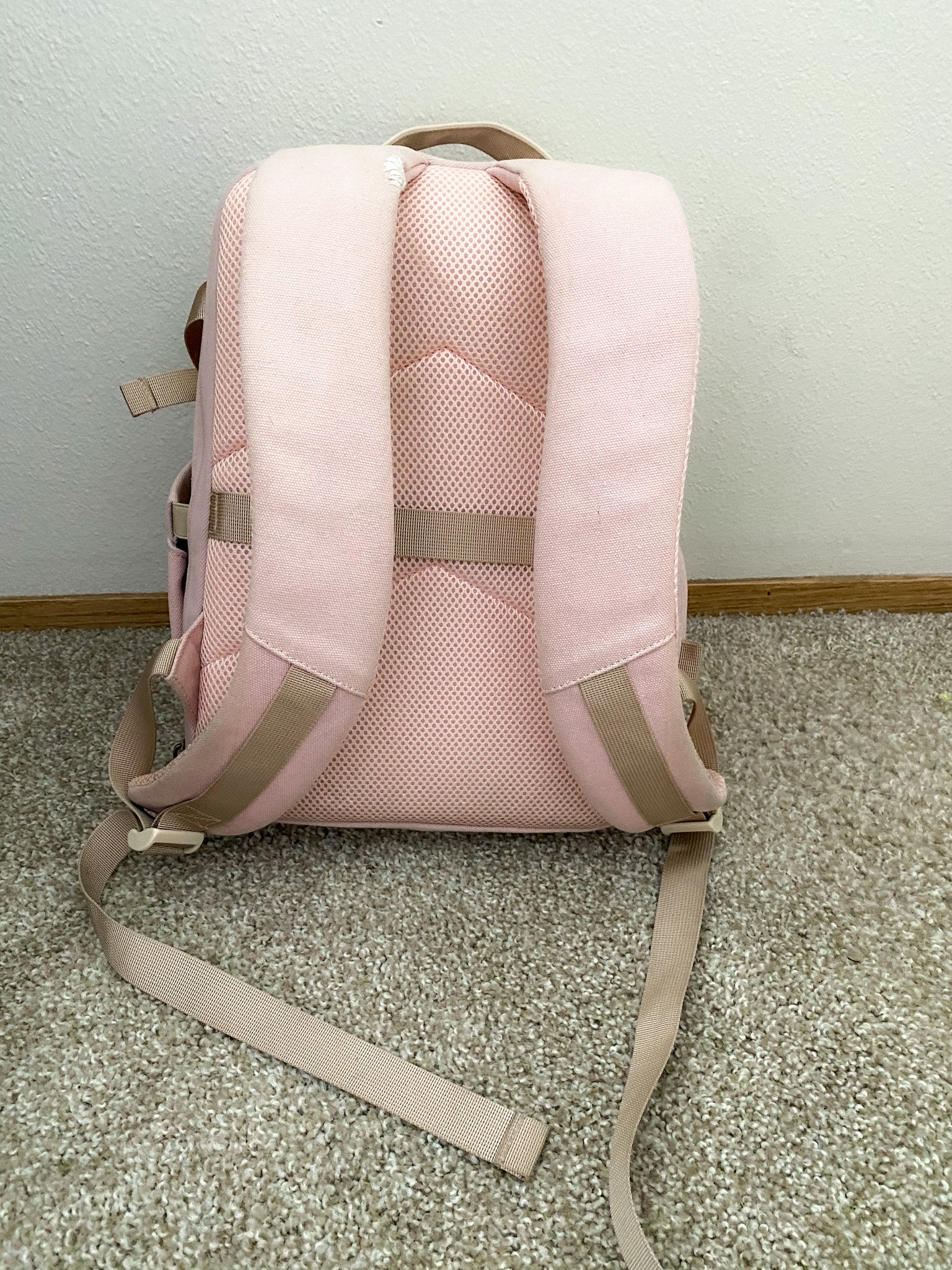 Compartments
To get into the bag, there is a quick access pocket that you can unzip. To get into the main pocket of the backpack, you'll have to use the zipper in the back of the bag, near to where your back would be. Once unzipping this zipper, it can lie open flat and you can access the laptop sleeve, or unzip a second zipper to access the camera portion.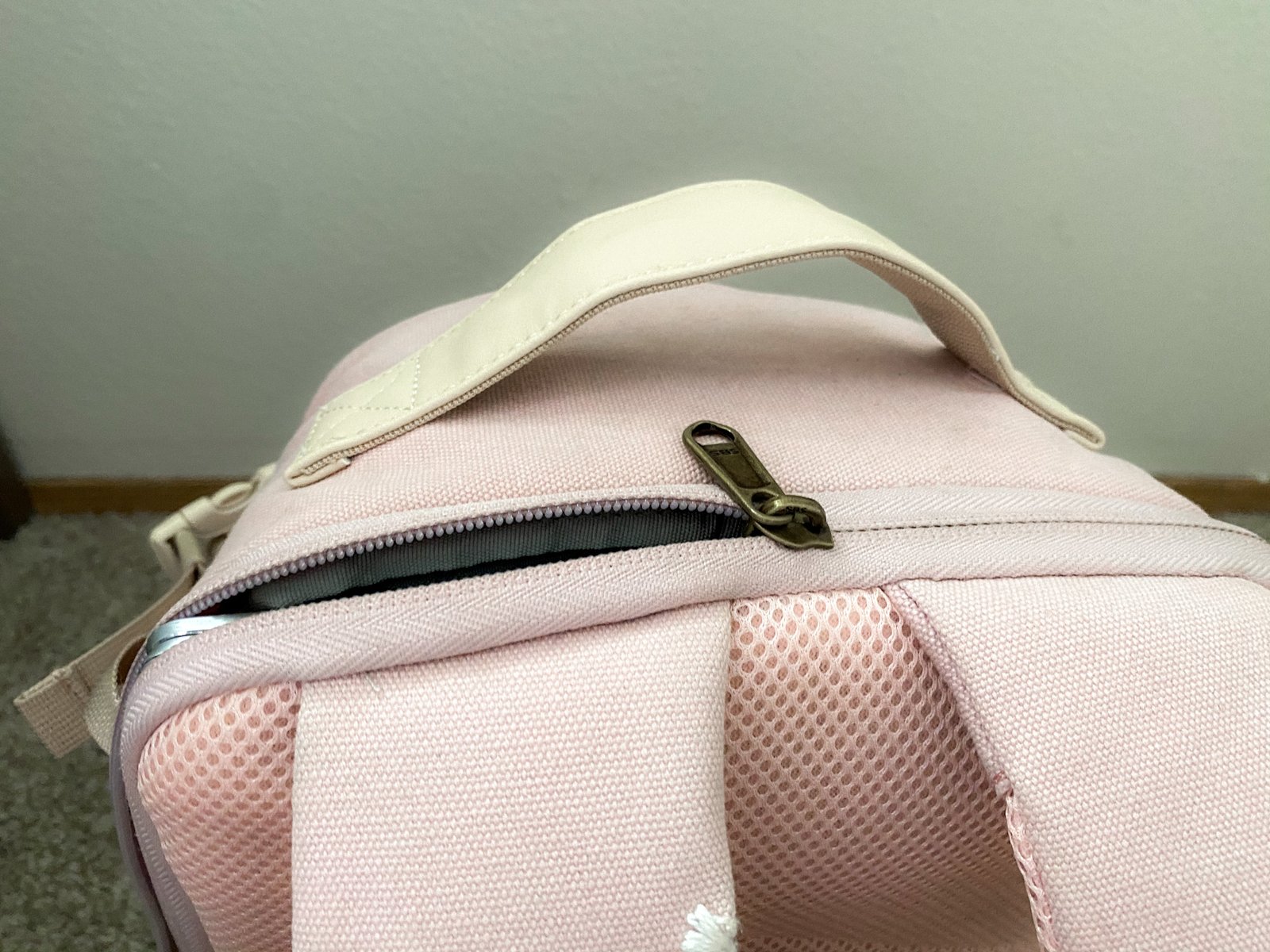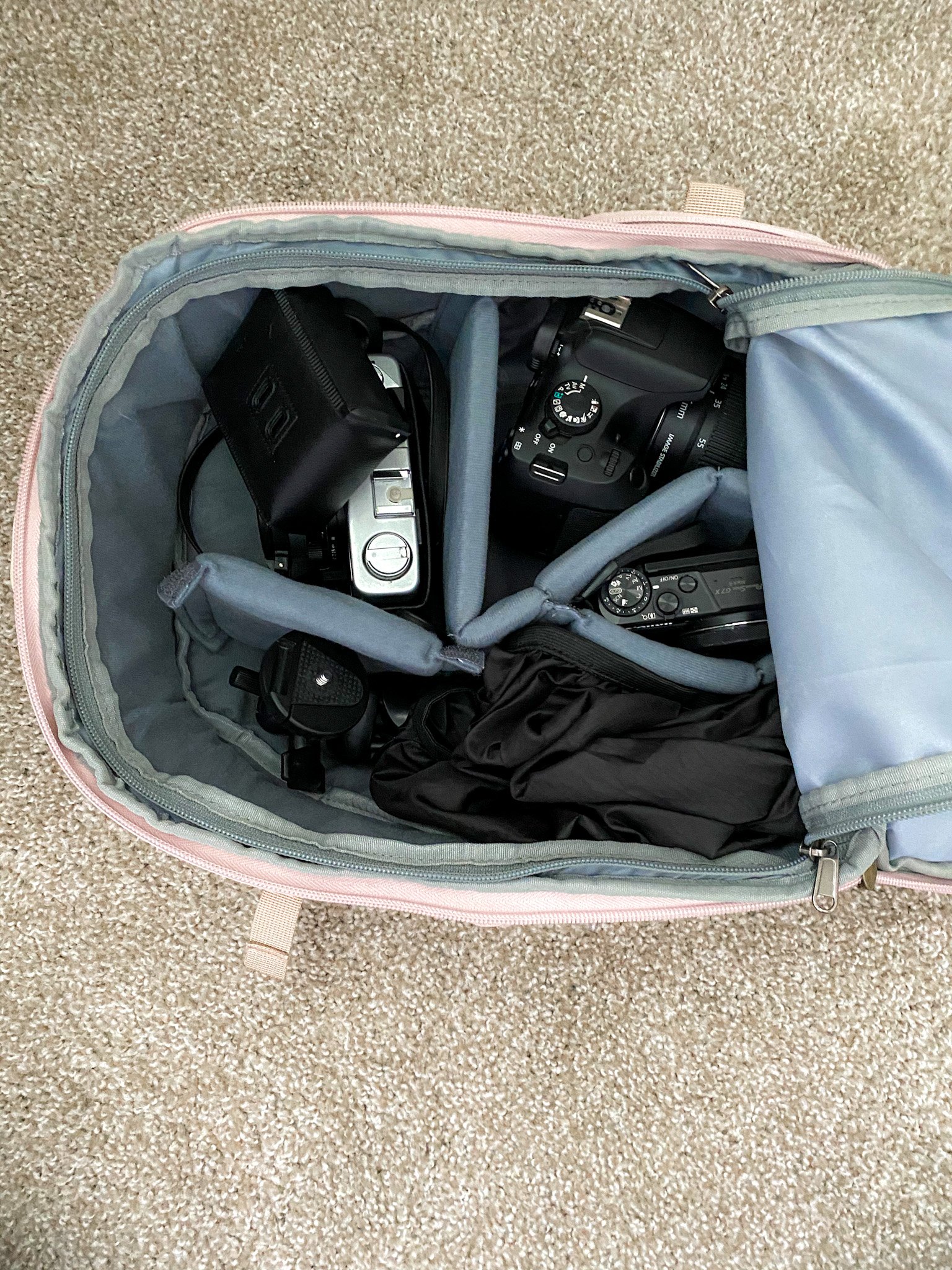 I love that this bag comes with six removable dividers so that you can arrange the bag to where your cameras fit snuggly. The entire inside of the bag is also padded to protect your drones or cameras. For your smaller memory cards, there are two small pockets. These pockets are located in the quick-access compartment to be able to better reach a new SD card.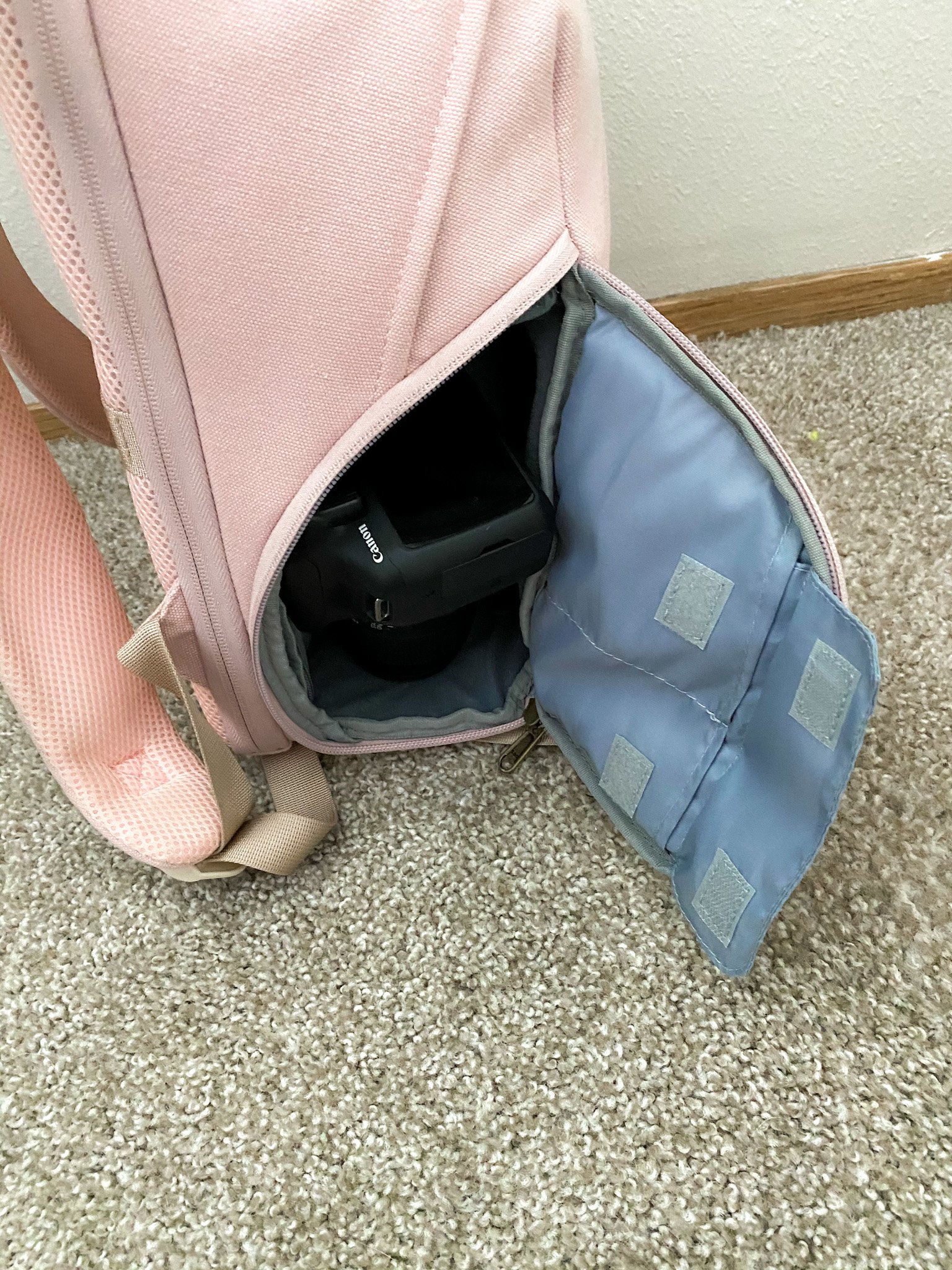 What I Love About this Bag
I love that this bag is water-resistant and comes with a rain cover for no additional cost. I've also taken it through the airport and on multiple hikes and it doesn't become dirty easily, even though I have the light pink color.
I also like that this backpack is thief-proof and discrete. It doesn't look like a typical bulky camera bag with a huge logo on it that advertises there are cameras inside. It's also confusing for others to open if they don't know how the bag works, which discourages theft. I was flagged going through TSA after my trip to Austin because I had a mug in it. I ended up having to show the TSA agent how to open the bag because they couldn't figure out how to get into the main compartment. It's safe to say that I would feel comfortable taking this bag on my next trip to Europe in areas where there is pickpocketing and still feel like my cameras are safe.
This bag is also really comfortable and of great quality! I felt good about getting this bag because my clinical bag is also by the BAGSMART brand. Like my clinical tote, this backpack is also really good quality. I've had it for months and the only wear and tear it has is from when my puppy got a hold of it and chewed a hole in one of the straps. She is notorious for chewing up shoes in a matter of minutes so I was surprised she hadn't done more damage to it. It's comfortable and I've worn it through multiple hikes without any back or shoulder pain.
What I Wish Was Better
There aren't too many negatives about this bag. I will say that it gets really hot when I'm on hikes, especially in the heat. There isn't really ventilation while you're wearing it. However, I don't think most people are taking this backpack on 5+ mile hikes so it wouldn't be an issue for most.
I also wish there was an alternative option on the bottom of the bag to carry a tripod. I am usually always using the pocked to carry my water bottle. Even if I wasn't my tripod is much too big to use the pocket for. I wish there was an alternate way to hole a tripod, like straps to carry a sleeping bag on a backpacking backpack. I don't always need a large tripod, and usually, I carry my flexible tripod when wearing this backpack. However, it would have been really nice to have this option!
Overall Thoughts
Overall I love this bag! It's an affordable camera bag option that is spacious, has a great design, and looks good! It's a perfect dupe to the Brevite camera backpack and is even better due to being water-resistant and including a rain cover. If you're looking for more color options or if you absolutely need an option to fit a tripod, I would go with the Brevite Jumper. Otherwise, this is a great alternative that you can buy on Amazon, or on the BAGSMART website.
If you think this camera backpack is the right fit for you, you can get it on Amazon here (affiliate link).
If you end up getting this bag, let me know what you think in the comments below!
Thank you so much for reading! I hope this Review of the BAGSMART Camera Backpack has been helpful. If you want to get notified when I post new posts, be sure to follow my Instagram @maddie_deer here or like my Facebook page here.