Not too long ago I posted 10 DIYs to Do When You're Stuck at Home (Roundup). I wanted to do a part 2 because I've been seeing so many more DIYs pop up on Pinterest. Plus, I thought that I could include smaller projects that won't take as much time. Living in Washington, our stay home, stay healthy order has just been extended and I know it's the same for many other states. With all this time, why not try a DIY or start a project? Here are 8 DIYs to Do When You're Bored at Home.
Edit: Since posting this I have created a part 3, "10 Sustainable DIYs to Do This Weekend" which you can find here!
Disclaimer: This is a roundup of DIYs that other bloggers have posted on their blogs. I'm linking them all below and full credit for the projects go to them!
9 DIYs to Do When You're Bored at Home
I'm at the point in this stay home order where I've become so really antsy and I just want to do something. My free time might be at an all time high right now, so I'm taking advantage of that time by doing projects. It helps take my mind off things, feel more inspired, and it gets my creativity going. I've already been working on a ton of DIYs, but I decided to roundup all the next ones I'm super excited about. Below are the DIYs that I am going to work through, next!
I'm currently in the process of redecorating my room and so a lot of these are boho and home décor related. Like with most DIYs, these are totally customizable depending on your fabrics or colors that you're working with. I love that with DIYs you're able to make something completely unique that you're not going to find in a store. Or you can make something that you've been eyeing a store for way cheaper (see #5). Anyways, let's get into it!
1. Floor Cushions
I love floor cushions and luckily they are easy to make! I'm including two options – one for those who sew and a no-sew option, too. These add the perfect bohemian touch to any room and the fabric is totally up to you. I'm going to be making one of two of these for my room after I'm done painting.
The sew option can be found via Collective Gen here (left picture) and the no sew option can be found via A Fabulous Fete here (right picture).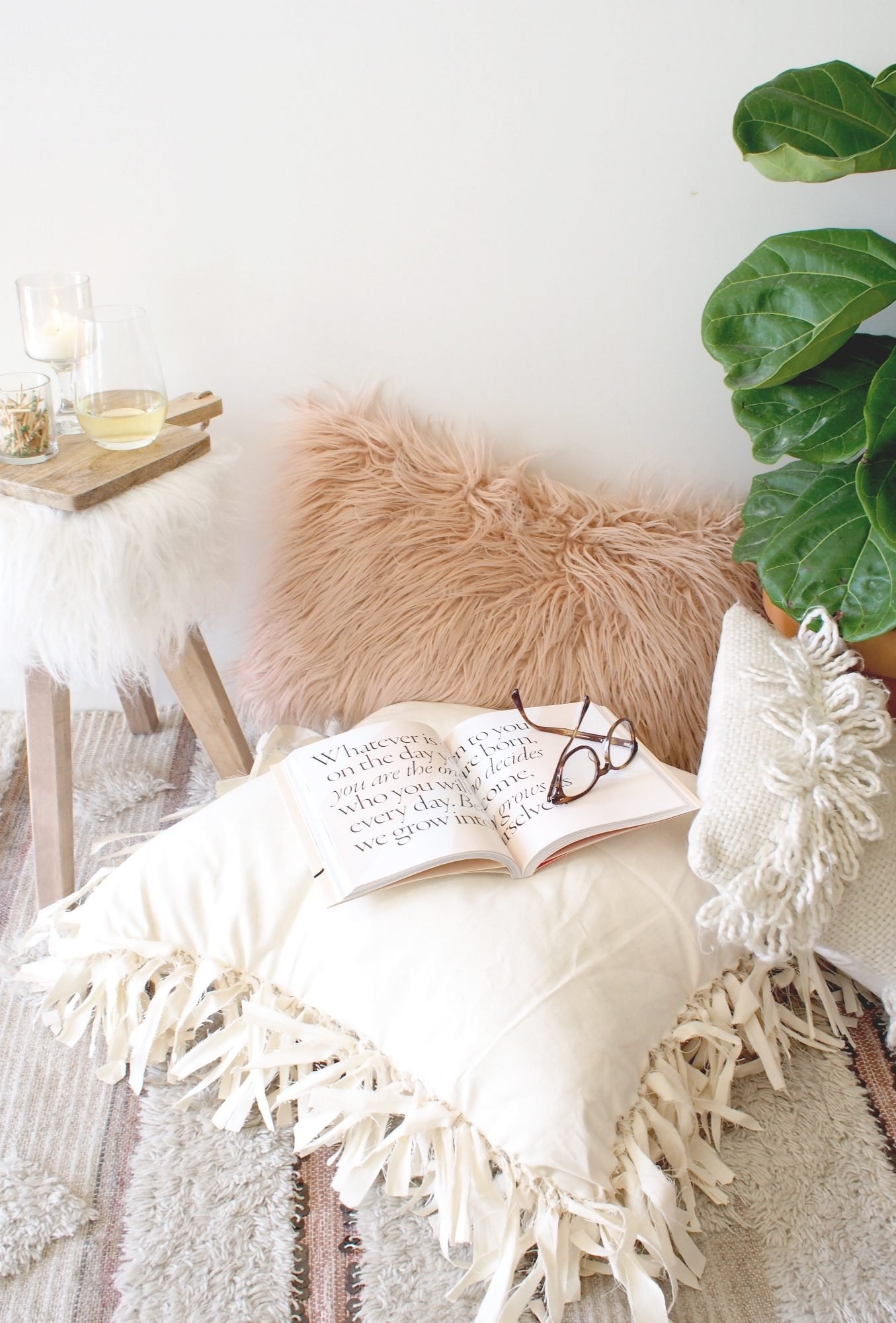 2. Tassel Wall Hanging
This is a perfect just-for-fun project! I love how this tassel wall hanging turned out and think it would be perfect to replace the dowel with driftwood. Wooden beads would also add character to this décor piece.
This DIY can be found via Honestly WTF here.
3. Fringe Planter
This DIY pot will add character to any plant. The colors are completely customizable and this project can be completed in an afternoon. If you want to add a little more oomph to your plants, this is the perfect project that only requires a couple of materials!
You can find this DIY via Apartment Therapy here.
4. Wall Jewelry Organizer
This modern wood sign opens up to reveal a jewelry organizer. This project is more technical than a craft DIY and does require tools and wood pieces. This would be the perfect project to do over the course of a weekend, and the wood sign can be customized however you'd like. The end result looks great and is functional, too!
The plans for this DIY was made by Houseful of Handmade and can be found (for free) here.
5. Moon Phase Hanging
This is a total DIY dupe for Urban Outfitter's moon phase wall hanging. You can throw it yourself together in an afternoon. Plus, for another look you can easily replace the metallic sheets for polymer clay.
You can find this DIY via DIY in PDX here.
6. Macramé Earrings
Macramé has come back full force and I am here for it. It gives off such 70's beachy vibes that would make anyone feel good. These earrings are the perfect small project to try out macramé if you've never done it before, but want to. Plus, they are super cute! I don't know what it is about making jewelry, but for some reason I find it so relaxing. I've worked on polymer clay earrings in the past, but am so ready to try macramé!
This DIY can be found via Cuckoo 4 Design, here.
7. Fabric Mache Bowls
This is such a cool DIY! I think everyone has done paper mache before, but this is an upgrade using fabric. These bowls use leftover fabric that you might already have laying around, look unique and are easy to make.
This DIY is from Paper & Stitch and can be found here.
8. Ice Dyeing
Tie Dye is having it's moment right now and I'm not the biggest fan. However I can totally get with ice dying. It creates such pretty colors and a perfect-imperfect pattern. Plus you can use this dyeing technique on whatever you want- sweat suit, pillows, blankets, sheets, etc. I love the throw blanket she made!
You can find this DIY via Jojotastic, here.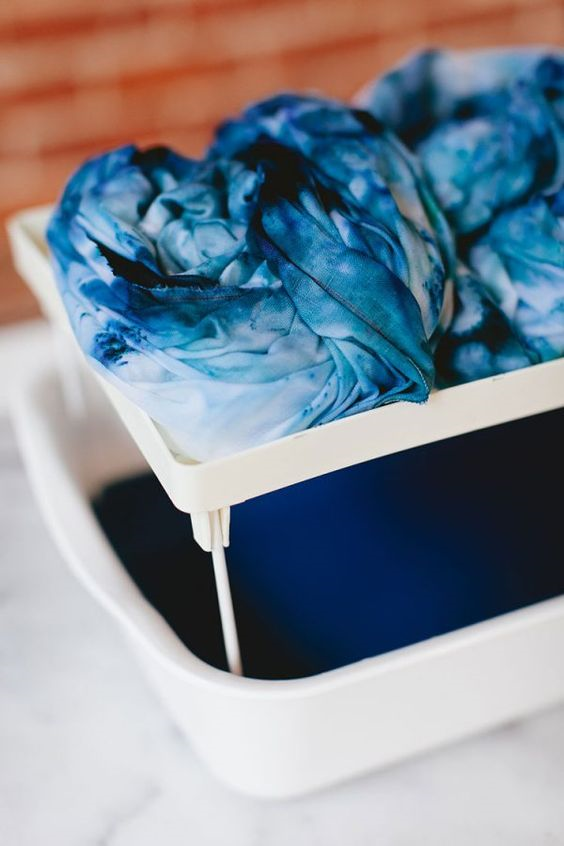 9. Ombre Bookshelf
This is such a statement piece and perfect if you have books that you're wanting to display. I think that this DIY bookshelf would look great even if you don't want to ombre it and instead want to go with a solid color, or color block pattern. If you can use a drill and like to paint, this would be a pretty easy DIY and is perfect for a weekend project!
This DIY can be found via Brit + Co, here.
That's it for the 9 DIYs to Do When You're Bored at Home
I am always pinning DIY ideas on my Pinterest board which you can find here. I also posted my own DIY polymer clay crescent earring how to here and another DIY roundup here.
Comment below and let me know which one is your favorite DIY! I don't think I could choose, but I am going to start working on the floor pillow or the tassel wall hanging, first!
If you enjoyed this post and want to see my future posts, follow my Facebook page here or subscribe to my email list below!
Thanks for reading and happy crafting!