Klima is a traditional fishing village on the island of Milos, Greece. This fishing village is known for its picturesque harbor, colorful houses, beautiful sunset views, and delicious seafood. Although this is a popular tourist destination, Klima has kept most of its authentic charm. If you're visiting Milos, be sure to make a stop in Klima to check out this quaint village.
Disclaimer: This post contains affiliate links. This means that I get compensated a small amount if purchased through one of these links at no extra cost to you. I always only link products I truly love and any profit made goes to running this blog. Thank you for your support! For more on my disclaimers, you can click here.
What to Know Before Visiting Klima in Milos, Greece
Klima was once a village occupied by fishermen who lived in colorful boat houses called syrmatas. These boat houses are two stories with the bottom being a boat garage and the top being a living space. Most of the boathouses in the village are no longer occupied by fishermen. While there are still a few locals, many of these houses have been converted into vacation rentals. You can check out some of the rentals in Klima through Airbnb here.
How to Get to Klima
There are a couple of ways to get to Klima. The best way to get to Klima is by renting a car. You can park in the free parking lot towards the back of the village. Klima is around 4 miles from the port of Milos, Adamantas. From the capital, Plaka, Klima is only around 2 miles. There is quite a steep hill with several curves on the way down to get to the village. Unless you're prepared for a hike, this is really the best way to get there.
Another way to get to Klima is by hiking down from the Ancient Theater. There is a bus from Adamantas that has a stop in the Milos Catacombs. From the bus stop, you can take the path to the Ancient Theater. There is a small marble podium with a path towards the right of the path once you reach the Ancient Theater that says "Klima." Take this path to the bottom of the hill and you will end in Klima. It is quite a steep and rocky path, so be prepared for a hike up if you decide to go this route.
I would not recommend a taxi because it's unreliable to return from Klima. There are no taxis waiting in Klima. If you taxi from the port and are hoping to catch one back, it's pretty hit-or-miss. You would have to call a taxi at the port to come and pick you up in Klima. It's also an expensive way to get around in Milos!
Things to Do in Klima
Walk Along the Harbor
The best thing to do in Klima is to walk along the harbor and explore the village. There are lots of benches and places to sit along the dock if you want to enjoy the view. When the winds are high, there waves can be fairly rough. However, when it's not windy the water is calmer and you can swim. There is also a small souvenir shop located to the right of Astakas.
Eat at Astakas Resturant
Astakas Restaurant is the only restaurant in Klima. It's located a short walk from the parking lot and situated by the ocean. The seafood at this restaurant is fresh and delicious. It's also moderately priced, something you wouldn't expect in an area with high demand as the only restaurant.
I got the breaded cod when I went and it was probably the best breaded cod that I've ever had. We also got a side of the fava bean dip with bread… so delicious! If you're visiting Klima, you have to grab a bite to eat here. Bonus points if you can stay for sunset. Astakas has a beautiful view of the sunset!
Hike up to the Ancient Theater and Milos Catacombs
The Ancient Theater and Milos Catacombs are at the top of the hill from Klima. You can drive around to get to these archaeological sites, or if you are up to the challenge you can hike. The hike is not shade-covered, is fairly steep, and is quite rocky. Be prepared if you are planning on hiking up to these sites with good walking shoes, plenty of water, and sunscreen. Also, be sure to hike it earlier in the morning or in the later afternoon so that you're not in direct sun as there is no shade cover.
Other Tips
Be sure to wear shoes that you don't mind getting wet and that have good traction. The waves often hit up onto the rocks making the path slippery and wet. Watch out for slick spots with algae as well!
There is not a grocery store in the village, so be sure to bring any water, snacks, or other items that you will need during your visit.
It is a quite popular tourist spot, so be prepared to see others visiting (especially during the high season). Many people come during sunset, so the parking lot can become quite full.
The peak season is between June to September. It tends to be the hottest during July and August. For mild weather and fewer crowds, plan your visit during the shoulder season in May, the end of September, or the beginning of October.
Near the end of October, the shops and restaurants on Milos begin to close for the season. While Greece is beautiful to visit any time of year, plan on many things being close between November to April!
What to Know Before Visiting Klima in Milos, Greece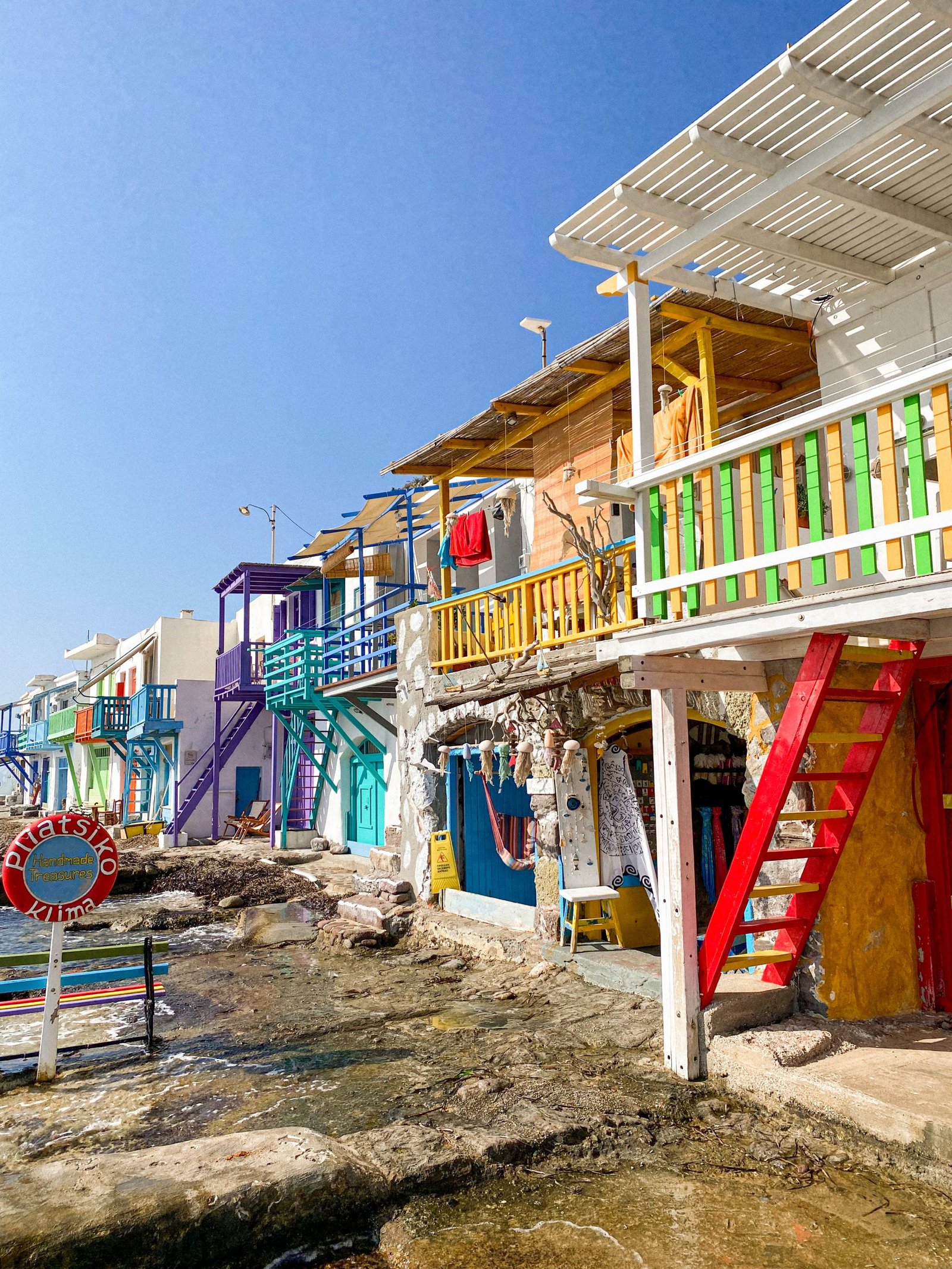 While there is not a lot to do in this small village, Klima is worth the trip! You can't beat the stunning views, charming boat houses, and traditional food. I hope this post on what to know before visiting Klima in Milos, Greece was helpful for planning your trip! For more things to do in Milos, Greece, you can check out my travel guide here!
As always, you can find me on Instagram @maddie_deer here, or can follow me on my Facebook page to be alerted of any new posts here. Thanks for reading! 🙂