Milos is a Greek island located in the Cyclades. Milos is known for its beautiful beaches, picturesque fishing villages, and boat tours. There is so much to do on Milos. Milos has something for everyone from archaeological sites to ideal swimming spots. In this post, I am covering my travel guide to Milos, Greece. Milos was one of our favorite islands that we visited while island hopping in Greece, and it's definitely underrated!
Disclaimer: This travel guide to Milos, Greece contains affiliate links. This means that I get compensated a small amount if purchased through one of these links at no extra cost to you. I always only link products I truly love and any profit made goes to running this blog. Thank you for your support! For more on my disclaimers, you can click here.
Travel Guide to Milos, Greece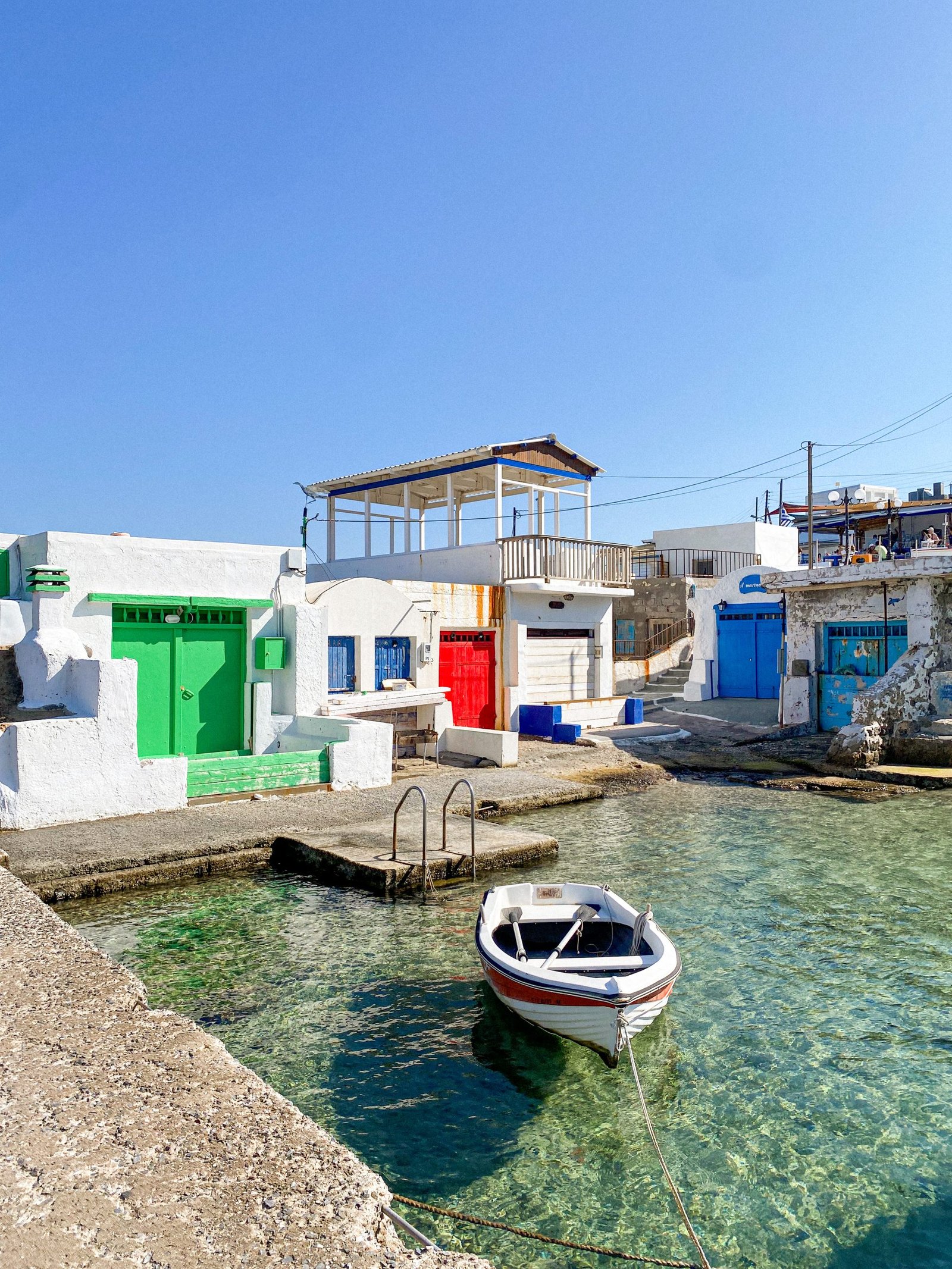 How to Get to Milos
The most common route to get to Milos, like most of the Greek Islands, is by flying into the Athens airport and then taking a flight or ferry directly to the island. We spent 2 nights in Athens before starting our Greek island-hopping vacation. It was the perfect amount of time to check out some of Athen's highlights including the Acropolis, Ancient Agora, and Plaka neighborhood.
Once you're in Athens, it can take around 40 minutes if you travel to Milos by plane. Otherwise, a ferry can take from 3.5 hours to 7 hours if you depart from the Pireaus port (located around 40 minutes from the Athens airport). I would highly recommend traveling by flight to Milos as it is much faster. However, note that it can be windy in the Cycladic islands. Our return flight to Athens ended up being canceled due to high winds and we had to scramble to catch a ferry (and then taxi to the airport) to make our flight home.
If you prefer to travel by ferry, you can book tickets through the FerryHopper website. Through the FerryHopper website, you can look at different routes, ferry lines, and dates.
Where to Stay
I recommend staying in Adamantas or Pollonia. Adamantas is where the port is located in Milos and makes for the perfect hub to get to the rest of the island. We stayed in Adamantas and were close to quad/car rentals, restaurants, shops, grocery stores, boat tours, and bus stops. It limited our need for a rental car since everything was fairly walkable. You can get away with renting a car for just a couple of days to see other parts of the island.
Pollonia is located around a 10-minute drive or 30-minute bus ride from Adamantas. Pollonia is a quiet town with beautiful beaches, restaurants, and boutique hotels. It is also close to some of the most famous sites such as Papasfragas.
Plaka, the island's capital, also makes for a great place to stay. It's an easy 10-minute bus ride from the port and is close to some of the sites such as the Milos Catacombs, Ancient Theater, Venetian Castle, and Klima.
Things to Do
Sarakiniko Beach
Sarakiniko is one of the most famous beaches on the island of Milos. It's a popular spot for photographers and videographers as well. This beach is known for its moon-like appearance. The moon-like appearance is due to the stark-white volcanic rock. While you're at Sarakiniko Beach, you can explore the abandoned mining tunnels, cliff jump, sunbathe, and swim. The beach itself is fairly small, but there are lots of rocks to climb and explore.
Kleftiko and Cave of Sykia
Taking a boat tour to Kleftico is a must-do if you are visiting Milos. We joined a tour with Polco Sailing and it was a great experience! The boat tour was 8 hours and we stopped at 4 spots to swim and explore. There was an open bar and at each stop, we were fed a meal or snack. Once you reach the Cave of Sykia and Kleftico, you are taken on a small dinghy to explore the caves. Kleftiko is another landscape formed by volcanic activity. The landscape and caves were the perfect location for pirates to dock and hide the location of their ships over 200 years ago.
Not only is Kleftico rich in history, but it's beautiful. If you want to see what Milos is all about, you should make the trip to visit Kleftico by boat!
Milos Catacombs
The Catacombs of Milos are a UNESCO World Heritage Site. They are said to be one of the most important of the 74 catacombs discovered worldwide. These catacombs date back from the 1st to 5th century, and may even be older than the Roman Catacombs. This archeological site is worth the trip. For €4 you will get entrance into the catacombs and a short tour by a guide. The catacombs are closed on Tuesdays but open every other day from 9:00 am to 6:45 pm.
Ancient Theater
The Ancient Theater is located by the Milos Catacombs. This is the location where the famous statue Venus de Milos was found. The statue is now located at the Louve. After a short walk from the entrance where there is now a replica of the statue, you'll find the remains of a well-preserved open-air marble theater.
Papasfragas Caves
The Papáfragas Caves are a series of sea caves located on the northern coast of the Greek island of Milos. The caves are formed in the volcanic cliffs and are accessible by a steep descent from the cliffs above. The Papasfragas Caves are located near Pollonia and are just a bus ride or short car ride away. These caves make a great addition if you are beach hopping and exploring the northern part of the island.
Klima
Klima is a small picturesque fishing village. It is most known for the colorful boat houses that the fishermen would live in. These boat houses were built into the hillside overlooking the sea. Originally, these boat houses were painted so that fishermen could match the color of their boats to their houses. Klima is a great place to watch the sunset and grab a bite to eat.
Archaeological Museum of Milos
The Archaeological Museum of Milos is located in Plaka, the main town on the island. It is open daily from 8:30am to 5:30pm. Admission is €2 for adults. The museum houses a collection of artifacts dating from the Neolithic period to the Byzantine era. Some of the artifacts include a recreation of the Venus de Milo statue, obsidian tools, pottery, and figurines.
Venetian Castle
The Venetian Castle of Milos, also known as Kastro, is located on a hill overlooking the town of Plaka and the Aegean Sea. The castle offers stunning views and a glimpse into the island's history. The castle was built in the 13th century by the Venetians, who ruled Milos for over 400 years. It was used as a defensive fortress, a religious center, and a seat of government. It's a short hike from Plaka to reach the castle. With the stunning views from the top, you have a great view of the sunset.
Mandrakia
Mandrakia is another small and picturesque fishing village with colorful boathouses located on the northern coast. If you have a car, this fishing village is another great spot for lunch and exploring. Although the village is small, it's a great spot to sit and enjoy the view or a drink.
Where to Eat
1. Astakas Restaurant
Astakas Restaurant is the only restaurant located in Klima. If you go to Klima for sunset, grab one of the tables on the beach. This restaurant had some of the most delicious breaded cod that I have probably ever had! This ended up being one of our favorite restaurants that we ate at while in Greece. You also can't beat the waterfront view.
2. O! Hamos! Tavern
If you're looking for an authentic experience complete with a handwritten menu, homemade dishes, and no shortage of cats, you should stop by O! Hamos! Tavern. The food was delicious and the atmosphere was pleasant. This restaurant gets busy, especially during the peak season. Be prepared to wait up to 2 hours if you're going during the summer season around dinner.
3. Medusa
The highlight of Medusa, located in the small village of Mandrakia was the view! The seafood was delicious and the view of the crystal-blue waters was beautiful. If you're stopping by this village, be sure to grab a bite to eat.
Other Tips for Milos
While you don't need a car every day on your trip to Milos, I would recommend renting a car or ATV for at least 2 days while you're there! There are some locations that aren't easily accessible without a car such as Klima and Mandrakia. A car will also minimize excessive walking and will allow you to explore on your own time rather than waiting for the bus.
Bring a towel! If you plan on beach hopping or taking a boat tour, you will need to bring a towel.
While the weather is mild most of the year, the summer can get hot! Be prepared for some heat, and bring sunscreen as well!
The peak season is June through September. For fewer crowds and milder weather, visit during the end of September/early October, or May. By the end of October, many of the businesses are closing for the season and people are returning to Athens for the off-season.
There are often high winds on Milos. Be sure to plan accordingly!
Travel Guide to Milos, Greece
I hope this travel guide to Milos, Greece was helpful. Milos is a beautiful island with so much to do. It's the perfect addition to your itinerary if you are Greek island hopping in the Cyclades.
As always, you can find me on Instagram @maddie_deer here, or can follow me on my Facebook page to be alerted of any new posts here. Thanks for reading! 🙂