Okay, I realize that "The Best Homemade Strawberry Lemonade" is a big claim. But, I've made this several times trying to perfect it each time. I think I've finally done it. I feel like this is the best homemade strawberry lemonade. Of course, everyone has different tastes but I can promise that you won't regret making this if you're a fan of strawberry lemonade anyways.
This recipe also reminds of of Red Robin's freckled lemonade (sans syrupy strawberries at the bottom). If you're looking for a somewhat healthier Red Robins Freckled Lemonade copycat recipe, this is the recipe for you! If you want something that is more sour, just add the juice of one or two  more lemons to the mix and you should be good to go!
I also have to give recognition to my brother who helped me make this twice on 4th of July. He gave me a trick for strawberries that I will include below (in the tips and tricks section) that I never realized was a thing.
Okay, I hate when recipes are buried at the bottom of a post so let's get into it!
The Best Homemade Strawberry Lemonade Recipe
Ingredients:
1 Lb. Strawberries (with the green leafy part removed)
3 Large Lemons (juiced)
3 Cups of Water
1/2 Cup Sugar
Instructions:
Add 1 lb of strawberries and the juice of 3 lemons into a blender and blend.
If the strawberry seed concern you, use a strainer to strain the strawberry mixer (you'll add the strained mixture back into the blender and blend in the sugar after). If not, add 1/2 cup of sugar to the blender and blend.
Pour strawberry mixture into a serving pitcher and add 3 cups of water. Mix using a wooden spoon.
If your strawberry lemonade has any foam on top (it might depending on your blender) use a spoon to scoop the foam off the top layer.
Once you've made the lemonade you can refrigerate until needed or serve right away!
Add ice to serve and garnish with a lemon. The lemonade will also need to be stirred before serving if it's been in the refrigerator for long.
I haven't calculated the nutritional value, but the total calories in one pitcher is ~607. I usually find that one pitcher equates to around 6 servings. If you're making this for a big crowd of people be sure to double the recipe!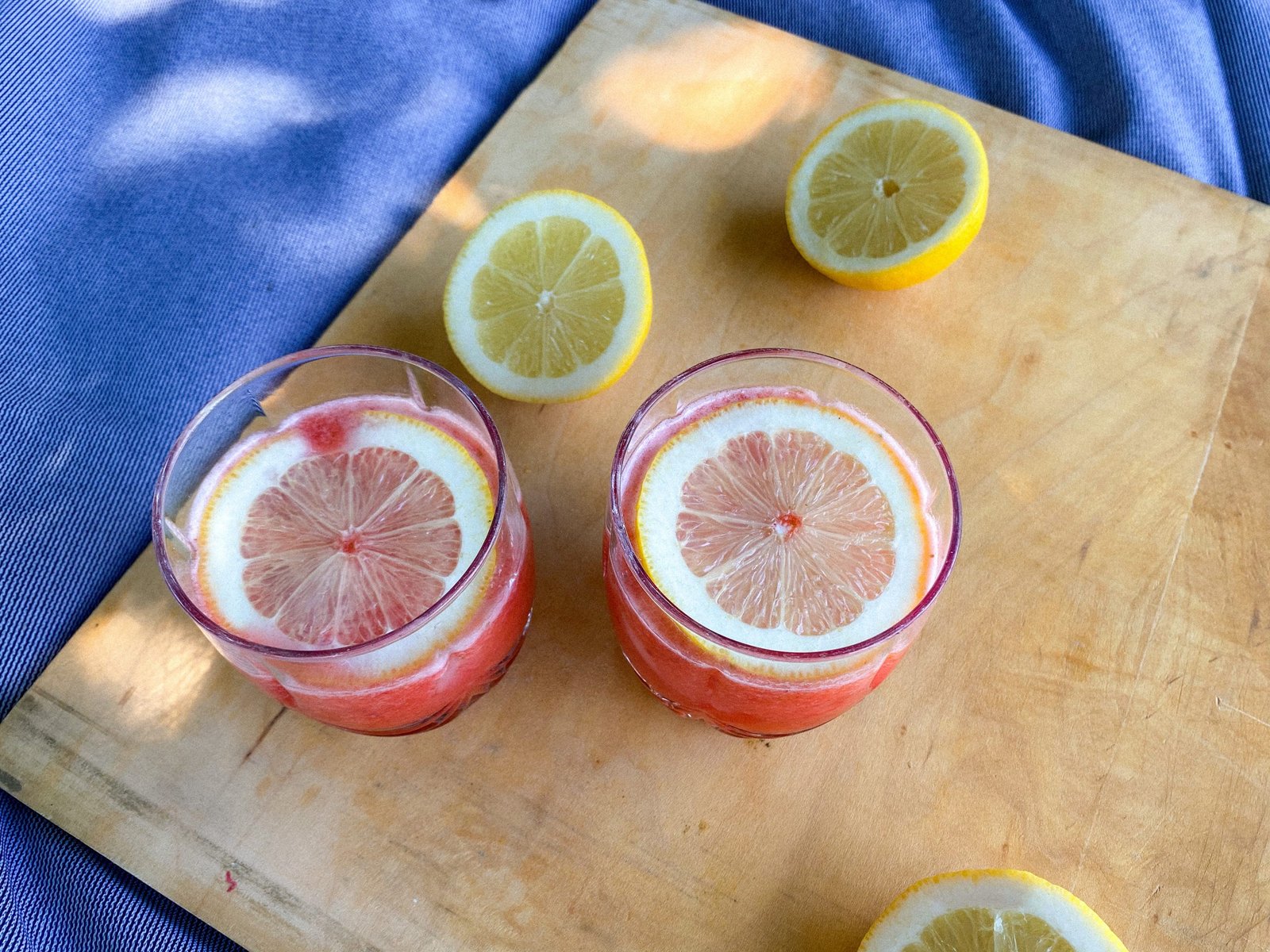 Tips and Tricks:
Make sure to thoroughly wash your strawberries beforehand. Strawberries contain some of the highest levels of pesticides (if not bought organic). To combat this, soak and wash your strawberries in a 10% salt solution for 20 minutes and then rinse with water so they don't have a salty taste. If you click the link in the previous sentence, it also outlines how to clean your fruits with baking soda or vinegar as another option. Even if you are buying organic, make sure to still rinse of your berries well (or even better do the salt trick!). Some organic strawberries still have pesticides on them.
Also, I'm not sure if this trick is common knowledge or not, but this is the best way to remove the green leafy part of the strawberry without removing a ton of the actual berry! To easily remove the green leafy part of the strawberry, poke a straw through the bottom of the strawberry and up towards the top. This 'cores' the strawberry and the leafy part on top will pop right out as well! Just make sure you're going exactly through the middle. With bigger berries you might have to do this twice to get the entire thing.
This recipe is also great to use as a mixer. If you're having a porch cocktail, just mix in your liquor. I thought that vodka went great with it!
I hope you enjoy this recipe for the best homemade strawberry lemonade!
Something about strawberry lemonade to me is so nostalgic. I feel like simple is better when it comes to recipes and this one is about as simple as it gets. It's also easy to adjust if you like your lemonade more diluted, or sweeter. The strawberries add a lot to the sweetness, but you can add more sugar or less if you think it's too sweet. You can dilute with an extra 1/2 cup of water without affecting the flacor to much.
Although I haven't tried it, other berries would work great in place of strawberries too! If you're allergic to strawberries or just aren't a fan, try blueberries, blackberries or raspberries.
I definitely think it's the best homemade strawberry lemonade, try it and let me know!
Also to be updated on all future posts you can follow me on my social media or subscribe to my email list below! You can find my Facebook here and my Instagram @maddie_deer here!