A hostel is like a hotel, providing you a place to stay when travelling. The main difference is that when you stay in a hostel, you're sharing a room with multiple others rather than having an entire room to yourself. Hostels are usually filled with younger backpackers, although anyone can stay in one. In social hostels people want to meet other people and there are communal rooms throughout the hostel. These communal rooms can be bars, lounges, terraces, porches, or other hang-out areas. Hostels are great for when you are travelling on a budget, solo, or just want to meet other people from all around the world! Hostels are also really cool because lots offer outings, pub crawls, walking tours and other activities and events where you can have fun and meet other people!
In 2018, I stayed in 15 different hostels across 13 different countries. I think I've learned a thing or two after all these different experiences. I know that sometimes hostels can be intimidating, especially if you've never stayed at one. In this post, I'm going to teach you how to find the perfect hostel to stay in. If you've already picked your hostel, you can find my "unspoken rules of hostels" post here. They can be really fun (and not at all like the horror movie 'hostel' series) when you pick the right one!
Disclaimer: This post contains affiliate links in order to keep my site up and running! Check out my full disclosure here.
How to Find a Hostel:
Whenever I am searching for a place to stay, I compare different hostels and book through Hostelworld. I love Hostelworld for a few different reasons. First, if you book more than 7 days in advance you're able to get a FREE refund. If you're not sure about your destination and are looking to book last minute, it shows you what hostels that have availability. I also love that you can see the rating, reviews, amenities, and distance to the city center of all the different hostels in one place. It's so convenient! Here is how I choose what hostel to stay at when there are SO many options.
1. First, I navigate to Hostelworld and type in my destination, dates, and number of guests. I'm using Budapest, Hungary as an example below. Click "Let's Go" to see the options!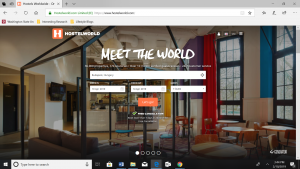 The screen with all the different hostels in your destination will pop up. Here I can scroll through pages to see the rating, distance from city center, and a brief description.
2. Use filters to sort through the hostels depending on your preferences.
You can filter for the price (per night), type of room (female dorm, mixed dorm, male dorm, private room, etc.), facilities (free breakfast, luggage storage, free wifi, air conditioning, etc.), rating, payment type, and type of accomodation.
For Budapest, I'd set my price maximum as $35/night, a rating of above 8.5, including free wifi, and showing hostels only. I personally wouldn't chose to stay somewhere not rated above an 8.0 in most circumstances. In reality I wouldn't have to spend more than $20/night at most for a hostel in Budapest, but if I was going to Europe during the high season then I would've budgeted $35/night for all of Europe across the board as this would be the average cost of a decent hostel in some of the more expensive cities.
With my filters, the number of hostels in Budapest went from 123 to 26. There are still a lot of options for Budapest, so I still need to narrow it down a bit more..
3. Sort hostels by distance (from closest to city center to furthest).
I personally like to rely on walking to save money on transportation and be closer to things to do. Walking tours (which are my favorite thing to do when I'm exploring a new city) also usually start near the city center.
With my filters and sorted, there are 16 within 1.2 km (.75 miles). Now that I've narrowed down my options pretty considerably, I like to look through the pictures to find places that would stand out! When I am traveling solo, I like to stay at hostels with good communal rooms or attached bars. The reviews will let you know if the hostel was social or not. If the hostel has party in the name- you know it's a social hostel. But, some party hostels aren't as clean, will have people wandering in at all hours of the night and being really loud, and you might be able to hear music or a bunch of noise in the room if the rooms are above the communal space in a smaller hostel.
Reading reviews are so important.
One thing that hostels are notorious for are BED BUGS. Don't find yourself stuck at a hostel where all your things are contaminated with bed bugs! I've never had an issue with bed bugs, however if any reviews mention them I wont stay at the hostel and I always check my bed before sleeping in it. I also check in the reviews to see if the hostel is a social and clean. Hostels with lower ratings can be hit or miss, but usually if you filter the rating the hostel will be fine to stay at.
Hostel Chains I Would Reccomend:
I've stayed at a couple of hostel chains and have had really good experiences with them. If you're overwhelmed by the options and your destination has one of these chains it may be a good place to start.
Wombats City Hostel

Locations in Vienna (2), London, Budapest, Berlin, and Munich.
Hostelling International

Locations all over the world. I've stayed in HI hostels in Europe, The United States and Canada.
St. Christopher's Hostel

Locations in London, Paris, Bruges, Amsterdam, Barcelona, Berlin and Edinburgh.
Hostel chains can be a safe bet. However, every hostel is unique and staying at some of the small family-owned hostels can be rewarding and more memorable!
I hope this guide to finding your perfect hostel was helpful! If you're interested in seeing mini tours inside hostels, I've posted several in my Instagram stories (under Amsterdam, Venice, Budapest, Vienna, and Barcelona) on my personal account here.
Before you go, here are some of my latest related posts:
Found a hostel? Don't Forget:
What has your experience with hostels been? Let me know in the comments below!