After a year of planning, I finally married my now husband Danny in an intimate destination wedding in Naxos, Greece. Destination wedding planning is no joke and I did it without a wedding planner and day-of coordinator. I learned a lot and there are a few things that I would have done differently. Honestly, it went off without a hitch all things considered and that was largely in part due to my amazing vendors, which is why I wanted to share. One thing that I really would have wished to have would have been a list of vendors to choose from when planning (especially since I didn't have a wedding planner!). In this post, I am sharing a complete list of wedding vendors in Naxos, Greece that I used.
Tips on Finding Wedding Vendors in Greece
It is not easy to plan a destination wedding when you are not local, do not speak the local language, and have never been to your wedding location. We were so extremely lucky with how smoothly the day went since we did not have a wedding planner or day-of coordinator. However, if you have it in your budget, I would recommend hiring a wedding planner for a much smoother experience! If I had to do it again from the start, I think I would have probably hired a local wedding planner. They've planned weddings before, know the vendors, and are familiar with the location. Although I didn't have this experience, I have also heard that sometimes vendors will not respond to you if you don't have a wedding planner and are not local.
However, if you are not hiring a wedding planner, I would highly recommend going to a local wedding planner's Instagram and seeing who they are tagging in photos. How I found most of my vendors was by looking through the Instagram of the local vendors, seeing who they are tagging, and then reaching out directly.
Another tip I would have is to cut any unnecessary vendors. For example, my brother officiated which saved us from finding an officiant, the Airbnb had all chairs/tables, and our catering provided all the dishes and utensils.
A Complete List of My Wedding Vendors in Naxos, Greece
Here is a complete list of my wedding vendors with prices in USD! Most of the vendors were paid in Euros on the day of the wedding and USD to Euro conversion varied slightly from deposit to final payment so prices are estimated.
Venue: Villa Armelina
For our venue, we opted to stay in an Airbnb. Most of our guests stayed in the Airbnb as well. We rented Villa Armelina for 5 days with the total price coming to $3200. The villa was a dream to stay at and the host was so sweet. She had bought us a cake on arrival and when leaving she gave us a small wedding gift. The villa could accommodate 12 guests (6 bed/6 bath), had a pool, and was situated right next to Plaka Beach. There were lots of restaurants, a store, and a bus stop nearby. We were able to use the tables and chairs at the villa to hold our dinner following the ceremony. Everything pulled together perfectly and we are so glad that we chose this location for our wedding!
Florals: Anemona Florals
Our florals turned out stunning! There are two floral shops on the island. We went with Anemona Florals and were so impressed by the communication. For our flowers, we asked for an arch, two centerpieces for the table, a bridal bouquet, and a boutineer. The total cost was $1200. We paid 1/2 upfront and then the second 1/2 in cash on the day of the wedding.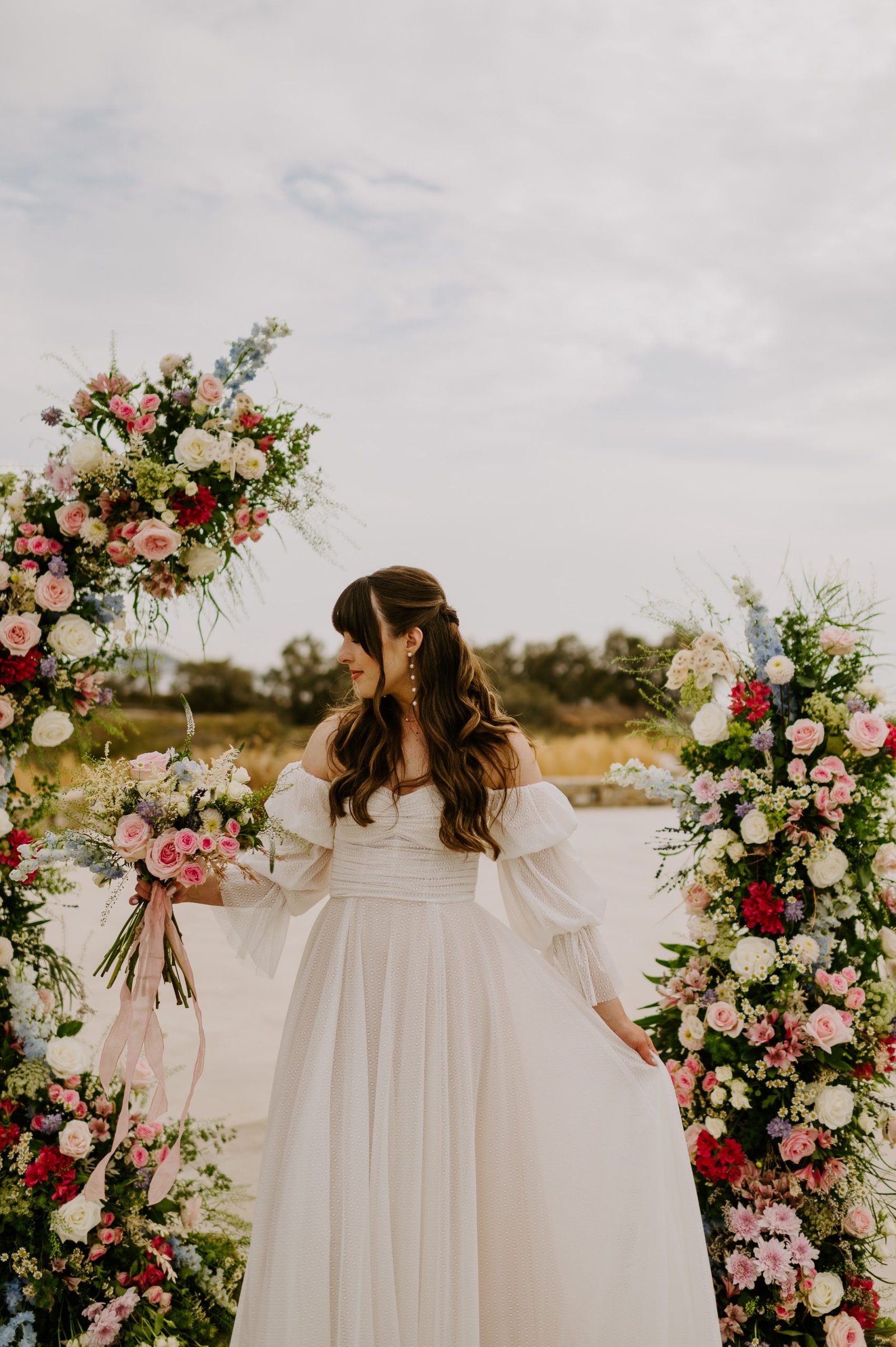 Catering: Yazoo Summer Bliss
Since we were having a smaller intimate wedding, we wanted a more upscale dinner. We first searched for private chefs and did not have much luck with either communication or availability. There were also not many catering services on the island. I had heard great things about Yazoo Summer Bliss and have seen that they host weddings a the restaurant. We are so happy that we ended up going with this vendor because it turned out to be the best food that we had during the entire trip, with amazing service, and great communication.
They were very responsive through email and had even offered to host us for a drink the day prior to our wedding. Our total came out to be $1250 for 15 meals, all plates and cutlery, all clean up, catering fee, and 2 people preparing and serving dinner. We paid $200 upfront for a deposit and the remainder in cash on the day of the wedding.
We had a lot of options for starters, salads, and main courses. There was so much food and it tasted amazing! I don't have any pictures of the food, but would 1000% recommend this vendor for food.
Photography: Alecca Synclair Photography
Our photographer, Alecca, was not local but made the trip out to Greece since she will do destination weddings. We only have the 'sneak peek' photos right now but are SO happy with how they turned out. Alecca was so kind, and professional, and made us feel comfortable even though Danny and I hate being in front of the camera. We are so glad that we chose her to capture our memories!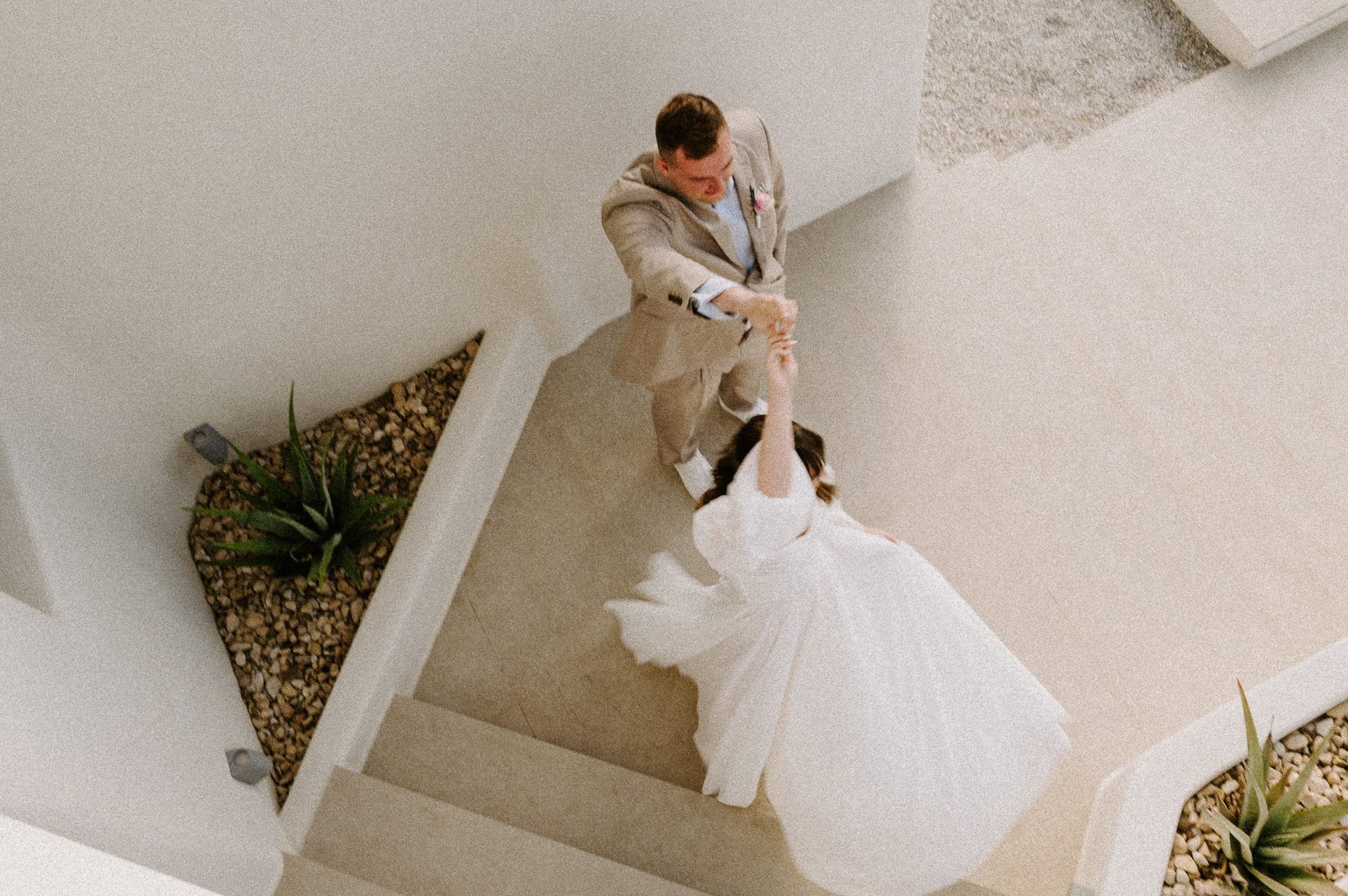 Videography: TK Creative
A wedding video was not something that we were thinking about doing. However, Alecca had a friend, Taylor, who was getting into wedding videography and had offered to shoot the wedding. We took her up on the offer and are so excited to see what she captured!
Hair and Makeup: Julia Reischl Hair and Makeup
Link: Instagram
Julia was so sweet, and responsive, and did amazing work! She lives in Athens part-time but can travel anywhere. She traveled to Naxos for us from Athens and did my hair and makeup, as well as 3 others. Our power ended up going out for several hours on the morning of the wedding and she was flexible on the start time. She was also willing to do the trial the night before the wedding since I wasn't local to Greece!
Hair and makeup cost $525 including travel fees and trial. Each additional hair and makeup was $125. The original deposit was $100 and we paid the remainder on the day of the wedding.
Dress: Willowby by Watters Cameron Tiered-Sleeve Off-Shoulder Mesh Column Wedding Gown
Link: Anthropologie
Since I would be packing a dress onto a plane and traveling with it across the world, I didn't want to spend thousands on my dress. Anthropologie had a great selection with all options in the store I visited for under $2000. I feel like the dress I chose fit the vibe perfectly, was so flattering, was comfortable, and was only $1300.
If you are planning a destination wedding I would highly recommend choosing a fabric that does not wrinkle as much and choosing something that isn't bulky. Our steamer blew out due to the voltage converter/adapter situation. Luckily my stress was a material that didn't wrinkle, and we were able to hang the dress in a closet during our longer flight so that it didn't need to be folded. If the dress had wrinkled, we weren't able to easily find a steamer and would not have ironed the dress. Definitely something to consider!
Suit: Indochino
Link: Website
Danny is a pretty big guy at 6'5 so getting his suit custom-made at Indochino was perfect! You can customize everything from the color, fabric, buttons, embroidery, and design. I went with him while he designed his suit and it was such a fun day. The suit arrived in 4- 6 weeks following the order and was of great quality. The suit itself was $900 which is a little spendier than just renting the suit, but was so much better in our opinion. Danny had even embroidered an inside joke inside his suit on the lining.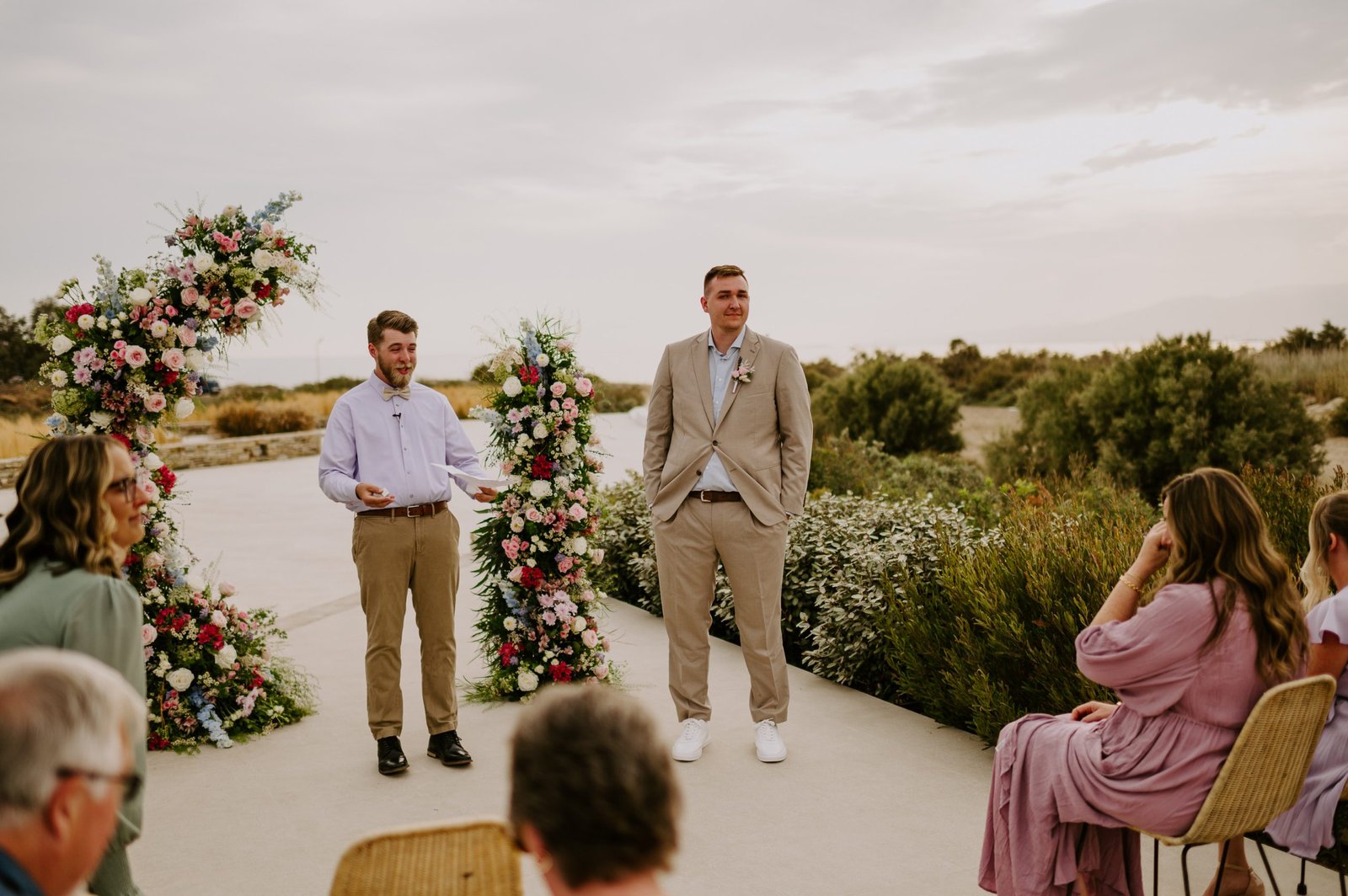 Wedding Vendors in Naxos, Greece
That's it for the complete list of wedding vendors in Naxos, Greece (and the U.S.) that I used for my destination wedding. All of our vendors were absolutely phenomenal and I would 100% recommend them! Naxos, Greece is the perfect destination for a wedding and we are so happy with our decision. If you want to read more about why we chose Naxos, as well as a recap on the wedding, you can check out my post here.
I will be posting more about my wedding, as well as honeymooning in Greece. As always, you can find me on Instagram @maddie_deer here, or can follow me on my Facebook page to be alerted of any new posts here.