Back in November, I got engaged to my boyfriend of 4 years, Danny! We have since decided on a small destination wedding in Naxos, Greece in September of this year. I decided to start a new series here for wedding-related content. In this first post, I am covering how to use a credit card to save money on your honeymoon. This is probably one of the best hacks for newly engaged couples, and I highly recommend opening a new credit card when you are about to pay for wedding-related expenses. There have been various estimates on the cost of a wedding, but some averages that have been thrown out are around $30k. For an inexpensive wedding, it's still around $10k. By using a credit card, you can rack up a ton of points for cash back, your honeymoon, or future home purchases. In this post, I am covering 4 tips for using credit cards while wedding planning to save money.
Disclaimer: This post contains affiliate links. This means that I get compensated a small amount if purchased through one of these links at no extra cost to you. I always only link products I truly love and any profit made goes to running this blog. Thank you for your support! For more on my disclaimers, you can click here.
4 Tips for Using Credit Cards While Wedding Planning to Save Money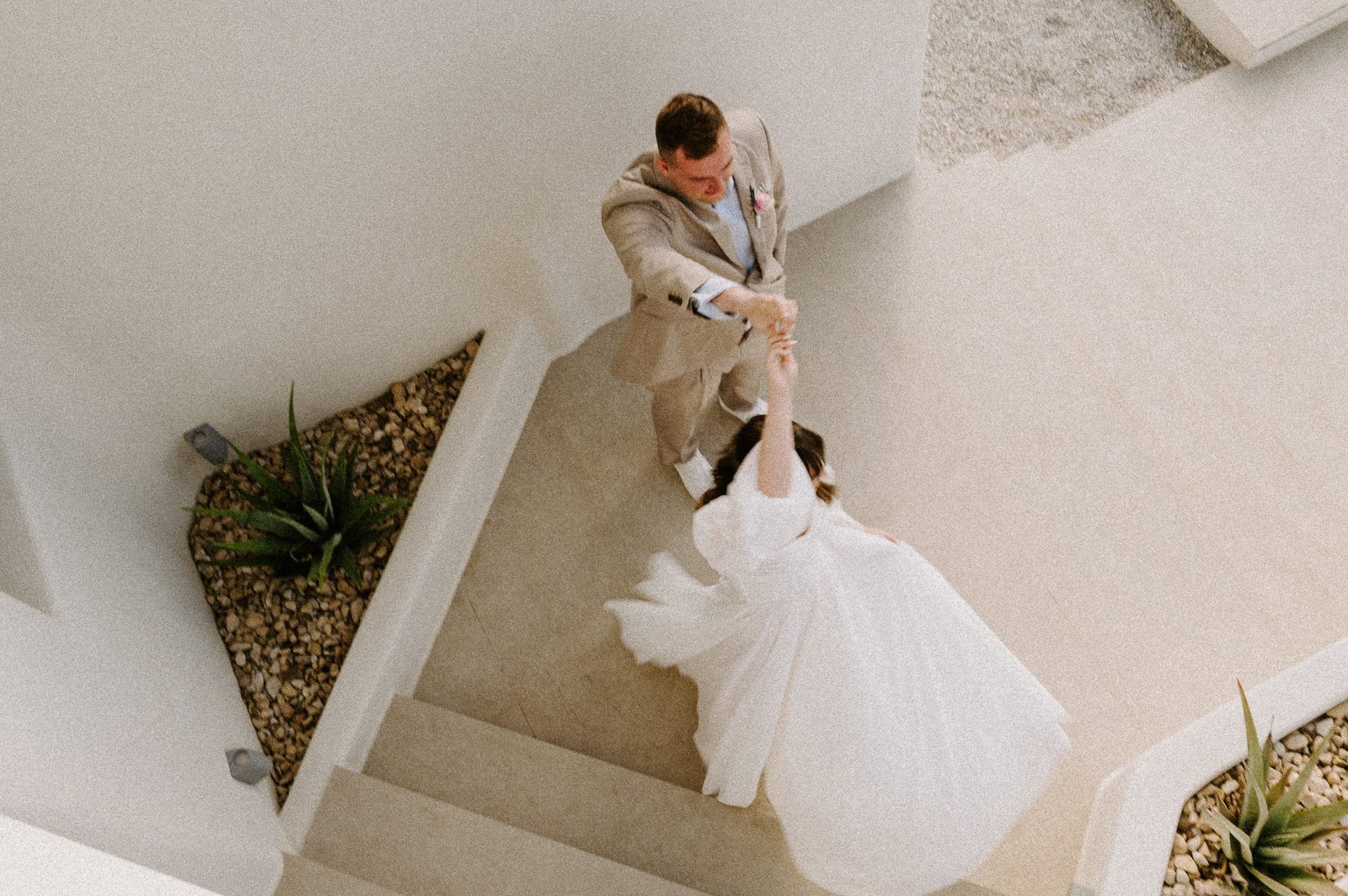 Photo Credit: Alecca Synclair Photography
1. Don't Spend Money You Don't Already Have
The thing about credit cards is that if you are not paying them off, you will be charged interest. If you are someone who has a habit of racking up credit card debt or spending money that you don't already have, I would not recommend using credit cards during wedding planning. It's easy to accumulate credit card debt fast, especially if you have large expenses like with wedding planning.
Make sure that if you are using a credit card, you are only spending money you already have. Don't treat it like a small loan you are going to pay off in the future. A credit card can be a useful tool for expenses you already had the money for and were going to buy anyways. You can then immediately pay it off at the end of the week with said money. The perk, you will get points that can be put towards travel, cash back, etc.!
2. Choose Your Credit Card Wisely
There are so many different credit card options out there. Think about what your goals are, and choose from there. My goal for my points is to put money towards our honeymoon for free accommodation. So, I chose a credit card with travel benefits. Travel credit cards also typically give you more points for travel-related expenses. Since I am having a destination wedding, I will have more travel-related expenses which means more points.
I highly recommend doing your research before opening any credit card. Look into introductory offers, interest rates (APR), annual fees, perks/rewards, and penalties.
I chose the Chase Sapphire Preferred credit card. When booking travel through Chase I can get 5x the points, so I got over 10,000 points alone from booking our flight. Otherwise, it is 2x other travel purchases, 3x restaurants and online grocery pickup, and 1x all other purchases. It is a $95 annual fee. You get $50 in hotel credit each year, a dash pass, no international transaction fees, travel insurance for purchases made with the card, and some other small perks. With points, you can cash them out, get gift cards, transfer to partner airlines/hotels with a 1:1 rate, or get 25% more by using them through the Chase Travel Booking.
I do have a referral code for this credit card here. But, I highly recommend doing your research to get the best possible card for your needs!
3. Take Advantage of Introductory Offers
Usually, within the first few months of opening a card, you can get bonus points if you spend a certain amount. For my card, if I spent $4000 in the first month, I can get another 60,000 bonus points which are equivalent to $750 in their point marketplace. Make sure you get an introductory offer and that you can meet the goal during the introductory period. It does take 7- 10 business days typically to get a card, so plan ahead of your first big wedding purchase to apply for a card so that you know you can reach the introductory offer goal and not miss out on points.
4. Transaction Fees
Certain vendors may have extra transaction fees for credit card purchases. Keep this in mind if you are using your credit card. If you're spending thousands of dollars and there is a 2- 4% transaction fee, it can really add up. You should weigh whether or not the points are worth the fee If not, just use your debit for this transaction. Chances are, you are getting a ton of points from other wedding-related purchases.
When to Use Credit Cards for Your Wedding
Some of the big-ticket items to think about are:
Venue
Catering (some cards offer more points for food-related purchases like the Chase Sapphire Preferred)
Florals
Wedding dress
Honeymoon expenses (some cards offer more points for travel-related expenses)
Bachelor/ Bachelorette party
Miscellaneous wedding expenses
If you are doing a destination wedding or eloping, I highly recommend a card with travel benefits. Make sure your card has no international transaction fees if you are going abroad. Travel insurance helps too, especially for lost luggage or missed flights.
Using Credit Cards While Wedding Planning
If you use money that you already have, are not paying high fees or interest, are keeping to the rules of good credit (utilization rate, timely payments, etc.), are not incurring fees, and are not going into debt, credit cards can be a great tool to offset the cost of a wedding. At the end of the day, you know yourself best. If you are someone who can use credit cards effectively, the points may be worth using credit cards while wedding planning.
This was post one of my wedding series. If you would like to be alerted of future posts, you can follow my Instagram here, or like my Facebook page here. Good luck in your decision and you can always DM me if you have any more questions!