I have a love-hate relationship with vegan baking. I've never been good at baking, even when I wasn't vegan. I've found a lot of comfort by baking lately and exploring new recipes. I wanted to do a roundup of 10 different vegan baking recipes! Taking out dairy and eggs initially made baking even more challenging since dairy and eggs are major components. Luckily, I now know it's easy to replace the dairy and eggs in basically any baking recipe.
If you are new to vegan baking, there are a couple of staple replacement ingredients:
Flax eggs are super easy to make and work perfectly. Just combine 3 tablespoons of hot water and 1 tablespoon of ground flaxseed for 5 minutes.
Unsweetened almond milk (or your dairy-free milk of choice) is a great substitute.
Full fat coconut milk is a great replacement for condensed milk (in certain recipes) or heavy cream!
Vegan butter for baking can be purchased at basically any major grocery store chains.
Hopefully this will save you time searching for your next recipe to bake! Want another roundup? I posted 10 DIYs to do when you're stuck at home here! I also am pinning vegan recipes all the time on my vegan board on Pinterest if you're wanting some foodie inspiration. You can follow me here.
10 Vegan Baking Recipes:
I'm featuring 10 different vegan bakers that I've all found through Pinterest. If you're not using Pinterest for recipes than what are you doing with your life? I get basically every dinner and baking recipe off of Pinterest. It's the best search engine for finding recipe inspiration. Let me know your favorite recipe in the comments below!
1. Chocolate Peanut Butter Bars
These bars remind me of the buster bars at Petunia's Pies and Pastries in Portland which are my absolute favorite. Plus, I love a recipe that only needs 4 ingredients! Oat flour is a must in this recipe and can be made easily by putting oats in a food processer. I like when the oat flour doesn't have a completely smooth consistency because it adds great texture to the bar!
You can find this recipe here via FeelGoodFoodie!
2. Blueberry Peach Oatmeal Crisp
I love crisps and crumbles! Luckily, they are so easy to make and don't require a ton of ingredients. I am completely vegan with the exception of honey, which this recipe has. However maple syrup can be used to replace the honey and not sacrifice any of the flavor!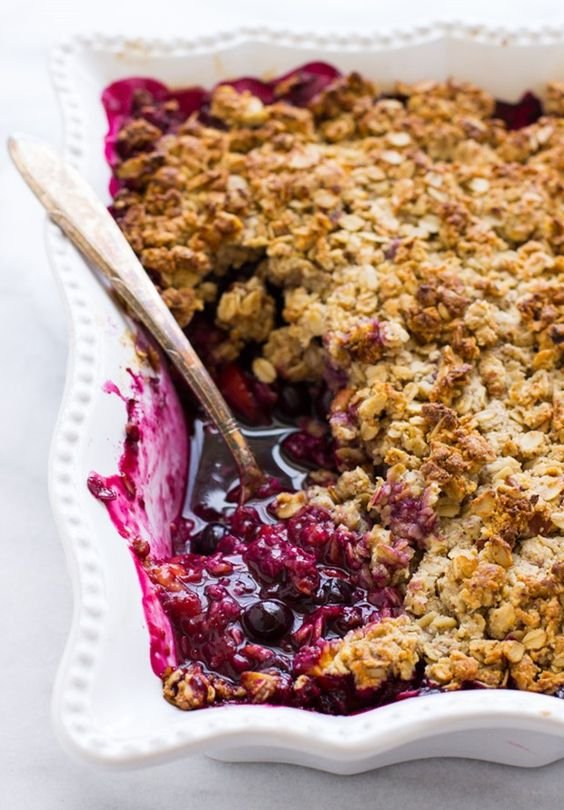 You can find this recipe here via MakingThymeForHealth!
3. Spring-y Sugar Cookie Bars
Like the classic cookie recipe but in bar form. I think they actually look better in bar form!
You can find this recipe here via BlissfulBasil!
4. Banana Bread
I love banana bread and so far during this quarantine I've already managed to make it twice! This is my favorite recipe, except I like it better without the raspberries and I think it would taste really good with walnuts. Every time I make this I think afterwards how I should've folded in walnuts before baking it, but always manage to forget beforehand!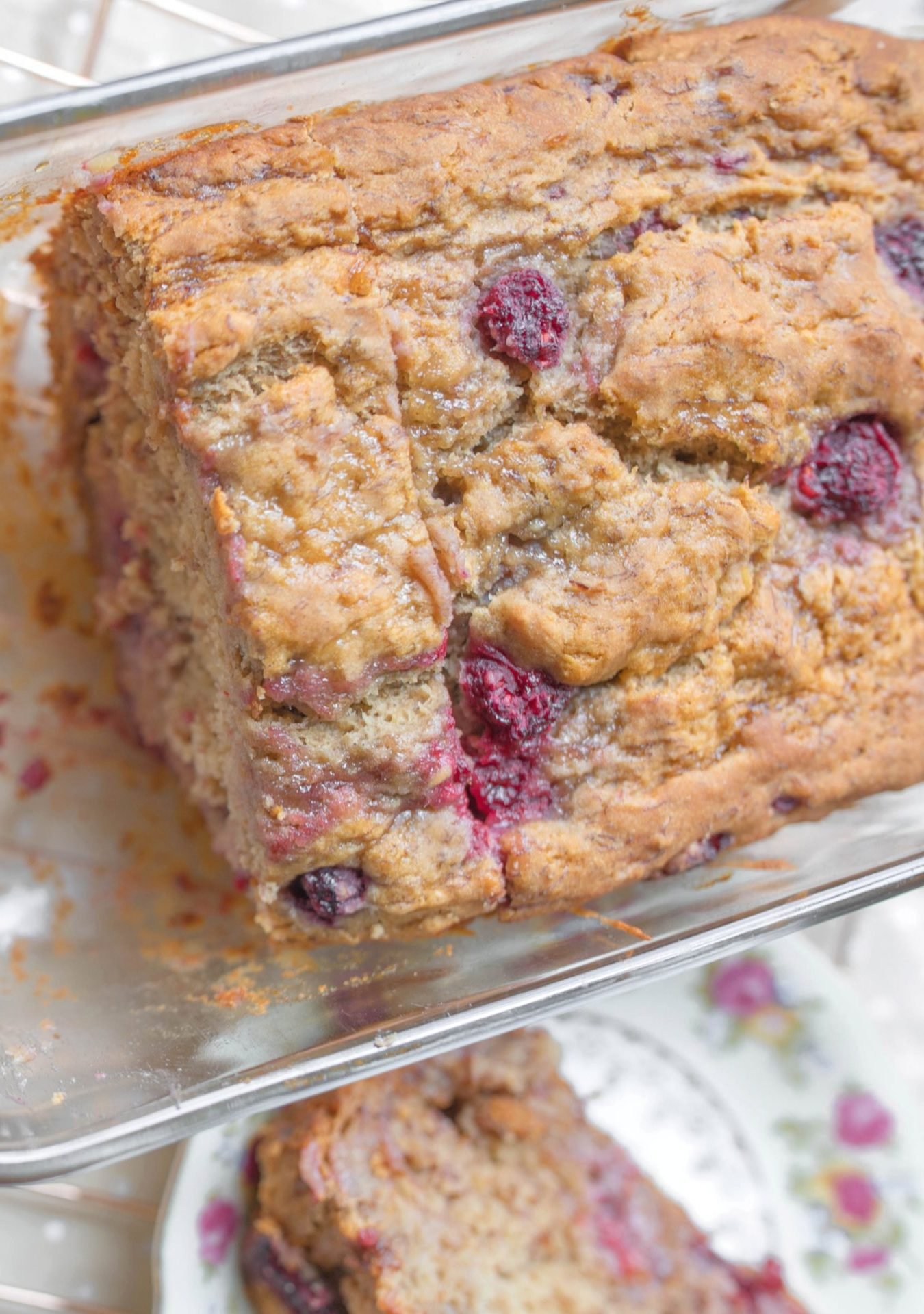 You can find this recipe here via SimplyTaralynn!
5. Vegan Carrot Cake
I'm one of those people that loves carrot cake. I don't have it often, but this recipe is easy with simple ingredients! I don't think there is another cake flavor that embodies spring as much as carrot cake does. I've been watching Spring Baking Championship and Masterchef lately, and the different innovations the bakers do with something as simple as a carrot cake is crazy to me. I will stick to a classic like this one, though.
You can find this recipe here via TheCuriousChickpea!
6. Orange Olive Oil Donuts
Orange and olive oil might sound like a weird combination. But it's actually really good! I can never get the glaze quite right, so instead I cover in powdered sugar and make it a powdered donut. Blue Star Donuts in Portland has a vegan orange/olive oil donut and this makes it more of a replica of their donuts, which I totally dig. If you haven't made donuts before, it may seem sort of intimiadating, but it's actually a lot easier than it looks (especially if you're baking them and have a donut pan).
You can find this recipe here via A Virtual Vegan.
7. Vegan Nutterbutters
The packaged Nutter Butters are already accidently vegan, but these are a little better for you (plus they're fun to make), anyways! These only need a minimum of 3 ingredients and when I made them they tasted so good! Plus, they're basically impossible to mess up (which is a plus when you aren't a pro-baker, like me).

You can find this recipe here via Veggiekins!
8. Mouse Almond Cookies
This is another recipe from Veggiekins. She has so many good recipes to bake or cook and these are no exception. These are so cute! these can also be made into hedgehogs, as well.
You can find this recipe here via Veggiekins.
9. Vegan Soft Pretzels
If you're wanting to bake, but don't have a sweet tooth, these are the perfect alternative. Pretzels baking are one of my favorite smells, but at the same time if reminds me of the mall. I love soft pretzels and a vegan version of pretzel cheese is super easy to make! I am definitely making this recipe during my self-isolation with all that's happening.
10. Vegan Vanilla Custard
Doesn't this look so good? This isn't a dessert that I would normally make. However, after watching baking and cooking shows I've been wanting to try out vegan versions of the contestants go-to desserts. Custard, like the one below, seems to be a go-to!
You can find the recipe here via Amy Le Creations!
That's 10 Vegan Baking Recipes that are perfect for spring.
Not sure if it's just me, but during the start of each new season, I just want to bake! Around fall it's with pumpkin and chain, in winter it's peppermint, and in spring there's nothing better than light floral or fruity flavors. Tomorrow's recipe I'm trying out a making a vegan banana cream pie recipe. I've never had banana cream pie before, but it's Danny's favorite and he has been craving some lately. If you want to follow me on that baking adventure, I will be posting on my Instagram stories. Here's my Instagram: @maddie_deer.
I want to hear what your favorite vegan baking recipe is! Comment below if you have a go-to recipe. Or, comment which one above you want to make next!